Affiliate Disclosure: This post contains affiliate links to eBay, Amazon, and other platforms within the content, sidebar ads, and in other areas. As I am part of the eBay Partner Network and other affiliate programs, if you follow these links and make a purchase, I will receive a commission. Likewise, as an Amazon Associate I earn from qualifying purchases.
In general terms, the word antique signifies that an item is at least 100 years old. Old, right? Especially if you're a new collector, you might rarely see cards older than 1960, let alone 1922. Similarly, when you think of old time greats, you're thinking Willie Mays, Hank Aaron, or Sandy Koufax, and it's hard to imagine the fact that there were plenty of baseball stars long before any of these legends took the field.
You know, the ageless icons like Babe Ruth and Ty Cobb. One could argue that these are the players that put the game on the map, and in return, any collector would love to add a piece of such history to their collections.
So, let's take a look—at Ruth, Cobb, and a handful of other antique baseball cards from a much simpler time of cardboard.
Walter Johnson American Caramel & Turkey Red
Pitcher Walter Johnson was just as dominant as any of the era's big names in his own right. The man won more than 400 games and once went 36-7 in the 2013 season. Heck, "The Big Train" won at least 20 games 12 times!
Walter Johnson Polar Bear Back on COMC: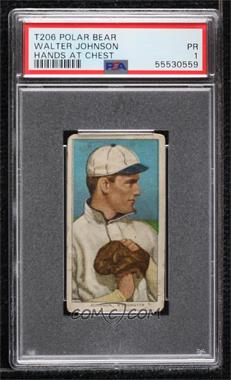 For the collector, what's great is he has a few cards out there worth checking out not only because he's one of the game's first great pitchers, but also because of their beauty. We are talking museum-quality.
One of the most sought-after is the 1910 American Caramel Co. Set C (E91), with the magic of this card being found in its age and time, easily seen by the artwork on the card itself.
A couple of Walter Johnson reprints on Amazon:
In addition, Walter Johnson cards truly are antique. The above card is rarely found in good condition, giving you an idea of just how many remain. While there are many gorgeous card options, another worth viewing is the 1910-1911 Turkey Red T3 #99. It's an exquisite piece in its design and feels like you're taking a trip back to the early 1900s to watch Johnson take the mound just by holding it in your hands.
Christy Mathewson Sweet Caporal & Dockman & Sons
Even If you're a casual baseball fan, you might know about Cristy Mathewson, as he was another one of baseball's first dominant hurlers, like Johnson. Mathewson won 20 games or more for 12 straight seasons and finished his career with a 373-188 record…"whiffing" batters with his screwball. (Referred to as a "fadeaway pitch" back then, which actually makes a lot of sense.)
Antique cards and the players on them always seem to come with great nicknames as well, and Mathewson is no different known as "Big Six" (he had other nicknames too: "the Christian Gentleman," "Matty," and "the Gentleman's Hurler"). Like Johnson, Mathewson one of the original five first inductees into the Baseball Hall of Fame alongside Ty Cobb, Honus Wagner, and Babe Ruth.
One of the best cards of Mathewson is his the 1909-11 Sweet Caporal 206, but if you're seeking the most elegant and beautiful card (hell, any of the old antique cards), then you need to keep your eye on the 1909 Dockman & Sons E92. Thanks to Mathewson's gorgeous throwing motion and an amazing background, everything together makes for one of the best antique baseball cards ever.
Cy Young T206 and Sweet Caporal
Since we're on the subject of pitchers, the last one to mention here is the guy who has the most prestigious pitching award named after him: none other than the great Cy Young.
There is a reason his name is still affixed to that trophy, as ol' Cy would walk away from the game in 1911 with 511 wins and a 2.16 ERA across 22 seasons. He still has the Major League Record for most wins, games started, innings pitched, and complete games.
Here is a Cy Young reprint card on Amazon:
For his cards, you have to start with a look at the 1909-1911 T206 Piedmont because it's an overall quality portrait of Young himself, giving you a good angle of his face and what he looked like way back when. It won't come cheap, however, as even a PSA of 2.5 is currently selling for $4,500 on eBay, speaking volumes about the difficulty of finding one of these in good shape.
(Another beauty is the more artistic Sweet Caporal Bare Hand Cy Young, but it's usually even more expensive than the portrait card mentioned above.)
Ty Cobb Cracker Jack and W551
There is the argument that Ty Cobb, and not Babe Ruth, was the greatest baseball player and thus card of all time (Shohei Ohtani Topps rookie cards have entered the chat), despite being one of the least likable ever as well (a theory that has actually been discredited over time as people believed his first biographer actually sensationalized Cobb's antics).
While Cobb wasn't the power hitter that Ruth was, he didn't need to be. He held 90 different offensive baseball records at one point in history. In any event, the first Cobb card anyone should take a glance at is the 1915 Cracker Jack #30 for its sheer beauty and popular name, as it features Cobb's classic glare at the plate set against a gorgeous bold red background and white borders. To be totally honest, one probably will have to settle for a reprint, given the last one, a PSA 4, sold for over $26,000.
Here is a Ty Cobb rookie reprint:
Given that, is there collector attraction to badly damaged antique cards? I mean, since anything in decent condition is going to go for thousands, if not tens of thousands of dollars, it might be cool to turn your sights to cards in really bad shape given their affordability and wear and tear.
There's a 1921 Ty Cobb W551 currently listed for $255 on eBay, but it's missing the right corner. Still, as a piece of baseball history, the value can still increase, giving way to the fact that any Cobb card might be worth looking into.
Honus Wagner American Tobacco, Caramel, and Fatima
Aside from Mantle, is there a card more in the headlines than Honus Wagner's T206 card by the American Tobacco Company? Considered the Mona Lisa of sports cards, only 50-60 of these cards still exist mainly because only about 200 of them were ever produced in the first place.
The funny thing about Wagner is he's more known for his valuable baseball card than his incredible baseball career. Playing shortstop, first base, and right field over his 20-year career, Wagner hit .328 and batted over .350 six different times. Despite the popularity of his T206 card, it's hard to beat the beauty and artwork of his 1908-10 American Caramel Set C E91. It is not an easy card to find but there are some copies of it out there, albeit nothing for any less than $1200.
Here is a Honus Wagner reprint:
Last, a personal favorite of many is the 1913 T200 Fatima Cigarettes Pittsburgh Pirates team card because you get a great snapshot of real baseball players from the early 1900s with Wagner the second to last man in the middle row to the right. This card starts at around $2000 so it can be had for a relatively low price considering its age and the name.
Nap Lajoie
Napoleon "Nap" Lajoie is another old-timer that has seriously flown under the radar over the decades. Nicknamed the "Frenchman," Lajoie played first and second base and batted .338 across a 21-year career in which he knocked at least .350 in nine of those. He was also the guy who traded batting titles and numbers back in forth with the legendary Ty Cobb, speaking volumes about how good Lajoie actually was.
Now, the first and last time we will say this, but Lajoie had an interesting face, and artists captured it quite well in those days making the majority of his cards a real treat.
Here is a Cracker Jack Lajoie reprint on Amazon:
Let's first look at his most expensive card, the 1933 Goudey 106 Nap Lajoie. While it doesn't match Wagner's most expensive card, this one is still costly, with a 2-grade card currently on eBay for a whopping $45,000. The image of Lajoie really accentuates his reddish, prominent cheeks and smile.
Shoeless Joe Jackson Cracker Jack, American Caramel, Old Mill
Shoeless Joe Jackson was such a figure that he's been featured in two of the best baseball films ever in Eight Men Out and Field of Dreams. He also is one of a tiny handful of players who have ever batted over .400, batting .408 as a rookie in 1911. That average is the best for a rookie, a record that still stands 111 years later.
Unfortunately for Jackson, a lot of his fame is tied to the 1919 Chicago Black Sox scandal in which a number of players from the team fixed the World Series. It led to Jackson's permanent ban from Major League Baseball in 1920, although many historians and baseball experts believe he was deceived into agreeing to be part of the scandal.
Here is a reprint lot on Amazon:
Now, given all of that, no one ever said a Jackson card would be cheap because they are far from that. You'll have to shell out tens of thousands of dollars to get an authentic graded Jackson card. On that note, some are simply worth a look and at least a place on your sports card bucket list.
For example, the 1915 Cracker Jack #103 card features Jackson finishing through on a swing as the lefthander looks on. It's currently priced at about $80,000 on eBay so don't expect this one under your tree this Christmas.
Another gem is his 1909 American Caramel #E90 card that depicts Jackson leaning on a baseball bat, hand on his hip while donning a white Philadelphia Athletics uniform
Last but not least is one of Jackson's rarest cards yet, the 1910 Old Mill Series 8 T210 card which is fascinating due to Jackson being shown in a New Orleans Pelicans minor league uniform. It's also actual photography of Jackson versus the artwork of the other two cards mentioned.
Tris Speaker Sporting Life $ T205
Known as one of the greatest offensive and defensive outfielders in baseball history, Speaker's .345 career batting average wasn't too shabby either, and is good for sixth all-time. It's worth mentioning that Speaker holds the record for most outfield assists and double plays by an outfielder and his 3,514 hits puts him in fifth place all time. Speaker continues to hold the record for most doubles (792) in Major League history.
As for the cards, the first one to check out is Speaker's 1910-1911 Sporting Life M116 card because not only does it feature a colored photograph of the great outfielder but also shows those wonderful old baseball jerseys, this one with a popped collar. In addition, it's a card that can be had by novice collectors and big-pocketed collectors alike. One PSG 4 Sporting Life card sold in 2021 for $1424, which, for most collector's money, is worth it every time considering Speaker's place among the all-time greats.
Here is a Tris Speaker reprint on Amazon:
If you're looking for more color, there is a fine card to be had in the 1911 Piedmont T205 card with its deep red background and gold borders to go with the diamond-shaped centerpiece holding Speaker's face.
Nothing compares, though, to the 1910-1911 Sweet Caporal T206 card that has a drawing of Speaker in his batting stance that looks like it's illustrated by a children's book author, and I mean that in the best possible way. Because it ranged between $900-$3200 from grades 1-4, adding this to your collection is worth the investment.
Eddie Collins Coupon Cigarettes, T206, Polo Grounds
A Columbia University graduate, Eddie Collins was not only incredibly sharp but a fantastic second baseman and all around winner. Part of the 3000-hit club, Collins is also the only non-Yankee player to capture at least five championships with one team, the Philadelphia Athletics.
Looking at his cards, they're somewhat affordable when you take into account their age. The 1914 Coupon Cigarettes T213 card is one you have to keep your eye on because it's a great picture of a very young Collins and a beautiful piece of art. It can also be had for $2000 or less, which many would consider a "steal" due to the Collins' place in baseball lore.
Here is an Eddie Collins reprint on Amazon:
In relation is the 1909-1911 Piedmont T206 White Border card, which looks identical to the 1914 card except the Philadelphia Atheltics' "A's" logo is featured on the Piedmont card, and not the Coupon Cigarettes.
A third Collins card that you may want to be on the hunt for is the 1914 Polo Grounds card. Due to it being relatively accessible, you could get a graded one of these for your collection in the $300-1200-price range.