Affiliate Disclosure: This post contains affiliate links. As I am part of the eBay Partner Network and other affiliate programs, if you follow these links and make a purchase, I will receive a commission. Likewise, as an Amazon Associate I earn from qualifying purchases.
The average hobby box price of 2022 Topps Diamond Icons is $3,649.97, according to WaxStat.com. The lowest current price of the major online card stores can be found at Blowout Cards for $3,299.95, which is up from their 30-day low of $2,999.95.
Here are the different box prices I could find at the moment. (Also please note I haven't purchased cards from all of these stores, and their inclusion here is purely for informational purposes. Please do your own research before buying.)
Traditionally a summer release, we are still a few months away from seeing anything related to 2023 boxes. That said, it's a fun product that deserves year-round attention.
At $3,300 per box, though, Diamond Icons isn't a product for every collector. With only 10 cards total (7 autos, 2 patch autos, and 1 relic), you're looking at a breakdown to $330/card.
Do you like those chances of making your money back? Does that make a hobby box worth the cost? Of course, at that price point, there are going to be some ridiculous cards that are pulled.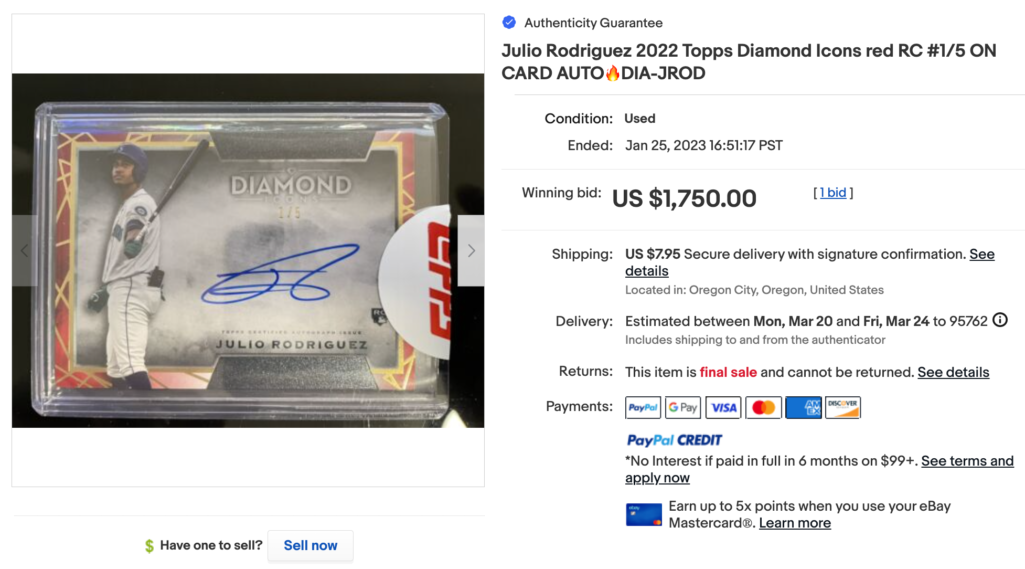 On the other hand, don't let a high price tag fool you into thinking every box will be a winner. Here is a video from Phill's Pulls where, like many of us, the deeper you get into the box, the more you think a monster card is going to save the day.
Not to mention that even pulling some of the biggest names might not be cause for celebration—here are some recent sales of chase players:
So, again, I can't tell you if $3,600 is a good buy or not. All I can do is pass along the great info from WaxStat, or, you can simply check out the site on your own.