Affiliate Disclosure: This post contains affiliate links to eBay, Amazon, and other platforms within the content, sidebar ads, and in other areas. As I am part of the eBay Partner Network and other affiliate programs, if you follow these links and make a purchase, I will receive a commission. Likewise, as an Amazon Associate I earn from qualifying purchases.
March 2023 Update: As announced at the Topps Industry Conference, Tom Brady will soon have Topps baseball cards…and autos at that!
Tom Brady will have a baseball card in Bowman's Draft Picks – with autos! Throwback to his draft pick with the Expos. pic.twitter.com/2qHyNyfvvG

— Sports Card Investor (@SportsCardInv) February 28, 2023
As this article states:
"Tom Brady is getting some baseball cards. The quarterback was also drafted by the Montreal Expos in 1995. That didn't pan out, but Topps has plans for some Expos "Cards That Never Were" — including autographs."
I can't even begin to list all of the things that make sports cards as great as they are. At the top, though, for me, I love the wacky and wild. The "what the…" and the wow. In those buckets, you have flashy inserts, errors, cards with weird backgrounds, and more along those lines.
Given all of that, what do Eric Lindros, Danny Ainge, and Will Ferrell have in common? Well, they actually all have baseball cards. Like, official baseball cards from Score, Topps, and then Topps again, respectively.
(If you want to stretch this out, you can even say all of the random celebrities found in a product like Allen and Ginter or all of those "First Pitch" cards too, but you get what I'm saying, or will soon.)
Of the three mentioned above, only Ainge had a "legitimate" reason to be on multiple baseball cards in 1982 given he actually made it to the majors before taking his talents to basketball. We will talk about Lindros in a minute, but Will Ferrell only made it into a Topps product because he's the Will Ferrell we all know and love, and simply hilarious—his cards came as a result of a comedy stunt during Spring Training in 2015. (As an A's fan, I'll be forever grateful there is a Will Ferrell Athletics card.)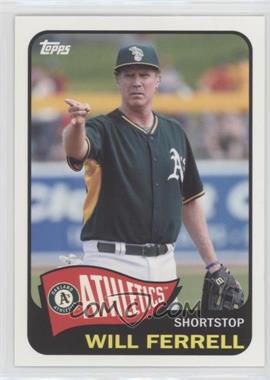 Read More: The Sandlot Cards from Topps Archives
All of that brings us to Tom Brady, who let's face it, is always in the news anyway, but is even more in the news this year. For me, all of the talk surrounding this finally being Brady's last year got me thinking that we haven't been treated to a Tom Brady Topps "rookie" card or any baseball card for that matter, and that stinks.
Read More: 2000 Bowman Chrome Football Box Breakdown
At this point you're probably thinking, why would he? Well, the little-known fact is that Brady was actually drafted by the Montreal Expos (yes, that's an old MLB team; no there isn't a Brady Expos card to commemorate) in the 18th round of the 1995 draft. His position? No, not pitcher, but another position requiring a cannon of an arm…catcher. He's a left-handed hitter, apparently; something I personally connect with given swinging a bat is the only thing I do left-handed as well. (Weird thing, though—I think Brady golfs right-handed?)
Are the Expos still around to get their 1995 draft pick back? 🤔

🎥 @TomBrady pic.twitter.com/oEWaQrRcnD

— The Athletic MLB (@TheAthleticMLB) May 24, 2022
Anyway, in my book, actually being drafted by a Major League Baseball team, only to go on and become one of the greatest football players of all time is pretty special, where someone like Eric Lindros, and no knock on his hardball skill, simply just took batting practice with the Blue Jays and ended up on a card.
And if you want to look at other GOATs, Jordan also has plenty of baseball cards, sure, but he also has one of the hobby's most sought-after cards in his 1991 Upper Deck…a card that was released before Jordan even made the switch to baseball.
So, let's get this man (and collectors) a baseball card.
And no, this doesn't count.
Commercial break from "Dedication Saturday". Now that @TomBrady is retired, he can bring back the Expos to Montreal pic.twitter.com/ZoWsZRyIYu

— BaseballHistoryNut (@nut_history) January 29, 2022
I don't know where it came from, but it's not "legit." As many have pointed out, sure, he is suited up in catcher's gear and for the Expos, but that face is definitely not 1995 Tom Brady. You can however purchase the card on Amazon, Etsy, and eBay.
Oh, and another side before I forget (sorry, this is what having a card brain is like). Think about the greatest to ever do it from the major sports from over the last few decades. A solid list would be:
Tom Brady
Ken Griffey Jr.
Michael Jordan
Wayne Gretzky
Each of these players' major rookie card comes from a different brand:
Tom Brady: 2000 Bowman (Chrome)
Ken Griffey Jr.: 1989 Upper Deck
Michael Jordan: 1986 Fleer
Wayne Gretzky: 1979-80 Topps
Of course, one might technically say Tom Brady has a Topps rookie card because of the fact that Topps produces Bowman. Or, that Jerry Rice should be on the list and his rookie card is from Topps. But with these, I think it's cool that there was a time when we had so much variety across the different card brands and the superstars depicted through them.
And ironically, we couldn't even have a licensed Tom Brady Bowman football card or a Ken Griffey Jr. licensed baseball card if we wanted.