Affiliate Disclosure: This post contains affiliate links. As I am part of the eBay Partner Network and other affiliate programs, if you follow these links and make a purchase, I will receive a commission. Likewise, as an Amazon Associate I earn from qualifying purchases.
To check the value of your baseball cards, go to eBay.com or access the mobile app. In the search bar, type the name of the player, the card's year, and the brand. Also include relevant details like serial numbering, parallel version, grade, and more. Sort the results by lowest price and select "buy it now" as the buying format. This will tell you the current value that card is selling for.
Additionally, select "sold items" as the filter to see completed sales. Sort by "ended recently" to see what the card has recently sold for.
All of this said, the slightest error in your search or in not recognizing the type of card you have can produce different results, so be sure the cards you're seeing in the search results are in fact like the one you're trying to price. Pricing also becomes difficult if you're looking up scarce cards that don't have current listings or recent eBay comps.
Last, if you're looking for a way to scan your cards in order to find their values, there are a number of sports card scanner apps that do just that. Many of them are still building up their capabilities, so I still prefer to do the manual check outlined above (and below), but it is another option.
Some platforms like Alt also have their own values (like Alt Value) which is a computer-generated estimate based recent transactions and other factors.
Anyway, please continue reading for additional details and tips.
—
If you're just getting back into the hobby and trying to figure out what you can do with your old cards, this is a question that might be popping into your mind. 
Not to be blunt, though, but if you're asking whether or not your baseball cards are worth anything, chances are they probably don't have much value.
Importantly, though, that doesn't mean all cards are worthless—as there are many, new and old, that can be sold right now for a pretty penny.
It also doesn't mean your cards have in fact no value—you're just going to have to research a bit in order to find your answer.
But, that's why I'm here! To get you headed in the right direction.
Are Baseball Cards Worth Anything?
Yes, baseball cards can hold tremendous value, as do football and basketball cards, and even non-sport cards like Pokemon. "Worth" and "value" also mean different things to different people, but generally, baseball cards definitely hold dollar value in today's hobby world.
I mean, the easy answer is to look at recently completed eBay auctions to get a general sense of whether or not cards are worth anything: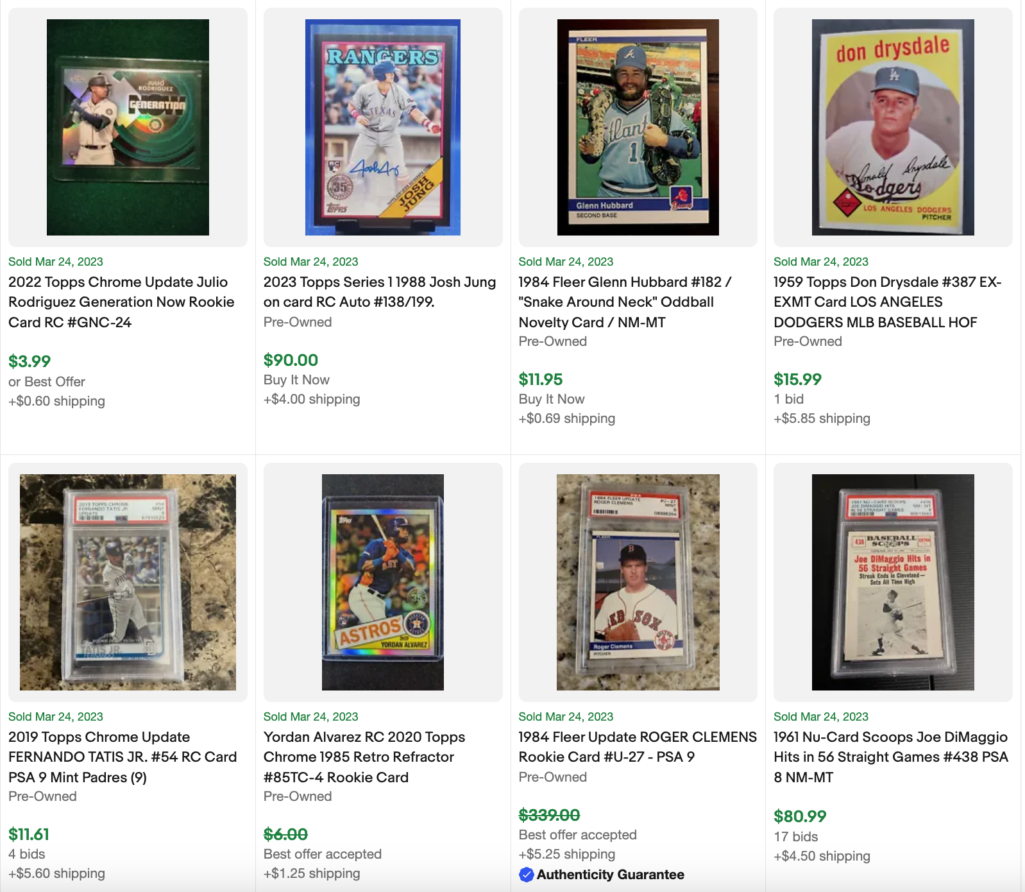 But as the above shows and like anything, it really depends. Not all cards are worth something, no matter what you see on Facebook Marketplace,  OfferUp, or wherever else you go to buy baseball cards. 
Meaning, we've gotten to the point where cards are "hot" again, leading to long lines in front of empty shelves of people just waiting for new product to arrive at your nearest retailer.
But that also seems to mean that whenever anyone stumbles across their shoeboxes of junk wax, they think they have at least a $100 bill sitting in front of them. 
Unfortunately, and going back to the first sentence above, that's typically not the case. It can be the case, but there are many things that determine the value or worth of your cards. 
How to Check Baseball Card Values
In short, the best way to find card values is to go to eBay and search for your card. You'll want to check the current listings to understand how much you could sell the card for right now, along with the completed listings to see the amount the card has sold for recently.
1. Go to eBay.com
To get started, simply click this button to go to eBay. I've ensured the link opens in a new tab so you can still follow along.
2. Search for your card
Look at your card and search eBay for the main details. This includes the player's name, card brand, card set, card year, card number, and any other specific details. Let's do an example together.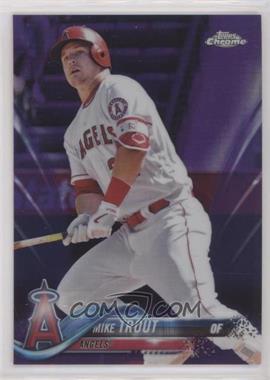 Looking at the front of this card, we see this is:
Player name: Mike Trout
Card Set: Topps Chrome
Card Year: TBD
Card Number: TBD
Specific Details: TBD
So far we know this is a Mike Trout card from Topps Chrome. It's a good start, but if we were to search this card on eBay with these details, it would bring up many results, and most of which wouldn't be this card.
Now, flip the card over and you'll see this: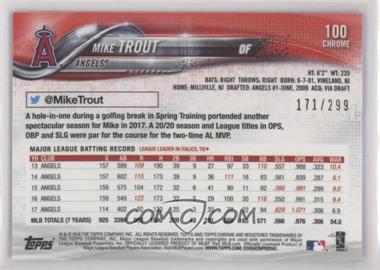 Looking at the back of the card, we can fill out the rest:
Player name: Mike Trout
Card Set: Topps Chrome
Card Year: 2018
Card Number: 100
The last missing bit is "specific details" and I've left it blank because that could be a number of things, like:
Is the card autographed?
Does it contain a piece of the player's uniform?
Is it a refractor or prizm?
Is the card serial numbered?
Is the card a variation of some sort?
In this case, the card is not autographed and it doesn't not contain a uniform relic. We can't be sure it's a refractor, but it is serial numbered /299 (the first number isn't as important, usually).
So with all of the above together, we know this is a 2018 Topps Chrome Mike Trout #100 /299. In most cases, this is enough information to look up the value of the card in any sports card price guide.
Click this button to view the eBay results for 2018 Topps Chrome Mike Trout 100 /299:
When we do, we see 7 card results!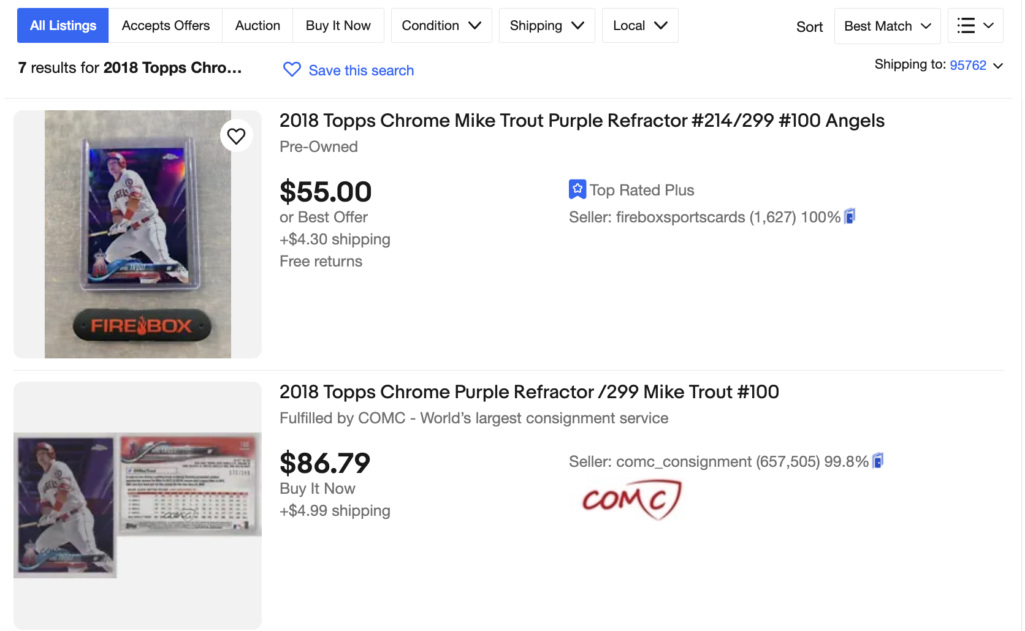 3. Sort by lowest price
With 7 card results, we should now be able to find our card and its value. At this point, I like to search by the lowest price. (If you look at the photo above, you'll see "Sort" and "Best Match." Click that dropdown and select "Price + shipping lowest first."
When doing so, we'll see the 7 card prices as:
$55
$86.79
$99
$299.99
$325
$399.99
$850
As much as we'd love for our card to be worth $850, it's not the case. You'll notice the same of the cards listed on eBay are graded cards in slabs, and some are raw/ungraded.
Since we have an ungraded card, we want to make sure to only look at the raw card listings. When we sort by lowest price, it looks like the lowest-priced raw card like ours is $55. This tells me that if we were to list our card for sale, and we wanted it to sell quickly, we'd have to list it for less than $55.
At this point, your journey could end—you set out to look up the value of your card and you found it (about $55). But, what if we didn't want to only know what the card is currently selling for, but what it sold for recently?
In that case, it might be good to look at the eBay sold listing data to see just how much this price has fluctuated over the past year.
4. Check completed listings
Before jumping in, let's go back to the listings we just saw for sale on eBay. While we know the card is a 2018 Topps Chrome Mike Trout #100 /299, the listings tell us more: that this card is a refractor, and a purple one at that.
So now when we check the completed listings, we can add in this information to narow down the results. We can also use search operators like "-PSA" in order to filter out any graded cards.
To view completed listings, on the desktop, go to the filter on the left side of the screen and check the "Sold Items" box. On the mobile app, go to "filter" and then toggle the "Sold Items."
When you do so, you'll see a raw card like ours that sold for $39.99 plus shipping. Knowing that the card is currently listed at $55, this $39.99 sales price seems reasonable, and we can now put our card in the $40-$50 range.
Now, if we wanted, we could go a step further. Meaning, the data you see under the "sold items" filtering is data from the last 90 days. If you wanted to look even further back, you can use eBay's price guide for 365-days of data. Simply click the "track the value of your…" button as shown here: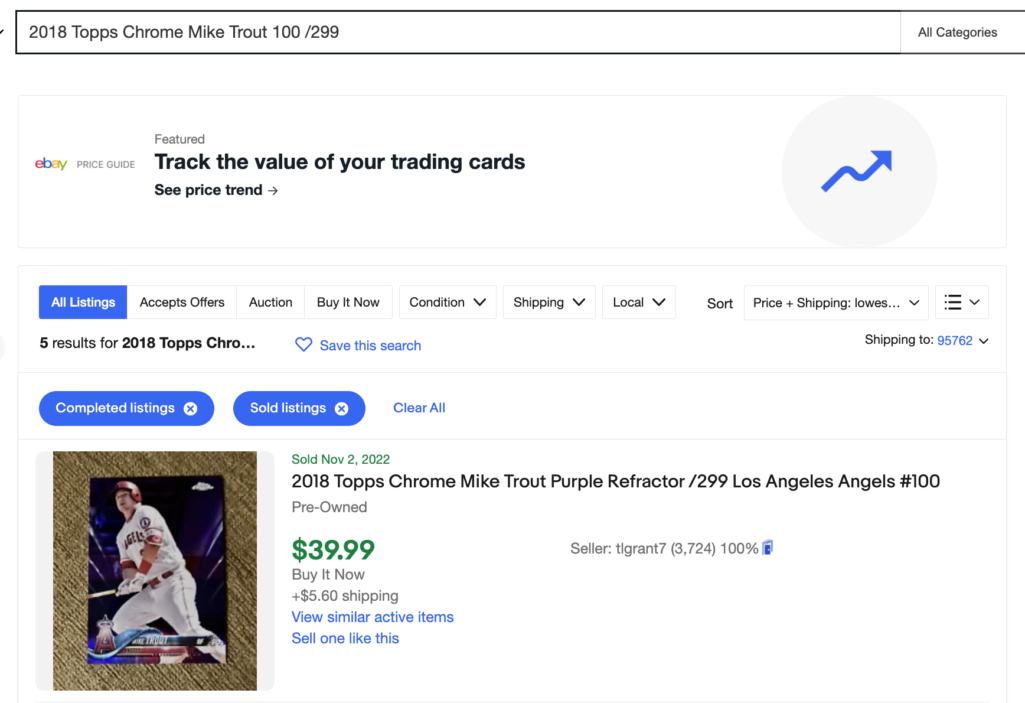 With all of that, is there more to know? There sure is. Sometimes simply finding the info to search for is hard enough. In most cases you shouldn't have any problem finding the player's name, set name, set year, and card number, but the specific beyond that could be tricky, and could end up being the different of a lot of money!
So, take your time—if you can't find your exact card, that might be a good sign! Compare your card, front and back, to the cards listed. Remember "close enough" could severely overvalue or undervalue your card, so if you aren't sure, ask and/or keep looking.
Some additional resources to find information about your card include: