Affiliate Disclosure: This post contains affiliate links to eBay, Amazon, and other platforms within the content, sidebar ads, and in other areas. As I am part of the eBay Partner Network and other affiliate programs, if you follow these links and make a purchase, I will receive a commission. Likewise, as an Amazon Associate I earn from qualifying purchases.
With Aaron Judge just crushing his 62nd home run, there has been a ton of talk lately around baseball, home runs, records, and of course, Barry Bonds. While I'm not here to debate whether or not Bonds' numbers should be recognized, I do want to revisit some of his "MVP" cards that are out there. It's a nice reminder that sure, he took steroids, but he was also one heck of a baseball talent.
Why MVP cards? Because Bonds won 7 of the awards (7!) and thus has a lot of cards out there commemorating his accomplishments (1990, 1992, 1993, 2001–2004). These awards were achieved by both "versions" of Bonds, as a member of the Pittsburgh Pirates and of course with the San Francisco Giants.
1991 Donruss "Award Winner"
Starting with some good ol' junk wax! This 1991 Donruss "Award Winner" card isn't an insert, but a subset rather from the base set. The "award" in question here is of course the National League MVP award as noted in the smaller font on the front of the card.
Other "Award Winners" from this set include the AL MVP, Rickey Henderson, NL Cy Young, Doug Drabek, and AL Cy Young, Bob Welch. Meaning, yes, each of these four major awards were won by a member of the Pirates in the NL or the Athletics in the AL.
But wait, there's more! The back of the card lists the NL MVP scoring, which I love. One notable is that Bonds' teammate, Bobby Bonilla, finished second in voting. But did you know other Pirates – Doug Drabek and Andy Van Slyke – are on the list, at #8 and #28, respectively?
1993 Ultra Award Winners #24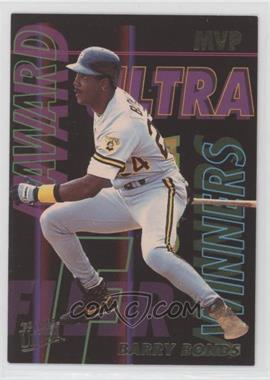 I love this set. I love this card. To me, this is the hobby. Superstar players, inserts, gloss and shininess; cool colors to boot. Are they a dime a dozen? Sure. Is an "award winners" set really all that captivating? Not really. Am I explaining this well at all? No, and I know it.
When that happens, I just chalk it up to nostalgia. Same thing with Disneyland for people who didn't grow up going; they don't understand the appeal. Well, here I am, a grown man with a family who loves cards like this, and still loves Disneyland.
Bonds' 1992 MVP year filled the stat sheet with:
Batting Average: .311
Runs: 109
Home Runs: 34
Stolen Bases: 39
2003 Fleer Tradition Milestones Game Used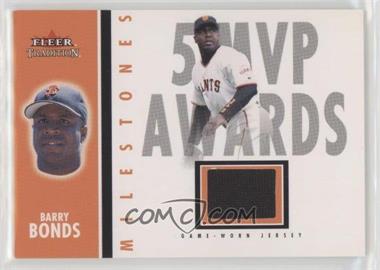 This one is a little different in that it's a "milestone" card featuring not one MVP, but the 5 Bonds had one up to that point. I'll say, the card would be a lot cooler if it had been released at the end of Bonds' career after he had won two more awards and the 7 in total, but oh well. It does contain a piece of "game-worn" jersey, and anytime you can grab a relic that isn't a plain white or gray swatch, it's a bonus in my book.
2003 Upper Deck Patch Collection MVPs Patches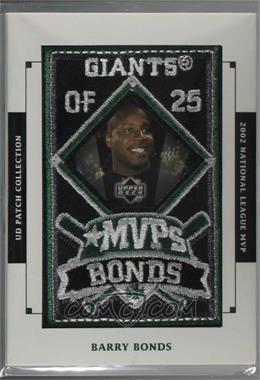 Another relic! But don't be fooled, as this one is more of a "souvenir patch" that "was created exclusively for Upper Deck…" In other words, it's not a patch from Bonds' uniform, and thus, these types of cards are in lesser demand.
Trending on Ballcard Genius
Still a cool piece, though, as this one is specifically celebrating Bonds' 2002 MVP year in which he hit a ridiculous .370 while crushing 46 home runs and driving in 110 total (all while walking a then-record amount of 198 times.)
Other Notable MVP Cards
Now, even with all of the above, there are other "MVP" cards that haven't been mentioned, That said, many of these are of the "Team MVP" variety and thus feature a player from very team as opposed to recognizing
1993 Donruss MVPs
1994 Donruss MVPs
1994 Leaf MVP Contender
1998 Leaf Rookies & Stars MVPs