Affiliate Disclosure: This post contains affiliate links to eBay, Amazon, and other platforms within the content, sidebar ads, and in other areas. As I am part of the eBay Partner Network and other affiliate programs, if you follow these links and make a purchase, I will receive a commission. Likewise, as an Amazon Associate I earn from qualifying purchases.
Barry Bonds is widely considered one of the greatest baseball players of all time, right? Of course, the title doesn't come with its fair share of debate, but that's for another time.
Either way, you can't deny the pure bat-to-ball skills and "must watch" characteristics Bonds brought with him every time he walked to the plate. He was a dominant hitter who elevated the already glamorous art of hitting home runs to new heights—shattering records and challenging the limits of what was thought possible when it came to the game of baseball.
So with all of that said, it's not surprising that his rookie cards are fairly coveted. The first question is, though, when was Bonds' rookie year, and how does that translate into his rookie baseball cards?
What Year Was Barry Bonds' Rookie Year?
Barry Bonds rookie year was 1986, in which he'd accumulate 484 plate appearances on his way to finishing 6th in the NL Rookie of the Year voting. Bonds began his professional career with the Pittsburgh Pirates in the 1985 season, hitting 13 single A home runs in 296 plate appearances, and then slugging 16 home runs as a rookie in 1986. After making his MLB debut in 1986, it wasn't until 1987 in which Bonds played his first full season.
When it comes to cards, Bonds actually has both a 1986 and 1987 Topps card (and a 1987 Donruss, along with a rare 1987 error card as well), leading many to wonder which is his true rookie, which is more valuable, and how much official rookie status actually determines rookie card value.
Was 1986 Topps Traded Barry Bonds' Rookie Card?
Now, this is where things get tricky to the average collector. As mentioned above, Barry Bonds made his debut in 1986, which stands as his rookie year. From this, it's a pretty open and shut case that Barry Bonds rookie card is in fact 1986 Topps.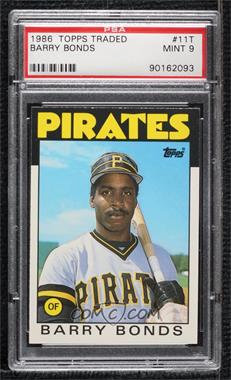 Before going further, it must be said there are differing opinions of what's a rookie card and what's not, and frankly, I don't really have an opinion myself, and am only bringing up some points I've heard about and discovered through my time in the hobby.
Read More: Barry Bonds MVP Cards List
But for Bonds specifically, because his 1986 card was part of a separate boxed set in 1986 Topps Traded, it's treated as an extended rookie card (XRC) because it wasn't made available in regulars packs of cards, and could only be acquired in the separate traded set.
Which is Worth More XRC or RC?
All of that said, does the XRC vs. RC argument even matter when it comes to valuing Bonds' cards? Without looking at the market, one could logically argue that the rookie card should be worth more because it is in fact the official rookie card.
However, anyone who is familiar with the print run of 1987 Topps compared to what the print run of a boxed, non-mainstream release of 1986 Topps Traded was know that is in fact not the case, and that the 1986 XRC holds a lot more value then the 1987 true rookie.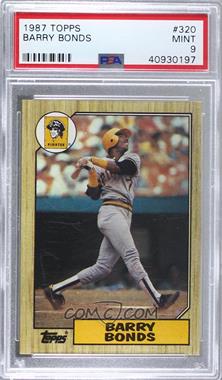 For example, the cheapest "buy it now" 1986 Topps Traded PSA 9 Barry Bonds you can find on eBay right now include:
Compared to the cheapest 1987 Topps PSA 9 Barry Bonds, and you can see what I'm talking about.
Of course, a 1987 Topps Tiffany Barry Bonds PSA 10 is going to be worth a ton, but I'm strictly comparing the "base" cards of 1986 vs 1987.