Affiliate Disclosure: This post contains affiliate links to eBay, Amazon, and other platforms within the content, sidebar ads, and in other areas. As I am part of the eBay Partner Network and other affiliate programs, if you follow these links and make a purchase, I will receive a commission. Likewise, as an Amazon Associate I earn from qualifying purchases.
Before diving into jersey relic cards, let's quickly zip through the evolution of the baseball card.
This hobby began with pieces of cardboard featuring simple posed pictures (which can now sell for millions) or action shots, along with the player and team's name in most instances. Not too long after we were treated to cards outside of the standard "player card," whether that was through different types of "leaders" cards, rookies, or more separate subsets for lack of a better term. 
For instance:
From there, then we started getting into true inserts—different sets within a larger set that were completely separate from the base run. These cards themselves ranged from fairly straightforward to a bit more flashy, and then really extravagant. Somewhere along the way, autographed cards began to be inserted, but only just a few at this point. 
Flashy inserts:
Now, this is where cards really started to take on a new and different feel with refractors, prizms, and more, (and hey, a lot more autographs). It's around this time we were also introduced to a new concept: relic cards, and more specific to this post, jersey cards. That's right, pieces of the player's actual jersey embedded right there within the card.
So, now, let's dig in.
What is a Baseball Jersey Card?
A baseball jersey card is a card that includes a piece of material from a player's uniform. These cards will typically feature the action shot and design you're accustomed to seeing, but with the addition of the piece of the player's jersey on or in the card itself. These jersey cards are sometimes referred to as relic cards, game-used cards, or patch cards depending on the material included. 
Take a look: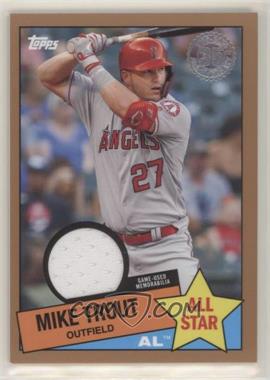 2020 Topps – 1985 Topps Baseball All-Stars Relics – Gold #85ASR-MTR – Mike Trout /50
When Were Jersey Cards Introduced?
Like the first real autographed cards to be included in packs, which was considered novel and scarce for its time, the first jersey card made its way to collectors back in 1997 with an Upper Deck release. 
Related Terms to Know
While all of this sounds straightforward, there are some terms and differences you should be aware of when collecting jersey cards. 
Relic Cards (or Memorabilia Cards)
Relic cards are those that feature a piece of material from a baseball player, event, or playing field. As mentioned above, jersey cards fall under the greater umbrella of "relic cards." But in addition, pieces of pants, socks, patches, hats, and other parts of the uniform have all been featured on cards, along with equipment like bats, most notably, and even gloves and cleats.
There are also cards that include field dirt, bases, and more! Thus, relic cards can be used to describe any piece of material on/in a card, and not just jerseys. 
Here are some cool "dirt" relic cards:
Patch Cards
This is getting into more personal preference, but oftentimes you might hear or see jersey cards referred to as "patch cards." Those who do so probably subscribe to the thinking that it's a "patch" of uniform or jersey being used for the card. Others, though (including myself) reserve the term "patch card" to only describe the subset of relic cards that includes an actual jersey patch.
Meaning, with a typical baseball jersey, you're going to have the base material, but then you'll also have patches that make up the team and player name, along with the actual sleeve patches for the team logo and more.
Trending on Ballcard Genius
Game-Used Cards
Originally, much of the appeal of jersey cards was the fact that you were holding an actual, game-used (or game-worn) piece of a jersey. That is, part of the jersey the player actually wore on the field, and in a game. Today, with the abundance of relic cards in pretty much every single set release, you can quickly see that not all jersey cards are created equal. 
Read More: Jersey Fusion Checklists & Info
For instance, if you look below, you can easily see that one card is authenticated as a "game-used" card where the other cards may feature other, not so clear or not so game-used wording. makes no such promise. If you have any question or doubt, looking on the back of the card will give you a more detailed explanation. 
"Game-Used":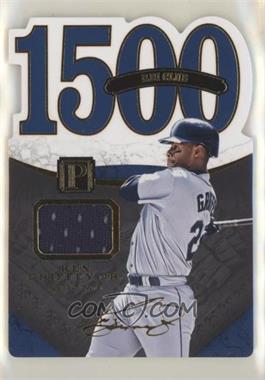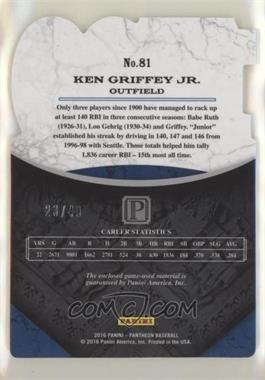 2016 Panini Pantheon – [Base] – Guilds Gold #81 – 1,500 RBI – Ken Griffey Jr. /49
Player-Worn
Branching from the above, while many relic or jersey cards are game-used, not every piece of memorabilia on a card is in fact game-used. For instance, another popular phrasing of late is "player-worn" which could stand to mean, while the player didn't wear the jersey in a game, they did put it on for an event, say, a photoshoot or some other experience.

Here is an example of a "Batting Practice-Used" material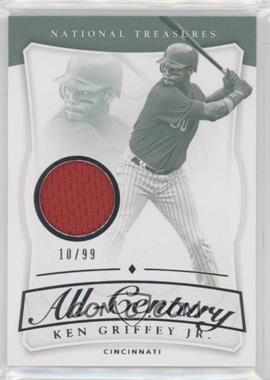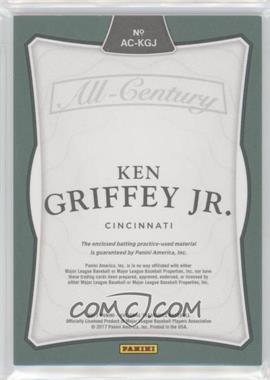 2017 Panini National Treasures – All Century #AC-KGJ – Ken Griffey Jr. /99
Happy Collecting!
So, there you have it—most everything there is to know about baseball jersey cards. Frankly, some love them, and some don't…but that can be said for most things in this hobby!
Between the different materials, colors, pieces of uniform, and more, there are certainly enough options for anyone wanting to carve out their own little jersey or relic card PC.
Looking to pick up a few? Check out this post on where to buy baseball cards, and look for the sections where you can easily earn $10 buying credits for StarStock and Alt.