Affiliate Disclosure: This post contains affiliate links to eBay, Amazon, and other platforms within the content, sidebar ads, and in other areas. As I am part of the eBay Partner Network and other affiliate programs, if you follow these links and make a purchase, I will receive a commission. Likewise, as an Amazon Associate I earn from qualifying purchases.
There are some things I just don't like when it comes to baseball cards, and most of them have to do with cards that are either smaller or larger than the standard size. So, that basically means any type of mini release, where Topps mini cards are barely tolerable, and Allen & Ginter aren't invited into the collection whatsoever.
Anyway, I bring it up because they're gimmicks, right? At least for a lack of a better term.
And I don't blame card companies at all for trying things like this because they need to continually innovate and try new things in order to keep people interested, bring on new customers, and more. Not to mention that we are far beyond a card company just rolling out a base set of cards without variations, inserts, and more, and if anything, "new and different" is just going to keep becoming the norm.
All of this brings me to the big head baseball card, where not only are designs tweaked and rolled out as different refractors or prizms, etc., but now the actual player photos are being manipulated. Again, I don't hate it, but some might, but some – maybe you – actually PC these cards and thus, you've arrived here to read more about them!
What is a Big Head Card?
A big head baseball card is one that features a player with a larger than life head. Sometimes this head is more obviously animated, and sometimes it appears more lifelike and natural, only enlarged. This type of card has roots back to vintage Leaf sets and still makes its way into sets of today, most recently picking up popularity with 2021 Topps.
Let's take a look at a few of the different big head cards that have been released over the years.
1938 Goudey "Heads Up"
My first recollection with a big head type of card is 1938 Goudey, which you can see below, features a cartoon player body with real-life face and profile placed on top.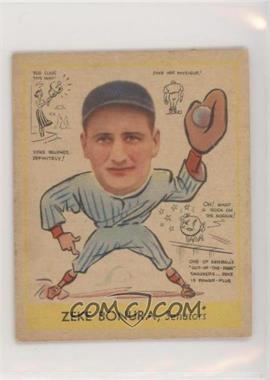 The other unique thing about these cards is the presence of additional animations and player and stat blurbs on the front of the card, almost like what you'd expect to find on a Bazooka chewing gum wrapper or in the newspaper. You're probably used to seeing things like this on the back of the card, but not usually the front.
In fact, the 48-card set includes two different cards for each of the 24 players—one with a blank background and the other with the cartoon background. You can read more about the details and history of the set at Cardboard Connection.
Anyway, the set features a nice checklist including Joe DiMaggio, Jimmie Foxx, Bob Feller, and others. It's of course scarce, and it looks like the cheapest one available right now on COMC is a Good to VG-EX Moose Solters for under $30.
1991 Score
Next up is the classic 1991 Score "All Star" animation cards. While the subset doesn't carry much of any value, it does hold some nostalgia carried over from the mass production junk wax era for many collectors—similar to Fleer's Provision cards, only a bit goofier.
As you can see here, we have animated action shots of the 1990 all-star team, both American and National, including Rickey Henderson, Barry Bonds, Ken Griffey Jr., and many others. There are 20 cards in total with the AL occupying card numbers 392-401 and the NL taking 661-670.
2019 Panini Chronicles Score
Yes, Score again, and I won't spend much time here as the 2019 reboot is pretty similar to the 1991 entry just talked about above. There are 20 cards in total including boppers in Vlad and Tatis Jr., Trout, Ohtani, and more.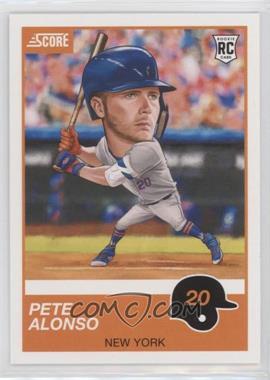 The one differentiating thing about the 2019 release is that it does include RCs like Pete Alonso, and has a number of numbered variations as you'd expect from a modern release—/99, /50, /25, /10, /5, and 1/1 versions.
2004 Upper Deck Power Up!
And for a little more of a digital spin and not as cartoonish (and a different card brand), Upper Deck came through with Power Up!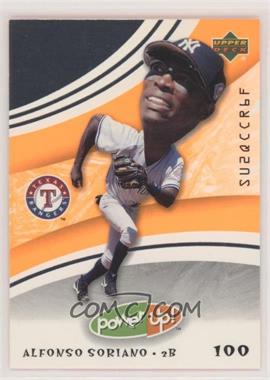 If you've seen these, you've probably seen a number of the variations of different colors, but the 100-card base set is green. There is also rare orange, ultra rare purple, super rare red, and mega rare blue.
2017-2020 Panini Donruss "Whammy"
In addition to the above, though, Panini released a personal favorite with their "Whammy" cards found in 2017-2020 Donruss sets. Featuring that same cartoon body and enlarged cartoon head, the Donruss "big head" is places on a nice shiny and eye-catching background, with a hard to miss "WHAMMY" in all caps at the top or the bottom.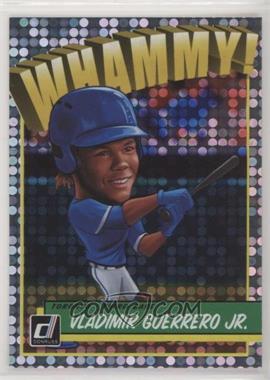 I won't go through the checklists for each of these, but the sets contain most of the stars from today's game you'd expect to see, along with Mickey Mantle, Ken Griffey Jr., and other legendary favorites. The price and value of these is going to be substantially higher than the previously mentioned Chronicles, so you might want to take a second look if you see a good deal pop-up.
2021 Topps Update Ultra Short Print Variations
And then finally, the set that got us talking about big head cards again, 2021 Topps Update. These ultra short print variations include what many believe to be today's baseball's top 5 in Tatis Jr, Trout, Ohtani, Vlad Jr., and Soto.
if for whatever reason you didn't catch and identify one of these based on the enlarged player head on the front of the card, the variation code on the back of the card will end in 418. And, due to their Ultra SP (USP) status, the odds of pulling one aren't yet known, and they carry a hefty premium, with the most recent Trout selling on February 2, 2022 for $800.