Affiliate Disclosure: This post contains affiliate links to eBay, Amazon, and other platforms within the content, sidebar ads, and in other areas. As I am part of the eBay Partner Network and other affiliate programs, if you follow these links and make a purchase, I will receive a commission. Likewise, as an Amazon Associate I earn from qualifying purchases.
As of July 2022, the value of the most recent Bird Magic Rookies on eBay have sold for:
$3,250 PSA 8 on 7/24/22
$3,337 PSA 8 on 7/24/22
$779 PSA 5 on 7/24/22
$915 PSA 6 on 7/24/22
$775 Raw on 7/24/22
$18,749.99 PSA 9 on 7/24/22
(Not including shipping.)
The Full List: ESPN's ranking o...
As of July 2022, the lowest-priced Bird Magic Rookies are available on eBay for:
(That is, lowest-priced, graded by a major company, not separated Buy It Now options with an image.)
Now, there are conflicting opinions about "shared" rookie cards—or rookie cards that feature more than one player. Think Cal Ripken and 1982 Topps or Nolan Ryan and 1968 Topps. On one hand, collectors would prefer to own a rookie card that showcased the star only, while others don't mind as much.
But also, sometimes collectors don't have a choice, and other times, the other player or players featured carry a ton of value themselves.
Which brings us to the 1980-81 Topps basketball card that not only features a Larry Bird rookie, but also doubles as a Magic Johnson rookie, and wait, also features Julius Erving!
That's right, the Bird Magic rookie from 1980-81 Topps is technically three cards—numbers 34, 174, and 139, respectively for Larry Bird, Julius Erving, and Magic Johnson. The three mini or panel cards are joined together as one, with perforated seperators.
In fact, a card in PSA 10 Gem Mint condition recently sold for a record $861,000 through Goldin auctions.
With that said, both Bird and Magic rookies can be had as parts of other "cards"—which aren't nearly as popular as the Bird, Magic, Erving combo.
For instance, according to Cardboard Connection, here are others featuring either Larry Bird or Magic Johnson:
Larry Bird RC / Bill Cartright / John Drew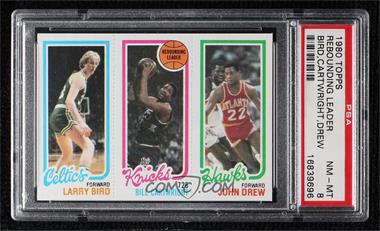 Jan Van Breda Kolff / Julius Erving / Magic Johnson RC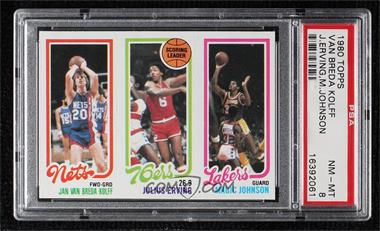 Marques Johnson / Larry Bird RC / Jack Sikma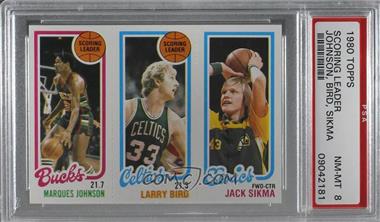 Scott May / Larry Bird RC / Jack Sikma