Affiliate Disclosure: This post contains affiliate links. As I am part of the eBay Partner Network and other affiliate programs, if you follow these links and make a purchase, I will receive a commission. Likewise, as an Amazon Associate I earn from qualifying purchases.
Yes, you can re-use Amazon Prime boxes to ship via USPS. When packaging, though, and choosing a box in which to ship, USPS says "If you're reusing a box, make sure all old logos, shipping labels, and addresses are covered or blacked out."
Thus, if you do choose to re-use an Amazon Prime box to ship elsewhere, be sure to follow these guidelines to ensure the best chances of your package arriving where and when intended.
While we are here, USPS says to also use a "sturdy box" when shipping, and I'd say that an Amazon Prime box fits that description. In addition, the box should tape so that it closes flat on all four sides, which again, most Amazon Prime boxes will.
And also don't forget that shipping boxes aren't the only thing Amazon packaging is good for. Sandwiching cards between pieces of cardboard is one of my preferred shipping techniques, and all of these extra Amazon boxes make for great materials.
I get amazon boxes daily. I cut those up for free. USPS bubble mailers i use for protecting and cover with a 6×9 mailer bag, reuse other bags and have nicer Bubble Mailers for my more expensive items.

— PSA10Collectibles (@Psa10Collector) September 2, 2020
Why This is Important to Know
While the card hobby can be an expensive one, there are certainly ways to save a few bucks here and there by being resourceful. Most of this will be left for other blog posts, but examples include reusing toploaders, and of course, ordering priority flat rate boxes directly from USPS, and of course "recycling" and reusing boxes as is the case here.
Read More: How to Ship "PWE" Cards
Especially if you're someone who utilizes Amazon for convenience as much as I do, you can have a stack of boxes in different sizes at any one time, and shouldn't ever really have the need to go out and buy a shipping box again.
Other Ways to Save on Shipping
As mentioned above, did you know you can pick up or order flat-rate boxes and envelopes for free from USPS?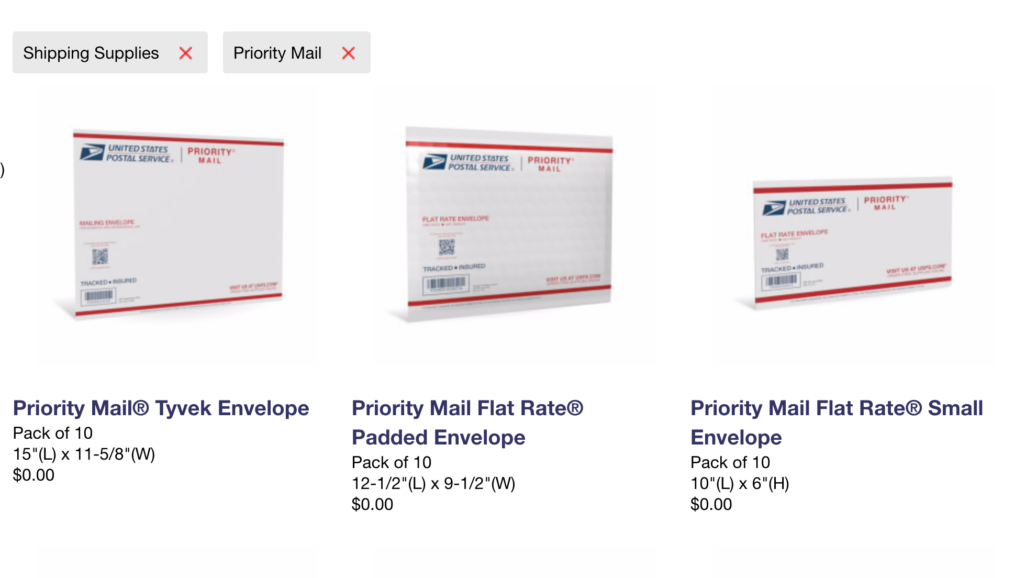 As you can see, those are $0.00 prices. Just go here to order or walk into your nearest post office and ask where you can find them.
In addition, make sure you choose the right shipping service. Different shipping services offer different rates, so it's always good idea to compare options and choose the one that offers the best combination of speed and cost for your needs. For example, a single card under 16 oz. can be shipped via First Class mail.
In the example above, you see the "flat rate" option which could work well if you're shipping in bulk, because the cost won't fluctuate with the weight of the package—you can ship 10 cards or 100 cards and the rate is flat.