Affiliate Disclosure: This post contains affiliate links to eBay, Amazon, and other platforms within the content, sidebar ads, and in other areas. As I am part of the eBay Partner Network and other affiliate programs, if you follow these links and make a purchase, I will receive a commission. Likewise, as an Amazon Associate I earn from qualifying purchases.
I've gotten a lot of questions about COMC, and it makes sense. It's my preferred method of buying and selling (while I still love eBay for selling baseball cards when I have them in hand) and thus am always talking about it here, on social media, etc.
Once people get over the look and feel of what many call an "outdated" site (and does COMC have an app?), their next questions becomes, "are there fees?"
Just to get this out of the way, yes, there are fees with COMC. There are fees everywhere. I think many forget that yes, paying fees isn't ideal, but these are businesses who are investing in operations, people, and more in order to provide us with a service.
So, we should expect fees, and yes, COMC has fees. What's trickier, though, is really understanding what those fees look like. Sure, we all know about selling fees, but the buck doesn't stop there. It's also difficult for many to truly understand how fees might compare to an experience like eBay.
All that said, I'm going to break down as much of this info as I can, using my own numbers, experiences, and thoughts. Above all else though, when choosing a service with which to sell your cards, you also need to remember the services.
COMC Fees
Because COMC offers a number of different services, there are going to be a handful of different fee buckets.
Fees When Sending a Card to COMC
High-end "Elite" $2 per item (no max list price)
Select consignment $1 per item ($100 max list price)
Standard consignment $.50 per item (16 weeks)
Fees When Selling a Card on COMC
5% of sale price
3.5 transaction fee if selling via eBay auction
Fees for Storage & Security with COMC
Storage: 1¢ per item with an asking price over $0.75 per month
Security: 1¢ per $1,000 in total list price per day (list price of more than $50)
Fees When Funding & Cashing Out Your Account
10% cash out fee to withdraw money from your account

COMC Fee Example from Recent Sale
To explain the above, when you sell a card on COMC, the most common scenario would lead to you incur ring the following fees:
Processing Fee: Either $2/card for high-end "elite "select" at $1/card or "standard" $.50/card
Sales Fee: 5% of sales price
Cash Out Fee: 10% of cash out request
I say might because as you can see with the initial processing fee, there are different options, and sometimes you might not have a choice of service level depending on the card you're submitting and/or it's value. Not to mention you might not need to pay a processing fee at all. Cash out fee is also something you might not incur.
At the end of the day, the lowest fee you will definitely have to pay once you sell a card on COMC is the 5% sales fee. Meaning, there is a lot to talk about, so let's get into it.
I actually just sold an identical card on both COMC and eBay, so I'll use that example in order to save any confusion. I'm going to go through a lot of it in paragraph from here to explain what all of the above means.
First though, there are two ways to sell cards on COMC—send your own cards into COMC or buy a card already on COMC and then sell it. As you can imagine, there are going to be more fees if you send cards into COMC to be processed, scanned, and populated.
For example, I sold this Julio Rodriguez 2020 Topps 206 Series 3 Piedmont Ad Back #30 PSA 10 for $115. Sales fees are 5%, which left me with $109.25. I happened to buy this card from COMC, but let's say that I had that card in my possession, and then sent it into COMC to sell. My card would fall into the "high-end elite" processing category because it's valued at more than $100, and the cost would be $2 per card.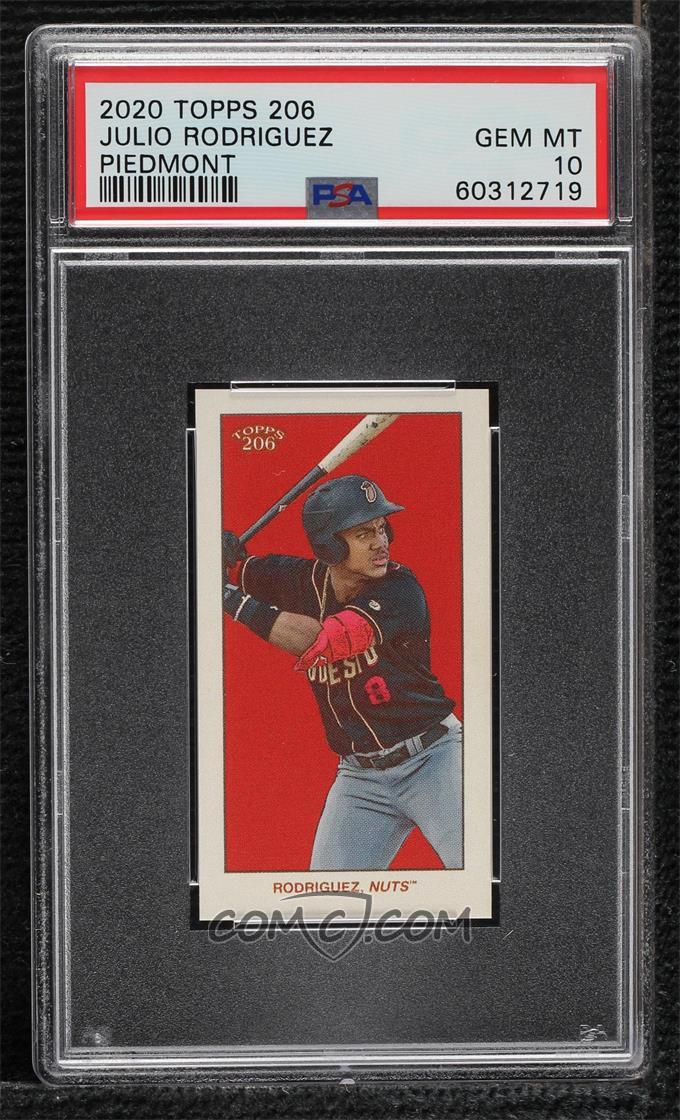 Now, there is more to the story. As I've broken down in my post on whether or not COMC is worth it, when you buy cards on COMC, you need to first fund your account, which can be done with PayPal. Likewise, when you sell a card, the proceeds are deposited into your COMC account, where you can then immediately use that money to buy cards, or, you can withdraw it.
If you do indeed want to withdraw your funds from your COMC account, there is a 10% cash out fee for doing so. Thus, if your plan is to sell cards on COMC then cash out those funds instead of using them to buy cards, you have to factor in that 10% as a fee.
eBay Fee Example from Recent Sale
Soon before making that COMC sale, I listed my other Julio Rodriguez 2020 Topps 206 Series 3 Piedmont Ad Back #30 PSA 10 on eBay for around the same price.
It didn't cost anything to list the card, but when I sold it, how much did eBay take? I paid 12.9% ($19.52) plus $.30 which is the per-order fixed amount.
I'll also note that I promoted the card in order to try and get more views, and the resulting sale came from that promotion, and thus I had to pay the fee. I realize not everyone or maybe even not most people do this, so I won't get into it much here because it is totally optional and plenty of cards are sold without being promoted.
At the end of the day, eBay's fees may be a little lower at the moment, but you also have to remember the difference in services, where with COMC you're receiving the "consignment" treatment and thus the scanning, shipping, etc. isn't your responsibility.