Affiliate Disclosure: This post contains affiliate links to eBay, Amazon, and other platforms within the content, sidebar ads, and in other areas. As I am part of the eBay Partner Network and other affiliate programs, if you follow these links and make a purchase, I will receive a commission. Likewise, as an Amazon Associate I earn from qualifying purchases.
Over the past few months, there have been a number of changes and new features on eBay specifically around trading cards. From the introduction of the eBay standard envelope to new return policies, there has been no shortage eBay trading card news.
A little bit under the radar as of late, though, has been the rollout of the eBay trading card price guide.
What is the eBay Price Guide?
The eBay Price Guide is a trading card tool that helps users price the cards they are buying and selling. It includes resources like market value charts, 365-day stats, and the ability to easily dive into the details of 50 most recently sold card listings on eBay. It's the latest entry in a lineup of many different baseball card value apps.
How to Find the eBay Price Guide
From what I can tell, the guide is a bit hidden at the moment, and has different access points – and names for that matter – between the desktop and mobile experiences.
On your mobile device, go to "Search" and enter a general, popular search term. Meaning, you'll want to search something like "Ohtani auto" and not "2019 Topps Chrome Ohtani Auto." (For whatever reason, the option to view the price guide only seems to trigger on the general queries, as shown below.)
Once you see the option to view the price guide, click the given area and you'll be taken to the price guide. From there, you'll still see the search bar with your previously-used query.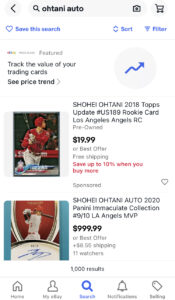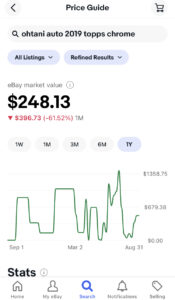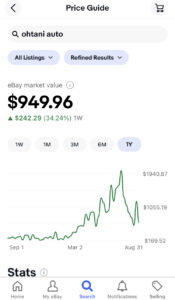 You might not get much value from this default view, but now you can add specifics to your search term in order to hone in on a specific card.
Now, on desktop, it's an entirely different experience and one that doesn't even seem to be branded under the "price guide" name. Instead, it appears that eBay has made its long-standing paid research service, Terapeak, free for everyone.
To access, go to "My eBay" and then "Selling" on the dropdown menu. Then go to the "Research" tab by either clicking it directly or hovering over it and selecting "Terapeak product research." Either way, you'll be greeted with a search bar and another dropdown that should default to "Last 365 days."

And then from there, you'd simply enter your search query to see the same info just presented above, albeit in a different format.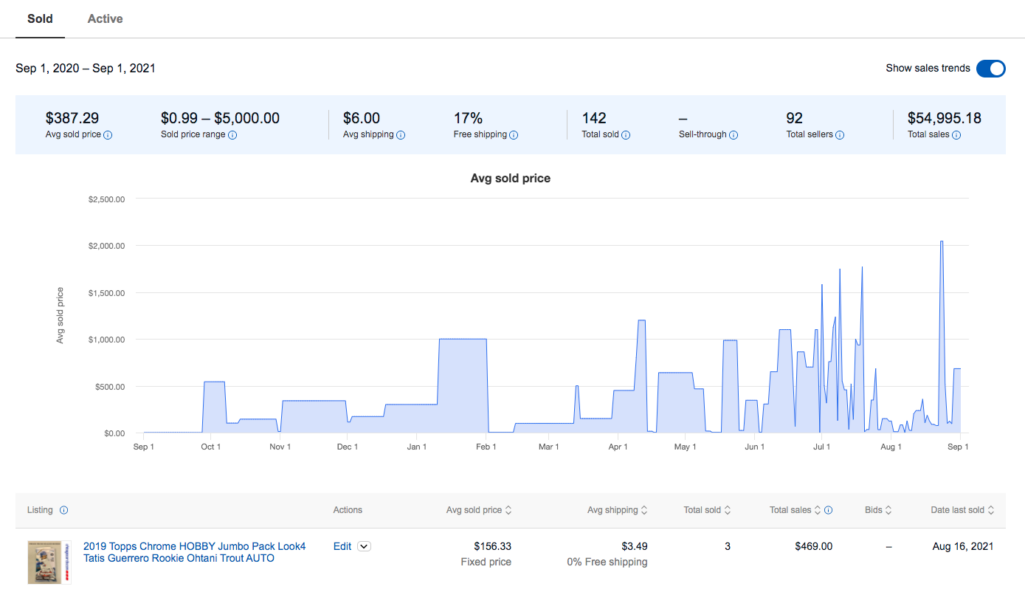 Now, importantly, in both mobile and desktop, you're going to want to take a look at the actual listing results that eBay is using to compile the charts and tables. Reason being – and I left the first listing in the image above on purpose – you're not always going to receive data on the exact card or cards you're searching.
On one hand, card listers take advantage of keyword stuffing, and many times go overboard in describing their cards. So, you might see things like "eBay 1/1" to describe a card that is the only one on eBay, even though it's not a true 1/1 card, if that makes sense.
Other times, as is the case with the example above, you're going to get box and pack listings that are advertising the players that you might hit if you purchase. So in this case, we searched for "Ohtani auto 2019 topps chome," and this listing fits, however it's not the particular card we are trying to research.
And last, sometimes listings will show in search results even when they don't contain the keyword you're searching, and that's because eBay has a number of backend specification filters where sellers can select a certain player, team, set, card feature, etc. Because it's easy for a seller to "sell one like this" and basically copy over pre-entered information, sometimes those info bits get carried over into listings that might not have anything to do with what has been previously selected.
So, all things considered, the eBay tools are great and offer a lot of useful research value, but many times you'll have to do a little digging and cleaning up to arrive at a true or more accurate outcome or takeaway.