Affiliate Disclosure: This post contains affiliate links. As I am part of the eBay Partner Network and other affiliate programs, if you follow these links and make a purchase, I will receive a commission. Likewise, as an Amazon Associate I earn from qualifying purchases.
Three experiences got me into baseball card collecting—flea markets, garage sales, and thrift stores like Goodwill. I mean, there weren't really many other options if you were looking to buy card collections in bulk in 1994.
Even as we evolve into a much different time with this cardboard hobby we all love so much, Goodwill is still a big source, but the landscape has definitely changed. Now, it's not only about walking into a store and searching for cards—there are online options, and even more than one
So, let's take a look at how to use Goodwill to your advantage when trying to build a collection or seeking cards to flip.
Finding Cards at Goodwill
As mentioned, physically walking into a Goodwill is still a viable option when it comes to searching for cards. The only differences today are, you might have less people donating cards and instead, looking up their value in order to sell online somewhere. Not to mention more competition in the store as well, as there seems to be more collectors and more flippers than ever before.
Read More: How to Make Money Flipping Sports Cards
All this boils down to less cards for you to find, and more competition trying to grab a dwindling supply. So, it might help to know where to find them so that you can head straight there and not waste time roaming the store searching for cardboard treasure.
Toy Section
If you're lucky, the toy section can produce cards at times—the only thing is that they may be in smaller quantities and stored inside the plastic bags that hang on the hooks with the miscellaneous and mixed toys.
Here is an example of what that might look like, in a video "Thrift Store Sports Cards Finds | Save $ On Binders | Multiple Autos Pulled | Crosby 2nd Year!" from Wolfen EXE:
From that same video, you can see that it might be a good idea to look at the board games shelf as well, as this person found a couple of tins of hockey cards in that exact spot:
Showcase
Cards in larger quantities are often stored in the showcases (glass cases) up by the registers. That said, if they are in the showcase, they might also be marked up a bit.
Middle Racks
Just like any other product, if there are a lot of sports cards at a particular Goodwill, they'll have to put them on the shelving racks, just like this example:
Decent little thrift hunt today. Found a ton of 85-90 sports cards at a goodwill. No I didn't get any. No I'm not going back lol mostly donruss score topps stuff that was never really worth much but still cool to look at. pic.twitter.com/caTSCdoEAo

— Jason Wulf (@artofjasonwulf) June 1, 2022
Aisle Tops
You might also find cards on top of aisles, mixed in with boardgames and other toys and entertainment. Complete sets seem to be a type of card configuration that is found on top of aisles.
If you don't have time to make a physical card run, or you simply don't live near a Goodwill, shopping online is always an option…
ShopGoodwill.com
One of those online platforms is ShopGoodwill.com: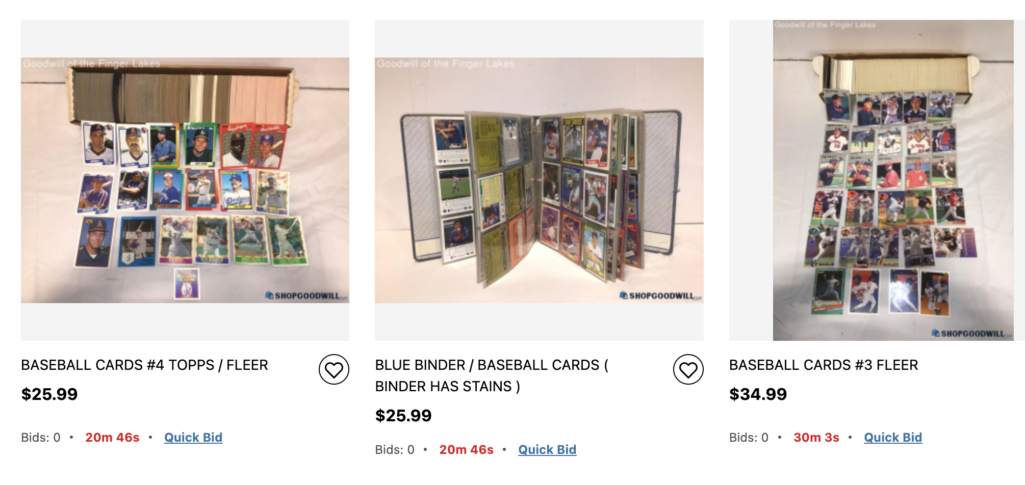 If you're familiar with eBay, ShopGoodwill.com functions similarly as an auction site, which means cards go up for sale for a few days, and people bid what they're willing. to pay, with the winner purchasing and having the cards shipped to them.
One thing that I've found, especially of late, is that if there are good cards prominently displayed in photos, bidding amounts will soar. Same thing with photos of cards in top loaders, and even if you can't see what cards are in said top loaders!
It should also be noted, there are a lot of bulk auctions, and while there are usually a handful of photos attached to each listing, it's really tough to get a rid on what might be included.
The other factor that makes buying tough at times is shipping. Because these are mostly bulk items, having to pay for pounds and pounds of sports cards from Miami to Sacramento can provide quite the hurdle.
That said, one thing I do find useful is that there are a number of auctions listed as "pickup only" meaning you might see huge bins and pallets of cards for sale, and thus instead of shipping, you'd pick them up from the local Goodwill.
I took advantage of this while living in San Jose years ago, but haven't since, so it really depends how close to these Goodwill centers you live.
So, if risk-taking is your thing, and you have a good eye for picking out a needle in a haystack from just a few photos, ShopGoodwill.com might be for you.
GoodwillFinds.com
While ShopGoodwill provides an auction platform, the relatively new GoodwillFinds.com is more of a "buy it now" based site.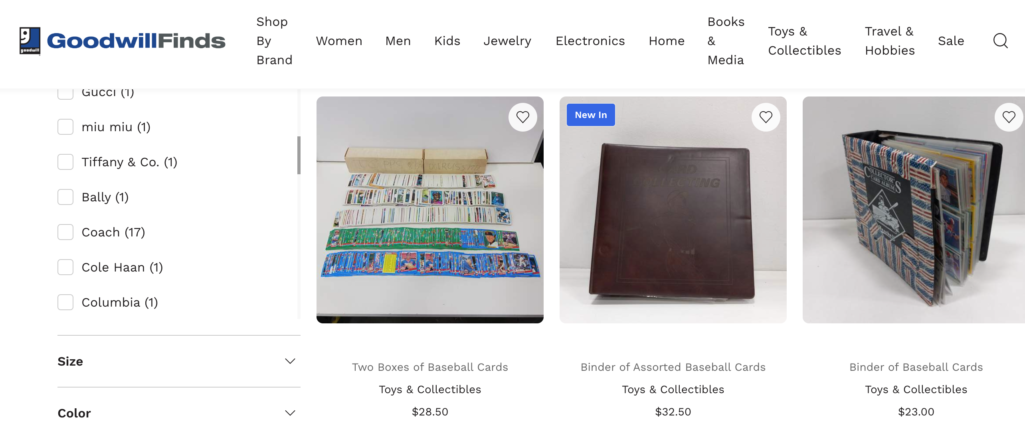 I've done a lot of browsing, but haven't made a purchase. From what I can tell, it seems like a lot of the same types of cards and collections, and given the sites are so similar, I'm wondering if maybe some of the lots that don't get sold at auction on ShopGoodwill.com make their way to GoodwillFinds.com? Or vice versa? I'm not really sure.
I don't see an option to pick up orders in place of having them shipped, but it might be an option on some items and not others. Either way, when I search "cards" I only see the following stores with product:
Goodwill of Colorado
Evergreen Goodwill of Northwest Washington
Goodwill of Southeastern Wisconsin and Metro Chicago
Goodwill of Southern California
One big takeaway is that wow, there are still a lot of cards being donated to Goodwill! Perhaps you'll find less of them in store these days because more of them are being listed online? Of course, if you don't have many Goodwill stores near you, this is a way to fill the void! Good luck!