Affiliate Disclosure: This post contains affiliate links to eBay, Amazon, and other platforms within the content, sidebar ads, and in other areas. As I am part of the eBay Partner Network and other affiliate programs, if you follow these links and make a purchase, I will receive a commission. Likewise, as an Amazon Associate I earn from qualifying purchases.
I've talked about this method to death on platforms like Twitter and TikTok, but with sports cards, primarily. It got me thinking that while I've said all I can say to my baseball card followers, etc. there might be a large group of Pokémon card enthusiasts who could benefit from these tips.
What makes this method easy and fun? You can start with as little spend as you want—$5, $10, $25, $100, etc. In addition, you can put in as much or as little time as you can. And last, you never have to touch a card if you don't want to, which means not having to deal with shipping, other buyers, returns, physical inventory, etc.
So, what is it?
It's COMC. And just wait, you'd probably heard of the site before, wondered if COMC was worth it, made fun of the old school site design, and more. But, if you haven't yet given it a chance for its flipping potential, just stick with me for a few more minutes.
To start, I won't be detailing every aspect of the platform, but here is a primer. COMC is an online card consignment platform, which means people send their cards to COMC, and COMC then scans them, populates the details, and more. All that's then required of sellers is to price the cards.
Additionally, though, and what opens up COMC's flipping potential is that you can buy cards on COMC and then hold them in your inventory without ever shipping them to yourself. This also means you can immediately reprice cards for sale seconds after you purchase if you wanted.
See where this is going?
1. Create an Account
The first step of any such list is to simply create an account. Go to "Register" and add your name, email, and password, and off you go.
2. Fund Your Account
If you're used to eBay, this might stand out as a little odd and different, but it also makes COMC a great Pokémon card flipping destination. Specifically, to buy cards on COMC you must first add funds to your account to do so. Think of it as putting money into a bank account—you're putting money into your COMC "bank account" to buy cards. Then, when you sell cards, your account is credited and so on.
One other shock piece here is that when you deposit money into your account, you'll have to pay taxes. You're essentially purchasing store credit, so for example, when I purchase $100 in credits, the total I need to spend to do so is $107.25.

I might as well rip the band-aid off here too…when it comes to withdraw your funds, you'll have to pay a 10% cash out fee to do so as well.
Given this info, if you purchased $1000 in store credit, you'd be spending $1072.50 to do so. If you didn't buy or sell any cards and then decided to cash out your credit, you'd have $900 after your 10% fee. So, you're essentially losing $172.50 in this case.
There are also sales fees from COMC and more, but it all comes with the territory, and just needs to be factored into your margins.
If you're still with me, let's move on.
3. Locate Pokémon Cards
There are a couple of ways to do this—one, you can simply search "Pokémon" in the search bar and then press the red "Go" button. Or, you can scroll down to the different categories and select "Pokémon."
Either way, you should now see something like this: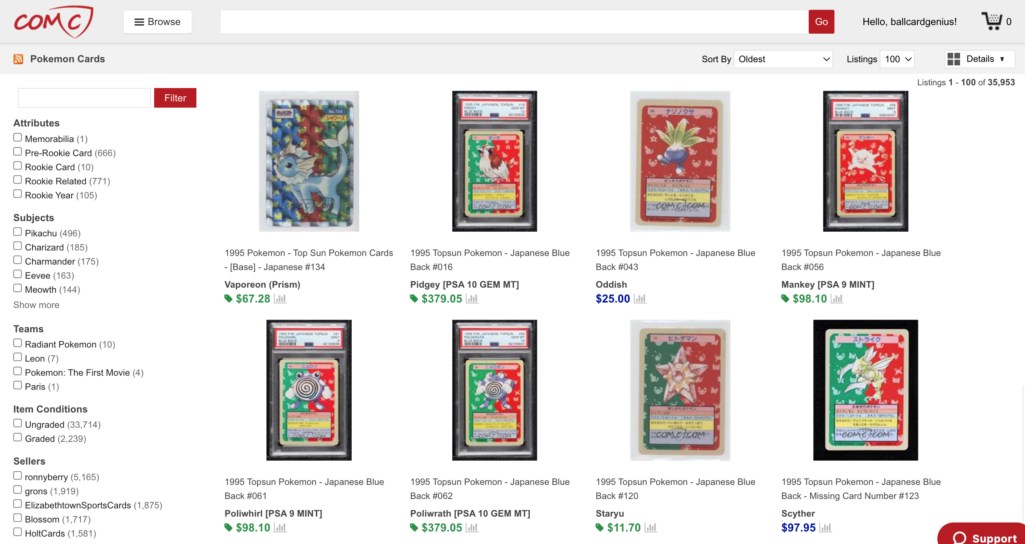 3. Sort by "Recently Added"
There are a number of ways to flip cards—some like to speculate and purchase for the long haul, while others like to buy and get rid of as quickly as possible. So, you can if you wanted spend hours browsing the COMC marketplace, but we won't be talking about that here today.
Read More: Who Buys Baseball Cards?
Instead, my preferred method is to sort by "Recently Added."
If you remember above I mentioned that sellers physically send their cards into COMC for sale. When they do so, the cards need to go through scanning and processing before they can be listed for sale. Well, with so many cards coming in from sellers at all times, cards are processed in order and made available to sellers for sale at different times of the day.
Thus, upon getting notification from COMC that their cards have been processed and are ready to be listed for sale, sellers log in and start pricing. As a result, new cards are hitting the site by the minute, or the second even, and I'm not exaggerating.
So, with all of that, if you sort by "Recently Added" you'll be viewing the cards that are newest to the site for sale. The benefit of doing so is that if a card is underpriced, you want to be one of the first to see that, right?
4. Act Fast & Purchase Quickly
I'll get into some additional tips below as to what you're looking for when scanning the "recently added" section, but for now, remember this—good deals go very fast, and great deals go even quicker.
Again, I'm talking something like a card hits COMC for sale and within seconds that card is snapped up by someone if the deal is good enough. Meaning, by the time you see the card for sale and click into it in order to make the purchase, the card is gone and you are met with the dreaded "Sold Out" text. It's not fun, but it happens to the best of us.
So, really, if you see a good deal, move fast. Of course, your knowledge and amount of risk you're willing to take on will make this more difficult or easy for some people, but that's the game that is played here.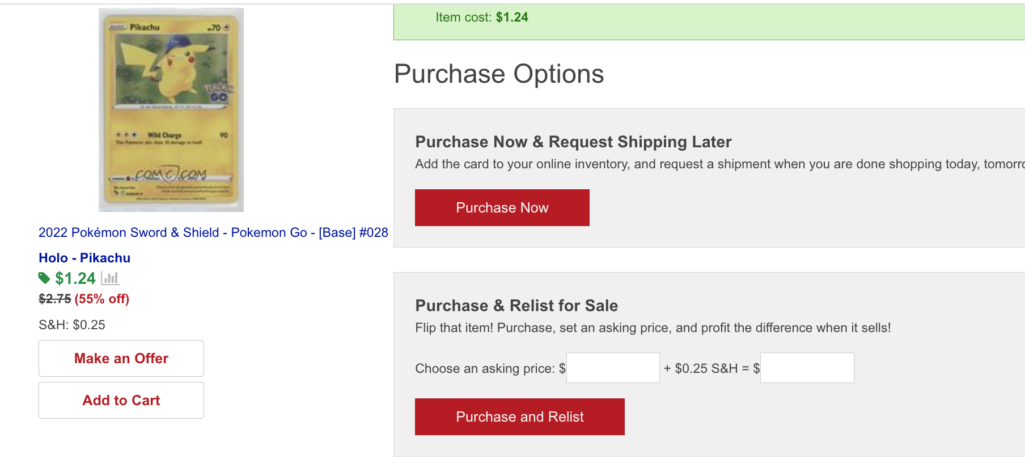 This isn't any great deal, but just showing an example. When you click into a card, you can either "purchase now" at which point the card will be added to your inventory, or, you can "purchase and relist," which means the card will be purchased by you but then automatically relisted for sale on COMC at the price you set.
5. Reprice the Card
If you're lucky enough to snag a card, congratulations! Once you do, that card immediately hits your COMC inventory and is no longer for sale. As you can see above, you are presented with the option to "set the price." Once you do and hit save, your card is now for sale again. It's that easy.
So again, you could be scanning for deals, see a $25 card pop-up that's listed for $10, so you buy it and then reprice at $20, at which point your store credit will be reduced by $10 for the purchase and your inventory gets a card added to it. If you relist the card for $20, it will be put right back on COMC and when purchased, your store credit will increase at the $20 sales prices minus the 5% sales fee.
Honestly, that's all there is to it! Are there other tips and strategies? Of course, and I'll highlight some of them in a second. But using this method, you can easily sell cards the same day you buy them, and sometimes within minutes or seconds.
Here is my fastest flip:
Pokémon Card Flipping Tips
So, how do you spot a good deal?
Build Knowledge
One, you can have insanely good knowledge of all the different Pokémon cards out there and thus, you'll be able to spot a good deal from a mile away.
Check Comps
If you don't have as much knowledge or maybe you do but still need to check around to minimize your risk, I suggest learning how to comp cards quickly. For me, eBay is simply the easiest and fastest way of doing so, either utilizing the "sold" listings and checking what that card or similar cards have sold for, and/or seeing how many are currently available for sale.
My tip is to make sure you're buying a card that is scarce, or if not scarce, that you can price the card to be the lowest-priced option and still make a profit. (Don't forget that there is a lot more that goes into profit in addition to buying and selling price, including fees, and more.)
Scan for Scarce
As noted above, the best deals I've found on COMC come when the card listed for sale is the only one like it for sale. Meaning, think about a seller pricing their cards for sale. They have a 1999 Pokémon Base Set Charizard Holo Unlimited #4 they need to price and see that there are currently 3 other copies of this card listed on COMC, with the lowest price being $347. Knowing that, do you think they're going to price their card much lower than that? Probably not.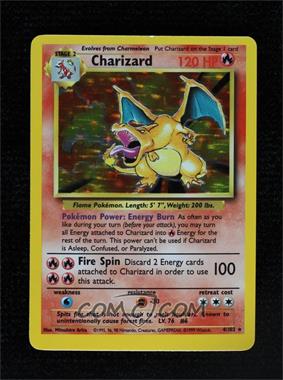 On the other hand, imagine if there weren't any other copies for sale on COMC. The seller has this card to price but they aren't sure what to price it at. And because they don't see any others available for sale, they take an uneducated guess and price the card at $25. Now you come along and see this $25 deal hit the recently added section and you snag it.
Read More: 1999 Pokémon Booster Pack Info
So, by "scan for scarce" I simply mean scan and more deeply consider those cards that only have one copy for sale on COMC because there is a greater likelihood that card is underpriced given the fact that the seller doesn't have another price anchor staring them right in the face.