Affiliate Disclosure: This post contains affiliate links to eBay, Amazon, and other platforms within the content, sidebar ads, and in other areas. As I am part of the eBay Partner Network and other affiliate programs, if you follow these links and make a purchase, I will receive a commission. Likewise, as an Amazon Associate I earn from qualifying purchases.
For me, loving sports and loving baseball card collecting has always gone hand in hand, and because of that, I always have a hard time realizing that no, every sport fan is not a card collector. In fact, the majority of sports fans aren't card collecting. But, some perhaps would love to get into collecting, but don't know where to start.
So, with the understanding that sure, while I grew up with cards, I've gone in and out of the hobby myself—being fully into it as a kid until about 16 years old, getting out of it (even selling my cards to help fund my first car), getting back into it in college, weirdly, getting out of it again, and then jumping fully back in around 2017. Whew, what a journey.
All said, I've seen both sides as one in the hobby and as an outsider, and then as someone who has had to climb back in a few times. Through those experiences, here are some tips to help you get into the hobby or to help your children into the hobby.
1. Look at cards to get a feel for what's out there
I was planning on "decide what you want to collect" as the first step, and then I realized that, especially these days, it's impossible to know what you really like and want to collect before you first know and understand all that is out there.
So, just look at some cards. I personally think a site like COMC.com is great for this because they have cards of all kinds, nice scans, and decent information on each. My suggestion is to simply pick a sport to filter, say baseball or your sport of choice, filter by "recently added," and just refresh the page for a few minutes. You'll see a ton of new and different cards get posted in that time. You can also search by player if you have one in mind, etc.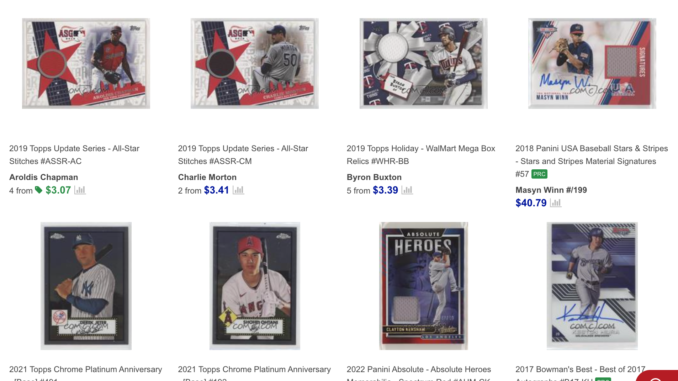 2. Buy cards to start understanding what you like/dislike
Now, buying cards before knowing what you're collecting might seem a little backward, but hear me out. Sometimes you just can't appreciate a card until you hold one. But with so many different cards out there, things can get expensive!
One thing you might want to do is go to eBay and just purchase a cheap mixed lot of cards. If you know at this point you want to collect, say, your favorite team but of the modern area, then head that direction with your purchase.
Really, there is so much to choose from, whether it's vintage, or even a favorite player who is now retired…you should be able to find a relatively inexpensive lot of cards to just get familiar with the different options out there.
You can also head to Target or your local card shop to buy sealed wax, which are unopened packs of cards. Again, if you know you want to collect modern cards, this could be helpful, but I'd just caution jumping in too far and buying a ton before really knowing what you want to collect. You can even find card collections for sale from a number of sources, and buy cards at stores you'd never expect.
Either way, the whole goal at this stage is to just build familiarity with all of the cards out there, and there is a handful of ways you can go about this. Another option is to find a baseball card subscription box for a regular monthly stream of new cards.
3. Establish a "PC" angle
PC stands for "personal collection" and as you interact with more collectors, you'll probably hear questions like "who/what do you PC" which is just a way of asking who or what you collect.
So, now that you've familiarized yourself with the different types of cards out there, find your collecting angle. This can be any number of things, and that's the beauty of cards—you can collect whatever you choose. Here are some ideas:
Players
Teams
Eras
Prospects
Types of card (inserts, refractors, etc.)
Autos
Memorabilia
Rookies
That's barely scratching the surface, not to mention that many people take these broad categories and either combine them or narrow them down in some way or another.
For example, when it comes to my personal collection, the biggest pieces are Oakland A's autographs from players I loved growing up—Rickey Henderson, Mark McGwire, and Jose Canseco. The best cards to collect for me are flashy 90s inserts of any team/player.
Beyond that, though, I also collect – wait for it – non-A's players who are pictured sitting in the Oakland dugout. And while that sounds really obscure, that's part of the reason I enjoy it. I get to combine some of my Oakland fandom with other non-A's players, and yes, believe it or not, a ton of these cards exist.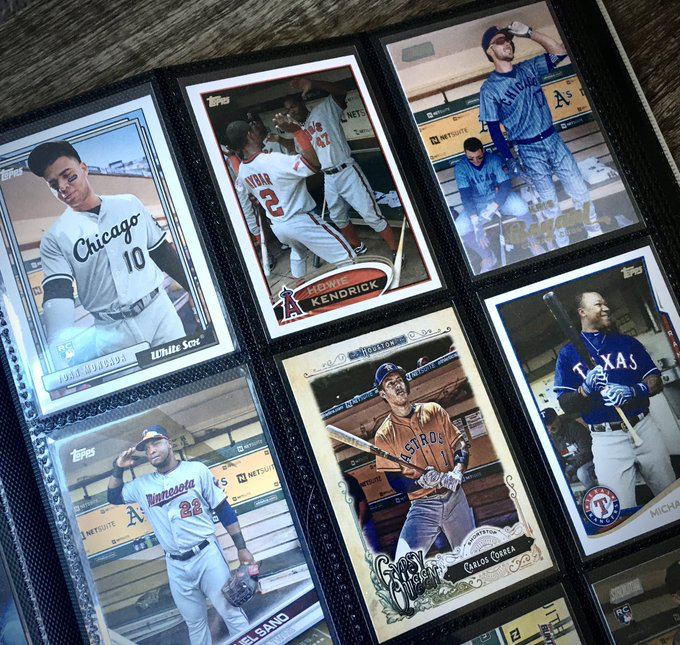 I've also been pulled in the direction of Ken Griffey Jr. jerseys and rare Barry Sanders cards.
Point being, you can really take your PC in any direction—some only like minor league cards, others like cards with weird backgrounds. Some like relics of a certain color, while others only collect cards with a particular serial number. See what I mean?
4. Join card circles and communities
As much as I loved collecting in my own little bubble, things really got fun and interesting when I was able to join card circles on social media, where people talked cards, showed them off, debated them, and more. For me personally, I found Twitter to be a fun space, and now I love to get on TikTok and talk cards myself.
Beyond social media, there are a number of online sports card forums, like the Blowout Forums, and if you're lucky enough to have a local card shop nearby, in-person everyday conversations or trading nights, etc. might be fun.
5. Have a card storage plan
I can't stress this piece enough, especially when you're first starting out and able to get ahead of the mess before it manifests. From boxes to binders, penny sleeves, top loaders, and more—there are a number of ways to organize your card collection and the situation will dictate the best holder for your cards. Pick one now and try your best to stay on top of it!
I mostly utilize top loaders and shoe boxes, but have recently got into storing my inserts in these flexible folders.
I also like to treat my cards as art as much as possible, framing up mini collections like this: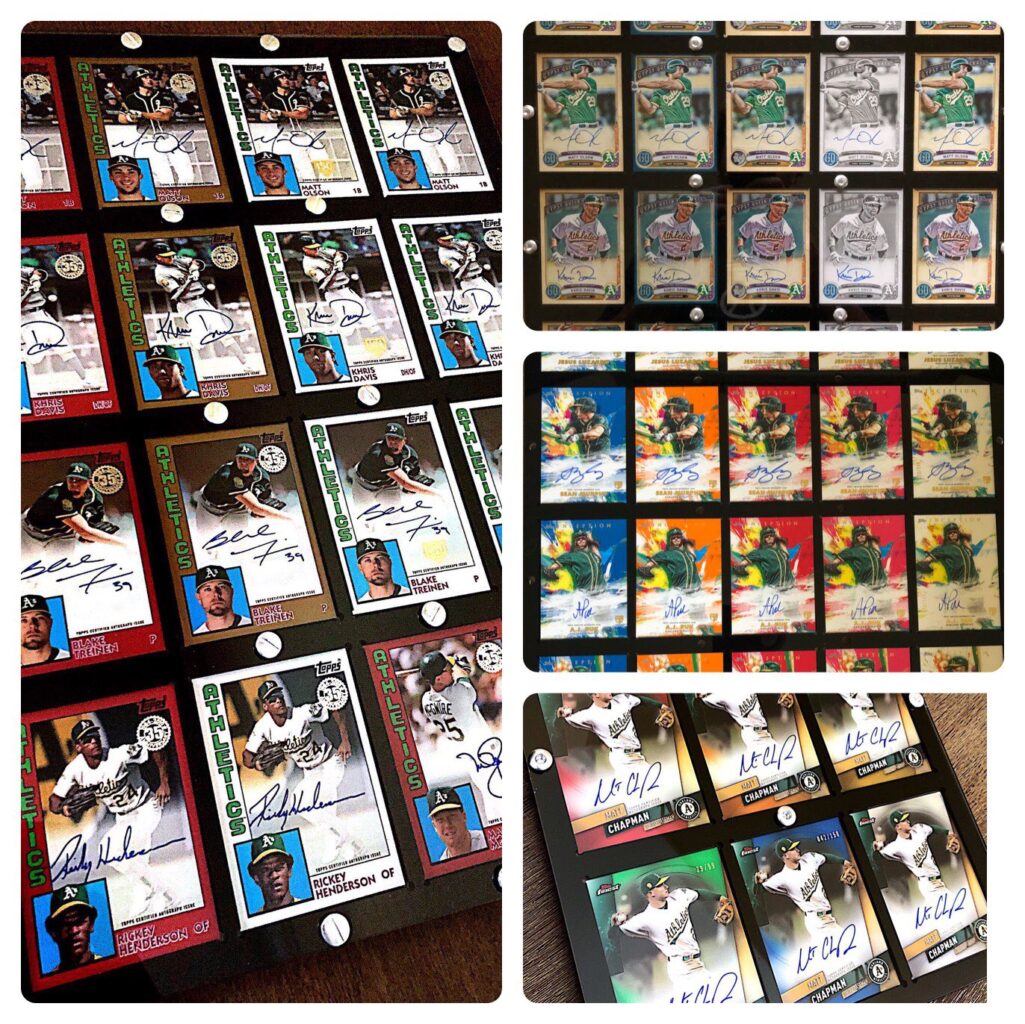 6. Ask questions from the experts
Last, don't be afraid to ask questions. Going back to the social media options mentioned above, for as many trolls and toxic individuals you might encounter, there are great resources willing to help and answer questions.
If you'd rather keep to yourself, you can also research the forums mentioned above, or utilize Twitter search to find people asking the same or similar questions.
Last, my goal is to be a resource for new collectors as well, and you'll find a number of questions asked and answered on this blog. If you don't see your question here, feel free to contact me and/or sign up for my email list. Thanks and best of luck!