Affiliate Disclosure: This post contains affiliate links to eBay, Amazon, and other platforms within the content, sidebar ads, and in other areas. As I am part of the eBay Partner Network and other affiliate programs, if you follow these links and make a purchase, I will receive a commission. Likewise, as an Amazon Associate I earn from qualifying purchases.
For as much enjoyment card collecting can bring someone, there are a number of things that will easily bring on the squirm and cringe. This list includes scotch tape on top loaders, storing cards in top loaders without a penny sleeve, and the main point of this post, shoving thick cards into card holders that are simply too small. 
Thus, really, when it comes to storing relic cards, it's all about sizing, and ensuring you're using the best card holder for the situation, and opting for those produced for thicker cards of the correct sizes, and not just settling for good enough. Let's get into it. 
1. Download a Card Thickness Gauge
Rule number one is that if you have a relic card, it's going to be thicker than your typical trading card. Yes, there are some relics that are quite thin, but trust me on this—that relic card needs special handling. I mean, even getting 1st Bowman Chrome cards into regular top loaders isn't smooth and free of resistance. Thus, imagine trying to get a card with a piece of jersey in there.
So, first, determine the thickness of your card. One really easy way to do this is to get your hands on a card thickness gauge. And good news for you, you can download one for free directly from BCW Supplies.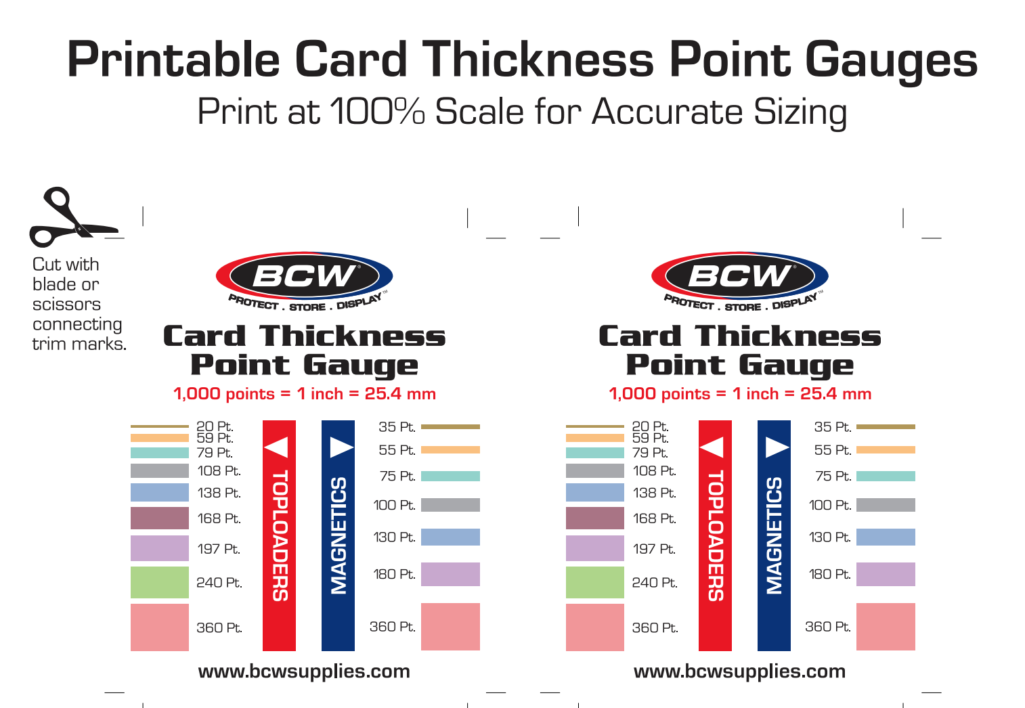 Now, you just need to learn how to use this handy helper tool…
2. Measure Your Card Thickness
Now that you have the thickness gauge, let's put it to work. Print out the gauge and then cut along the lines shown on the paper. In the end, you should be able to place your cards on the thickness gauge, so however you want to get to that point is up to you.
Again, BCW to the rescue, with this video and tutorial on how to use the thickness gauge. That quick video is below too, but I'll summarize the points here. It's really pretty simple.
On the left hand of the gauge you'll see "TOPLOADERS" and on the right you'll see "MAGNETICS." To the left and right of each you'll see a number of lines in different colors and "Pt." sizes. (1,000 points = 1 inch = 25.4 mm, but that's not really all that important right now.)
Anyway, decide if the best way to store your card is in a top loader or magnetic one touch. For me, magnetics are for higher-end PC items, while top loaders are for those cards I'm probably going to sell or lower-end PC items.
Once you've decided, hold the card in your hands so that the top, bottom, or either side edge can be placed on the thickness gauge. Align the card with the "Pt." size you think the card is, and then adjust larger or smaller. The "final" and correct size of colored rectangle should perfectly or near-perfectly match the thickness of the card you're holding.
In the video below, the card is placed on the 130pt. line, which appears to perfectly match the thickness of the card.
3. Purchase Your Card Holder
Now that you know your card thickness, you'll now just need to find or purchase a card holder to accommodate. And yes, believe it or not, top loaders, magnetics, penny sleeves, and semi-rigid pouches are offered in a variety of thicknesses to accommodate relic cards.
Again using the example above, all I'd do is go to Amazon, search for magnetic 130pt or top loader 130pt, and voila:
Yes, that's really it. I think most people just might not know that thicker card holders exist, and are easy to find. Again, it's not just magnetics…these are thicker penny sleeves, top loaders, and card stands.
And even though I mentioned it a few times, always be sure to use penny sleeves before placing your cards into top loaders. As for magnetics, that's something different collectors will debate. If you have a relic auto card, some will say that you should place a penny sleeve on top of the card to separate the card surface from the mag top. (If you want to go this route, they also make magnetic cases that have room for a penny-sleeved card, just FYI.)