Affiliate Disclosure: This post contains affiliate links to eBay, Amazon, and other platforms within the content, sidebar ads, and in other areas. As I am part of the eBay Partner Network and other affiliate programs, if you follow these links and make a purchase, I will receive a commission. Likewise, as an Amazon Associate I earn from qualifying purchases.
This is not any sort of slight or dig; just an observation. But for a hobby and business as large and popular as sports card collecting, there are some websites and online user experiences that make more than a few people scratch their heads.
Now, you won't find a bigger COMC.com fan than me (COMC is very much worth it, but the number one thing I hear from people is that the site design is not visually appealing. While I agree that it could be updated, I also understand and realize that there is plenty going on behind the scenes to make that site as useful as it is, and frankly, I've gotten to the point now where I'd probably be upset if they did any sort of design overhaul.
I've heard the same thing about Sportlots.com, which is another great site, and others. Point being, for many of you who are just now getting into cards, you might question the legitimacy of certain sites, and rightly so. Updated look or not, if you are spending money somewhere, you want to know if it's a site that can be trusted.
Is Blowout Cards Legit?
Yes, Blowout Cards is legit and is a hobby leader along with sites like Dave & Adam's and Steel City Collectibles. Thus, I don't think there should be any hesitation when it comes to buying cards or sealed wax from them. I've personally had great experiences with Blowout and have talked to a number of people in the hobby who have experienced the same.
Of course, with any statement like the above where you're leaning one way or another on a business, you're going to get people who beg to differ, and have nothing but the opposite to say in relation to the points you're making. Things happen, I get it. No business has been or will be perfect. All I can report is what I know.
Save $5 at Steel City Collectibles with
exclusive
coupon code is BALLCARDGENIUS5OFF
. This code will last for 30 days, and is good for $5 off $100 or more (one user per email account, excludes presale items).
Personal Blowout Experiences
I last used Blowout Cards for a pre-order of 2022 Topps Series 1 Jumbo Hobby Box. I placed the order Thursday January, 20th and received tracking the same day. The Topps release schedule date was 2/16/22, but the box actually arrived 2/5/22. Here is a video of my hits:
Other People's Experiences
I have no reason to write this blog post other than the fact that I've seen the question being asked, so I thought I'd answer. I'm not being compensated in any way for this post. That said, to provide extra peace of mind, here are some things I've found being said about Blowout Cards.
While not "reviews" per se, it might help for you to see and hear from the company, along with some things others have said as well:
First, here is a look at what their national booth has looked like in previous years; quite the presence:
Here is a quick interview from this year's national:
Some pulls:
Here is their eBay profile: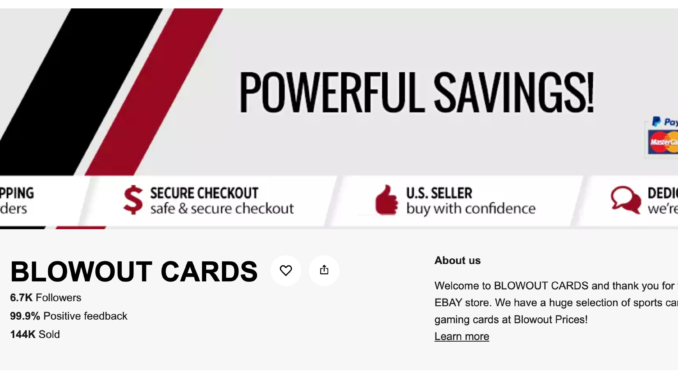 And last, they have a very lively forum filled with collectors and great card topics. I don't know by the official count, but I'd have to think it's the largest of its kind: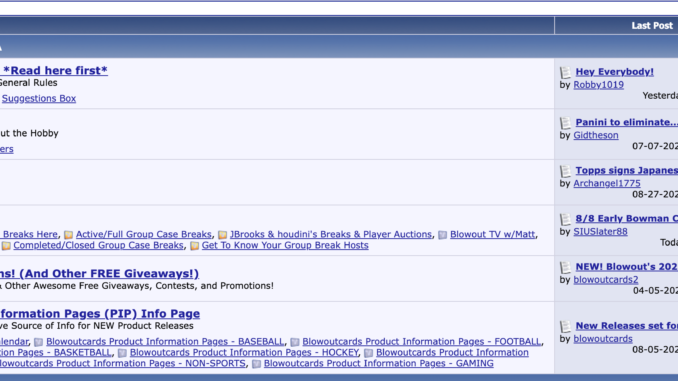 So again, is anything always positive? No, but you can be assured that Blowout is a legit company that has been a hobby pillar for a long time. Enjoy!