Affiliate Disclosure: This post contains affiliate links to eBay, Amazon, and other platforms within the content, sidebar ads, and in other areas. As I am part of the eBay Partner Network and other affiliate programs, if you follow these links and make a purchase, I will receive a commission. Likewise, as an Amazon Associate I earn from qualifying purchases.
When you think about the big names that have risen up out of seemingly nowhere this year in the MLB – Taylor Ward, Josh Naylor, others – Jeremy Pena is a unique case in the baseball card world.
Where guys like Ward and Naylor have been talked about for years now, and thus have a ton of cards to show for it, Jeremy Pena doesn't even have a true rookie card just yet.
But, never fear! Pena still has plenty of rookie-related cards to choose from, and his cardboard situation will only build excitement for when Pena's Topps flagship rookie is actually released.
Jeremy Pena Rookie Cards
So, here are the top Jeremy Pena cards to consider if you're looking to grab something of the current favorite in the rookie of the year conversation. At the end of this list, you'll find a longer list compiled of the different Jeremy Pena rookie year (2022) cards available.
2022 Topps Update
Finally, right? For a hot prospect who got hurt and then came back in a huge way, it feels like we have been hearing about Jeremy Pena and waiting on his true rookie card for quite some time. So while we suffered through both Series 1 and 2 without seeing him, we are now rewarded with Update.
With all of the variations you'd expect out of flagship, Pena's rookie could not have popped at a better time, as Houston gets set to open the 2022 World Series against Philadelphia tomorrow.
So far, this is what I'm seeing in terms of cheapest cards available:
Rainbow Foil is available for $49.99 with Debut at $89. Now, "Debut" cards are often worth far less so don't fall into this trap. It's still very early, and these are the only two options. In addition, there is a gold foil available for just under $100, and plenty of base between $5 and $10.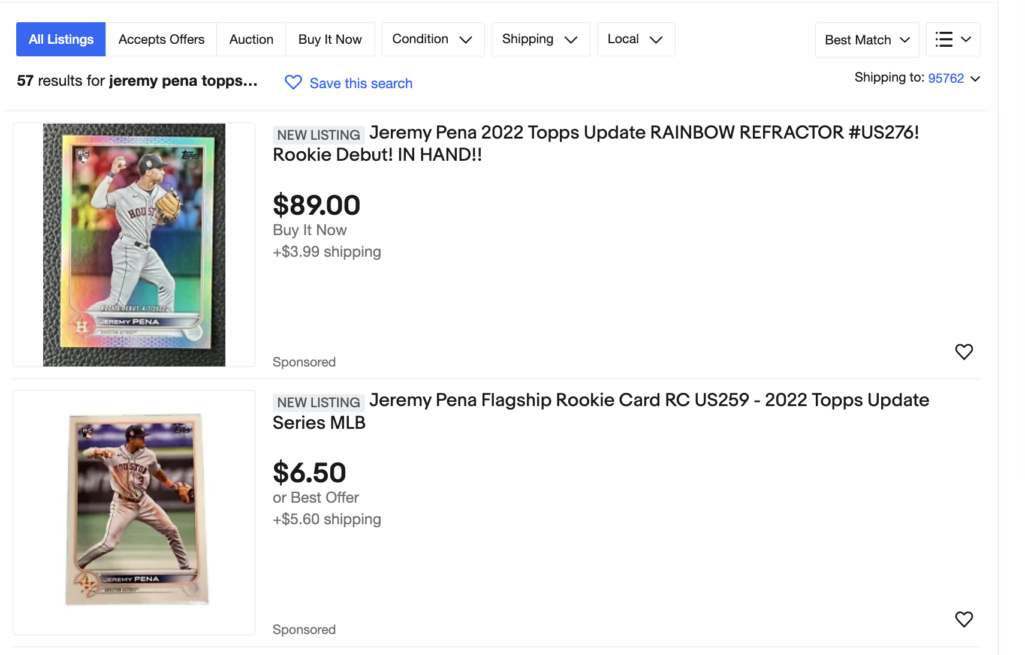 2020 Bowman (Base, Chrome, 1st Edition, etc.)
Why: Let's face it, this whole list could be made up of Bowman releases, but out of fairness to the other brands, we will combine them all here. And just a reminder for anyone new to collectiong, when it comes to rookie cards and rookie-related cards, you have two big cards for most players—their "1st Bowman" release and then of course the "true" rookie in the Topps flagship RC.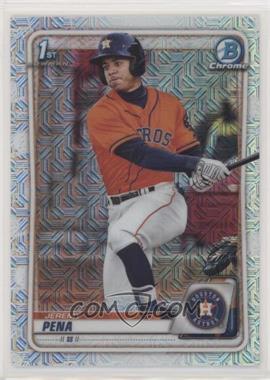 So, with Jeremy Pena, you're going to want to be looking for his entries in 2020 Bowman, which include the following:
Of course, within each of these, there are a number of variations including:
And last, but certainly not least, the grail of any 1st Bowman chase is the Chrome Auto.
2018 Panini Elite Extra Edition Auto
Why: Some people prefer all of their cards to be licensed and thus complete with team logos, etc. Some others don't care. Either way, this is Jeremy Pena's first auto, so worthy of inclusion.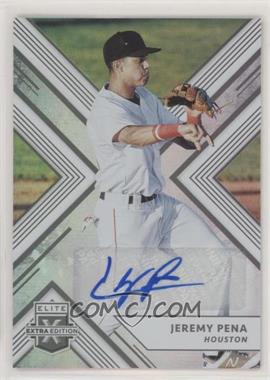 In addition to the card being logo-less, it's also a sticker auto, which might turn off even more collectors. And maybe I won't mention the fact that the photo features Pena with his glove and not his bat, but again, when it comes to "rookie" cards and in this case, lack there of, beggars can't be choosers.
Find 2018 Elite Jeremy Pena Autos on eBay
2020 Bowman Platinum Wal-Mart Top Prospects Auto
Why: Because let's face it—not all of us can always afford a 1st Bowman Chrome auto! To compare, the lowest priced (Buy it Now) Pena 2020 Bowman Chrome auto is currently listed at $264.99 plus shipping, where the lowest Bowman Platinum auto can be had for around $100.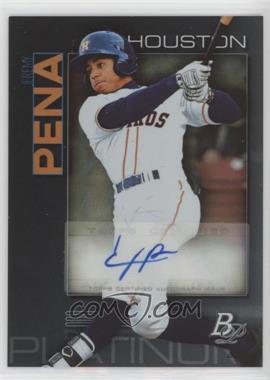 Like the 2018 Elite auto, this is also a sticker, but features a much better photo in my opinion, not to mention the full Astros uniform and not a bad card design to boot.
Find 2020 Bowman Platinum Jeremy Pena Autos on eBay
2020 Topps Pro Debut
Why: Because it's cool to hold a minor league card and think about the journey most of these players take to get to the big leagues. Especially with Pena, who was a rising name and then got hurt, only to replace a superstar in Houston and is now flourishing, it's pretty cool.
Not to mention that you can't beat a minor team name, and this one features Pena on the Woodpeckers! Here is the Chrome Refractor: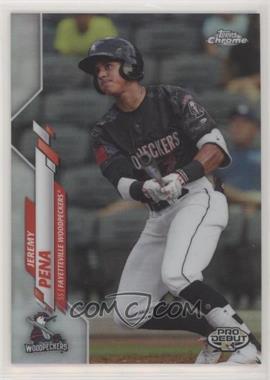 Like the Bowman mention above, you're going to have a number of parallels to choose from here, including lower numbered golds, base refractors, and more.
Find 2020 Topps Debut Jeremy Pena on eBay
So again, with all of this, keep in mind these aren't truly considered "rookie cards" by most collector standards!
Here is a list of additional rookie year cards (2022) to consider as listed on Trading Card Database:
| YEAR | PRODUCT | PLAYER | VARIATION | CARD # | PRINT RUN |
| --- | --- | --- | --- | --- | --- |
| 2022 | Topps Now | Jeremy Peña | Blue | #16 | SN49 |
| 2022 | Topps Now | Jeremy Peña | Blue | #91 | SN49 |
| 2022 | Topps Now | Jeremy Peña | Gold | #16 | SN1 |
| 2022 | Topps Now | Jeremy Peña | Gold | #91 | SN1 |
| 2022 | Topps Now | Jeremy Peña | Orange | #16 | SN5 |
| 2022 | Topps Now | Jeremy Peña | Orange | #91 | SN5 |
| 2022 | Topps Now | Jeremy Peña | Purple | #16 | SN25 |
| 2022 | Topps Now | Jeremy Peña | Purple | #91 | SN25 |
| 2022 | Topps Now | Jeremy Peña | Red | #16 | SN10 |
| 2022 | Topps Now | Jeremy Peña | Red | #91 | SN10 |