Affiliate Disclosure: This post contains affiliate links to eBay, Amazon, and other platforms within the content, sidebar ads, and in other areas. As I am part of the eBay Partner Network and other affiliate programs, if you follow these links and make a purchase, I will receive a commission. Likewise, as an Amazon Associate I earn from qualifying purchases.
Football diehard, casual fan, fantasy player, or card collector—whoever you are, I don't need to tell you all about Jonathan Taylor. I mean, the man is only 16 touchdowns away from becoming the player with the most touchdowns ever in his first three NFL seasons, passing Barry Sanders. Yes, Barry Sanders! Let that sink in.
From a card perspective, things are of course much different now—while rare Barry Sanders cards in the form of inserts and cool and shiny parallels were the chaser back in the day (and even now), rookie cards for Jonathan Taylor and other rising stars will carry the card torch.
So, with that said, let's take a look at the different Jonathan Taylor cards you can add to your collection just in time for his potentially record-breaking season to get under way.
2020 Panini Prizm #332 Jonathan Taylor RC
Every card list for any NFL or NBA rookie in today's game is going to start with Prizm. That's just the way the game goes these days. For as synonymous as "Topps" is with baseball rookie cards, you simply cannot think about Prizm when talking NFL RCs.
So, here we are. Simple and beautiful; "chromium" finish and thus heavy card stock, RC shield, and everything you can want in a card. Not to mention that the Colts' home whites popping off the darker background, accompanied by an isolated action shot of Taylor bursting through the hole (probably).
And while for all of these I'll just be talking about base versions for the most part, you of course should know that silver Prizm is the play for most collectors, which not only ups the value, but the visual magnificence the card has to offer. Oh, and don't forget those parallels and color-matches.
2020 Panini Select Jonathan Taylor RC
Of course, you can't mention Prizm and not talk about Select. And quickly, for those of you new to football cards and parallels, buckle up. While Prizm has a number of different "versions" of the same card but just in different colors, etc. Select will have all of those available and then some.
Meaning, you're not only going to have different colors of the same card, but you're going to have different "levels," in which you'll have different colors and different cards (different photos, etc.) In Select football, there are different levels: Concourse is the most common level, followed by Premier Level, Club Level, and Field Level. If you ever have difficulty remembering the order, just think about watching a football game in-person—you'd rather be field level than on the concourse.
So, what does this mean for Jonathan Taylor rookie cards? For Select, there are a ton. If it were me, and just collecting based off looks and card design, I'd have a hard time not chasing a blue color-match Field Level. It has the best design, the best photo, and while not "Colts blue" is close enough for my tastes.
2020 Contenders Jonathan Taylor Rookie Ticket Stub Auto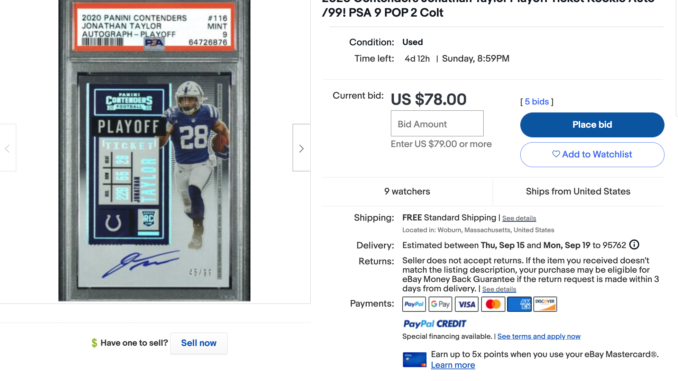 You know a set has staying power when it can run out basically the same design each year, across multiple sports and still maintain popularity. With Contenders, what you see is what you get, and it has been that way for a while now–ticket mockup with player information, player action photo, and scene.
As our first featured auto on the list here, it's at a much more attainable price then some that will be mentioned shortly—but it's still on-card and still very much a card you should be proud to add to your collection.
Now, all that said, I actually love the Contenders Optic version a lot more, only because it offers all of the above and that chromium finish and Prizm surfacing. There is also a college ticket card if you prefer Taylor in his Wisconsin uniform.
2020 Panini Optic Jonathan Taylor #167
Ok, especially after mentioning Optic above, I had to include Optic here next. Now, I know I'm not every collector, and cards like Prizm and Select get most of the shine, but I really love Optic. I'm also more of a traditional card collector, so the fact that Optic resembles more of a traditional trading card (which makes sense because it's basically "Donruss Chrome" if you wanted to put it into Topps terms).
And with that Donruss connection, you get the lovely "rated rookie" logo which is high on the list of things any coveted rookie card should have!
Similar to Prizm above, you'll have the base version of the card, and then you'll have a "silver" version (which if you need to brush up on your Panini terminology, here are some notes on Prizm vs. Holo vs. Refractor). You'll also have the different parallels and colors (again, the blue is beautiful).
2020 Panini National Treasures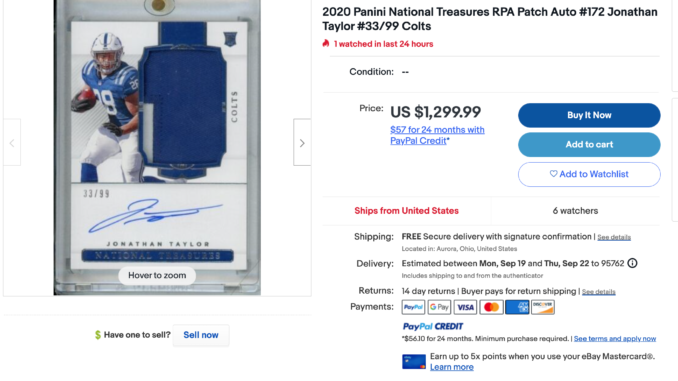 As you can see, I'm keeping this one pretty open ended, and that's because National Treasures offers a lot of variety depending on the type of collector you are. Meaning, if you want a high end Jonathan Taylor auto, you really don't have to look much further than this—with RPAs and booklets, jumbo materials and patches, and more.
On the lower end, though, it's not all about the auto with National Treasures, and if your budget or collector's needs are more suited to relics and patches, there are plenty. In true National Treasures fashion, most are on a clean white background, and of course numbered.
Jonathan Taylor Rookie Card List
With those five cards mentioned above, there are a ton of other JT RC options, and while I can't go through them all, I can provide this list, with the bulk of the information courtesy of Go GTS.
This list is searchable and sortable, so if you're looking for something specific, be sure to utilize those functions.
| SET | CARD | # | SERIAL |
| --- | --- | --- | --- |
| Panini Donruss | Optic Rated Rookie Preview | 317 | |
| Panini Donruss | Optic Rated Rookie Preview Blue | 317 | 125 |
| Panini Donruss | Optic Rated Rookie Preview Gold | 317 | 10 |
| Panini Donruss | Optic Rated Rookie Preview Holo | 317 | |
| Panini Donruss | Optic Rated Rookie Preview Pink | 317 | |
| Panini Donruss | Optic Rated Rookie Preview Red | 317 | 99 |
| Panini Donruss | Optic Rated Rookie Preview Red and Green | 317 | |
| Panini Donruss | Rated Rookies | 317 | |
| Panini Donruss | Rated Rookies Aqueous Test | 317 | |
| Panini Donruss | Rated Rookies Autographs Blue | 317 | |
| Panini Donruss | Rated Rookies Autographs Bronze | 317 | |
| Panini Donruss | Rated Rookies Autographs Green | 317 | |
| Panini Donruss | Rated Rookies Autographs Orange | 317 | |
| Panini Donruss | Rated Rookies Autographs Purple | 317 | |
| Panini Donruss | Rated Rookies Autographs Red | 317 | |
| Panini Donruss | Rated Rookies Canvas | 317 | |
| Panini Donruss | Rated Rookies Canvas Autographs | 317 | 49 |
| Panini Donruss | Rated Rookies Canvas Studio Series | 317 | 100 |
| Panini Donruss | Rated Rookies Jersey Number | 317 | 28 |
| Panini Donruss | Rated Rookies Press Proof Black | 317 | 10 |
| Panini Donruss | Rated Rookies Press Proof Black Die-Cut | 317 | 1 |
| Panini Donruss | Rated Rookies Press Proof Gold | 317 | 50 |
| Panini Donruss | Rated Rookies Press Proof Gold Die-Cut | 317 | 25 |
| Panini Donruss | Rated Rookies Press Proof Red | 317 | |
| Panini Donruss | Rated Rookies Press Proof Silver | 317 | 100 |
| Panini Donruss | Rated Rookies Press Proof Silver Die-Cut | 317 | 75 |
| Panini Donruss | Rated Rookies Season Stat Line | 317 | 21 |
| Panini Donruss | Rookie Gridiron Kings | 17 | |
| Panini Donruss | Rookie Gridiron Kings Studio Series | 17 | 100 |
| Panini Donruss | Rookie Holiday Sweater Duals | 7 | |
| Panini Donruss | Rookie Holiday Sweater | 17 | |
| Panini Donruss | Rookie Phenom Jersey Autographs | 17 | 99 |
| Panini Donruss | Rookie Phenom Jersey Autographs Laundry Tag Brand Logo | 17 | 1 |
| Panini Donruss | Rookie Phenom Jersey Autographs Laundry Tag NFL Player's Logo | 17 | 1 |
| Panini Donruss | Rookie Phenom Jersey Autographs Laundry Tag NFL Shield | 17 | 1 |
| Panini Donruss | Rookie Phenom Jersey Autographs Prime | 17 | 25 |
| Panini Donruss | Rookie Phenom Jerseys | 17 | |
| Panini Donruss | Rookie Phenom Jerseys Blue | 17 | |
| Panini Donruss | Rookie Phenom Jerseys Green | 17 | |
| Panini Donruss | Rookie Phenom Jerseys Laundry Tag Brand Logo | 17 | 1 |
| Panini Donruss | Rookie Phenom Jerseys Laundry Tag NFL Player's Logo | 17 | 1 |
| Panini Donruss | Rookie Phenom Jerseys Laundry Tag NFL Shield | 17 | 1 |
| Panini Donruss | Rookie Phenom Jerseys Orange | 17 | |
| Panini Donruss | Rookie Phenom Jerseys Prime | 17 | 25 |
| Panini Donruss | The Elite Series Rookies | 17 | |
| Panini Donruss | The Rookies | 17 | |
| Panini Donruss | The Rookies Autographs | 17 | 149 |
| Panini Black | Black Rookie Jersey Autographs | 9 | 50 |
| Panini Black | Black Rookie Jersey Autographs Emerald | 9 | 10 |
| Panini Black | Black Rookie Jersey Autographs Gold | 9 | 5 |
| Panini Black | Black Rookie Jersey Autographs Platinum | 9 | 1 |
| Panini Black | Black Rookie Jersey Autographs Silver | 9 | 25 |
| Panini Black | Futuristic | 10 | 99 |
| Panini Black | Futuristic Copper | 10 | 50 |
| Panini Black | Futuristic Emerald | 10 | 25 |
| Panini Black | Futuristic Gold | 10 | 10 |
| Panini Black | Futuristic Platinum | 10 | 1 |
| Panini Black | Futuristic Silver | 10 | 75 |
| Panini Black | Rookie Influx Memorabilia | 10 | 125 |
| Panini Black | Rookie Influx Memorabilia Copper | 10 | 50 |
| Panini Black | Rookie Influx Memorabilia Emerald | 10 | 25 |
| Panini Black | Rookie Influx Memorabilia Gold | 10 | 10 |
| Panini Black | Rookie Influx Memorabilia Platinum | 10 | 1 |
| Panini Black | Rookie Influx Memorabilia Silver | 10 | 75 |
| Panini Black | Rookie Patch Autographs | 210 | 199 |
| Panini Black | Rookie Patch Autographs Copper | 210 | 50 |
| Panini Black | Rookie Patch Autographs Emerald | 210 | 25 |
| Panini Black | Rookie Patch Autographs Gold | 210 | 10 |
| Panini Black | Rookie Patch Autographs Platinum | 210 | 1 |
| Panini Black | Rookie Patch Autographs Ruby | 210 | 12 |
| Panini Black | Rookie Patch Autographs Silver | 210 | 99 |
| Panini Black | Rookie Signature Materials | 10 | 50 |
| Panini Black | Rookie Signature Materials Copper | 10 | 10 |
| Panini Black | Rookie Signature Materials Emerald | 10 | 5 |
| Panini Black | Rookie Signature Materials Gold | 10 | 2 |
| Panini Black | Rookie Signature Materials Platinum | 10 | 1 |
| Panini Black | Rookie Signature Materials Ruby | 10 | 12 |
| Panini Black | Rookie Signature Materials Silver | 10 | 25 |
| Panini Black | Rookies | 110 | |
| Panini Black | Rookies Autographs | 110 | 25 |
| Panini Black | Rookies Autographs Copper | 110 | 10 |
| Panini Black | Rookies Autographs Emerald | 110 | 5 |
| Panini Black | Rookies Autographs Gold | 110 | 3 |
| Panini Black | Rookies Autographs Platinum | 110 | 1 |
| Panini Black | Rookies Autographs Silver | 110 | 15 |
| Panini Black | Rookies Copper | 110 | 25 |
| Panini Black | Rookies Emerald | 110 | 10 |
| Panini Black | Rookies Gold | 110 | 5 |
| Panini Black | Rookies Platinum | 110 | 1 |
| Panini Black | Rookies Ruby | 110 | 7 |
| Panini Black | Rookies Silver | 110 | 75 |
| Panini Black | Sizeable Signatures Rookie Jersey | 10 | 50 |
| Panini Black | Sizeable Signatures Rookie Jersey Emerald | 10 | 5 |
| Panini Black | Sizeable Signatures Rookie Jersey Gold | 10 | 2 |
| Panini Black | Sizeable Signatures Rookie Jersey Platinum | 10 | 1 |
| Panini Black | Sizeable Signatures Rookie Jersey Ruby | 10 | 12 |
| Panini Black | Sizeable Signatures Rookie Jersey Silver | 10 | 25 |
| Panini Elements | Frequency | 17 | 199 |
| Panini Elements | Frequency Cobalt | 17 | 27 |
| Panini Elements | Frequency Hydrogen | 17 | 1 |
| Panini Elements | Frequency Neon | 17 | 10 |
| Panini Elements | Frequency Silver | 17 | 47 |
| Panini Elements | Rookie Neon Material Signs Prime | 17 | 15 |
| Panini Elements | Rookie Neon Material Signs Shield | 17 | 1 |
| Panini Elements | Rookie Neon Material Signs Standard | 17 | 25 |
| Panini Elements | Rookie Neon Signs Blue | 17 | 50 |
| Panini Elements | Rookie Neon Signs Orange | 17 | 99 |
| Panini Elements | Rookie Neon Signs Purple | 17 | 15 |
| Panini Elements | Rookie Neon Signs Red | 17 | 25 |
| Panini Elements | Rookie Neon Signs Yellow | 17 | 1 |
| Panini Elements | Rookies Metal Cobalt | 93 | 27 |
| Panini Elements | Rookies Metal Gold | 93 | 91 |
| Panini Elements | Rookies Metal Hydrogen | 93 | 1 |
| Panini Elements | Rookies Metal Lithium | 93 | 3 |
| Panini Certified | 2020 Mirror Black | 9 | 1 |
| Panini Certified | 2020 Mirror Blue | 9 | 75 |
| Panini Certified | 2020 Mirror Gold | 9 | 25 |
| Panini Certified | 2020 Mirror Green | 9 | 5 |
| Panini Certified | 2020 Mirror Purple | 9 | 10 |
| Panini Certified | 2020 Mirror Teal | 9 | 50 |
| Panini Certified | Freshman Fabric Mirror Signatures | 218 | 299 |
| Panini Certified | Freshman Fabric Mirror Signatures Black | 218 | 1 |
| Panini Certified | Freshman Fabric Mirror Signatures Black Etch | 218 | 1 |
| Panini Certified | Freshman Fabric Mirror Signatures Blue | 218 | 99 |
| Panini Certified | Freshman Fabric Mirror Signatures Blue Etch | 218 | 20 |
| Panini Certified | Freshman Fabric Mirror Signatures Gold | 218 | 25 |
| Panini Certified | Freshman Fabric Mirror Signatures Gold Etch | 218 | 10 |
| Panini Certified | Freshman Fabric Mirror Signatures Green | 218 | 5 |
| Panini Certified | Freshman Fabric Mirror Signatures Green Etch | 218 | 3 |
| Panini Certified | Freshman Fabric Mirror Signatures Orange | 218 | 225 |
| Panini Certified | Freshman Fabric Mirror Signatures Purple | 218 | 10 |
| Panini Certified | Freshman Fabric Mirror Signatures Purple Etch | 218 | 5 |
| Panini Certified | Freshman Fabric Mirror Signatures Red | 218 | 199 |
| Panini Certified | Freshman Fabric Mirror Signatures Red Etch | 218 | 25 |
| Panini Certified | Freshman Fabric Mirror Signatures Teal | 218 | 50 |
| Panini Certified | Freshman Fabric Mirror Signatures Teal Etch | 218 | 15 |
| Panini Certified | Majestic Rookies | 18 | |
| Panini Certified | New Generation Jerseys Mirror | 18 | |
| Panini Certified | New Generation Jerseys Mirror Black | 18 | 1 |
| Panini Certified | New Generation Jerseys Mirror Black FOTL | 18 | 1 |
| Panini Certified | New Generation Jerseys Mirror Blue | 18 | 99 |
| Panini Certified | New Generation Jerseys Mirror Gold | 18 | 25 |
| Panini Certified | New Generation Jerseys Mirror Gold FOTL | 18 | 25 |
| Panini Certified | New Generation Jerseys Mirror Green | 18 | 5 |
| Panini Certified | New Generation Jerseys Mirror Green FOTL | 18 | 5 |
| Panini Certified | New Generation Jerseys Mirror Orange | 18 | 299 |
| Panini Certified | New Generation Jerseys Mirror Purple | 18 | 10 |
| Panini Certified | New Generation Jerseys Mirror Purple FOTL | 18 | 10 |
| Panini Certified | New Generation Jerseys Mirror Red | 18 | 199 |
| Panini Certified | New Generation Jerseys Mirror Teal | 18 | 50 |
| Panini Certified | New Generation Jerseys Mirror Teal FOTL | 18 | 50 |
| Panini Certified | Rookies | 118 | 399 |
| Panini Certified | Rookies Mirror | 118 | 299 |
| Panini Certified | Rookies Mirror Black | 118 | 1 |
| Panini Certified | Rookies Mirror Black FOTL | 118 | 1 |
| Panini Certified | Rookies Mirror Blue | 118 | 75 |
| Panini Certified | Rookies Mirror Gold | 118 | 25 |
| Panini Certified | Rookies Mirror Green | 118 | 5 |
| Panini Certified | Rookies Mirror Green FOTL | 118 | 5 |
| Panini Certified | Rookies Mirror Orange | 118 | 199 |
| Panini Certified | Rookies Mirror Purple | 118 | 10 |
| Panini Certified | Rookies Mirror Purple FOTL | 118 | 10 |
| Panini Certified | Rookies Mirror Red | 118 | 99 |
| Panini Certified | Rookies Mirror Teal | 118 | 50 |
| Panini Gold Standard | Golden Debuts Autographs | 9 | 75 |
| Panini Gold Standard | Golden Debuts Autographs Black | 9 | 1 |
| Panini Gold Standard | Golden Debuts Autographs Platinum | 9 | 25 |
| Panini Gold Standard | Newly Minted Memorabilia | 13 | 225 |
| Panini Gold Standard | Newly Minted Memorabilia Prime | 13 | 49 |
| Panini Gold Standard | Newly Minted Memorabilia Tags | 13 | 1 |
| Panini Gold Standard | Rookie Jersey Autographs | 210 | 99 |
| Panini Gold Standard | Rookie Jersey Autographs Double | 252 | 99 |
| Panini Gold Standard | Rookie Jersey Autographs Double Premium | 252 | 22 |
| Panini Gold Standard | Rookie Jersey Autographs Double Prime | 252 | 49 |
| Panini Gold Standard | Rookie Jersey Autographs Double Prime Tag | 252 | 1 |
| Panini Gold Standard | Rookie Jersey Autographs Jumbo | 10 | 99 |
| Panini Gold Standard | Rookie Jersey Autographs Jumbo NFL Shield | 10 | 1 |
| Panini Gold Standard | Rookie Jersey Autographs Jumbo NFL Shield Football | 10 | 1 |
| Panini Gold Standard | Rookie Jersey Autographs Jumbo Prime | 10 | 49 |
| Panini Gold Standard | Rookie Jersey Autographs Premium | 210 | 22 |
| Panini Gold Standard | Rookie Jersey Autographs Prime | 210 | 49 |
| Panini Gold Standard | Rookie Jersey Autographs Prime Tag | 210 | 1 |
| Panini Gold Standard | Rookie Jersey Autographs Triple | 281 | 99 |
| Panini Gold Standard | Rookie Jersey Autographs Triple Premium | 281 | 22 |
| Panini Gold Standard | Rookie Jersey Autographs Triple Prime | 281 | 49 |
| Panini Gold Standard | Rookie Jersey Autographs Triple Prime Tag | 281 | 1 |
| Panini Gold Standard | Rookies | 110 | 99 |
| Panini Gold Standard | Rookies Autographs | 110 | 25 |
| Panini Gold Standard | Rookies Autographs Black | 110 | 1 |
| Panini Gold Standard | Rookies Autographs Rose Gold | 110 | 5 |
| Panini Gold Standard | Rookies Black | 110 | 1 |
| Panini Gold Standard | Rookies Emerald | 110 | 11 |
| Panini Gold Standard | Rookies Platinum | 110 | 75 |
| Panini Gold Standard | Rookies Rose Gold | 110 | 25 |
| Panini Gold Standard | Rookies Sapphire | 110 | 5 |
| Panini Gold Standard | Rookies Violet | 110 | 10 |
| Panini Gold Standard | Newly Minted Memorabilia Triples Tags | 2 | 1 |
| Panini Gold Standard | Newly Minted Memorabilia Triples | 7 | 249 |
| Panini Gold Standard | Newly Minted Memorabilia Triples Tags | 7 | 1 |
| Panini Gold Standard | Newly Minted Memorabilia Duals | 10 | 249 |
| Panini Gold Standard | Newly Minted Memorabilia Duals Prime | 10 | 49 |
| Panini Gold Standard | Newly Minted Memorabilia Duals Tags | 10 | 1 |
| Panini Elite | 2000 Elite Rookies | 10 | |
| Panini Elite | 2000 Elite Rookies Aspirations Die-Cut | 10 | 77 |
| Panini Elite | 2000 Elite Rookies Black | 10 | 1 |
| Panini Elite | 2000 Elite Rookies Gold | 10 | 10 |
| Panini Elite | 2000 Elite Rookies Status Die-Cut | 10 | 23 |
| Panini Elite | 2000 Elite Rookies Status Die-Cut Red | 10 | 5 |
| Panini Elite | Pen Pals | 17 | |
| Panini Elite | Pen Pals Black Gold Ink | 17 | |
| Panini Elite | Pen Pals Blue Ink | 17 | |
| Panini Elite | Pen Pals Green Ink | 17 | |
| Panini Elite | Pen Pals Purple Ink | 17 | |
| Panini Elite | Pen Pals Red Ink | 17 | |
| Panini Elite | Rookie on Deck | 3 | |
| Panini Elite | Rookie on Deck Black | 3 | 1 |
| Panini Elite | Rookie on Deck Gold | 3 | 10 |
| Panini Elite | Rookies | 110 | 799 |
| Panini Elite | Rookies Aspirations | 10 | 77 |
| Panini Elite | Rookies Aspirations Die Cut | 10 | 24 |
| Panini Elite | Rookies Black | 10 | 1 |
| Panini Elite | Rookies Blue | 10 | 10 |
| Panini Elite | Rookies Gold | 10 | 10 |
| Panini Elite | Rookies Green | 10 | |
| Panini Elite | Rookies Orange | 10 | 49 |
| Panini Elite | Rookies Pink | 10 | |
| Panini Elite | Rookies Purple | 10 | 99 |
| Panini Elite | Rookies Razzle Dazzle | 10 | 1 |
| Panini Elite | Rookies Red | 10 | 399 |
| Panini Elite | Rookies Status | 10 | 23 |
| Panini Elite | Rookies Status Die Cut | 10 | 24 |
| Panini Elite | Rookies Status Die-Cut Red | 10 | 5 |
| Panini Elite | Turn of the Century Autographs | 10 | 149 |
| Panini Elite | Turn of the Century Autographs Black | 10 | 1 |
| Panini Elite | Turn of the Century Autographs Black Gold | 10 | 25 |
| Panini Elite | Turn of the Century Autographs Blue | 10 | 10 |
| Panini Elite | Turn of the Century Autographs Gold | 10 | 5 |
| Panini Elite | Turn of the Century Autographs Orange | 10 | 25 |
| Panini Elite | Turn of the Century Autographs Purple | 10 | 49 |
| Panini Elite | Turn of the Century Autographs Red | 10 | 99 |
| Panini Elite | Pen Pals Duals | 4 | |
| Panini Elite | Pen Pals Duals Black Gold Ink | 4 | |
| Panini Elite | Pen Pals Duals Blue Ink | 4 | |
| Panini Elite | Pen Pals Duals Green Ink | 4 | |
| Panini Elite | Pen Pals Duals Red Ink | 4 | |
| Panini Mosaic | Autographs No Huddle | 16 | |
| Panini Mosaic | Autographs No Huddle Black | 16 | 1 |
| Panini Mosaic | Autographs No Huddle Gold | 16 | 10 |
| Panini Mosaic | Base NFL Debut | 276 | |
| Panini Mosaic | Base NFL Debut Mosaic | 276 | |
| Panini Mosaic | Base NFL Debut Mosaic Black | 276 | 1 |
| Panini Mosaic | Base NFL Debut Mosaic Blue | 276 | 99 |
| Panini Mosaic | Base NFL Debut Mosaic Blue Fluorescent | 276 | 15 |
| Panini Mosaic | Base NFL Debut Mosaic Camo Pink | 276 | |
| Panini Mosaic | Base NFL Debut Mosaic Choice Black Gold | 276 | 8 |
| Panini Mosaic | Base NFL Debut Mosaic Choice Fusion Red | 276 | 80 |
| Panini Mosaic | Base NFL Debut Mosaic Choice Nebula | 276 | 1 |
| Panini Mosaic | Base NFL Debut Mosaic Choice Peacock | 276 | |
| Panini Mosaic | Base NFL Debut Mosaic Genesis | 276 | |
| Panini Mosaic | Base NFL Debut Mosaic Gold | 276 | 10 |
| Panini Mosaic | Base NFL Debut Mosaic Gold Fluorescent | 276 | 20 |
| Panini Mosaic | Base NFL Debut Mosaic Green | 276 | |
| Panini Mosaic | Base NFL Debut Mosaic No Huddle Black | 276 | 1 |
| Panini Mosaic | Base NFL Debut Mosaic No Huddle Blue | 276 | 75 |
| Panini Mosaic | Base NFL Debut Mosaic No Huddle Gold | 276 | 10 |
| Panini Mosaic | Base NFL Debut Mosaic No Huddle Pink | 276 | 20 |
| Panini Mosaic | Base NFL Debut Mosaic No Huddle Purple | 276 | 50 |
| Panini Mosaic | Base NFL Debut Mosaic No Huddle Silver | 276 | |
| Panini Mosaic | Base NFL Debut Mosaic Orange Fluorescent | 276 | 25 |
| Panini Mosaic | Base NFL Debut Mosaic Pink Fluorescent | 276 | 10 |
| Panini Mosaic | Base NFL Debut Mosaic Purple | 276 | 49 |
| Panini Mosaic | Base NFL Debut Mosaic Reactive Blue | 276 | |
| Panini Mosaic | Base NFL Debut Mosaic Reactive Gold | 276 | |
| Panini Mosaic | Base NFL Debut Mosaic Reactive Green | 276 | |
| Panini Mosaic | Base NFL Debut Mosaic Reactive Orange | 276 | |
| Panini Mosaic | Base NFL Debut Mosaic Red | 276 | |
| Panini Mosaic | Base NFL Debut Mosaic White | 276 | 25 |
| Panini Mosaic | Base NFL Debut Silver | 276 | |
| Panini Mosaic | Base NFL Debut White Sparkle | 276 | |
| Panini Mosaic | Base Rookies | 216 | |
| Panini Mosaic | Base Rookies Mosaic | 216 | |
| Panini Mosaic | Base Rookies Mosaic Black | 216 | 1 |
| Panini Mosaic | Base Rookies Mosaic Blue | 216 | 99 |
| Panini Mosaic | Base Rookies Mosaic Blue Fluorescent | 216 | 15 |
| Panini Mosaic | Base Rookies Mosaic Camo Pink | 216 | |
| Panini Mosaic | Base Rookies Mosaic Choice Black Gold | 216 | 8 |
| Panini Mosaic | Base Rookies Mosaic Choice Fusion Red | 216 | 80 |
| Panini Mosaic | Base Rookies Mosaic Choice Nebula | 216 | 1 |
| Panini Mosaic | Base Rookies Mosaic Choice Peacock | 216 | |
| Panini Mosaic | Base Rookies Mosaic Choice Red and Green | 216 | |
| Panini Mosaic | Base Rookies Mosaic Genesis | 216 | |
| Panini Mosaic | Base Rookies Mosaic Gold | 216 | 10 |
| Panini Mosaic | Base Rookies Mosaic Gold Fluorescent | 216 | 20 |
| Panini Mosaic | Base Rookies Mosaic Green | 216 | |
| Panini Mosaic | Base Rookies Mosaic No Huddle Black | 216 | 1 |
| Panini Mosaic | Base Rookies Mosaic No Huddle Blue | 216 | 75 |
| Panini Mosaic | Base Rookies Mosaic No Huddle Gold | 216 | 10 |
| Panini Mosaic | Base Rookies Mosaic No Huddle Pink | 216 | 20 |
| Panini Mosaic | Base Rookies Mosaic No Huddle Purple | 216 | 50 |
| Panini Mosaic | Base Rookies Mosaic No Huddle Silver | 216 | |
| Panini Mosaic | Base Rookies Mosaic Orange Fluorescent | 216 | 25 |
| Panini Mosaic | Base Rookies Mosaic Pink Flourescent | 216 | 10 |
| Panini Mosaic | Base Rookies Mosaic Purple | 216 | 49 |
| Panini Mosaic | Base Rookies Mosaic Reactive Blue | 216 | |
| Panini Mosaic | Base Rookies Mosaic Reactive Gold | 216 | |
| Panini Mosaic | Base Rookies Mosaic Reactive Green | 216 | |
| Panini Mosaic | Base Rookies Mosaic Reactive Orange | 216 | |
| Panini Mosaic | Base Rookies Mosaic Red | 216 | |
| Panini Mosaic | Base Rookies Mosaic White | 216 | 25 |
| Panini Mosaic | Base Rookies Silver | 216 | |
| Panini Mosaic | Base Rookies White Sparkle | 216 | |
| Panini Mosaic | Rookie Autographs Mosaic | 16 | |
| Panini Mosaic | Rookie Autographs Mosaic Black | 16 | 1 |
| Panini Mosaic | Rookie Autographs Mosaic Choice Black Gold | 16 | 8 |
| Panini Mosaic | Rookie Autographs Mosaic Choice Fusion Red | 16 | |
| Panini Mosaic | Rookie Autographs Mosaic Gold | 16 | 10 |
| Panini Mosaic | Rookie Scripts | 16 | |
| Panini Mosaic | Rookie Scripts Gold | 16 | |
| Panini Mosaic | Rookie Scripts Orange | 16 | |
| Panini Mosaic | Rookie Variations | 216 | |
| Panini Mosaic | Rookie Variations No Huddle | 216 | |
| Panini Origins | Rookie Autographs | 17 | |
| Panini Origins | Rookie Autographs Black | 17 | 1 |
| Panini Origins | Rookie Autographs Blue | 17 | 49 |
| Panini Origins | Rookie Autographs Gold | 17 | 10 |
| Panini Origins | Rookie Autographs Green | 17 | 5 |
| Panini Origins | Rookie Autographs Pink | 17 | 8 |
| Panini Origins | Rookie Autographs Purple | 17 | 17 |
| Panini Origins | Rookie Autographs Red | 17 | 99 |
| Panini Origins | Rookie Autographs Turquoise | 17 | 25 |
| Panini Origins | Rookie Jumbo Patch Autographs | 117 | |
| Panini Origins | Rookie Jumbo Patch Autographs Black Nike Swoosh | 117 | 1 |
| Panini Origins | Rookie Jumbo Patch Autographs Blue | 117 | 49 |
| Panini Origins | Rookie Jumbo Patch Autographs Gold | 117 | 10 |
| Panini Origins | Rookie Jumbo Patch Autographs Green | 117 | 5 |
| Panini Origins | Rookie Jumbo Patch Autographs Orange | 117 | 75 |
| Panini Origins | Rookie Jumbo Patch Autographs Red | 117 | 99 |
| Panini Origins | Rookie Jumbo Patch Autographs Turquoise | 117 | 25 |
| Panini Origins | Rookie Patches | 16 | 199 |
| Panini Origins | Rookie Patches Black | 16 | 1 |
| Panini Origins | Rookie Patches Black Tag NFL Player's Logo | 16 | 1 |
| Panini Origins | Rookie Patches Black Tag NFL Shield | 16 | 1 |
| Panini Origins | Rookie Patches Black Tag Nike Swoosh | 16 | 1 |
| Panini Origins | Rookie Patches Blue | 16 | 49 |
| Panini Origins | Rookie Patches Gold | 16 | 10 |
| Panini Origins | Rookie Patches Green | 16 | 5 |
| Panini Origins | Rookie Patches Orange | 16 | 75 |
| Panini Origins | Rookie Patches Red | 16 | 99 |
| Panini Origins | Rookie Patches Turquoise | 16 | 25 |
| Panini Origins | Rushing Stars Signatures | 3 | 25 |
| Panini Origins | Rushing Stars Signatures Black | 3 | 1 |
| Panini Origins | Rushing Stars Signatures Pink | 3 | 8 |
| Panini Origins | Rushing Stars Signatures Purple | 3 | 17 |
| Panini Origins | Six Star Signatures Booklet Gold | 2 | 5 |
| Panini Origins | Dual Rookie Autographs | 5 | 10 |
| Panini Origins | Dual Rookie Autographs Black | 5 | 1 |
| Panini Origins | Rookie Stars Dual Patch Signatures Booklet | 5 | 25 |
| Panini Origins | Rookie Stars Dual Patch Signatures Booklet Black | 5 | 1 |
| Panini Origins | Rookie Stars Dual Patch Signatures Booklet Gold | 5 | 10 |
| Panini Origins | Rookie Stars Dual Patch Signatures Booklet Purple | 5 | 2 |
| Panini Origins | Rookie Stars Dual Signatures Patch Booklet Green | 5 | 5 |
| Panini Origins | Triple Rookie Autographs Black | 2 | 1 |
| Panini Absolute | Absolute Rookie Materials | 17 | |
| Panini Absolute | Absolute Rookie Prime | 17 | 25 |
| Panini Absolute | Introductions | 15 | |
| Panini Absolute | Introductions Spectrum Black | 15 | 1 |
| Panini Absolute | Introductions Spectrum Blue | 15 | 50 |
| Panini Absolute | Introductions Spectrum Gold | 15 | 10 |
| Panini Absolute | Introductions Spectrum Green | 15 | 25 |
| Panini Absolute | Introductions Spectrum Orange | 15 | 75 |
| Panini Absolute | Introductions Spectrum Purple | 15 | 5 |
| Panini Absolute | Introductions Spectrum Red | 15 | 100 |
| Panini Absolute | Jumbo Football | 17 | 5 |
| Panini Absolute | Jumbo Football Shield | 17 | 1 |
| Panini Absolute | Rookie Force | 17 | |
| Panini Absolute | Rookie Force Prime | 17 | 25 |
| Panini Absolute | Rookie Premiere Materials Autos | 217 | 249 |
| Panini Absolute | Rookie Premiere Materials Autos Five | 217 | 10 |
| Panini Absolute | Rookie Premiere Materials Autos Five Spectrum | 217 | 5 |
| Panini Absolute | Rookie Premiere Materials Autos Five Tags | 217 | 1 |
| Panini Absolute | Rookie Premiere Materials Autos Jumbo | 217 | 49 |
| Panini Absolute | Rookie Premiere Materials Autos Jumbo Spectrum | 217 | 5 |
| Panini Absolute | Rookie Premiere Materials Autos Quad | 217 | 50 |
| Panini Absolute | Rookie Premiere Materials Autos Quad Spectrum | 217 | 10 |
| Panini Absolute | Rookie Premiere Materials Autos Quad Tags | 217 | 1 |
| Panini Absolute | Rookie Premiere Materials Autos Shield | 217 | 1 |
| Panini Absolute | Rookie Premiere Materials Autos Spectrum | 217 | 99 |
| Panini Absolute | Rookie Premiere Materials Autos Tags | 217 | 1 |
| Panini Absolute | Rookies | 161 | |
| Panini Absolute | Rookies Black Galaxy | 161 | 1 |
| Panini Absolute | Rookies Blue | 161 | |
| Panini Absolute | Rookies Blue Diamonds | 161 | 75 |
| Panini Absolute | Rookies Gold Stars | 161 | 10 |
| Panini Absolute | Rookies Green | 161 | |
| Panini Absolute | Rookies Green Waves | 161 | 35 |
| Panini Absolute | Rookies Orange Mosaic | 161 | 149 |
| Panini Absolute | Rookies Printing Plates Black | 161 | 1 |
| Panini Absolute | Rookies Printing Plates Cyan | 161 | 1 |
| Panini Absolute | Rookies Printing Plates Magenta | 161 | 1 |
| Panini Absolute | Rookies Printing Plates Yellow | 161 | 1 |
| Panini Absolute | Rookies Purple Rain | 161 | 5 |
| Panini Absolute | Rookies Red | 161 | |
| Panini Absolute | Rookies Red Squares | 161 | 199 |
| Panini Absolute | Rookies Spectrum | 161 | 199 |
| Panini Absolute | Rookies Spectrum Black | 161 | 1 |
| Panini Absolute | Rookies Spectrum Blue | 161 | 50 |
| Panini Absolute | Rookies Spectrum Gold | 161 | 10 |
| Panini Absolute | Rookies Spectrum Green | 161 | 25 |
| Panini Absolute | Rookies Spectrum Orange | 161 | 75 |
| Panini Absolute | Rookies Spectrum Purple | 161 | 5 |
| Panini Absolute | Rookies Spectrum Red | 161 | 100 |
| Panini Absolute | Rookies Yellow | 161 | |
| Panini Absolute | Signature Rookies | 161 | |
| Panini Absolute | Signature Rookies Black Galaxy | 161 | 1 |
| Panini Absolute | Signature Rookies Blue Diamonds | 161 | 20 |
| Panini Absolute | Signature Rookies Gold Stars | 161 | 10 |
| Panini Absolute | Signature Rookies Green Waves | 161 | 15 |
| Panini Absolute | Signature Rookies Orange Mosaic | 161 | 25 |
| Panini Absolute | Signature Rookies Purple Rain | 161 | 5 |
| Panini Absolute | Signature Rookies Red Squares | 161 | 30 |
| Panini Absolute | Signature Rookies Spectrum | 161 | 60 |
| Panini Absolute | Signature Rookies Spectrum Black | 161 | 1 |
| Panini Absolute | Signature Rookies Spectrum Blue | 161 | 30 |
| Panini Absolute | Signature Rookies Spectrum Gold | 161 | 10 |
| Panini Absolute | Signature Rookies Spectrum Green | 161 | 25 |
| Panini Absolute | Signature Rookies Spectrum Orange | 161 | 35 |
| Panini Absolute | Signature Rookies Spectrum Purple | 161 | 5 |
| Panini Absolute | Signature Rookies Spectrum Red | 161 | 50 |
| Panini Absolute | War Room Materials | 27 | 199 |
| Panini Absolute | War Room Materials Platinum | 27 | 1 |
| Panini Absolute | War Room Materials Prime | 27 | 49 |
| Panini Absolute | Team Tandem Materials | 23 | 199 |
| Panini Absolute | Team Tandem Materials Platinum | 23 | 1 |
| Panini Absolute | Team Tandem Materials Prime | 23 | 49 |
| Panini Spectra | Aspiring Patch Autographs | 8 | 75 |
| Panini Spectra | Aspiring Patch Autographs Gold | 8 | 1 |
| Panini Spectra | Aspiring Patch Autographs Gold Laundry Tags NFL Player's Logo | 8 | 1 |
| Panini Spectra | Aspiring Patch Autographs Gold Laundry Tags NFL Shield | 8 | 1 |
| Panini Spectra | Aspiring Patch Autographs Gold Laundry Tags Nike Swoosh | 8 | 1 |
| Panini Spectra | Aspiring Patch Autographs Hyper | 8 | 60 |
| Panini Spectra | Aspiring Patch Autographs Nebula | 8 | 2 |
| Panini Spectra | Aspiring Patch Autographs Neon Black Light | 8 | 10 |
| Panini Spectra | Aspiring Patch Autographs Neon Blue | 8 | 50 |
| Panini Spectra | Aspiring Patch Autographs Neon Green | 8 | 35 |
| Panini Spectra | Aspiring Patch Autographs Neon Marble | 8 | 4 |
| Panini Spectra | Aspiring Patch Autographs Neon Orange | 8 | 15 |
| Panini Spectra | Aspiring Patch Autographs Neon Pink | 8 | 25 |
| Panini Spectra | Aspiring Patch Autographs Neon Purple | 8 | 30 |
| Panini Spectra | Aspiring Patch Autographs Psychedelic | 8 | 5 |
| Panini Spectra | Aspiring Patch Autographs Wave | 8 | 25 |
| Panini Spectra | Building Blocks | 16 | 75 |
| Panini Spectra | Building Blocks Gold | 16 | 1 |
| Panini Spectra | Building Blocks Gold Laundry Tags | 16 | 1 |
| Panini Spectra | Building Blocks Hyper | 16 | 60 |
| Panini Spectra | Building Blocks Nebula | 16 | 2 |
| Panini Spectra | Building Blocks Neon Blue | 16 | 35 |
| Panini Spectra | Building Blocks Neon Green | 16 | 25 |
| Panini Spectra | Building Blocks Neon Marble | 16 | 4 |
| Panini Spectra | Building Blocks Neon Orange | 16 | 10 |
| Panini Spectra | Building Blocks Neon Pink | 16 | 15 |
| Panini Spectra | Building Blocks Psychedelic | 16 | 5 |
| Panini Spectra | Monumental Memorabilia | 27 | 99 |
| Panini Spectra | Monumental Memorabilia Gold | 27 | 1 |
| Panini Spectra | Monumental Memorabilia Gold Laundry Nike | 27 | 1 |
| Panini Spectra | Monumental Memorabilia Gold NFL Shield | 27 | 1 |
| Panini Spectra | Monumental Memorabilia Gold Nike Brand Logo | 27 | 1 |
| Panini Spectra | Monumental Memorabilia Hyper | 27 | 75 |
| Panini Spectra | Monumental Memorabilia Nebula | 27 | 2 |
| Panini Spectra | Monumental Memorabilia Neon Blue | 27 | 50 |
| Panini Spectra | Monumental Memorabilia Neon Green | 27 | 25 |
| Panini Spectra | Monumental Memorabilia Neon Marble | 27 | 4 |
| Panini Spectra | Monumental Memorabilia Neon Orange | 27 | 10 |
| Panini Spectra | Monumental Memorabilia Neon Pink | 27 | 15 |
| Panini Spectra | Monumental Memorabilia Psychedelic | 27 | 5 |
| Panini Spectra | Rise Above Gold | 8 | 1 |
| Panini Spectra | Rise Above Hyper | 8 | 75 |
| Panini Spectra | Rise Above Nebula | 8 | 2 |
| Panini Spectra | Rise Above Neon Blue | 8 | 50 |
| Panini Spectra | Rise Above Neon Green | 8 | 30 |
| Panini Spectra | Rise Above Neon Marble | 8 | 4 |
| Panini Spectra | Rise Above Neon Orange | 8 | 10 |
| Panini Spectra | Rise Above Neon Pink | 8 | 25 |
| Panini Spectra | Rise Above Psychedelic | 8 | 5 |
| Panini Spectra | Rising Rookie Materials | 16 | 149 |
| Panini Spectra | Rising Rookie Materials Gold | 16 | 1 |
| Panini Spectra | Rising Rookie Materials Gold Laundry Tags NFL Player's Logo | 16 | 1 |
| Panini Spectra | Rising Rookie Materials Gold Laundry Tags NFL Shield | 16 | 1 |
| Panini Spectra | Rising Rookie Materials Gold Laundry Tags Nike Swoosh | 16 | 1 |
| Panini Spectra | Rising Rookie Materials Hyper | 16 | 99 |
| Panini Spectra | Rising Rookie Materials Nebula | 16 | 2 |
| Panini Spectra | Rising Rookie Materials Neon Blue | 16 | 35 |
| Panini Spectra | Rising Rookie Materials Neon Green | 16 | 25 |
| Panini Spectra | Rising Rookie Materials Neon Marble | 16 | 4 |
| Panini Spectra | Rising Rookie Materials Neon Orange | 16 | 10 |
| Panini Spectra | Rising Rookie Materials Neon Pink | 16 | 15 |
| Panini Spectra | Rising Rookie Materials Psychedelic | 16 | 5 |
| Panini Spectra | Rookie Patch Autographs | 216 | 99 |
| Panini Spectra | Rookie Patch Autographs Gold | 216 | 1 |
| Panini Spectra | Rookie Patch Autographs Gold Laundry Tags NFL Player's Logo | 216 | 1 |
| Panini Spectra | Rookie Patch Autographs Gold Laundry Tags NFL Shield | 216 | 1 |
| Panini Spectra | Rookie Patch Autographs Gold Laundry Tags Nike Swoosh | 216 | 1 |
| Panini Spectra | Rookie Patch Autographs Hyper | 216 | 75 |
| Panini Spectra | Rookie Patch Autographs Nebula | 216 | 2 |
| Panini Spectra | Rookie Patch Autographs Neon Black Light | 216 | 10 |
| Panini Spectra | Rookie Patch Autographs Neon Blue | 216 | 60 |
| Panini Spectra | Rookie Patch Autographs Neon Green | 216 | 50 |
| Panini Spectra | Rookie Patch Autographs Neon Marble | 216 | 4 |
| Panini Spectra | Rookie Patch Autographs Neon Orange | 216 | 15 |
| Panini Spectra | Rookie Patch Autographs Neon Pink | 216 | 25 |
| Panini Spectra | Rookie Patch Autographs Neon Purple | 216 | 35 |
| Panini Spectra | Rookie Patch Autographs Psychedelic | 216 | 5 |
| Panini Spectra | Rookie Patch Autographs Wave | 216 | 25 |
| Panini Spectra | Rookies | 152 | 99 |
| Panini Spectra | Rookies Gold | 152 | 1 |
| Panini Spectra | Rookies Hyper | 152 | 75 |
| Panini Spectra | Rookies Nebula | 152 | 2 |
| Panini Spectra | Rookies Neon Blue | 152 | 60 |
| Panini Spectra | Rookies Neon Blue Die Cut | 152 | 50 |
| Panini Spectra | Rookies Neon Green | 152 | 35 |
| Panini Spectra | Rookies Neon Green Die Cut | 152 | 30 |
| Panini Spectra | Rookies Neon Marble | 152 | 4 |
| Panini Spectra | Rookies Neon Orange | 152 | 15 |
| Panini Spectra | Rookies Neon Orange Die Cut | 152 | 10 |
| Panini Spectra | Rookies Neon Pink | 152 | 25 |
| Panini Spectra | Rookies Neon Pink Die Cut | 152 | 20 |
| Panini Spectra | Rookies Psychedelic | 152 | 5 |
| Panini Spectra | Rookies Wave | 152 | 10 |
| Panini XR | Luminous Endorsements | 18 | 99 |
| Panini XR | Luminous Endorsements Black | 18 | 1 |
| Panini XR | Luminous Endorsements Blue | 18 | 49 |
| Panini XR | Luminous Endorsements Gold | 18 | 10 |
| Panini XR | Luminous Endorsements Green | 18 | 5 |
| Panini XR | Luminous Endorsements Orange | 18 | 25 |
| Panini XR | Rookie Swatch Autographs | 18 | 149 |
| Panini XR | Rookie Swatch Autographs Blue | 18 | 49 |
| Panini XR | Rookie Swatch Autographs Glove Super Prime | 18 | 1 |
| Panini XR | Rookie Swatch Autographs Gold | 18 | 10 |
| Panini XR | Rookie Swatch Autographs Green | 18 | 5 |
| Panini XR | Rookie Swatch Autographs Hat Brand Logo | 18 | 1 |
| Panini XR | Rookie Swatch Autographs Hat Super Prime | 18 | 1 |
| Panini XR | Rookie Swatch Autographs Jacket | 18 | 1 |
| Panini XR | Rookie Swatch Autographs Laundry Tag NFL Shield | 18 | 1 |
| Panini XR | Rookie Swatch Autographs Laundry Tag NFLPA | 18 | 1 |
| Panini XR | Rookie Swatch Autographs Laundry Tag Nike Swoosh | 18 | 1 |
| Panini XR | Rookie Swatch Autographs NFL Shield Football | 18 | 1 |
| Panini XR | Rookie Swatch Autographs NFL Shield Helmet | 18 | 1 |
| Panini XR | Rookie Swatch Autographs Orange | 18 | 25 |
| Panini XR | Rookie Swatch Autographs Prime Football | 18 | 1 |
| Panini XR | Rookie Swatch Autographs Printing Plate Black | 18 | 1 |
| Panini XR | Rookie Swatch Autographs Printing Plate Cyan | 18 | 1 |
| Panini XR | Rookie Swatch Autographs Printing Plate Magenta | 18 | 1 |
| Panini XR | Rookie Swatch Autographs Printing Plate Yellow | 18 | 1 |
| Panini XR | Rookie Swatch Autographs Red | 18 | 75 |
| Panini XR | Rookie Swatch Autographs Shoe | 18 | 1 |
| Panini XR | Rookie Swatch Autographs Socks | 18 | 1 |
| Panini XR | Rookie Swatch Autographs White | 18 | 15 |
| Panini XR | Rookie Triple Swatch Autographs | 218 | 149 |
| Panini XR | Rookie Triple Swatch Autographs Blue | 218 | 49 |
| Panini XR | Rookie Triple Swatch Autographs Glove Super Prime | 218 | 1 |
| Panini XR | Rookie Triple Swatch Autographs Gold | 218 | 10 |
| Panini XR | Rookie Triple Swatch Autographs Green | 218 | 5 |
| Panini XR | Rookie Triple Swatch Autographs Hat Seam | 218 | 1 |
| Panini XR | Rookie Triple Swatch Autographs Helmet | 218 | 1 |
| Panini XR | Rookie Triple Swatch Autographs Jacket | 218 | 1 |
| Panini XR | Rookie Triple Swatch Autographs Laundry Tag | 218 | 1 |
| Panini XR | Rookie Triple Swatch Autographs Laundry Tag NFL Shield | 218 | 1 |
| Panini XR | Rookie Triple Swatch Autographs Laundry Tag NFLPA | 218 | 1 |
| Panini XR | Rookie Triple Swatch Autographs Laundry Tag Nike Swoosh | 218 | 1 |
| Panini XR | Rookie Triple Swatch Autographs NFL Shield Football | 218 | 1 |
| Panini XR | Rookie Triple Swatch Autographs Orange | 218 | 25 |
| Panini XR | Rookie Triple Swatch Autographs Prime Football | 218 | 1 |
| Panini XR | Rookie Triple Swatch Autographs Printing Plate Black | 218 | 1 |
| Panini XR | Rookie Triple Swatch Autographs Printing Plate Cyan | 218 | 1 |
| Panini XR | Rookie Triple Swatch Autographs Printing Plate Magenta | 218 | 1 |
| Panini XR | Rookie Triple Swatch Autographs Printing Plate Yellow | 218 | 1 |
| Panini XR | Rookie Triple Swatch Autographs Red | 218 | 75 |
| Panini XR | Rookie Triple Swatch Autographs Shoe | 218 | 1 |
| Panini XR | Rookie Triple Swatch Autographs Socks | 218 | 1 |
| Panini XR | Rookie Triple Swatch Autographs White | 218 | 15 |
| Panini XR | Rookie Triple Threats Materials | 18 | 75 |
| Panini XR | Rookie Triple Threats Materials Black | 18 | 1 |
| Panini XR | Rookie Triple Threats Materials Blue | 18 | 49 |
| Panini XR | Rookie Triple Threats Materials Gold | 18 | 10 |
| Panini XR | Rookie Triple Threats Materials Green | 18 | 5 |
| Panini XR | Rookie Triple Threats Materials Orange | 18 | 25 |
| Panini XR | Rookie XL Materials | 18 | 25 |
| Panini XR | Rookie XL Materials Blue | 18 | 25 |
| Panini XR | Rookie XL Materials Gold | 18 | 10 |
| Panini XR | Rookie XL Materials Green | 18 | 5 |
| Panini XR | Rookie XL Materials Orange | 18 | 15 |
| Panini XR | Rookie XL Materials Super Prime | 18 | 1 |
| Panini XR | Rookie XL Materials Tag | 18 | 1 |
| Panini XR | Rookie XL Swatch Autographs | 16 | 149 |
| Panini XR | Rookie XL Swatch Autographs Blue | 16 | 49 |
| Panini XR | Rookie XL Swatch Autographs Brand Logo | 16 | 1 |
| Panini XR | Rookie XL Swatch Autographs Glove Brand Logo | 16 | 1 |
| Panini XR | Rookie XL Swatch Autographs Glove Super Prime | 16 | 1 |
| Panini XR | Rookie XL Swatch Autographs Gold | 16 | 10 |
| Panini XR | Rookie XL Swatch Autographs Green | 16 | 5 |
| Panini XR | Rookie XL Swatch Autographs Hat Button | 16 | 1 |
| Panini XR | Rookie XL Swatch Autographs Hat NFL Shield | 16 | 1 |
| Panini XR | Rookie XL Swatch Autographs Hat Team Logo | 16 | 1 |
| Panini XR | Rookie XL Swatch Autographs Helmet | 16 | 1 |
| Panini XR | Rookie XL Swatch Autographs Jacket | 16 | 1 |
| Panini XR | Rookie XL Swatch Autographs Laundry Nike | 16 | 1 |
| Panini XR | Rookie XL Swatch Autographs NFL Shield | 16 | 1 |
| Panini XR | Rookie XL Swatch Autographs NFL Shield Football | 16 | 1 |
| Panini XR | Rookie XL Swatch Autographs Orange | 16 | 25 |
| Panini XR | Rookie XL Swatch Autographs Prime Football | 16 | 1 |
| Panini XR | Rookie XL Swatch Autographs Printing Plate Black | 16 | 1 |
| Panini XR | Rookie XL Swatch Autographs Printing Plate Cyan | 16 | 1 |
| Panini XR | Rookie XL Swatch Autographs Printing Plate Magenta | 16 | 1 |
| Panini XR | Rookie XL Swatch Autographs Printing Plate Yellow | 16 | 1 |
| Panini XR | Rookie XL Swatch Autographs Red | 16 | 75 |
| Panini XR | Rookie XL Swatch Autographs Shoe | 16 | 1 |
| Panini XR | Rookie XL Swatch Autographs Socks | 16 | 1 |
| Panini XR | Rookie XL Swatch Autographs White | 16 | 15 |
| Panini XR | Rookies | 118 | |
| Panini XR | Rookies Autographs | 118 | 20 |
| Panini XR | Rookies Autographs Black | 118 | 1 |
| Panini XR | Rookies Autographs Gold | 118 | 10 |
| Panini XR | Rookies Autographs Green | 118 | 5 |
| Panini XR | Rookies Autographs Orange | 118 | 15 |
| Panini XR | Rookies Black | 118 | 1 |
| Panini XR | Rookies Blue | 118 | 199 |
| Panini XR | Rookies Gold | 118 | 10 |
| Panini XR | Rookies Green | 118 | 5 |
| Panini XR | Rookies Orange | 118 | 99 |
| Panini XR | Rookies Printing Plate Black | 118 | 1 |
| Panini XR | Rookies Printing Plate Cyan | 118 | 1 |
| Panini XR | Rookies Printing Plate Magenta | 118 | 1 |
| Panini XR | Rookies Printing Plate Yellow | 118 | 1 |
| Panini XR | Rookies Red | 118 | 249 |
| Panini XR | Rookies Teal | 118 | 49 |
| Panini XR | Rookies White | 118 | 75 |
| Panini XR | Vortex Materials | 18 | 25 |
| Panini XR | Vortex Materials Blue | 18 | 49 |
| Panini XR | Vortex Materials Gold | 18 | 10 |
| Panini XR | Vortex Materials Green | 18 | 5 |
| Panini XR | Vortex Materials Orange | 18 | 25 |
| Panini XR | Vortex Materials Super Prime | 18 | 1 |
| Panini XR | Vortex Materials Tag | 18 | 1 |
| Panini XR | X-Ray Swatches | 17 | 25 |
| Panini XR | X-Ray Swatches Blue | 17 | 49 |
| Panini XR | X-Ray Swatches Gold | 17 | 10 |
| Panini XR | X-Ray Swatches Green | 17 | 5 |
| Panini XR | X-Ray Swatches Orange | 17 | 25 |
| Panini XR | X-Ray Swatches Super Prime | 17 | 1 |
| Panini XR | X-Ray Swatches Tag | 17 | 1 |
| Panini XR | Xtreme Rookies Black | 18 | 1 |
| Panini XR | Xtreme Rookies Blue | 18 | 99 |
| Panini XR | Xtreme Rookies Gold | 18 | 10 |
| Panini XR | Xtreme Rookies Green | 18 | 5 |
| Panini XR | Xtreme Rookies Orange | 18 | 49 |
| Panini XR | Xtreme Rookies Printing Plate Black | 18 | 1 |
| Panini XR | Xtreme Rookies Printing Plate Cyan | 18 | 1 |
| Panini XR | Xtreme Rookies Printing Plate Magenta | 18 | 1 |
| Panini XR | Xtreme Rookies Printing Plate Yellow | 18 | 1 |
| Panini XR | Xtreme Rookies Red | 18 | 149 |
| Panini XR | Xtreme Rookies White | 18 | 25 |
| Panini XR | Dual Autograph Swatches | 5 | 25 |
| Panini XR | Dual Autograph Swatches Blue | 5 | 15 |
| Panini XR | Dual Autograph Swatches Football | 5 | 1 |
| Panini XR | Dual Autograph Swatches Glove | 5 | 1 |
| Panini XR | Dual Autograph Swatches Gold | 5 | 10 |
| Panini XR | Dual Autograph Swatches Green | 5 | 5 |
| Panini XR | Dual Autograph Swatches Hat | 5 | 1 |
| Panini XR | Dual Autograph Swatches Helmet | 5 | 1 |
| Panini XR | Dual Autograph Swatches Laundry NFL Shield | 5 | 1 |
| Panini XR | Dual Autograph Swatches Laundry Tag NFLPA | 5 | 1 |
| Panini XR | Dual Autograph Swatches Laundry Tag Nike Swoosh | 5 | 1 |
| Panini XR | Dual Autograph Swatches Printing Plate Black | 5 | 1 |
| Panini XR | Dual Autograph Swatches Printing Plate Cyan | 5 | 1 |
| Panini XR | Dual Autograph Swatches Printing Plate Magenta | 5 | 1 |
| Panini XR | Dual Autograph Swatches Printing Plate Yellow | 5 | 1 |