Affiliate Disclosure: This post contains affiliate links to eBay, Amazon, and other platforms within the content, sidebar ads, and in other areas. As I am part of the eBay Partner Network and other affiliate programs, if you follow these links and make a purchase, I will receive a commission. Likewise, as an Amazon Associate I earn from qualifying purchases.
Believe it or not, football season is just around the corner, and while it might not feel like it right now, history says cards are bound to heat up once the pigskin starts getting thrown around.
And when you talk football cards, you talk quarterbacks and RPAs. And when you talk QBs, you can't get many words out without referring to Justin Herbert.
Justin Herbert RPA Cards
All of that together makes this the perfect time to take a look at his many different rookie patch autos (both "true" and others) in order to help you grab one sooner than later. Buckle up, though…gone are the days of limited options, and while some might prefer fewer choices, the availability of RPAs across different products allows for variety in design and preference.
And to make this more interesting, I'll try and include images of cards that are actually for sale now or have currently sold.
2020 National Treasures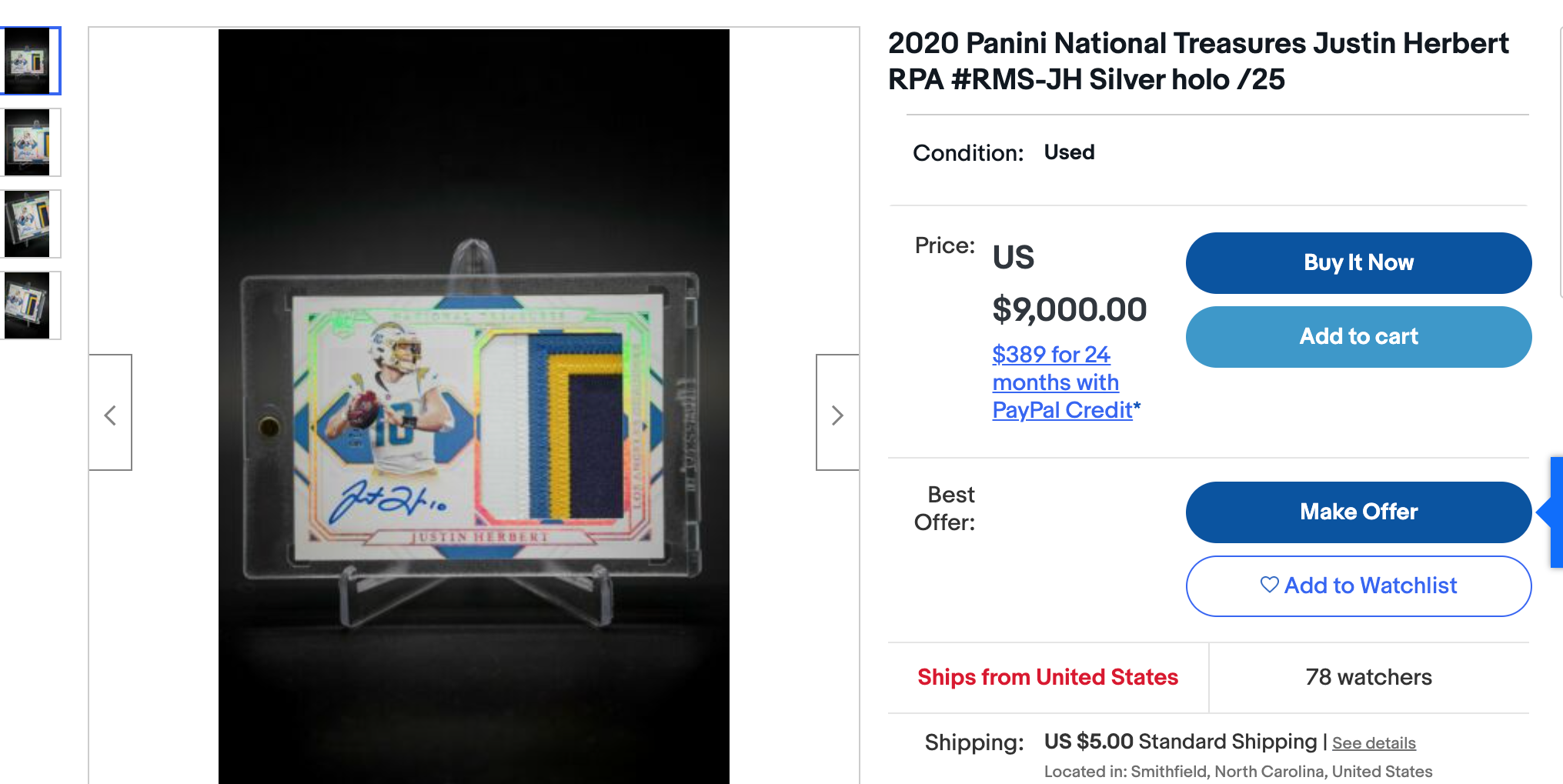 This Justin Herbert National Treasures Patch Auto is currently for sale on eBay for $9,000 with option for a best offer. As you can see, this is a clean multi-colored patch, numbered /25. I'm not going to get into the "true" RPA discussion, but many believe National Treasures to be it, and even beyond that, it's also believed that that the vertical is the truest of the true.
Other "RPAs" of Herbert from 2020 NT include:
Stars & Stripes
Rookie Gloves Signatures
Prodigy
2020 Gold Standard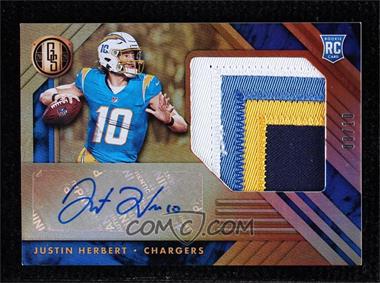 This 2020 Gold Standard Justin Herbert is actually currently for sale on COMC for $3,150. With a similar patch to the National Treasures card listed immediately above – and also numbered /10 – this one is a sticker auto, and isn't graded.
2020 Certified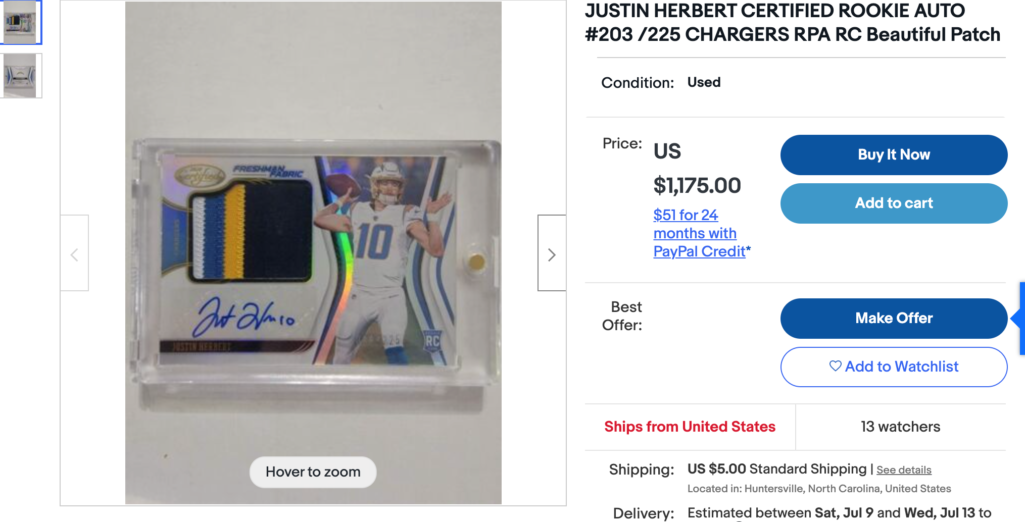 Here is a fixed-price eBay auction, but unlike the National Treasures option mentioned above, was printed in much higher quantity (/225) and is thus significantly more affordable. This card also features a nice multi-colored patch, but is not "on-card" with the auto.
2020 Flawless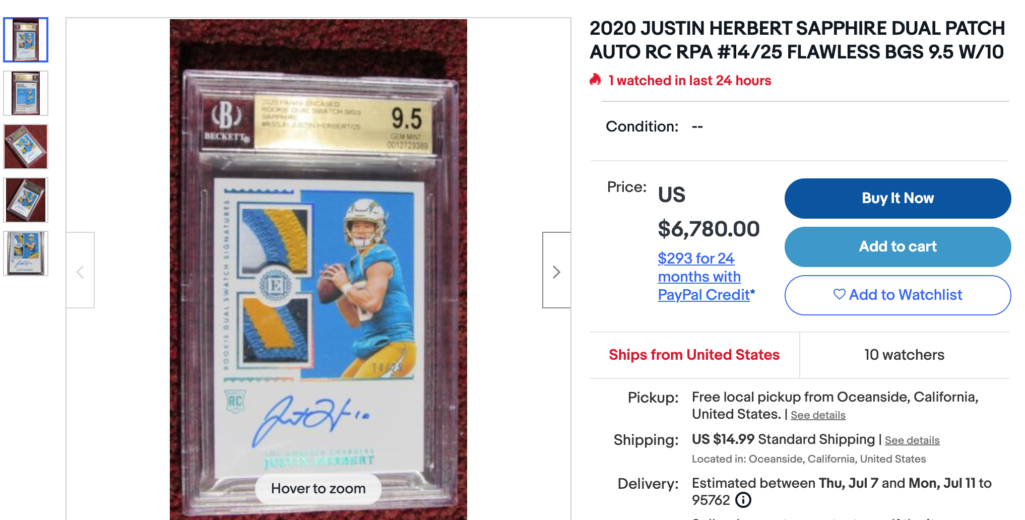 If you're wondering about National Treasures vs. Flawless, you wouldn't be the first person (or even Immaculate, for that matter). So yes, they're all similar, with some commanding higher dollars than others, but all equally stunning in my opinion. With this example in particular, the patches are a little too similar for my liking, but at this rate, I don't really think it matters to most collectors.
2020 Optic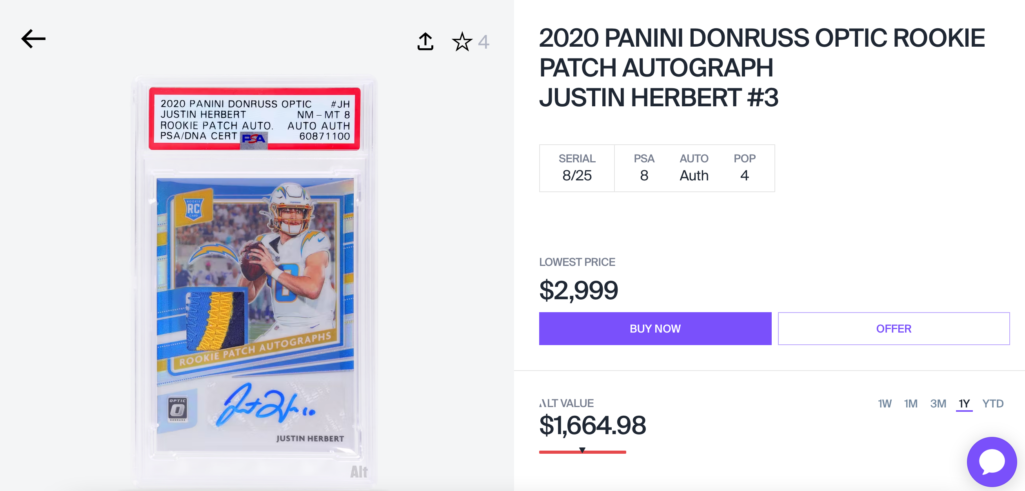 Switching gears and looking at Alt, here is a 2020 Donruss Optic RPA /25. As you can see, the price is just under $3,000 for this one, which features a sticker auto and a smaller patch window than most of the other options.
Here is how you can

grab a free $25 to spend on graded cards

with Alt
.
Alt offers a new exchange (among other things) where you can buy and sell cards. It's easy to use and has some nice data features, and while I've only purchased and sold a few things, I'm looking to do a lot more. (Learn more about Alt.)
If you'd like to give Alt a shot, you can grab a free $25 spending credit—simply visit this referral link, and sign up for an account. Then, once you make a deposit, you'll receive $25 in promo credits to buy cards with, and I will as well.
2020 Select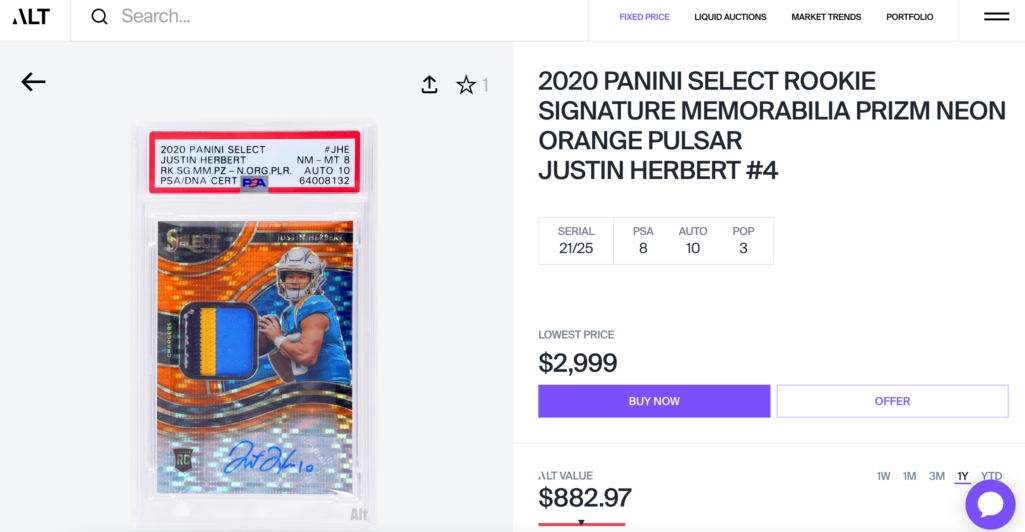 Another one from Alt, this one is a bit more shiny, which makes sense coming from Select! And it's a mouthful—A Rookie Signature Memorabilia Prizm Neon Orange Pulsar. You might also notice this one is pretty similar to the Optic RPA listed above, which is also /25 and $2,999.
2020 Spectra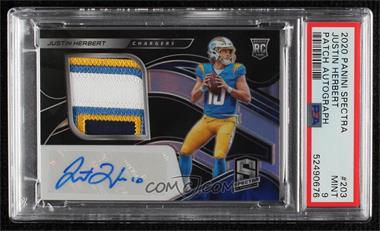 Sticking with shiny, this is a 2020 Spectra RPA currently listed on COMC for $2,500. Again, very similar to the Optic and Select versions listed previously, but with a horizontal orientation rather than vertical.
2020 Impeccable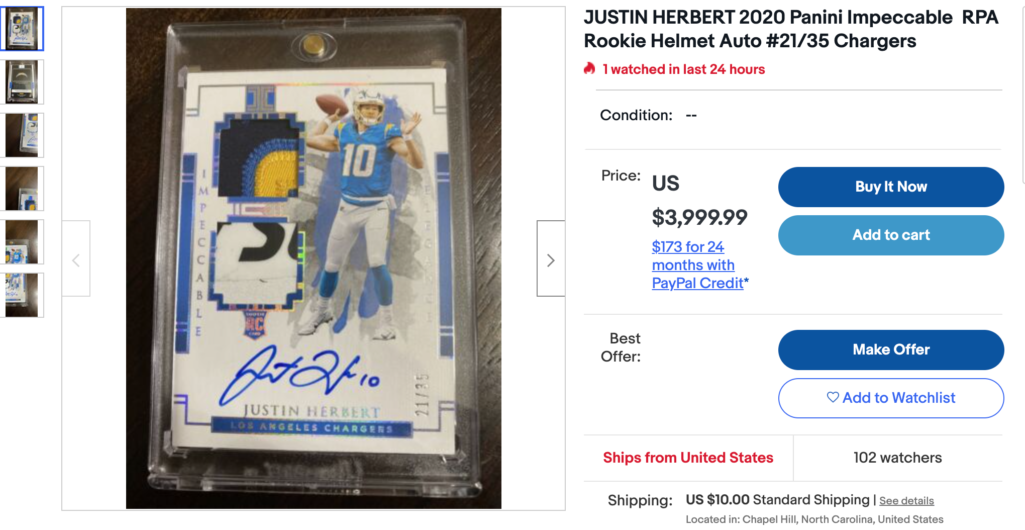 Our first dual on the list, this 2020 Impeccable is actually part jersey patch and part piece of helmet relic. Listed for $3,999, interested buyers can make an offer to see if they can grab this card for a little cheaper.
2020 Panini One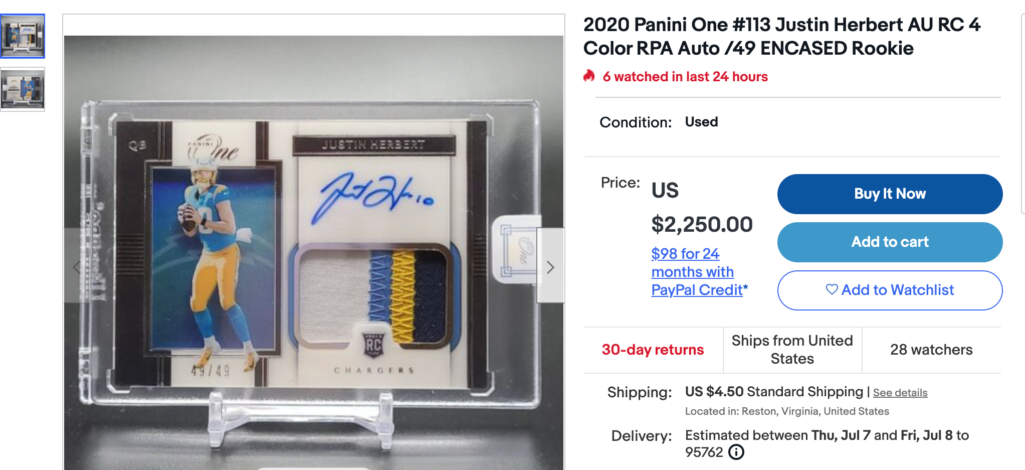 How about an encased RPA? Panini One packs/boxes come with one card…and imagine pulling this one out! Offering the protection of a slab without the grade, this $2,250 card is listed on eBay at a strict "buy it now" meaning, no best offer.
2020 Zenith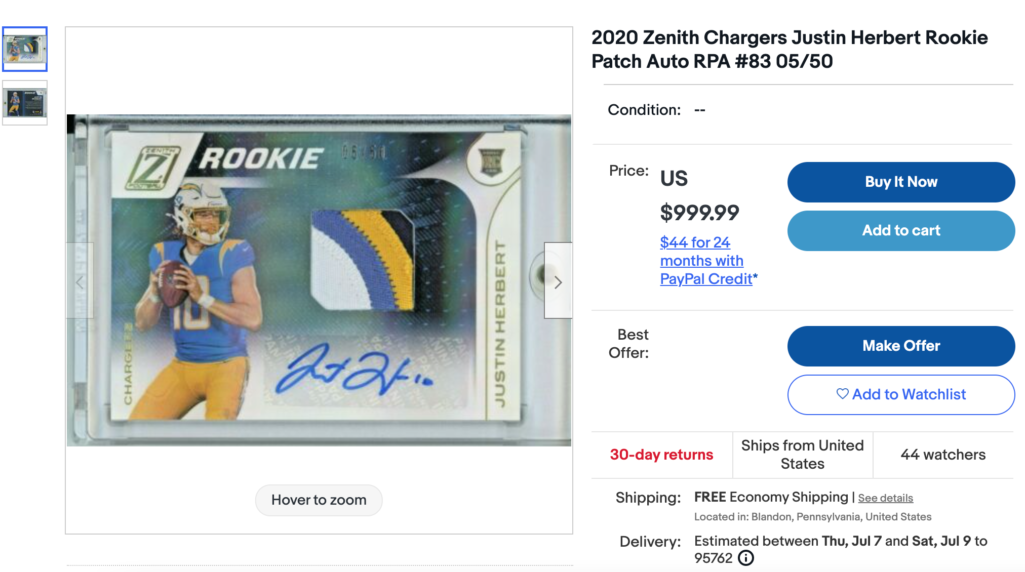 And a little odd to say, but that's just how things are with cards these days…our first card on the list available for less than $1,000. Sure, the design is a bit more straightforward than the others, and we are looking at another sticker auto, but still a very nice card.
2020 Panini Black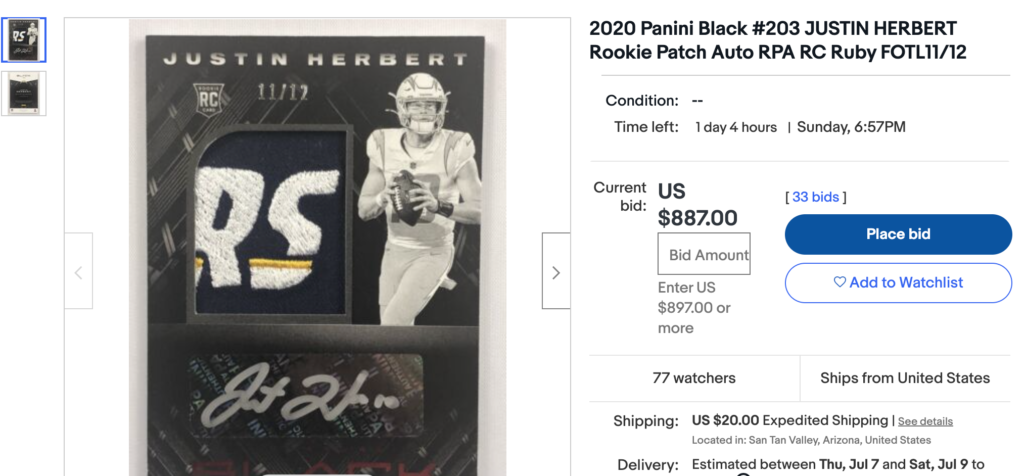 I personally prefer color photos and on-card autos (not to mention in blue or black ink), but this 2020 Panini Black RPA /12 is still an amazing card…mostly in part to an amazing piece of the "rs" from the old school "Chargers" patch.
2020 Obsidian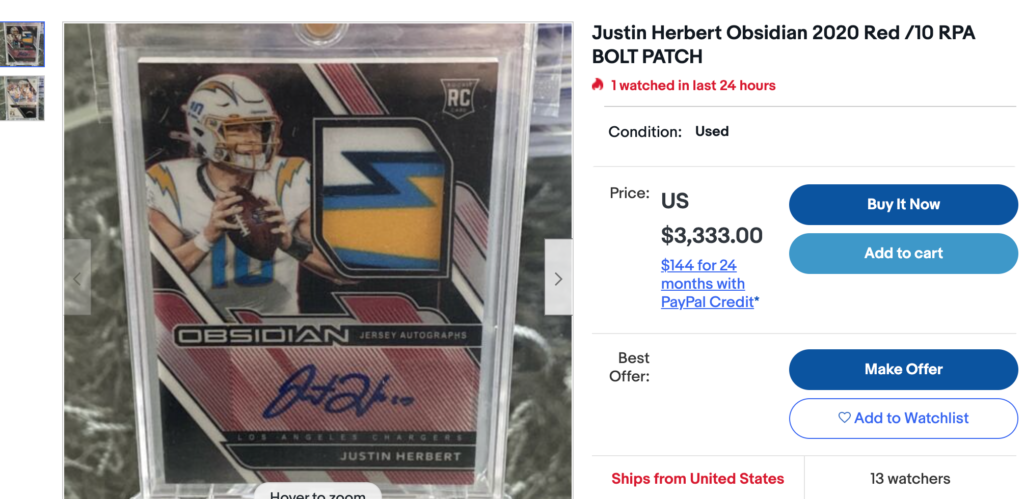 Now, if you do feel the need to grab a sticker auto, which again, is totally OK and sometimes impossible to avoid, Obsidian is a personal favorite! Offering some of the feeling of the Black above, but with more color, this is an amazing card (and that's without even mentioning that lightning bolt patch)!
2020 Limited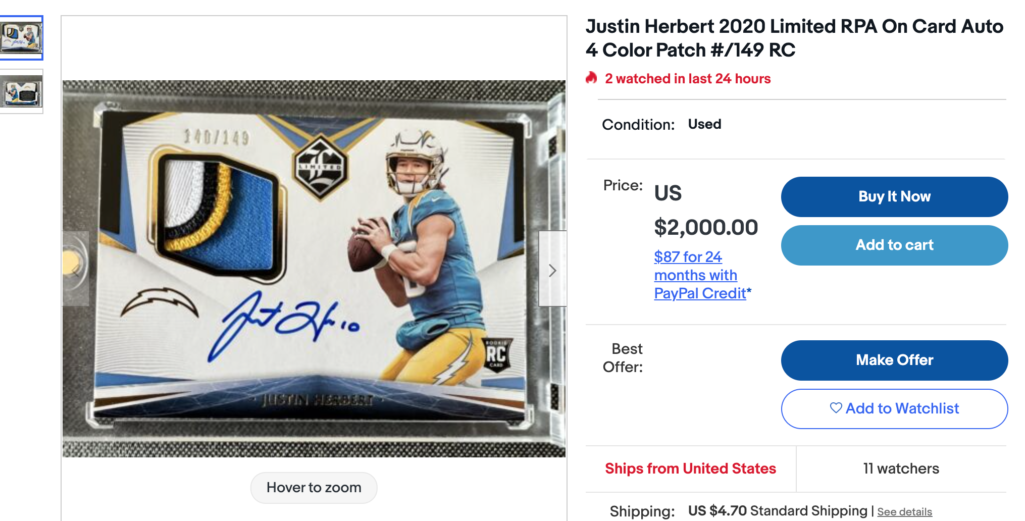 If you're thinking the Limited look is similar to that of National Treasures or Flawless, you wouldn't be wrong given the card's white open space and on-card auto. This one is currently available for $2,000 on eBay, with 11 watchers and the ability to submit a best offer.
2020 XR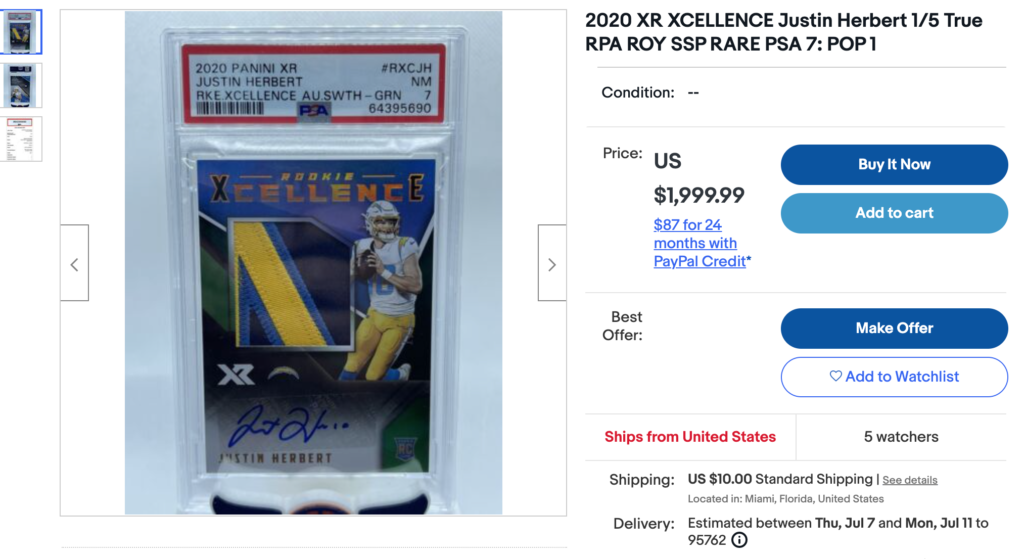 If you're like me, you might sometimes mistake XR for Zenith for Illusions (and potentially others!) but that doesn't take anything away from the card's beauty. At just a hair under $2,000 this one has 5 watchers and the ability to receive a best offer. Different than the cards above, the jersey patch looks like it's from a darker road uniform as opposed to the home whites.
2020 Illusions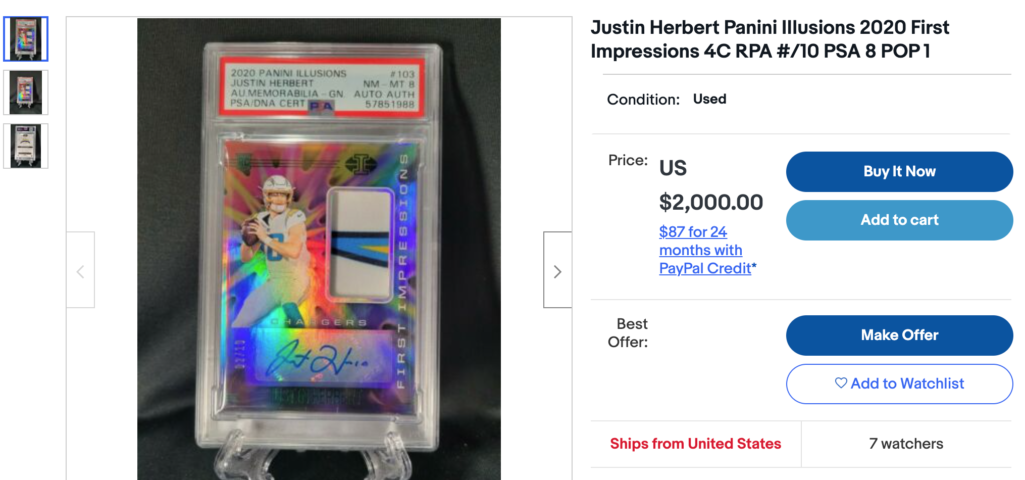 Last but certainly not least is this 2020 Illusions RPA /10, available on eBay for $2,000 with best offer. I wouldn't say there is really anything that sets this one apart, and I'd probably be saying the same thing about other cards had this one been mentioned above and others down here.