Affiliate Disclosure: This post contains affiliate links to eBay, Amazon, and other platforms within the content, sidebar ads, and in other areas. As I am part of the eBay Partner Network and other affiliate programs, if you follow these links and make a purchase, I will receive a commission. Likewise, as an Amazon Associate I earn from qualifying purchases.
Look, I admit it, I'm guilty too.
You see a stack of Topps, Donruss, Fleer, or Score from 1988-1992 and you don't even bother to thumb through it. No thrill of the chase; so why even risk the chance of paper cut or blister?
You've also probably been on the receiving end of a friend or family member getting rid of their collection, which largely featured these and other mass-produced cards like them…Sweet, free baseball cards!
Just kidding, not actually baseball cards, just 1990 Score.
Well, that all ends now.
Sure, the cards are so findable that even a Hall of Famer's Gem Mint 10 rookie card has little relative value, but let's take a step back and remember why we are all here in the first place.
To collect cards.
To collect cards we love. To collect cards that captured a point in history. To collect the players on those cards; the teams, whatever. We all started our collection somewhere, and 1990 was front and center when I first started collecting sports cards as a kid. These cards were coveted, I swear. They were cherished like any other.
And you know what, that can still be the case for the next generation of collectors.
So, while sets like 1990 Score might not hold a ton of value, it's still an entry into the crazy collecting world. You can't have every Frank Thomas RC printed without 1990 score. You can't have every Larry Walker RC without 1990 Score. You can't have a shirtless Bo Jackson without 1990 Score.
A case of these boxy oh-so-yellow sets might resemble a case of velveta, and be worth just as much, (here are some great free baseball card price guide options, too), but it's a great starting point for any young collector.
Let's take a look!
Most Valuable Cards of 1990 Score Baseball
(Disclosure: The text and image links in this section are eBay affiliate links, and I will receive commission if you follow those links and make a purchase.)
There is so much that is right with this card. Hall of Famer. Huge smile. Blue sky background. 1st Round Pick. Old White Sox color scheme. Logo that looks like I made it on Canva. Is that a silver chain? It's all there.
Who would have known this youngster would go on to hit over 500 career home runs, and become one of the most feared power hitters of all time? The Big Hurt, and you better believe it.
Auction Price: $1-$2
Graded Auction Price: $6-$30
(eBay affiliate links)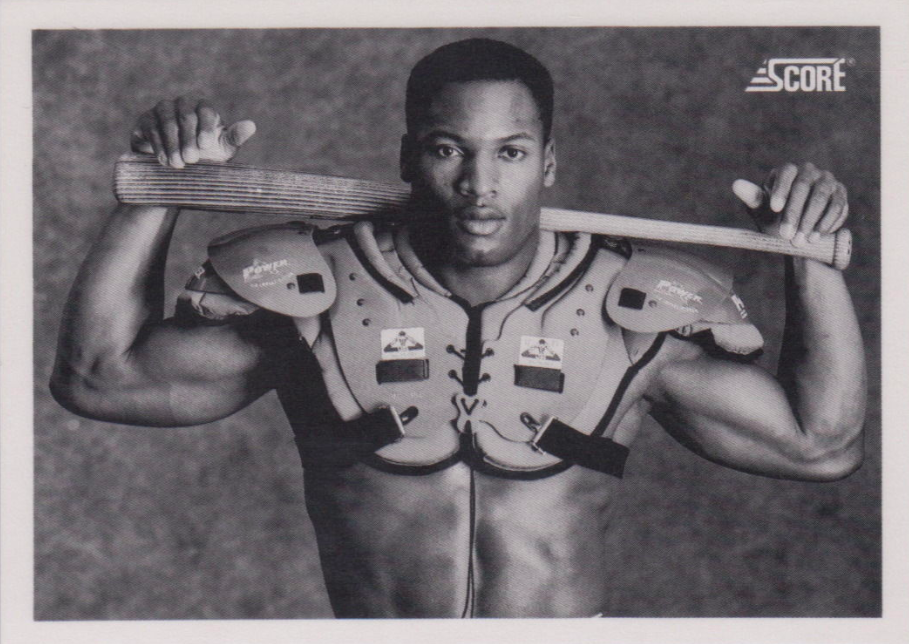 If you're thinking you've seen this photo before, you're probably right. The cover of Beckett Baseball Card Monthly. Nike advertisements. Every sports-loving teen boy's room in the late 80s and early 90s. The image that seems to have been everywhere, was!
But, nothing's a winner until it's immortalized as a baseball card. The black and white design that really grabbed the spotlight the next year, in 1991, with the "Dream Team" subset (and funnily enough, another shirtless superstar in Jose Canseco), is so classic.
Bottom line, Bo was a beast, and if you're ever that good at two major sports, then you deserve to do whatever you want on a baseball card, and that includes posing in what would otherwise resemble a 5-year-old's Halloween costume.
Auction Price: $2-$3
Graded Auction Price: $15-$50
(eBay affiliate links)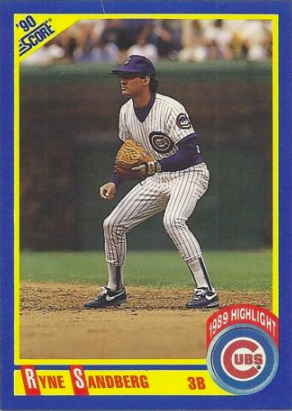 I love irony. I also love a good error card, as long as it didn't cost anyone their job. This card has both (well, hopefully).
Why is it an error? Sandberg's position is listed as "3B" as in third base, but, he was actually a second basemen during this time, and thus, it should read "2B."
Why is it ironic? First this actually isn't Sandberg's base card from the set; it's a subset, rather, dedicated to the different "highlights" or record-breaking performances, if you will, that unfolded during the season prior. Sandberg's highlight? Finishing the season with 90 straight games without committing an error…at second base. Yes, Sandberg's highlight specifically had to do with his play at 2B, but yet, the card reads 3B. Here is what the back says:
"When Ryne ended the '89 season with 90 games in a row without an error, he set a major league record for second basemen. It broke the mark set by Manny Trillo in 1982 for consecutive errorless games. Ryne also finished the season with the best career fielding average of any second basemen in history. Ryne, who holds the NL season record for the highest fielding average (only five errors in 806 total chances for a .994 in '86) is the winner of seven straight Gold Gloves."
Score actually went on to correct the error, or I guess, make it go away by releasing the card without a position listed at all. You'd have to assume that was an easier fix than simply putting the correct position, but, we shall never know.
Auction Price: $1
Graded Auction Price: $15
(eBay affiliate links)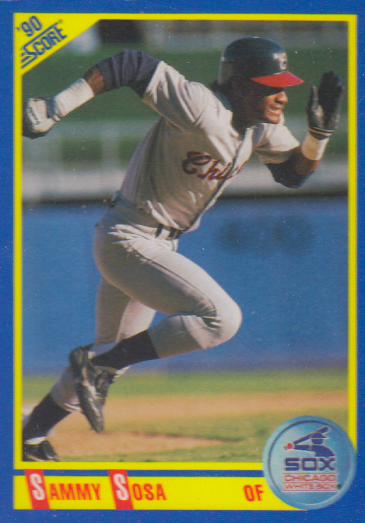 I love action shots, and this is a great one. Especially with rookies; it at least gives you a tiny glimpse into how they play and what they look like doing it. And these were the days before YouTube, so it wasn't as easy to just fire up a few highlight videos.
And I don't know why it took me this long to realize it or put it together, but a young Sammy Sosa and Frank Thomas on the same early 1990s Chicago White Sox team? It wasn't long, as Sosa was traded to the Cubs before the 1992 season, and, he didn't really become Slammin' Sammy until he reached the Cubs, but still.
Here are their, Sosa's and Thomas', stats during that time:
1990
Sosa: .230, 15 HR, 70 RBI
Thomas: .330, 7 HR, 31 RbI
1991
Sosa: .203, 10 HR, 33 RBI
Thomas: .318, 32 HR, 109 RBI (HOLY WOW)
Auction Price: $1
Graded Auction Price: $4-$10
(eBay affiliate links)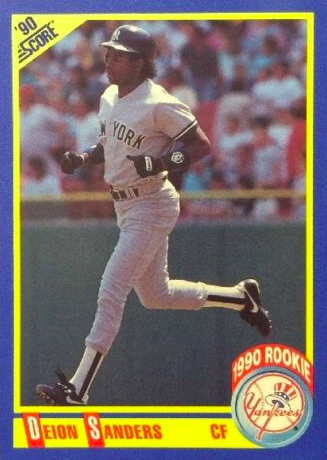 I'm including this card here because one, it's cool to see two dual sport athletes as the centerpieces to a single card set (Deion and the aforementioned, Bo), and two, anyone put in a Yankee uniform gets their status elevated like 10x. I'm a big Oakland A's fan, and seeing not-so-flashy guys like Ken Phelps or Mike Gallego in Yankee uniforms just elevated their worth in my eyes. (Still haven't gotten used to Giambi as a Yankee, and Sonny Gray, even weirder.)
Auction Price $1-$2
Graded Auction Price $5-$12
(eBay affiliate links)
Key Rookie Cards
All in all, 1990 Score gets a bad rap, but I dig it as a cool, attainable set. To go along with the cards above, here is a quick summary of the best rookie cards found in 1990 Fleer (eBay affiliate link).
Moises Alou
Juan Gonzales
Marquis Grissom
Tino Martinez
Deion Sanders
Sammy Sosa
Frank Thomas
Greg Vaughn
Mo Vaughn
Robin Ventura
Larry Walker
Bernie Williams
Key Error Cards
One of my favorite things to do after watching a movie is going to iMDB and looking at the goofs! It makes you want to go back and watch the movie again!
Same kind of idea with error cards. If anything, it turns the seemingly, everyday and ordinary stack of cards into a treasure hunt, as error cards usually go undetected as they are sold and traded, allowing them to change hands and land in the astute collector's lap.
Some turn out to be so valuable that they are labelled the best of the decade, like a few of my favorites from the 1980s.
Ryne Sandberg (3B instead of 2B)
Ryne Sandberg (No position at all)
Ken Griffey Sr. (Wrong uniform number on the back)
Mike Devereaux (RF instead of CF)
Jamie Moyer (misspelled "scintillating" on the back)
That's all for now! Would love to hear your thoughts and comments.