Affiliate Disclosure: This post contains affiliate links to eBay, Amazon, and other platforms within the content, sidebar ads, and in other areas. As I am part of the eBay Partner Network and other affiliate programs, if you follow these links and make a purchase, I will receive a commission. Likewise, as an Amazon Associate I earn from qualifying purchases.
I'm not saying I'm tired of Wander Franco, Julio Rodriguez, and Bobby Witt, but I will say I'm excited to turn the page and focus on one young star that is still relevant and his true RC—that's right, Jeremy Pena rookie cards!
So yes, while there are of course plenty of other rookies, stars, and short-print cards to seek, Jeremy Pena is one big chase. And with the World Series set to kick off tomorrow, it can become an even bigger chase, and quickly.
So, let's get into it.
Always the same note I like to include with these lists is that release day brings inflated prices until more and more cards are listed for sale to water down the market. Then when the dust settles, prices for those same cards decrease quite a bit.
November 2022 Update: In case you haven't heard Topps has an MVP Buyback offer, which means you can now redeem Aaron Judge and Paul Goldschmidt cards from 2022 Topps Chrome to participating local card shops for $20 in store credit! There is a ton more to know, so be sure to check it out.
If it's a low-numbered card you're after, that's one thing, and you might not have a choice, but if your only goal is to purchase base rookies or cards generally printed in higher quantities, you might want to wait.
Also, I don't include cards like superfractors, 1/1s, etc. on these lists, as the primary goal is to simply point out and educate on what cards you might come across if buy a pack or two for yourself.
2022 Topps Update Rookies & Variations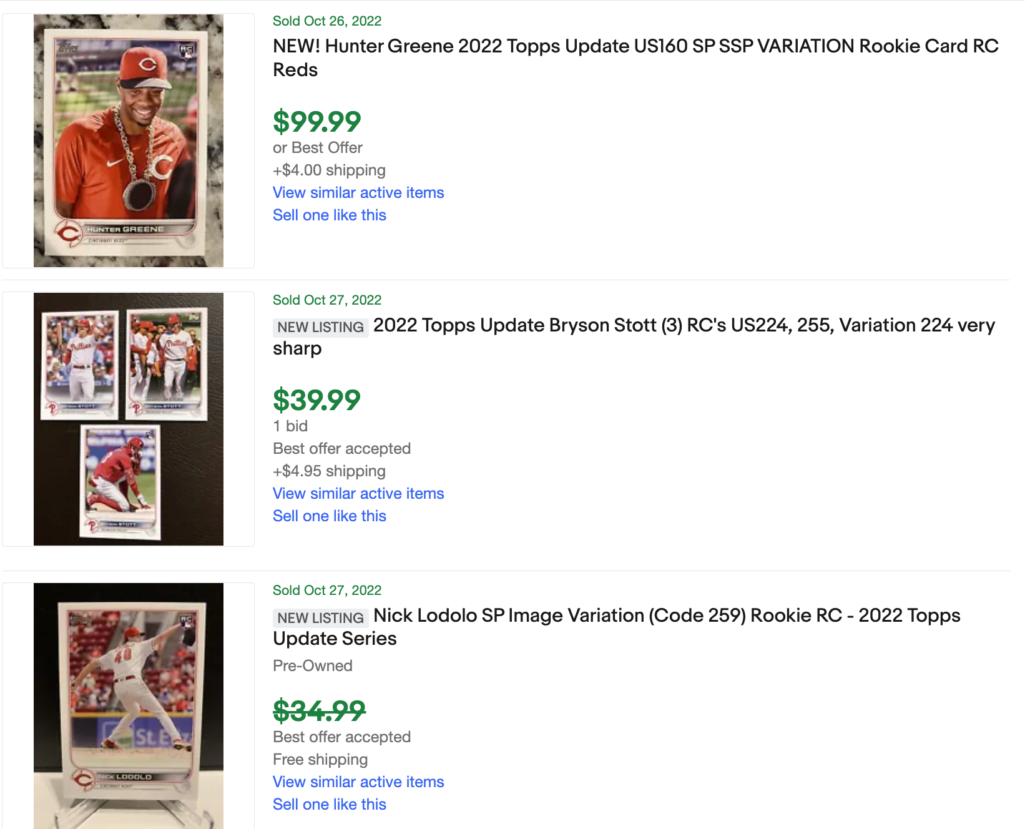 Not just one rookie, but many—not only because they are potentially-great players, but because they are cool cards! Not the biggest rookie names in the game hitting eBay so far, but cool to see players like Stott and others.
Hunter Greene #US160
Spencer Torkelson #US20
Nick Lodolo #US298
Gabriel Arias #US248
Bryson Stott #US224
But, variations aside, let's focus specifically on Seiya Suzuki, who burst onto the scene at the beginning of the year, but leaving many wondering when we were actually going to see his rookie card. (Same thing happened with Steven Kwan rookie cards.)
Well, here you have it, and I love the choice of photo.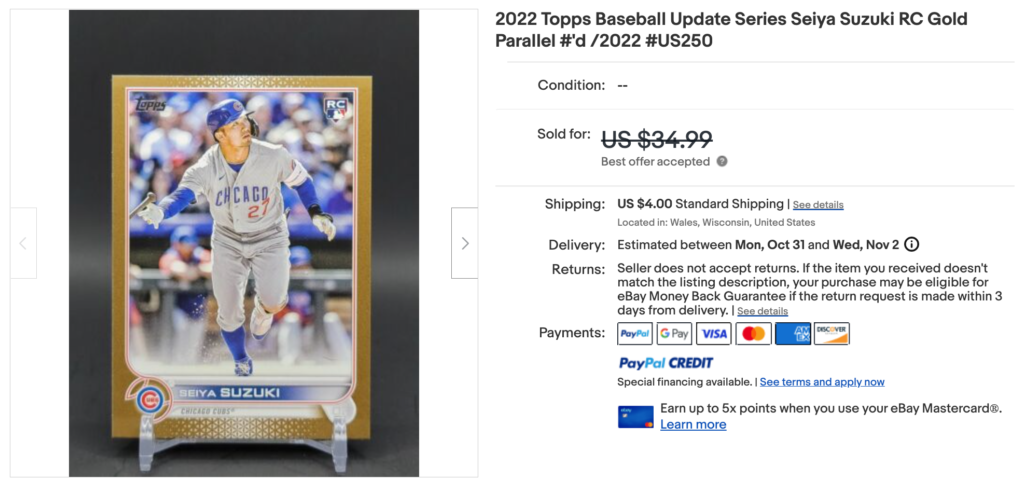 2022 Topps Update Juan Soto #US22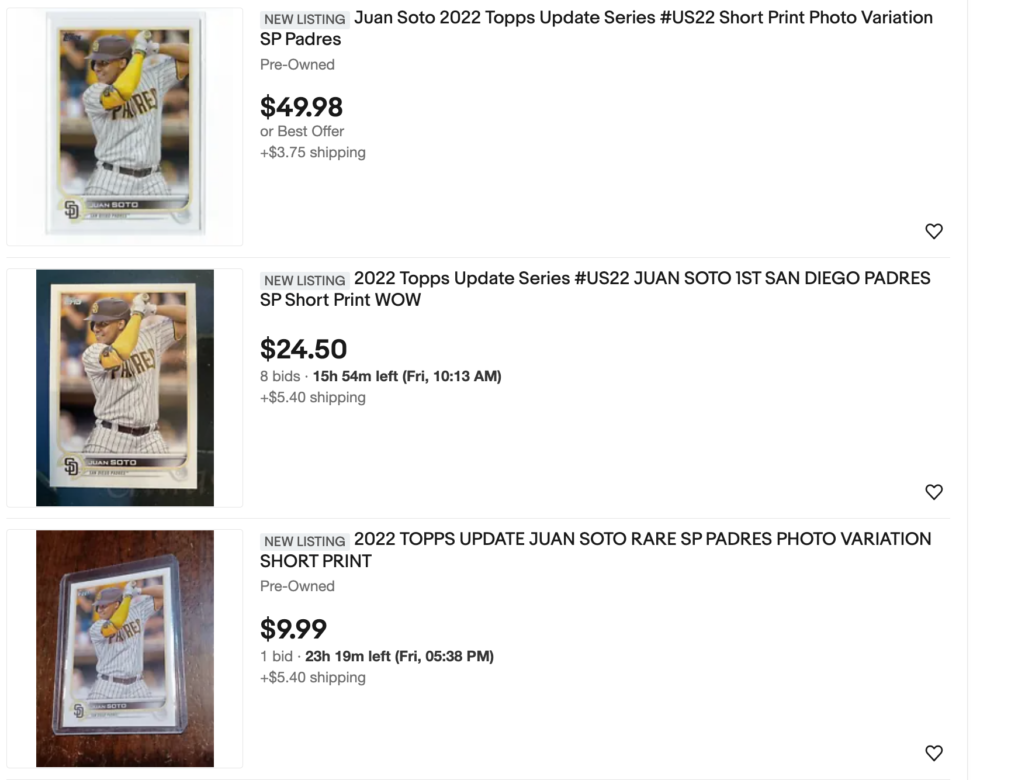 I'm not going to go out and say "this looks so weird" because I'm an A's fan, and seeing stars in different uniforms is just part of the normal everyday baseball season. But, it is cool to see, I'll say that.
And while I and probably the entire Padres fanbase were underwhelmed with Soto with the short time they had him this season, he's still so young, and offers a lot to look forward to in the coming years.
2022 Topps Update Batting Cage Cards
When you're first getting into ripping packs of cards, I'll admit, it's tough to spot short prints. That said, after a few years doing it, you'll realize that many of the short print card photos start to follow certain themes…and one of those is certainly the batting practice photo.
So, here is your heads up!
Freddie Freeman #US330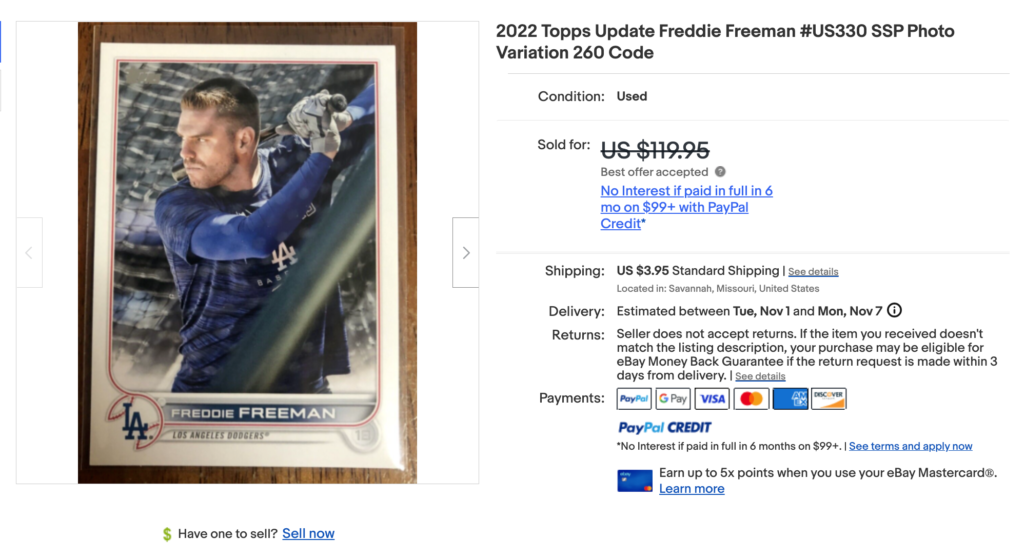 Albert Pujols #US300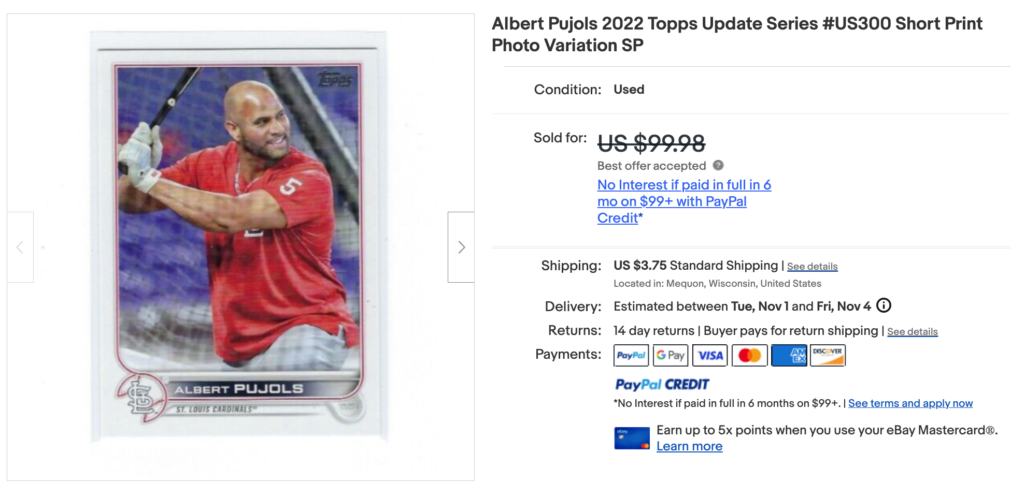 2022 Topps Update Legend Variations
As a big McGwire and Rickey Henderson fan, I will forever love legend SP cards. Sure, we get a lot of these cards across sets as autos, relics, inserts, and more, but nothing beats seeing old favorites on modern base cards. Such great photos. Here are some of the most valuable to this point:
Willie Mays SSP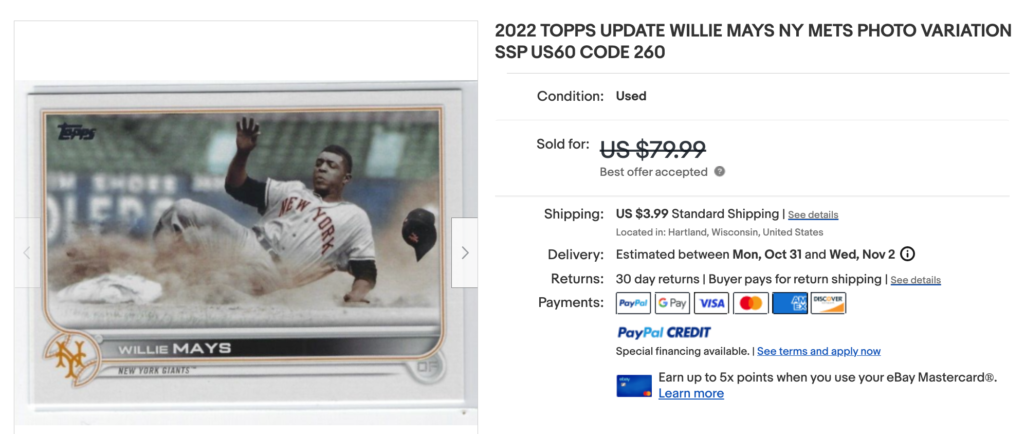 Ty Cobb SP #US204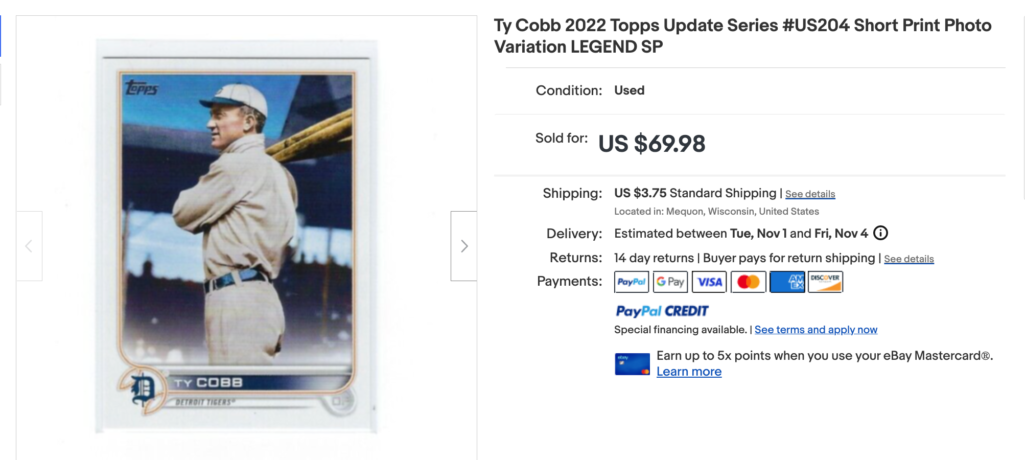 Roberto Clemente #US21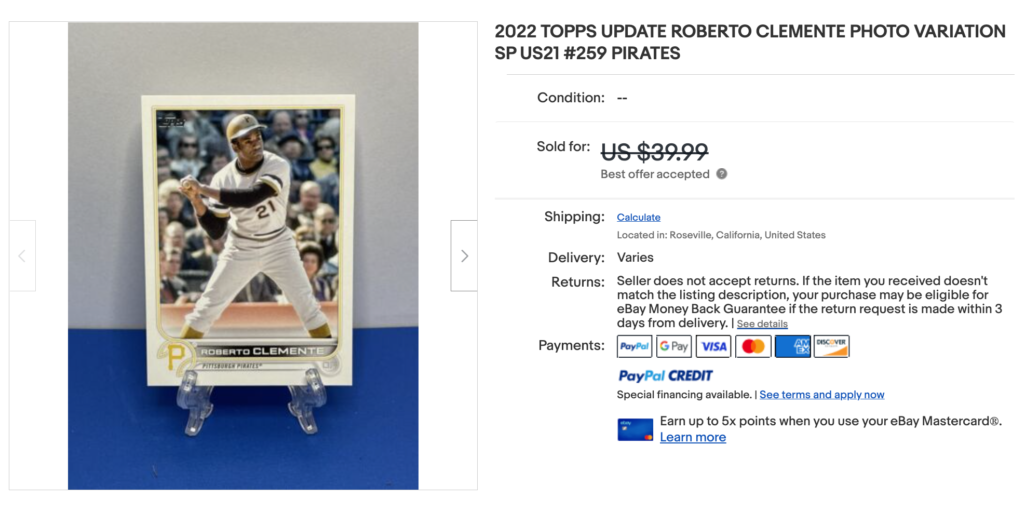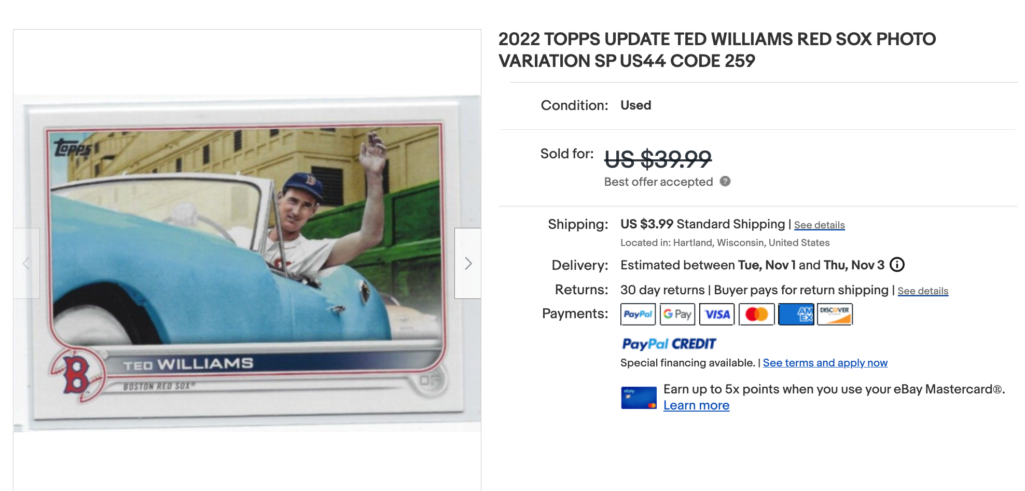 Rogers Hornsby #US60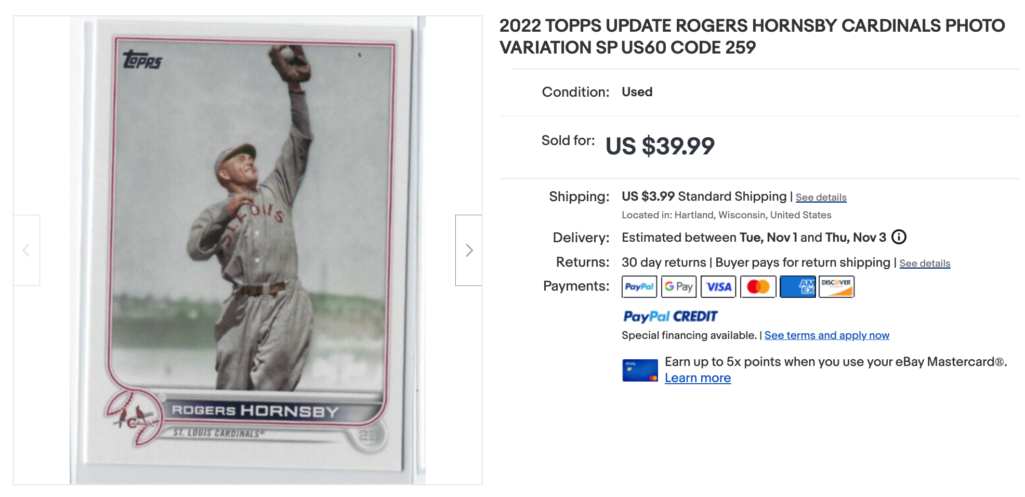 Tom Seaver #US41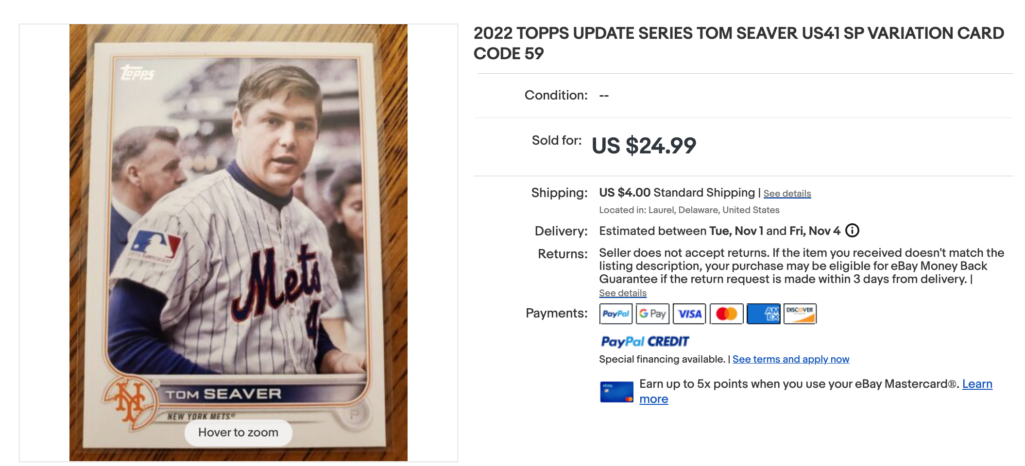 2022 Topps Update Julio Rodriguez Rookie Parallels
Ok, did you really think we weren't going to feature at least one Julio Rodriguez card? Even though it's a "Debut" card, this is a special talent. And having the card in blue, which is pretty much as close to a team color match you're going to get, it's just icing on the cake. Is it worth $50+? Perhaps not, but time will tell. Take a look at other Julio Rodriguez rookie cards.