Affiliate Disclosure: This post contains affiliate links. As I am part of the eBay Partner Network and other affiliate programs, if you follow these links and make a purchase, I will receive a commission. Likewise, as an Amazon Associate I earn from qualifying purchases.
Prizm basketball cards are often among the most valuable because they are the flagship brand of Panini. Just like Topps Chrome is thought of to be the best brand for rookie baseball cards, Prizm's heavier card stock and flashy designs have made them a hobby favorite for both basketball and football.
Plus, with the rise of speculation in trading cards, the increased interest from both collectors and sellers has driven up prices, as they anticipate future returns. However, while you'll routinely see Prizm rookies show up on the list of hottest basketball cards at any given moment, it's essential to remember that card values can fluctuate and are subject to market trends and player performance!
I mean, to say the card market shifts quickly and drastically would be an understatement. So, futile would be my efforts to put together an ultimate list of the most valuable Prizm cards out in the wild (and speaking of wild, Tiger Stripes may or may not make an appearance on this very blog post).
What I can do though is start by adding a few of what I think are some really hot, cool, great, and of course, valuable Prizm cards to either own, or, to hang on to and eventually sell when the time is right. At the end you'll also find a bulleted list of some of the more recent major sales
2021-22 Prizm 75th Anniversary Silver Logo SSP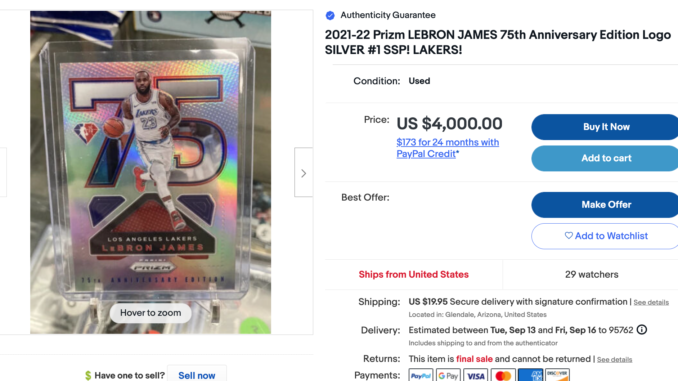 Let me just start by saying that anyone who knocks the design of these cards is way off base in my opinion. There is more to their selection for this list, but just wanted to put it out there. The base 75th Anniversary edition is also a pretty card but the Logo cards take it to a new level with the number boldly emblazoned as the background.
As with most NBA sets, there are a number of players to watch for, starting with Giannis' Silver edition which has one eBay sale so far for around $500. Even though Giannis is one of the NBA's indisputable best players, if you hit any of these cards, check and double check.
Prizm Tiger Stripes (Multiple Years)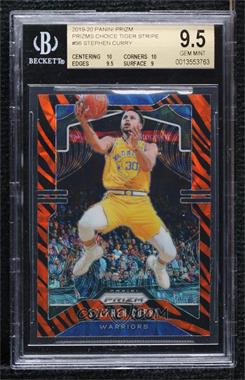 How do you go wrong with these? (You dont.) The design themselves already put them above most other cards with the – true to their name – orange and black tiger stripes forming an exquisite perimeter around the frame.
If you want to get specific, the LeBron James Panini Choice Prizm Tribute Tiger Stripe could conceivably be the best of the lot with holographic "light" circles across the face of the card. Not only is it gorgeous but it also fetches an extraordinary price with a PSA 10 being sold in July of 2022 for $8100!
2012-13 Prizm Silver Steph Curry 1st Prizm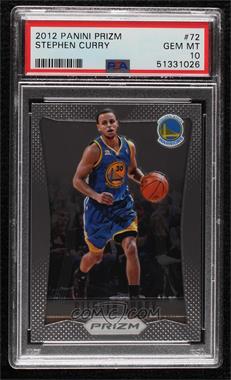 Arguably the greatest shooter in NBA history plus Panini's first year offering Prizm and you have a basketball masterpiece. This is truly a gorgeous card with its silver borders encompassing a young Steph Curry in action on the dribble.
While this is not a rookie card, it is certainly a worthy addition to any collection without costing someone the bank (well, at least for most people, and compared to other Prizm cards). The most recent sale was a BGS 9.5 that went for $3,388.
2019-20 Prizm Ja Morant Rookie Card & Parallels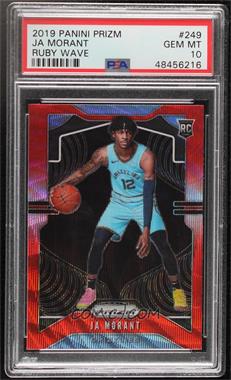 Sometimes I just like to stop and think about all the eyes on 2019-20 Prizm, but for Zion. Sure things change and can go up and down, but Ja is the man of the moment for now.
Anyway, I'm not telling you anything you don't know, but this card needs to be included on any list of most valuable Prizm cards. Frankly, Ja Morant that is turning into a superstar. In fact, another year of the same statistics and leadership ability will officially cement Morant as such. If you're not yet familiar with all of the different Prizm colors and variations, three Tiger Stripes (remember those) recently sold for $14K-$15K and blues /199 for $12K-$13K.
2018-19 Prizm Luka Doncic Rookie Card & Parallels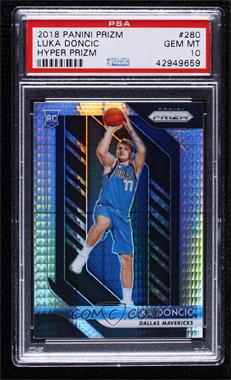 It's hard not to be dazzled by this unique card and its multitude of color variations, all of which will need some mighty deep pockets to own. That being said, not one single variation of this card is not worth owning but for the sake of its sheer aesthetic, a Blue Ice PSA 10 sold for nearly $34K in July 2022. And, yet again, the Tiger Stripe sold for a pretty penny, surpassing $23K for a PSA 10 in early June.
Now of course I could include every valuable Prizm card, so in addition to the above, here are some recent huge sales: