Affiliate Disclosure: This post contains affiliate links. As I am part of the eBay Partner Network and other affiliate programs, if you follow these links and make a purchase, I will receive a commission. Likewise, as an Amazon Associate I earn from qualifying purchases.
There is always room for a new competitor, right? I mean, Google wasn't the first search engine and TikTok wasn't the first social media platform. Things change, and consumer needs and tastes shift, opening the doors for new companies and services to enter and offer their way of doing things.
Over the years in card grading, we have had mainstays like PSA and BGS, up and coming services including CSG and SGC. And then, there have been others who have tried to break through as well.
While the masses still prefer to grade with the industry leaders, I wanted to shed some light on some new and different options.
Arena Club Grading
It's exciting whenever a big name in sports is attached to a new project. Well, hold onto your hats because Derek Jeter is a founding partner in Arena Club, which amongst being a card buying and selling marketplace, is also a new grading service driven by machine learning.
From Derek in the video above:
"Any time you're building a business, you have to be passionate. When you are passionate about it, you think of things you could do differently and you talk about the trading card industry and, you know, what we're trying to do is build a community, a community. So you know, I've been fortunate to work with some great entrepreneurs throughout my post-baseball career. And Brian's at the top. You talk about how long it takes and think about authenticity and speed and efficiency, and that's what we're trying to tackle here."
According to the Arena Club website, the company is still in beta, but it does look like you're able to submit cards for grading. In terms of the details, it costs $10/card to grade and vault, or $15/card to grade and have it returned to you. In both instances, it looks like the cards can be returned within 30 days.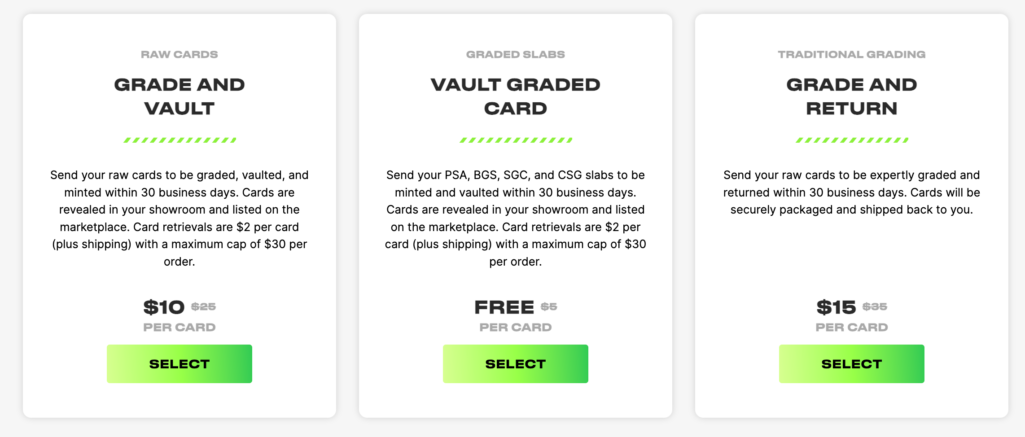 TAG Automated Grading
With the advancements in AI and machine learning, you'd have to think that any new card company is going to try and integrate automation into the process. And because grading is so subjective, many would welcome a "robot" for more consistent grading. You'd have to think if an automated company can enter the market and produce consistent results with a decent-looking slab, they have a good shot of taking a piece. (For the record, I love the look of these slabs).
For TAG, I'll let their homepage do the talking:
10 years in the making, technical authentication & grading is finally here. To use innovation, to apply technologies, and to create for each collector: transparency, accuracy, and consistency for every card graded.
Interestingly, while the 1-10 grading scale looks a lot like what you'll see with other companies, there is also a 1000-pt. TAG Grade that allows for even more granularity, so collectors can differentiate between two 10s of the same card, etc. I suppose it's similar to Beckett subgrades, but more transparent and specific.
Now, as with any new company, a big question is how does the value compare, and can these cards be sold at a price that rivals PSA? I haven't done much digging, but here is a cool video from Cajun Cardboard:
Rare Edition
Before even diving into this one (and the same goes for Arena Club), I'm just excited to see a grading company going by something other than a three-letter acronym that is surely going to get lost in my brain as I attempt to recall all of them that already exist.
Second, on the surface, I'm easily enamored with a nice-looking product, and while I still probably prefer the TAG slab to any on this list, Rare Edition slabs are beautiful as well. (I love the rounded slab corners.)
The slabs from Rare Edition Grading @RareEditionCo are next level. These are niiiiiiiice looking! 😎
(not my card) #collect #TheHobby pic.twitter.com/z7UVtQtYq7

— TVguy Cards (@t_vguy) September 17, 2022
Now, in terms of the details, what sets Rare Edition apart? Well, not sure it's different, but heavy emphasis on transparent and unbiased grading that relies on artificial intelligence (and "expert senior graders").
Beyond that, here are some nice takeaways:
Free Subgrades
Free Public Grading Reports
NFC Functionality
60 to 15 biz day turnaround
NO upcharges for a card's value
To all of the great new collectors following us, here is what we offer over at https://t.co/1aLCVFRyYe

✅ Free Subgrades
✅ Free Public Grading Reports
✅ NFC Functionality
✅ 60 to 15 biz day turnaround
✅ NO upcharges for a card's value

Slab Trailer🔽https://t.co/T4BUeJ05fr

— Rare Edition (@RareEditionCo) April 8, 2022
(I'll be honest, I have no idea what "NFC Functionality" means, but apparently, an NFC chip is:
"A Near-Field Communication chip (NFC chip or NFC chipset) is a silicon component or Integrated Circuit (IC) that can be used in different ways, depending on the targeted application.
When connected to an appropriate antenna, an NFC chip enables short-range, wireless communication between two devices. This provides an additional layer of security, as only devices within close proximity of each other can communicate via NFC."
So, what do you think? Do either of these three promising grading startups have what it takes to dethrone the major servicers?