Affiliate Disclosure: This post contains affiliate links to eBay, Amazon, and other platforms within the content, sidebar ads, and in other areas. As I am part of the eBay Partner Network and other affiliate programs, if you follow these links and make a purchase, I will receive a commission. Likewise, as an Amazon Associate I earn from qualifying purchases.
This is a simplification, but baseball card collectors can be put into one of two boxes—traditionalists and new-wave collectors.
Traditionalists of course like vintage or set collecting, and probably don't care much for refractors or any of the different card grading companies. For the new-wave collector, though, those things might be all they know—refractors and silver prizms, slabs, and for lack of a better term, gimmicks.
November 2022 Update: In case you haven't heard Topps just announced their MVP Buyback offer, which means you can now redeem Aaron Judge and Paul Goldschmidt cards from 2022 Topps Chrome to participating local card shops for $20 in store credit! There is a ton more to know, so be sure to check it out.
I'm not here to state which is better and why, but I will warn you that this is a post to talk about all that is new and cool from Topps this year, along with what might be coming down the pike. I'm also not here to simply talk about the Topps release schedule but to highlight what might be new and different this time around compared to years past.
Refractors, Xfractors, and…Logofractors?
That's right, just when you thought you couldn't possibly think about another "fractor" variation, Topps rolled out the unexpected with logofractors—one of the best and valuable chasers from 2022 Topps Chrome. (That is, from Topps Chrome Logofractor Edition.)
As you can see below, the logofractor resembles a base refractor thanks to its silver finish, but with an addition of an overlay of patterned MLB logos.
Speaking of "resemblance" and the fact that we are seeing Topps go a little of the Panini way of late in terms of some of their design choices (which I'm OK with), the Topps Logofractor isn't all that different from the Logo Prizm variation, like this one from 2014:
Cosmic Chrome
Perhaps you're sensing a pattern here? Fact of the matter is, people love Chrome, so why not push out Logofractos and Cosmic editions?
For the uninitated, Cosmic Chrome is a brand new, never-been-released product from Topps, slated to hit "shelves" in just a few days. What's that, you had no idea? Well, I don't think that's weird at all because talk has been oddly quiet given the fact that this is a Chrome release and it is brand spanking new.
Absolutely NO ONE on my TL is talking about it, but @Topps Cosmic Chrome debuts this Friday.

24 packs/box, 4 cards/pack, 12 boxes/case. Autos fall 4/case.

200-card base set and five insert sets.

Hobby boxes are currently $250/ea, cases $2950/ea @ BO.

Are you in or out? pic.twitter.com/Xy6fq6qDRF

— Crackin' Wax (@CrackinWax) October 30, 2022
Perhaps collectors are finally saying enough is enough already? I doubt it, and I wouldn't be surprised one bit that a flood of demand hits once these cards start hitting hands. That said, I also wouldn't be surprised if these didn't amount to much of anything spectacular given they look and feel like another Topps Finest or Bowman's Best entry, or as others are pointing out, the feeling of "Chrome Fire."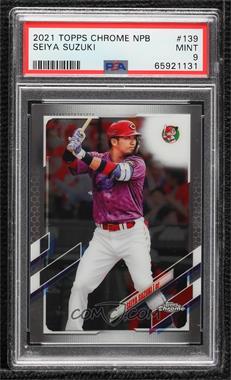 Bowman (and Topps) 1st Edition Cards
These aren't entirely new for 2022, but if you've been out of the card game long enough, they might seem new to you. In fact, Topps has issues "1st Edition" cards in the past, last in 2014, while Bowman first began to do so in 2021.
No, these aren't "1st Bowman" cards, but rather "1st Edition." The main distinction here is that "1st Bowman" labels are are awarded on a player basis, as is, the player's first Bowman card, but "1st Edition" is on a set basis, meaning it's more of a product line than a player card designation.
Thus, it's entirely possible and happens plenty where a player can have a Bowman card that is labeled with both "1st Bowman" and "1st Edition."
Topps 3D Baseball Cards
Again, not new to 2022, but their 2020 birthdate does make them worth for inclusion on this list given how unique and different these cards are. Similar to Sportflics cards of the 80s and 90s, Topps 3D is an updated lenticular entry for those who prefer their cards to have action-filled photos, literally.
2022 Topps 3D Jazz Chisholm Jr – $5 PWE @MDRANSOM1 @CardboardEchoes @sports_sell pic.twitter.com/1CE8PJoqQr

— John Updegraff (@j_updegraff) September 11, 2022
Topps 3D is an online-only set, with the photos mirroring base flagship releases (as you can see with that classic Jazz Chisolm photo from 2022 Topps), but with a paired down checklist of only 100 of the "top" selected players.
Big Head Variations
I've already dedicated an entire blog post to Topps Big Head cards, but in case you missed it or don't want to click over, here is the recap.
To start, collectors are no stranger to the SP or even SSP, but when the Topps Big Head cards came about in 2021 Update, the Ultra SP took on a new, larger than life collectability (pun intended).
In terms of what these cards even are, there really isn't much to describe beyond the name itself. These are literally the same cards and photos you see as base releases, but with supersized heads, as you can see between the two cards below.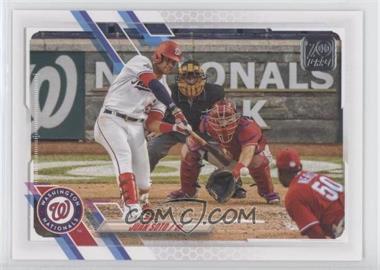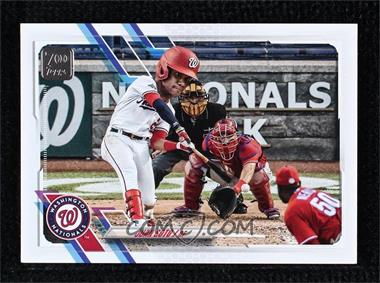 Chrome NPB Nippon Professional Baseball Cards
I love this. Starting with a 2021 release fresh of a new license, Topps released Topps Chrome NPB Nippon Professional baseball cards—a 216 base checklist featuring many names, but most notably, Cubs star, Seiya Suzuki.
Available on the Topps Japan website, Topps came back with a 2022 release featuring big chasers including pitcher Roki Sasaki of the Chiba Lotte Marines (card #194) and Yuma Imagawa of the Nippon-Ham Fighters.
So, that's it for now, but check back for the latest in new Topps baseball cards to see what's fueling the love of cardboard in hobby circles across the country.