Affiliate Disclosure: This post contains affiliate links to eBay, Amazon, and other platforms within the content, sidebar ads, and in other areas. As I am part of the eBay Partner Network and other affiliate programs, if you follow these links and make a purchase, I will receive a commission. Likewise, as an Amazon Associate I earn from qualifying purchases.
Fresh off another season of fantasy football drafting, I'm not telling you anything you don't know by stating Nick Chubb is one of the premier running backs in the NFL. Completing a special 2021 where he carried the ball 228 times for 1,259 yards for an average of 5.5 yards per carry, Chubb was sixth-best among backs.
With the 2022 NFL season ramping toward its' first week of regular season games on Sunday, Sept. 11 now is the perfect time to not only recognize Chubb for the talent he is, but to discuss his rookie cards as well.
Taken in the second round of the 2018 NFL Draft, Chubb is arguably the best running back in the class with Saquon Barkley. Of course, this is overshadowed by the quarterbacks in this draft like Josh Allen who had a huge season opener, along with Lamar Jackson, and Baker Mayfield.
With that in mind here are some Nick Chubb rookie cards collectors should hunt for. (And just a heads up, no rookie patch autos or big-buck cards here.)
2018 Panini Donruss Rated Rookie #308
Nick Chubb's Panini Donruss card should be atop any rookie card rankings because it is simply one of the best and most classic in the football card hobby. The designs are clean and simple, the rated rookie logo is hard to bear, and the price is more than affordable. For instance, you can grab one on eBay right now for $4-$5.
That said, while it is the signature rookie card, the picture used of Chubb is not the best. And this isn't just a Chubb thing, as all of the rated rookies here are going to be posing without a helmet. On one hand, it's nice to get a glimpse of a footballer under the helmet, but on the other, I'd think most people provide true action shots.
Thankfully, there is always Optic.
2018 Panini Donruss Optic #158
Well, kind of. While the similar yet helmeted Chubb is a much better picture for collectors, it's still very much posed and not a true in-game shot. But, we will take it! Again, the design is clean, which is crucial for base sets, and with Optic you're getting that "chromium" finish and heavier card stock. If you want to grab the "upgraded Donruss" card, you can do so for around $10.
2018 Panini Elite Draft Picks #112
Yes, a college uniform, but hear me out. First and foremost, you have to figure there are a number of Georgia Bulldog fans who have no rooting interest in the Cleveland Browns, but would love to own a Chubb rookie.
Second, the card just looks great—the "color match" X design of Elite Draft Picks makes the red of the Georgia helmet pop and makes the card visually pleasing even in the face of the college jersey.
Read More: Travis Etienne Jr. Rookie Cards
I mean, when you compare this card to Donruss above, which is better? I'd argue this is one of the few cards that look better with an athlete in his college uniform versus his pro.
Plus, there are short prints. According to Carboard Connection, SPs in this set averaged about one per hobby box—Chubb has two card, then, one in a white jersey with ball tucked in his left arm, and the other in a red jersey with ball in his right arm.
I'm also going to go out and say while most die cuts are unnecessary, $12 for one of these sounds like a fun deal.
2018 Panini Prizm #213
While many might think Donruss for the greatest collector value, others turn to Prizm for the best monetary value. There are few similarities between the sets other than the fact that they both offer a clean design, and that's probably what puts each of these rookie cards at the top of their respective card buckets.
What makes this card different? For one it's an in-game shot, which people love. Not to mention that people just love the shine as well; same goes for when comparing Topps baseball versus Topps Chrome. When it comes to parallels, while Donruss blue, red, or yellow, etc. look flat and clean, there isn't much that beats a silver Prizm. (Donruss does get the edge with the "rated rookie" logo, though when compared to Prizm's RC shield.)
2018 Panini Prizm Select #152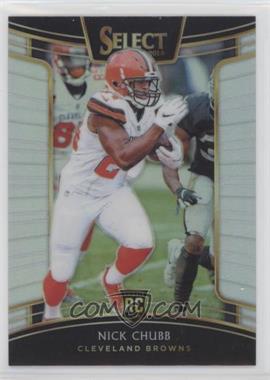 A longstanding hobby debate is based around the question of why Prizm reigns supreme when Select simply looks better, while offering everything that Prizm does. We won't get into it much here, but let's just say we have saved the best for last.
First, the border for this card makes it stand out above the rest, and the overall design and look – including the photo – makes this the best-looking Chubb rookie card. Doesn't the framing make it feel like a centerpiece? Everything is in the middle, yet still open and not as crowded as Prizm.
The white uniform also looks better; clean and crisp, and works extremely well with the design of the card. Last, the rookie card logo also placed in the middle does enough to denote what this card is without being too distracting. Overall, this is the best Chubb rookie, and a must for any collector.