Affiliate Disclosure: This post contains affiliate links. As I am part of the eBay Partner Network and other affiliate programs, if you follow these links and make a purchase, I will receive a commission. Likewise, as an Amazon Associate I earn from qualifying purchases.
Cards are all around us. As such, data is all around us. And while it's so easy to dive down into a card chart and table rabbit hole, it's a lot more useful if we know what to look at and how to interpret what we are seeing.
So, here are 5 popular card charts (from Market Movers) that uncover some really useful points that will help you buy, sell, and trade.
After reading, if you'd like to give Market Movers a shot, you can grab a free 14-day trial—simply visit this link, and sign up for an account and plan with code BALLCARDGENIUS. If you decide to continue after the trial, you'll get 20% for the lifetime of your subscription.
Price Changes $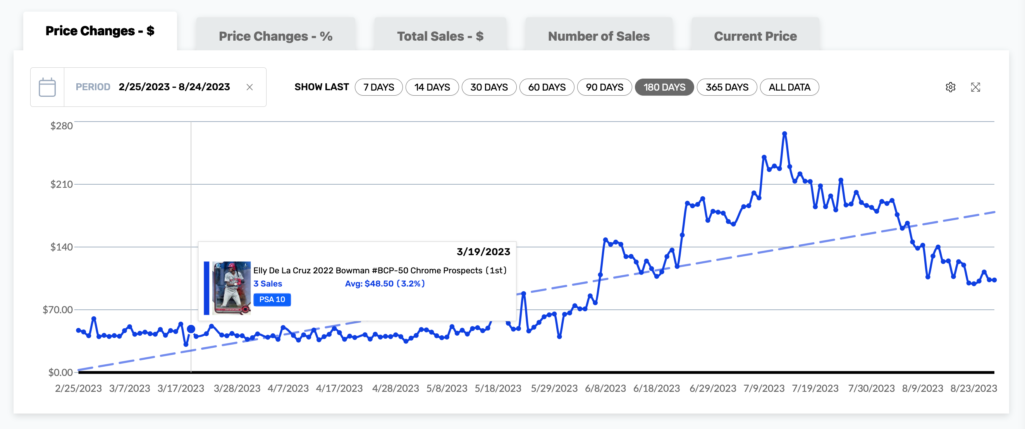 On the most basic level is the price change chart, reported in dollars and differences in dollars. Here you can see how a card's popularity, represented by how much it's selling for, ebbs and flows.
As you can tell with this example of the Elly De La Cruz 2022 Bowman Chrome PSA 10, you could have grabbed one for just under $50 (based on the average) back at the beginning of the season. The average price peaked in early July – well over $250 – and has now settled back down to around an average of $110 (still impressive for a card that is not particularly rare).
Price Changes %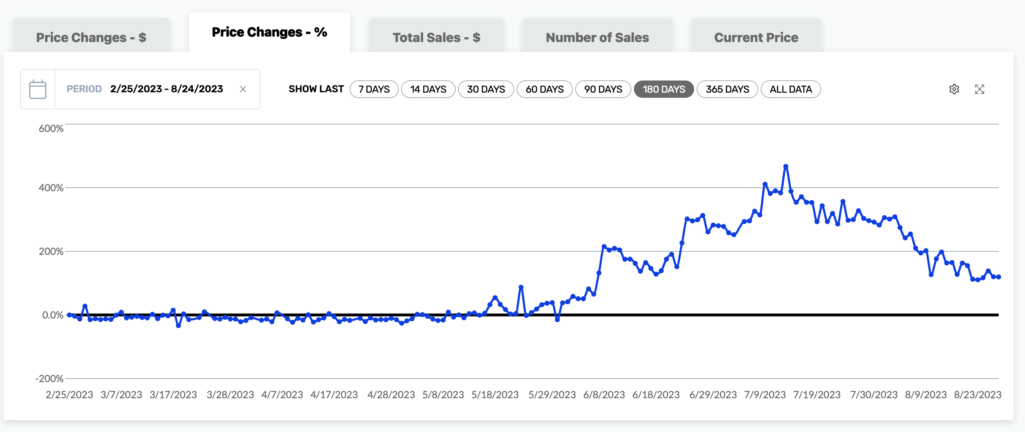 For a similar look but one that is based on percentage change rather than pure dollar value, the "Price Changes %" chart will show a card's popularity reperesented by % change from previous price.
So, as you can see in this case, rather than dollar amounts on the Y-axis, we see percentages. Thus, at the beginning of the season you'll see a lot of numbers close to zero as there really wasn't much going on with De La Cruz at that point. But, lo and behold, that same peak we saw in the previous chart is present in this chart, with the 489% price increase.
But wait, 489% compared to what? With this chart, the percent changes will be based off of the first date displayed. This period begins 2/25/23 with an average price of $45.24, so every subsequent average price is compared to $45.24.
Total Sales $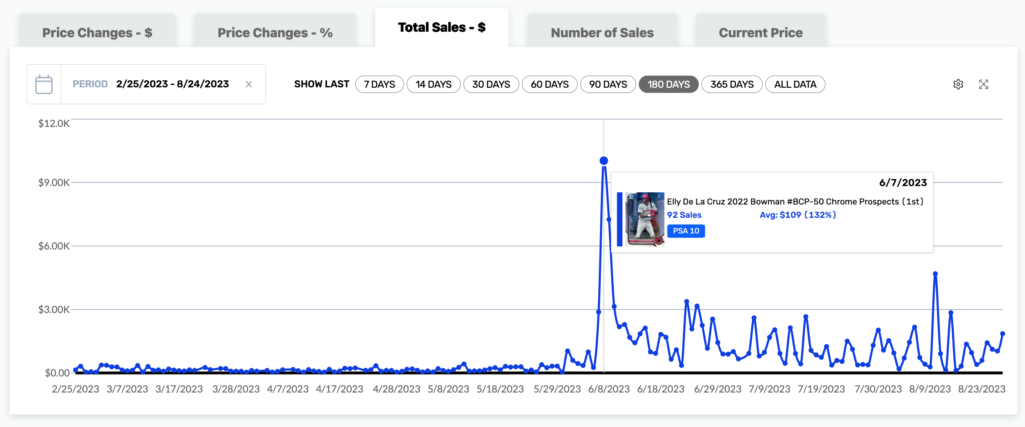 Now for a bit of a different look, this chart represents the total dollar sales the card accumulated by day. So, rather than just the price of the card being tracked, we are looking at the total sales, or what could be thought of as the price of the card multiplied by how many times it was sold in a day.
Going back to our example De La Cruz card, we see can eariler peak, this time in early June when there were 92 sales of this card on 6/7/23. At an average price of $109 at the time, total sales for the day came out to around $10K.
Number of Sales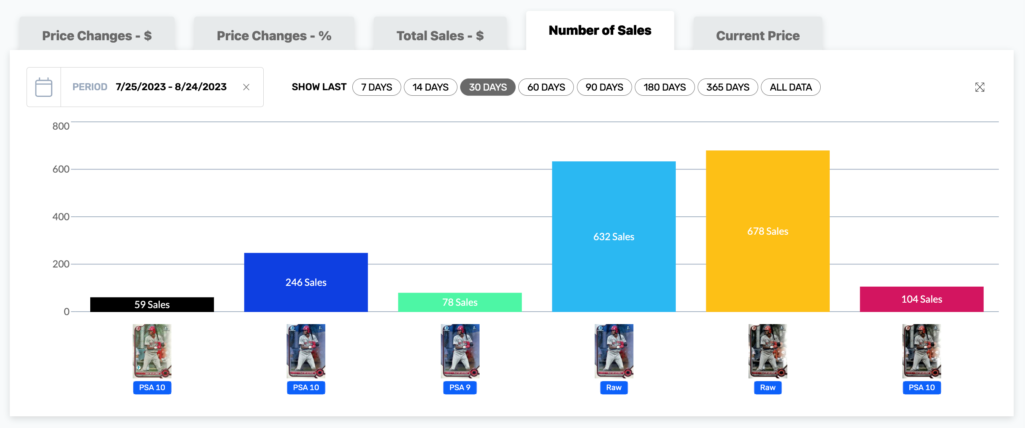 Diving deeper into number of sales, you can use this chart to simply see how many sales one card generated for the time period. So, for now, if you just zero in on the PSA 10 Chrome copy over the last 30 days, you'll see the 246 total sales.
One other use, though, you can use this chart to compare how different versions of the same card are selling. So, while we have the PSA 10 Chrome copy we have been using as an example, I also included raw versions, a PSA 9, and PSA 10s of other, non-Chrome cards. As you might expect, De La Cruz's raw paper Bowman 1st (among the cheapest of the bunch) sold close to 700 times over the last 30 days.
Current Price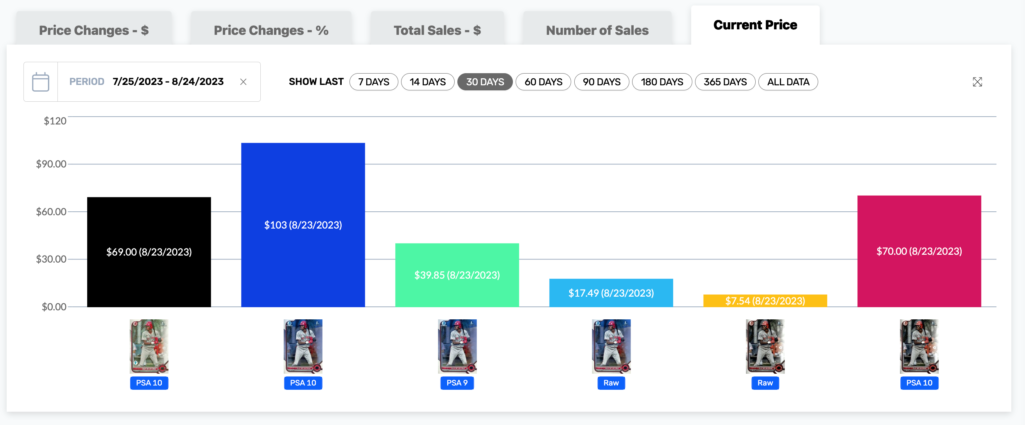 Last (unless I present some bonus info, wink wink) is the current price chart. Again, we can see our example card in the blue, with a average price of $103 on the last day of the selected period (8/23/23). On the other end, the raw paper card that I mentioned to be the cheapest is at $7.54.
So, this is all great info, right? Yes, but only if you know which card to look for. Meaning, these charts in themselves don't really help with discoverability, right? I knew I wanted to look at Elly De Laz Cruz 1st Bowmna Chrome PSA 10, so I selected that card specifically.
But, if I were trying to get a feel for the most popular cards in a given moment, can I find that info? Sure I can—here are two methods.
The first is a little more general, but can still help. Go to "Featured Charts" and instead of thinking of a player to search up, just scroll down to the "results." When I do so right now, I see a number of cards including a lot of Ohtani, Elly De La Cruz, the Morant card with celebrities in the background, the Trout/Ohtani WBC Topps Now card that has been identified as one of the coolest baseball cards of late, and more.

If you've had a pulse on cards over the last week or so, you know this list checks out and includes some of the more popular and talked about cards (for better or worse).
For the second method, while not a chart but a table, you can go to the "Movements" tab where you'll be presented with a table that looks like this: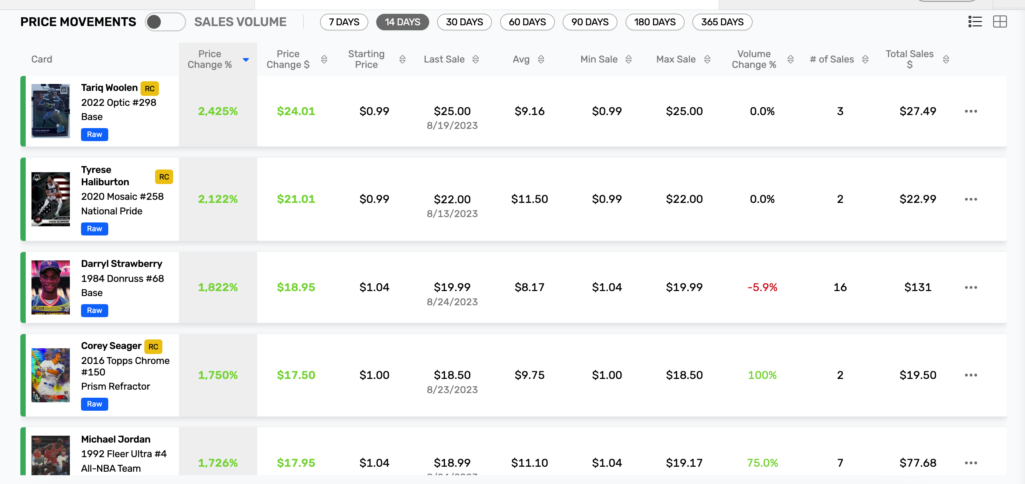 Here you want to look at the "Price Change %" and the "Price Change $" columns. This will tell you that how much a card has increased in its most recent sale compared to the previous. One word of caution, though—always verify.
For instance, I see that the "starting price" or low sale for the period for the 2016 Topps Chrome Corey Seager Prism was $1, which meant the most recent $17.50 sale was 1,750% increase. Clicking into the details, though, we can see there was somehow a $1 sale on 8/15, while the rest of the sales were around the "normal" $18-$19. So, that $1 was an anomoly, and diving in even further, we can see that the sale was actually a 2020 Topps Chrome Seager that was mislabeled.

All in all, when looking for popular card charts, there is no shortage of information from Market Movers. Click below to give it a free trial, or check out one of our many other resources on flipping sports cards for a profit.