Affiliate Disclosure: This post contains affiliate links. As I am part of the eBay Partner Network and other affiliate programs, if you follow these links and make a purchase, I will receive a commission. Likewise, as an Amazon Associate I earn from qualifying purchases.
You've heard the names: Ichiro Suzuki, Hideki Matsui, Hideo Nomo, Shohei Ohtani, and other Japanese stars who made more than a place for themselves in major league baseball.
The question is, then—who is next?
Well, before we get too far ahead, let's not forget about those from this most recent season:
Seiya Suzuki for instance had a solid rookie campaign for the Chicago Cubs, despite some injury challenges that caused him to miss some time—Suzuki played in 111 games, hitting .262, smacking 14 homers, and driving in 46 RBIs.
So now, who can we look forward to?
Masataka Yoshida has officially been posted, meaning he had 30 days to sign with an MLB team before quickily inking a deal with the Boston Red Sox.
Star Japanese outfielder Masataka Yoshida has officially been posted, sources tell ESPN. He'll have 30 days to sign a deal with an MLB team. There is significant interest in the 29-year-old, who this year hit .335/.447/.551 with 80 walks and 41 strikeouts for the Orix Buffaloes.

— Jeff Passan (@JeffPassan) December 6, 2022
Pitcher Kodai Senga also recently signed with the Mets, and Shintaro Fujinami is expected to sign soon.
But all of that said, what about that young pitcher who threw a perfect game and nearly struck out 20 batters in April of 2022?
That would be Roki Sasaki, and while he hasn't been posted yet, all eyes are on 2023 and his availability.
That said, if you're a fan or want to get a little ahead of the curve, baseball cards of his are available, so let's take a look!
2021 Topps NPB & Topps Chrome NPB
Luckily for baseball card collectors across the world, we have been treated to Topps Chrome NPB (Nippon Professional Baseball) over the last few years. These cards feature much of the same design as their MLB flagship counterparts, with Chrome kicking things up a notch with a high-quality printing and chromium "shiny" finish (not to mention a collector favorite, chrome refractors).
While MLB Topps Chrome rookie cards still hold the most value of all of a player's rookie cards, generally speaking, you can grab most players for just a few bucks thanks to the overabundance of availability (2022 Topps Chrome has become more popular of late thanks to the MVP Buyback Program).
But with the NPB releases, especially 2021, there aren't many boxes out there (eBay currently has about 20 or so).
Roki Sasaki, between Topps and Topps Chrome in both 2021 and 2022, has the following cards:
2021 Chrome #194
2021 Paper #112
2022 Chrome #80
2022 Chrome 58-1
2022 Chrome C-2
2022 Paper #80
2022 Paper 58-1
2022 Paper KC-2
2022 Paper A-1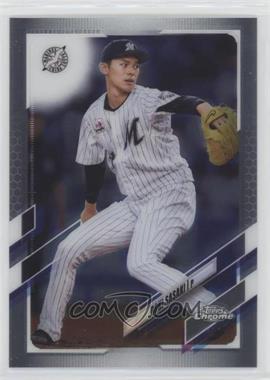 As mentioned above and as you can see from this card example, the design matches the MLB release, and that includes most of the inserts, too. In addition, though, both the Animated and Kings of the Craft inserts are unique to the NPB release.
Topps Chrome NPB 2022 pt 2 pic.twitter.com/ZxICkEJh3J

— Shakabrocards (@ShakaBroCards) November 23, 2022
Here is a look at the Animated inserts, which I absolutely love: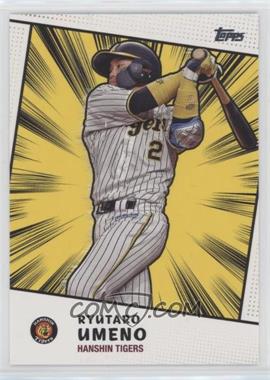 If you're looking to collect an NPB set but can't fathom diving into "all of those" cards that you're used to with MLB releases, you're in luck. Consider the fact that the MLB has 30 total teams while NPB only has 12. Thus, the MLB Topps Flagship checklist features close to 700 cards while the NPB checklist only has around 200 or so. So, it's much more attainable in terms of number of cards (though more difficult in terms of availability).