Affiliate Disclosure: This post contains affiliate links to eBay, Amazon, and other platforms within the content, sidebar ads, and in other areas. As I am part of the eBay Partner Network and other affiliate programs, if you follow these links and make a purchase, I will receive a commission. Likewise, as an Amazon Associate I earn from qualifying purchases.
Any amateur or novice collector knows a baseball card is a rectangular piece of cardboard with a player's picture on the front. The back of that baseball card has numbers, info, and stats. Heck, everyone knows this.
Within that traditional rectangular shape, we've seen different varieties, from oversized giants double the size of a standard card to a few cards that were nearly twice as small. The cards have gone both vertically and horizontally.
But rarely over time have there been round, circular cards; cards shaped like discs. There have been a few, but they require scraping every nook and cranny of the sports card universe to find if you don't know what you're looking for.
But wow, when you do find them, they sure do catch the eye with their peculiar look. The oddity of a round card is fascinating, both visually and in a collection, because it's guaranteed to stand out no matter the value. I mean, we are talking baseball, right—a game that revolves around a round ball, so it only makes sense.
1976 MSA Disc Cards Promotional Variations
For starters, there were a lot of promotional cards throughout 1976, and many companies participated. The front of theese cards, though, is simply awesome: designed like a baseball, stitches included, around the player's photo.
Flip the card over and it features whichever company promoted that set. If the card was not part of any promotional set, the back is simply blank. The backs of the cards above say "A collector's and traders item available at Isaly's – 155 locations to server you – and Sweet William Family Restaurants."
But a quick look on COMC shows a bunch from the following:
Buckmans
Crane Potato Chips
Towne Club Pop Centers
Super Star Lunch Bags
More
Promotional or not, the card itself is a reminder of what makes baseball great with the player pictures truly accentuating a lot of the quirky characters of the time. These are must-haves for any baseball card collector simply for their distinction from all other cards both by their physical form and visual.
In terms of individual cards, you have to love the Nolan Ryan, when he played for the California Angels, only asking for $62.99 currently on eBay. Other notable names from the set are Hank Aaron, Johnny Bench, Reggie Jackson, and Mike Schmidt.
1977 MSA
While the 1977 MSA set looks nearly identical to the '76 MSA cards, this set has some recognizable companies including a promotion from Holiday Inn and Pepsi-Cola, making the set a little easier to collect. The most significant immediate difference to the eye is on the front top portion.
But like 1976, don't expect any statistics on the back either—instead, you will find the familar advertisement.
Now, what's great about any card from this set is that they can be had in great condition for $100 or less. Most of them go between $20-60, depending on the player. There are great names on the checklist, too. Thurman Munson with the pork chop sideburns, Pete Rose's gap-toothed smile, Johnny Bench's crooked grin, and Rollie Fingers' legendary curly mustache.
All that said, look at the addition of the card in glove. Beautiful:
1978 Big T/Tastee-Freez
This is the third promotional MSA set in as many years with some photos remaining the same but finally changing the images of others. What is really different about these cards though is the visual design, as they chose to include different colors, with purple and blue, lime green, and, well, many more.
None of them are off-putting, so that's good, and you finally do get those new images to admire. The backs don't include stats – again – but they do have the player's name and position below the Big T and Tastee-Freez logos.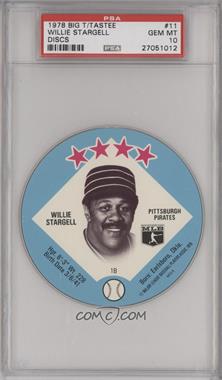 There are 30 cards on the checklist, and similar to the '76 and '77 promotional sets mentioned before, it includes many of the same players but this time with a different photo. For instance, you have to love Tom Seaver and Willie Stargell's, especially with Stargell rocking the old-school yellow-striped Pittsburgh Pirates hat. The other card of note is Lou Brock, as '78 was only a year before he retired in 1979. Part of the highly-coveted 3,000-hit club, Brock also stole quite a lot of bases in his career, leading the NL in stolen bases eight different times.
Papa Gino's 1978 Collector's Series
Finally, a disc card that truly separated itself from the previous sets in terms of color and design. Unlike the previous three mentions from MSA, Papa Gino's abandoned the lightly colored backgrounds for a striking dark blue border circling around the player's photo with letters in bold orange.
They look a bit like a card designed with the Detroit Tigers' colors in mind but either way, they're the boldest-looking disc cards from the 1970s, hands down.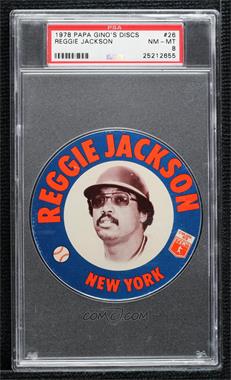 That said, there are not nearly as many HOFers in this set, but keep your eye on the popular names. Two players that immediately come to mind would be Jim Palmer and Rod Carew, both of whom would go on to be elected to the Hall of Fame.
Aside from the colors, one of the best additions to this set is the back that features a nice informative set of player facts and data that includes their birthdate, position, team, height, weight, and a short stat line featuring their batting average, home runs, and RBIs from the '77 season.
Price-wise, these are easily within any collector's range as you can grab them for $5-15 ungraded but even a PSA 10 Carlton Fisk isn't too pricey at $75 when you consider these cards are still 44 years old.
Other Round Baseball Cards
While, I'd love to sit here and write about every single round baseball card known to man, I just don't have that kind of time! What I can do, though, is bring in a few more for you to feast your eyes upon.
1988 Fantastic Sam's Superstars
20-card checklist with Gwynn, McGwire, and other stars.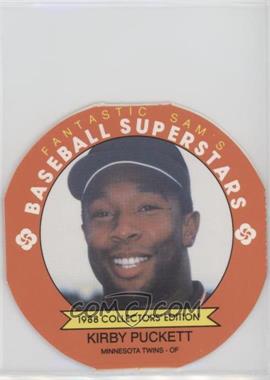 2003 Upper Deck Standing O Die-Cut
That's right, a whole base set of 126 cards! That would be a fun one to put together.
2021 Heritage Candy Lid
25 cards in this one, but with a nice mix of modern players – Soto, Trout, and more – and MLB legends like Roberto Clemente and Reggie Jackson.
King B Meat Snacks Multiple Years
I put this one last so that I remember to come back and do a full length feature. When I think of round cards, this is where my mind goes. While the Frank Thomas below is from 1992, you can find these across a number of years.