Affiliate Disclosure: This post contains affiliate links to eBay, Amazon, and other platforms within the content, sidebar ads, and in other areas. As I am part of the eBay Partner Network and other affiliate programs, if you follow these links and make a purchase, I will receive a commission. Likewise, as an Amazon Associate I earn from qualifying purchases.
From the popular PSA cert verification to a not as mainstream grading brand like BCCG and their serial lookup, if you have a slabbed card, there's usually an easy way to double check its details.
And it's no different with Sportscard Guaranty Corporation! So here are the steps to the easy SGC card look up, along with additional notes and thoughts on why you might need to look up a card, and more.
How to Use SGC Card Lookup
Go to URL https://www.gosgc.com/cert-code-lookup
Find the authentication number on the SGC slab and enter under "CERT CODE LOOKUP"
Click the button to submit

As noted, black label cards will require the 7-digit number while green and white label cards will require the 11 characters.
Once you click the button, if you entered a valid code, you should see that code next to "SEARCHED AUTH CODE:" followed by additional information about that card.
That information includes:
Set: The set the card you looked up belongs to.
Card number: The card number of the card you looked up. Meaning the card number of the set, and not the serial number or the certification number you just plugged in.
Subject: The player's name of the card you looked up.
Description: Details of the variation, if it is one—for instance "silver prism."
Graded on: the date the card rating or grade was assigned to the card by SGC.
Grade: The actual grade awarded to the card by SGC.
Front image: Which is simply the front image of the card you just looked up.
In addition to all this information, you'll see a button that says "load pop report."
When you click that, you can see the population report for the entire set of the card you just looked up. (The pop report is the population report, or, a table of how many of each different card in its different grades exist.)
SGC Card Lookup Example
Here is an example walk-through of how to look up a single card graded by SGC and the information you'll see.
Here we have a 2018 Topps Chrome Update Juan Soto. As you can see the certification number is 8418437.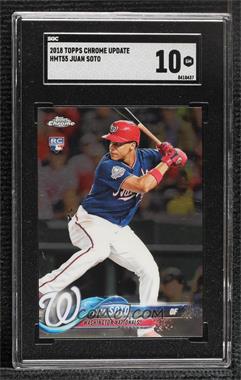 So you take that number, "8418437" and plug it in to the form field. Hit the button and you'll see this information: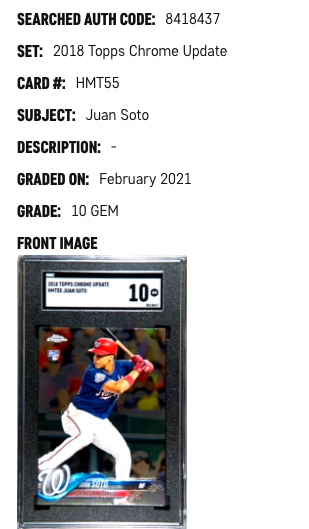 If I had a typo in this keyed to number he would see this instead:
"We couldn't find that data in our lookup. It may just require a little research. Click the button below to send information about your SGC card to our Customer Support Team and we will research the item. Please be prepared to email the front and back of your item."
But since the number returned a result, we can easily check and match up the information, confirming that it is in fact a grade 10 from 2018 Topps Chrome Update that was graded in February 2021.
Why Look up the Certification Number?
Of course, all of this begs the question why someone would need this capability to look up a card in the first place.
One basic reason to do so is for general research or knowledge sake. Meaning, there might be a time where you're simply interested in the facts of a card in your collection, or trying to remember when you had a card graded etc.
Read More: SGC Gold Label Info
Beyond that, though, especially with higher value cards that you're trying to acquire either through trade or purchase, it's always nice to have peace of mind that the card is in fact authentic, and that the info showing on label is the grade received directly from SGC, nothing has been tampered with, and that their flat out isn't any funny business with a card that you're trying to acquire.
Here are some of the reasons stated by the different grading companies:
PSA
"Verify the validity of PSA & PSA/DNA certification numbers using the form field. Always confirm certification numbers for collectibles purchased online after receipt."
CSG
"This tool can help you to verify that your CSG holder is genuine and has not been tampered with. It can also be a useful starting point to research your CSG-certified sports card."
So, hopefully that helps, and good luck!