Affiliate Disclosure: This post contains affiliate links to eBay, Amazon, and other platforms within the content, sidebar ads, and in other areas. As I am part of the eBay Partner Network and other affiliate programs, if you follow these links and make a purchase, I will receive a commission. Likewise, as an Amazon Associate I earn from qualifying purchases.
So you want a Shohei Ohtani rookie card but not just any rookie cards…a Topps rookie card—I don't blame you! And while you might have been waiting for a time where he wasn't playing MVP-caliber baseball, who knows when we will see that! Just an amazing athlete, being a top home run hitter and pitcher is absolutely unheard of, and I don't think people grasp just how special of a player he really is. 
Anyway, back to cards. While you might be aware of the huge amount of Ohtani rookie cards out there, you probably thought by focusing on Topps cards only would help you narrow it down. And while you're right, there are still a number of different cards to consider. 
So, let's take a look at the different Topps rookie cards Ohtani has available, what makes them special, and which you might want to purchase. (And for this, we will be sticking to Topps "flagship" which I'm expanding to include the different series, chrome, Holiday, and Opening Day!)
2018 Topps Shohei Ohtani Rookie Card #700
First on the list because it's what's considered Ohtani's true rookie card. Meaning, true rookies are usually part of a major release like Series 1, Series 2, or Update, and isn't a SP or SSP (like a Julio Rodriguez rookie card is).
Some may prefer a hitting shot rather than one that shows Ohtani on the mound, and if you're in that camp, stay tuned, but for now, if you want a Ohtani rookie card, you can't really go wrong here. This is found in 2018 Topps Series 2.
Let's not forget, while I won't mention them all here, there will be a number of parallels you'll want to keep an eye out for, like the coveted gold and rainbow foil.
2018 Topps Chrome Shohei Ohtani RC #150
Putting this one next because if you like the previous mention, then you'll probably love this one. In true Chrome fashion, you're going to get the same base version photo, but with the chromium finish. This also opens the door for fun and shiny refractors, xfractors, and superfractors.
Topps Chrome will carry a premium over their base "paper" counterpart, though—the lowest available base chrome card is available for around $33 plus shipping, while you can grab a Series 2 for about $18.
2018 Topps Shohei Ohtani Rookie Card #700 Batting Cage SP
I don't rip a ton of packs, so when I pulled this while Acuna "bat down" hunting a few years ago, it's not something I'll soon forget! Not to mention that at the time it was worth around $40 (which I know because I sold it) and now the lowest available is around $200.
And just a quick note on spotting variations, because as you can see, missing one could be a costly mistake. While there are a number of ways to go about it, the best – especially while ripping – is to pay attention to the photos. Anything that is other than a straightforward game day action shot is one worth looking into.
For instance, in this case, you know Ohtani's flagship rookie shows him on the mound, and this one shows him laughing and having a great time outside of the batting cage. Other common Topps variations are dugout shots, celebrations, alternate uniforms, and more.
2018 Topps Shohei Ohtani Rookie Card #700 Hand on Helmet SSP
Since we are talking about SPs, we might as well keep the train rolling along into SSP territory. If you didn't know, SP stands for short print, which means the card is printed in lesser quantity than the base version. An SSP, then, is a super short print, and even rarer and SPs.
As you might imagine, rarer means more valuable—with this "hand on helmet" SSP, the lowest priced buy it now option on eBay is just over $1K. The tricky thing here is that this SSP is closer to a base version-type of photo, and harder to identify if you didn't know about it beforehand.
So on that note, it's always my suggestion that you don't go into pack ripping without knowing what a base version RC looks like, and thus anything that appears to look like a rookie card (with the RC shield) but with a different photo, alarm bells should be going off.
If all else fails and you have time on your hand, just flip the card over. On the back of the card you'll see a bunch of numbers, but for now we are interested in the "code" that sits at the bottom: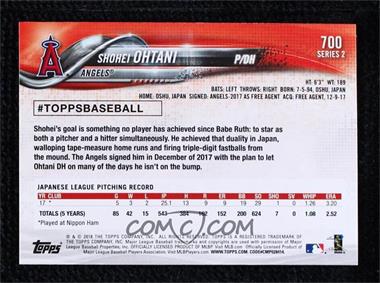 On the base rookie that code ends in 359, with SP variations ending in 412. And as you can see from the above, the SSP code is 414.
2018 Topps Update Shohei Ohtani Rookie Card #US1
I won't spend too much time here because even though Ohtani has a Series 2 base rookie and variations, as we've already covered, he also has a base update series rookie. The photo doesn't offer much more in addition to what you can find in Series 2, and is considered a lesser rookie. So, if you're aiming to collect all of Ohtani's Topps rookies, then this one is on the list. But, I wouldn't go out of my way to acquire one if it was the only one you were adding to your collection.
2018 Topps Chrome Update Shohei Ohtani Rookie Card #HMT1
Everything I said above applies here, so I'll spend even less time. Really, if you ever get confused between Series 2 and Update "pitching" cards, just remember white jersey is Series 2 and red jersey is update, with each having a chrome version.
2018 Topps Update Shohei Ohtani (#US285; Chrome #HMT32)
If you didn't know by now, not all Topps rookie cards were created equal, and while you'd place Chrome above paper, and the earliest base version ahead of the latter base version, you'd place "rookie debut" cards below regular base versions.
Thus, I'm not even going to break this out into two different sections. Still great cards, don't get me wrong, but there isn't anything I'd say about the Chrome version that wouldn't be said about the paper base.
2018 Topps Update Shohei Ohtani Rookie Card #US1 Red Warmup SP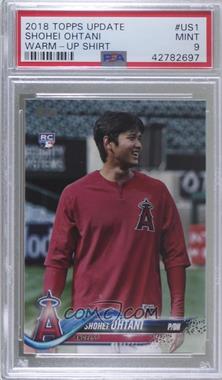 Buckle up, because we aren't done yet when it comes to Ohtani's Topps rookies. So far we have covered Series 2, the SP variation, and the SSP variation. A couple of entries above we reviewed the base update rookie, so now let's get into the variations.
Frankly, most of the Update variations are lacking excitement for me to be honest, given that many of the photos used doesn't really add anything that hadn't already been captured with other cards. Nonetheless, we need to mention them (and I'm saving the best for last). First up is this red warmup version.
2018 Topps Update Shohei Ohtani Rookie Card #US1 White Jersey Pitching SSP
"I wish there was a horizontal pitching card" said no one ever. Ok, maybe a few people, but this card really grinds my gears in that it's an SSP but again, offers just more of the same, and even "worse" given many collectors don't enjoy horizontal cards. There are already a ton of Ohtani Topps rookies, and I feel this one is simply not needed. All that said, what do I know—there is only one for sale right now and it has 43 watchers, with a $500+ price tag.
2018 Topps Chrome Ohtani Refractor Variation Refractor #150
If you haven't noticed, there is what might seem like an odd amount of baseball cards that feature the Oakland Coliseum in the background. No, it's not because of the stadium's beauty, but whatever the reason, you're sure to notice it now.
So, while some of the other cards listed here are also photographed from within the concrete behemoth, this one is overly-obvious, and thus holds a special place in my heart being an A's fan.
2018 Topps Update Shohei Ohtani Rookie Card #US1 Red Jersey Batting SSP
Here we are, still on Topps Update, but the best of the best in my opinion, and at least this variation offers something new–a pure batting shot that isn't a "debut" version. Not to mention it's an amazing follow-through shot, and one that you don't often see on a baseball card, and at that angle. Collectors agree—the lowest buy it now on eBay for this one is currently $2,500.
Other Ohtani Topps Rookie Cards
Honestly, I could keep going and going as we've really only scratched the surface. Hard to believe, right? So, while I won't dedicate different sections to each of these, here are some additional cards you might want to look out for when ripping packs:
2018 Topps Opening Day Shohei Ohtani Rookie Card #200
2018 Topps Walmart Holiday Snowflake Shohei Ohtani Rookie Card #HMW17
2018 Topps Angels Team Set Shohei Ohtani #A-17
2018 Topps Factory Set Variation #700
FAQ
What is the true Topps Ohtani rookie card?
Out of all of the different Topps rookie card Ohtani has, 2018 Topps Shohei Ohtani Rookie Card #700 is considered his true rookie card.
Is any Ohtani card with an "RC" symbol on it a rookie?
For the most part, yes. However, as mentioned above, not all rookie cards are created equal, and thus not all rookie cards are considered true rookie cards. In Ohtani's case, there is also a 2020 card error that has an "RC" on it and in this case, it is most certainly not a rookie card.
What is a rookie card variation?
Given there are so many different Topps rookie cards to begin with, the word "variation" has lost some of its meaning. That said, a variation is when a card with the same checklist number features a different photo than the base version.