Affiliate Disclosure: This post contains affiliate links to eBay, Amazon, and other platforms within the content, sidebar ads, and in other areas. As I am part of the eBay Partner Network and other affiliate programs, if you follow these links and make a purchase, I will receive a commission. Likewise, as an Amazon Associate I earn from qualifying purchases.
Spencer Torkelson has a lot of pressure on him to be a special player in the majors, plain and simple. After a stellar amateur and collegiate career at ASU, he was picked first overall in the 2020 MLB draft by the Detroit Tigers.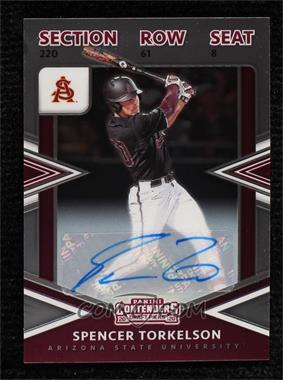 Unfortunately, his first season in the bigs hasn't gone the way he, or the Tigers, have wanted as he's currently batting just over the Mendoza line (.204) and played poorly enough earlier in the season to garner a demotion to the minors.
Yes, this doesn't appear to be a good way to hype up a guy's cards, yet all of the above information provides collectors with an interesting caveat: Torkelson's cards may never be lower than right now. Of course, I don't know, and nobody does. Just saying he's not exactly "hot" at the moment.
While the Tigers aren't going anywhere this season, Torkelson was recently recalled and back on the team. So, you might want to keep a close eye on his play as he finishes out the season.
No matter what, this kid was the first overall pick in the 2020 MLB Draft! He has potential and could very well turn into the star the Tigers are expecting him to be. (I'm also one, though, who thinks the hobby rushes to judgement way too soon on young talent.)
So, below is a list of some Torkelson cards to keep your eye on or potentially add to your collection.
2022 Topps Series 2 #658 Short Print Variation Rookie Card
There are two rookie cards of Torkelson in Topps Series 2 (of which has many cool and valuable cards) but the short print variation card is the one you probably want as it has more value and far higher demand.
To tell them apart from the front, the regular version shows Torkelson turned at a slight angle with long dark sleeves underneath his jersey. The short print card has Torkelson facing straight ahead and one arm has a long sleeve while the other does not.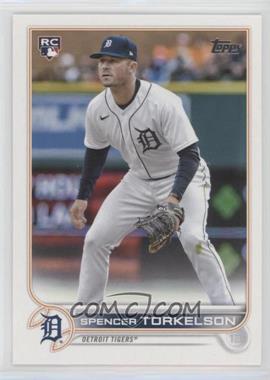 This SP is affordable and accessible right now as it's the ungraded cards are currently listed between $45-55, depending.
One thing of note is that if you're looking for a slabbed card, even those look within a decent card budget, listing for just under $200, give or take.
And if you like these, but want something with a little more "life," check out the 2022 Topps 3D release.
2020 Bowman Chrome Refractor 1st Bowman Chrome #BD121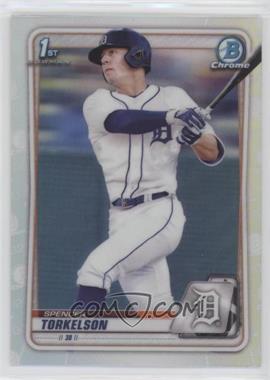 This may be the best-looking Torkelson card on the market at the moment? The refractor gives it a great aesthetic and you get Torkelson in a post-swinging motion as he looks on to see where the ball is headed. And, not to mention, it's a 1st Bowman Chrome.
Again, another highly accessible card so it doesn't matter whether you're aiming for graded or raw, it will be available to buy. On that note, there are several PSA 10s of this card out there and the current price is interesting because the most recent one sold for $182.50 back in May.
Why does that matter?
Before the season started and only a few weeks into it, the same card sold for $305 and $250 in early April.
Now, markets shift and card times are different now, but if this kid can turn into a solid MLB player next season, one might be happy they picked up this card sooner than later.
2021 Bowman Transcendent Torkelson/Luciano/Gorman Autographed Rookie Card
Is this cheating? It may be, but as long as Torkelson is part of it, it's worth noting. Besides, you get three guys in one with this gem with San Francisco Giants and St. Louis Cardinals' prospects Marco Luciano and Nolan Gorman, respectively.
No one knows how those two will pan out quite yet, especially Luciano who hasn't had a taste of the majors yet. Gorman has taken 278 at-bats so far in 2022 and while his .230 average isn't eye-popping, he does have the power, with 14 home runs and 35 RBIs to go with a .301 OBP and a .729 OPS.
So, with this one you're not only betting on Torkelson, but Gorman as well, with Luciano a total wild card until he gets his csall. It's a good-looking card; the way it blends the three prospects' images together without them overlapping makes it stand out.
Last but not least: autographs. These signatures are the real deal and give the card its true value. In gem mint condition with a PSA rating of 10, this card is going to cost you around $330.
2021 Bowman Transcendent Base Bowman Icons #26
And hey, I get it—a triple auto of three up and coming players isn't in everyone's collector budget, nor is it in mine. I actually really like Torkelson's Transcendant base card, too. On one hand, people may feel like the frames found on these cards and others like Topps Gold Label are a gimmick, I love them. (Tip, if you've never put one of these framed cards in a magnetic one-touch, it's quite the feeling!)
This one sports a clean action shot, but more than that, this is the only one for sale on eBay right now. Transcendent boxes are rare, with only 100 available. In fact, it's worth reading up on Transcendent as it's a different kind offering altogether, making this card that much cooler.
2021 Spencer Torkelson Bowman Sterling Tender Autograph Rookie Card /99
For those seeking one of the more expensive Torkelson cards on the market, look no further than the 2021 Bowman Sterling Tender Auto Rookie card. The 1/1 is currently going for just south of $6k, a figure In terms of color, the 1/1 stands out with its hints of red bleeding into each of the corners whereas the /99 card is dominated by a gold hue throughout.
Read More: 2023 Topps Sterling Preview & Checklist
At least with the gold card, you get a slick visual and a legit signature from a guy that could be going places. Starting at around $200, it could go up with better play, and, if not, it's a quality card if nothing else.
If you're looking for something a little more affordable and more action-based, Torkelson's base auto from Sterling can be had for around $50, and features a nice running photo instead of the fielding profile. Similarly, Bowman's Best autos from either 2020 or 2021 can make nice additions as well.