Affiliate Disclosure: This post contains affiliate links to eBay, Amazon, and other platforms within the content, sidebar ads, and in other areas. As I am part of the eBay Partner Network and other affiliate programs, if you follow these links and make a purchase, I will receive a commission. Likewise, as an Amazon Associate I earn from qualifying purchases.
Sometimes when young players come up through their respective systems, make their debuts, and find success, I get overwhelmed with researching their rookie cards. When you think about someone like Julio Rodriguez and the number of "rookie cards" they had before they actually had a true rookie card, it's a bit much.
But is it preferred to the alternative? It's good and bad. On one hand, variety means options, and even if you don't want to opt for a 1st Bowman Chrome Julio Rodriguez, you can grab a really nice card from one of his other Bowman years. (The downside being there are so many cards to choose from, as mentioned.).
On the other hand, if you're a collector of a team where this hot young player comes up and bursts onto the screen without much fanfare over the years prior, you might be scrambling to find an option that quenches your collecting thirst.
Yes, we are talking about Steven Kwan, and if you're here, you're probably searching for answers, and if you're searching for answers, it's probably because Kwan falls in the latter group—the one with few cards. No 1st Bowman; no Topps flagship.
The good news is, I said "few" cards, so while he might not have a ton, or even enough to fill a couple of binder pages, you can bank on more to come.
2022 Topps Now Rookie Cards
I'm not a huge fan of Topps Now cards (or Topps Living, which you may or may not see in a bit) but the one nice thing is that a player can instantly have a card printed up – and in this case, a rookie card printed up – if they have a splashy debut, make an amazing play, or pass a major milestone.
And when you look at the most valuable Kwan cards available, that's exactly what you'll see—Topps Now cards across the board. In fact, Kwan had Topps Now rookie cards printed for three games in a row, as noted below:
April 10, 2022 "5-5 in drubbing of Royals" PR /8320
April 11, 2022 "First player since 1901 to reach 15 times…" PR /6742
April 12, 2022 "Sets record streak with zero swings and misses" /3661
May 4, 2022 "First career walk-off…" /1667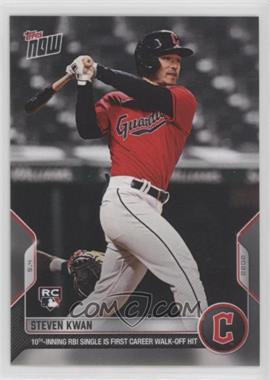 May 5, 2022 "First MLB homer…" /1701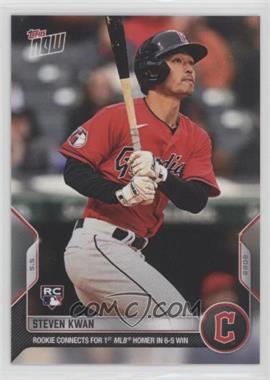 If you are't familiar with Topps Now, it's a "limited time only" program in which a commemorative card for a special sporting event or feat is available for sale for 24 hours on Topps.com. Print runs are limited to the amount of cards purchased in that 24-hour window, so you won't know until the window has closed.
When ordering, you also have the chance to score numbered and colored parallels. But, as mentioned, the window for purchasing directly from Topps has passed, and you'll have to resort to buying them on the secondary market via eBay or elsewhere.
2022 Topps Living Set Card #518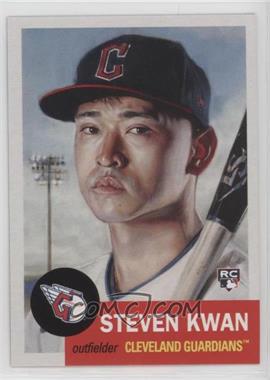 Similar to Topps Now in terms of a card not being part of a planned set, but showing up seemingly out of nowhere, the Topps Living Set is basically a set that has no end, with players added to it each week as the set grows and lives on. Also like Topps Now, cards are only available on Topps.com upon release, and for a limited time. You can view the Archive here.
The beauty of the Living Set is that it allows for new names to be added as the baseball world gets to know them better. For example, Spencer Strider of the Atlanta Braves is the most recent entry, thanks to his mound dominance of late.
Steven Kwan is card #518, with a print run of /3193.
2022 Topps Throwback Thursday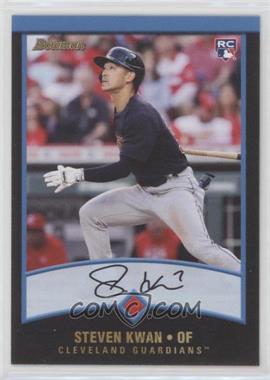 I might sound like a broken record, but yes, another "print on demand" online-exclusive rookie card for Steven Kwan. Cardboard Connection has a nice write-up on Throwback Thursday, but the gist is it's a weekly set (hence the "Thursday") available for purchase for seven days, featuring players on old Topps designs (hence the "Throwback").
Kwan was featured on the "2001 Bowman" design, and is card #49, with a print run of /5275, but his most valuable was the "1976 Topps" design as card #62 with a print run of 743.
2019 Grandstand Lynchburg Hillcats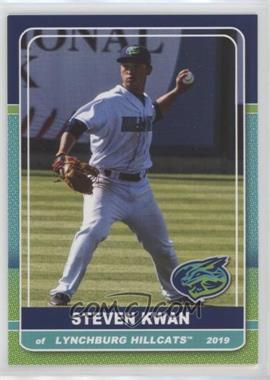 Last but not least, while I'd never really dream of putting a minor league card on this list, when a player only has a few options, it's a valuable addition!
It's important to note that none of the options on this list can be acquired by chance via a pack of card, blaster box, etc. With the Topps Now, Living, and Throwback Thursday cards above, those all needed to be purchased from Topps.com upon release, or now off the secondary market.
And in the case of this minor league card, you probably could have only found this card as a part of a team set at a minor league stadium, etc.
So, not only do you have few rookie cards of Kwan, but the means to acquire them are a bit specialized. This will continue to be the best way to purchase and collect Kwan until he is in fact part of a major release off the Topps release schedule.