Affiliate Disclosure: This post contains affiliate links to eBay, Amazon, and other platforms within the content, sidebar ads, and in other areas. As I am part of the eBay Partner Network and other affiliate programs, if you follow these links and make a purchase, I will receive a commission. Likewise, as an Amazon Associate I earn from qualifying purchases.
Last year if you would've asked me which players' rookie cards do you think I'd be writing a blog post on in 2022, I probably would've gone through 75% of the options (meaning, a very long time) before ever mentioning Taylor Ward's name.
Even though Ward was one of the players and I've selected to buy low and in volume on over the years, I do that with a lot of players, and might only really have faith that it's a going to pay off on about 50% of them.
Anyway, while my post on Jeremy Peña's rookie cards was tough to put together given he doesn't have a true flagship rookie yet, this Taylor Ward post will be equally challenging, but for different reasons.
Yes, he has a "1st Bowman" and yes, he has a flagship rookie. But, he also has a number of other RC cards out there, which makes it difficult to select which of them should be included with the two biggies.
Taylor Ward Rookie Cards
So, in giving it my best shot, here are my thoughts on the top Taylor Ward rookie cards you might want to consider adding to your collection.
At the end of this short list you'll find a longer, sortable list of 2019 (rookie year) cards.
2015 Bowman (Base, Chrome, 1st Edition, etc.)
First stop – and as is the case with all of these posts – I'm going to start with the 1st Bowman, and will follow up with flagship. After that, the rest of the entries will be "wild cards," or cards in my opinion that you might want to take a look at based on their design, value, and/or more.
Also when it comes to Bowman and flagship, I'm not going to list out every single paper, chrome refractor, variation, etc. Everything is going to be under one umbrella or the other, with the big variations and parallels listed for you to choose from.
So first up, and it's a little weird to do this for someone who's breaking out in 2022, but go all the way back to 2015 Bowman to find Taylor Ward's "1st" Bowman.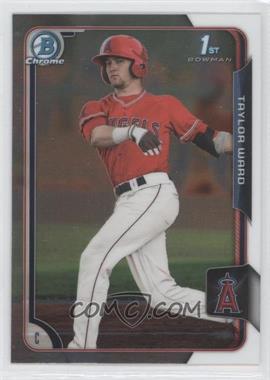 Thus as you can imagine, he's been in a lot of Bowman product since then, not to mention many recent Topps and even Panini releases.
Anyway from 2015 Bowman, these are the cards and numbers you'll want to search for: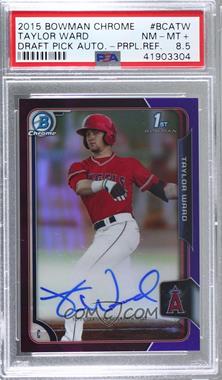 Read More: What is a Superfractor?
2019 Topps Series 2
2019 doesn't feel like that long ago but also feels like an eternity ago at the same time—2019 Topps Series 2 is where you'll find Taylor Ward's flagship rookie, which is considered by most to be a player's true rookie card.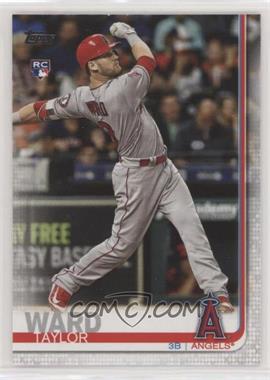 Ward was of course included in chrome as well, which means he has all the variations to choose from, as shown below.
Find 2019 Topps Series 2 Taylor Ward on eBay
2019 Topps Chrome Rookie Auto
Whenever an auto features a different photo than what has already been mentioned, I think it's fair to break that card out into its own entry. Meaning, for many players' 1st Bowman, their chrome and auto cards are identical, except one obviously has an auto and one doesn't.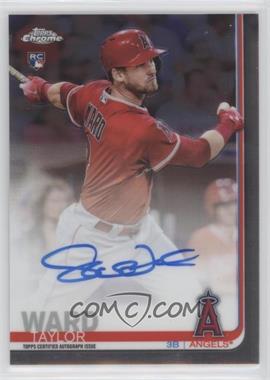 2019 Topps Chrome – Rookie Autographs #RA-TW – Taylor Ward
Again, just like the others, you're going to have all of the different colors of the card collecting rainbow, so there should be more than enough options.
Find 2019 Topps Chrome Taylor Ward Autos on eBay
2019 Bowman Chrome
Ok, ok—there are actually three different cards that make up a player's "rookie card core." These include the two mentioned above, and this one now, the Bowman RC.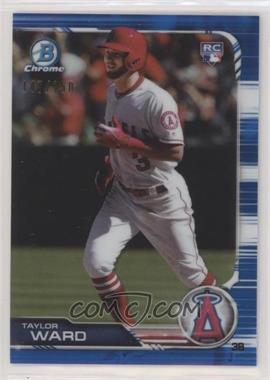 And, the confusing thing is, the "1st" isn't even widely regarded as a rookie card, but is yet years ahead of the true flagship rookie card. Not to mention that the Bowman card released the same year as flagship usually doesn't hold a candle to the flagship. Go figure.
Find 2019 Bowman Chrome Taylor Ward on eBay
2019 Heritage
Sure, there are flashier, more valuable cards out there. But in the world of combo rookie cards, you just don't often see both players panning out into much of anything. Meaning, there is a lot of one or the other.
So, for Angels fans, to have who I'm guessing is a fan favorite in David Fletcher on the same card as the now hot Ward, it's a good card to grab.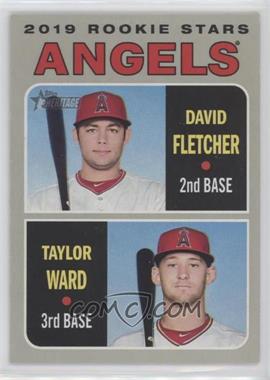 Find 2019 Heritage Rookie Stars Fletcher & Ward on eBay
So, hopefully that helps your hunt! If you want a more complete list, check out the following, and even more on BreakNinja!
| PRODUCT | CARD # | VARIATION | SERIAL # |
| --- | --- | --- | --- |
| 2019 Topps Chrome Baseball | 78 | Base | 0 |
| 2019 Topps Chrome Baseball | 78 | Base Refractor | 0 |
| 2019 Topps Chrome Baseball | 78 | Base Prism Refractor | 0 |
| 2019 Topps Chrome Baseball | 78 | Base Sepia Refractor | 0 |
| 2019 Topps Chrome Baseball | 78 | Base Pink Refractor | 0 |
| 2019 Topps Chrome Baseball | 78 | Base Negative Refractor | 0 |
| 2019 Topps Chrome Baseball | RA-TW | Rookie Autographs | 0 |
| 2019 Topps Chrome Baseball | 78 | Base SuperFractor | 1 |
| 2019 Topps Chrome Baseball | 78 | Base Printing Plate Black | 1 |
| 2019 Topps Chrome Baseball | 78 | Base Printing Plate Cyan | 1 |
| 2019 Topps Chrome Baseball | 78 | Base Printing Plate Magenta | 1 |
| 2019 Topps Chrome Baseball | 78 | Base Printing Plate Yellow | 1 |
| 2019 Topps Chrome Baseball | RA-TW | Rookie Autographs SuperFractor | 1 |
| 2019 Topps Chrome Baseball | RA-TW | Rookie Autographs Printing Plates Black | 1 |
| 2019 Topps Chrome Baseball | RA-TW | Rookie Autographs Printing Plates Cyan | 1 |
| 2019 Topps Chrome Baseball | RA-TW | Rookie Autographs Printing Plates Magenta | 1 |
| 2019 Topps Chrome Baseball | RA-TW | Rookie Autographs Printing Plates Yellow | 1 |
| 2019 Topps Chrome Baseball | 78 | Base Red Refractor | 5 |
| 2019 Topps Chrome Baseball | 78 | Base Red Wave Refractor | 5 |
| 2019 Topps Chrome Baseball | RA-TW | Rookie Autographs Red Refractor | 5 |
| 2019 Topps Chrome Baseball | RA-TW | Rookie Autographs Red Wave Refractor | 5 |
| 2019 Topps Chrome Baseball | 78 | Base Orange Refractor | 25 |
| 2019 Topps Chrome Baseball | 78 | Base Orange Wave Refractor | 25 |
| 2019 Topps Chrome Baseball | RA-TW | Rookie Autographs Orange Refractor | 25 |
| 2019 Topps Chrome Baseball | RA-TW | Rookie Autographs Orange Wave Refractor | 25 |
| 2019 Topps Chrome Baseball | 78 | Base Gold Refractor | 50 |
| 2019 Topps Chrome Baseball | 78 | Base Gold Wave Refractor | 50 |
| 2019 Topps Chrome Baseball | RA-TW | Rookie Autographs Gold Refractor | 50 |
| 2019 Topps Chrome Baseball | RA-TW | Rookie Autographs Gold Wave Refractor | 50 |
| 2019 Topps Chrome Baseball | 78 | Base Blue Wave Refractor | 75 |
| 2019 Topps Chrome Baseball | 78 | Base Green Refractor | 99 |
| 2019 Topps Chrome Baseball | 78 | Base Green Wave Refractor | 99 |
| 2019 Topps Chrome Baseball | RA-TW | Rookie Autographs Green Refractor | 99 |
| 2019 Topps Chrome Baseball | 78 | Base Blue Refractor | 150 |
| 2019 Topps Chrome Baseball | RA-TW | Rookie Autographs Blue Refractor | 150 |
| 2019 Topps Chrome Baseball | RA-TW | Rookie Autographs Blue Wave Refractor | 150 |
| 2019 Topps Chrome Baseball | 78 | Base Purple Refractor | 299 |
| 2019 Topps Chrome Baseball | RA-TW | Rookie Autographs Purple Refractor | 299 |
| 2019 Topps Chrome Baseball | RA-TW | Rookie Autographs Base Refractor | 499 |
| 2019 NT Baseball | 11 | Rookie Colossal Materials Holo Platinum Blue | 1 |
| 2019 NT Baseball | 11 | Rookie Colossal Materials Printing Plate Black | 1 |
| 2019 NT Baseball | 11 | Rookie Colossal Materials Printing Plate Cyan | 1 |
| 2019 NT Baseball | 11 | Rookie Colossal Materials Printing Plate Magenta | 1 |
| 2019 NT Baseball | 11 | Rookie Colossal Materials Printing Plate Yellow | 1 |
| 2019 NT Baseball | 24 | Rookie Material Signatures Brand Logo | 1 |
| 2019 NT Baseball | 24 | Rookie Material Signatures Platinum | 1 |
| 2019 NT Baseball | 24 | Rookie Material Signatures Printing Plate Black | 1 |
| 2019 NT Baseball | 24 | Rookie Material Signatures Printing Plate Cyan | 1 |
| 2019 NT Baseball | 24 | Rookie Material Signatures Printing Plate Magenta | 1 |
| 2019 NT Baseball | 24 | Rookie Material Signatures Printing Plate Yellow | 1 |
| 2019 NT Baseball | 24 | Rookie Material Signatures Tag | 1 |
| 2019 NT Baseball | 24 | Rookie Triple Material Ink Platinum | 1 |
| 2019 NT Baseball | 24 | Rookie Triple Material Ink Printing Plate Black | 1 |
| 2019 NT Baseball | 24 | Rookie Triple Material Ink Printing Plate Cyan | 1 |
| 2019 NT Baseball | 24 | Rookie Triple Material Ink Printing Plate Magenta | 1 |
| 2019 NT Baseball | 24 | Rookie Triple Material Ink Printing Plate Yellow | 1 |
| 2019 NT Baseball | 24 | Rookie Triple Material Ink Tag | 1 |
| 2019 NT Baseball | 11 | Rookie Colossal Materials Holo Silver | 10 |
| 2019 NT Baseball | 24 | Rookie Material Signatures Holo Silver | 10 |
| 2019 NT Baseball | 24 | Rookie Triple Material Ink Holo Silver | 10 |
| 2019 NT Baseball | 11 | Rookie Colossal Materials Holo Gold | 25 |
| 2019 NT Baseball | 24 | Rookie Material Signatures Holo Gold | 25 |
| 2019 NT Baseball | 24 | Rookie Triple Material Ink Holo Gold | 25 |
| 2019 NT Baseball | 24 | Rookie Material Signatures Gold | 49 |
| 2019 NT Baseball | 24 | Rookie Triple Material Ink Gold | 49 |
| 2019 NT Baseball | 24 | Rookie Material Signatures | 99 |
| 2019 NT Baseball | 24 | Rookie Triple Material Ink | 99 |
| 2019 Immaculate Baseball | 16 | Batting Stance Printing Plate Black | 1 |
| 2019 Immaculate Baseball | 16 | Batting Stance Printing Plate Cyan | 1 |
| 2019 Immaculate Baseball | 16 | Batting Stance Printing Plate Magenta | 1 |
| 2019 Immaculate Baseball | 16 | Batting Stance Printing Plate Yellow | 1 |
| 2019 Immaculate Baseball | 34 | Immaculate Doubles Brand Logo | 1 |
| 2019 Immaculate Baseball | 34 | Immaculate Doubles Platinum | 1 |
| 2019 Immaculate Baseball | 34 | Immaculate Doubles Printing Plate Black | 1 |
| 2019 Immaculate Baseball | 34 | Immaculate Doubles Printing Plate Cyan | 1 |
| 2019 Immaculate Baseball | 34 | Immaculate Doubles Printing Plate Magenta | 1 |
| 2019 Immaculate Baseball | 34 | Immaculate Doubles Printing Plate Yellow | 1 |
| 2019 Immaculate Baseball | 34 | Immaculate Doubles Tag | 1 |
| 2019 Immaculate Baseball | 34 | Immaculate Jumbo Nameplate | 1 |
| 2019 Immaculate Baseball | 34 | Immaculate Jumbo Wristbands | 1 |
| 2019 Immaculate Baseball | 20 | Jackets Brand Logo | 1 |
| 2019 Immaculate Baseball | 20 | Jackets Printing Plate Black | 1 |
| 2019 Immaculate Baseball | 20 | Jackets Printing Plate Cyan | 1 |
| 2019 Immaculate Baseball | 20 | Jackets Printing Plate Magenta | 1 |
| 2019 Immaculate Baseball | 20 | Jackets Printing Plate Yellow | 1 |
| 2019 Immaculate Baseball | 19 | Rookie Matinee Platinum | 1 |
| 2019 Immaculate Baseball | 19 | Rookie Matinee Printing Plate Black | 1 |
| 2019 Immaculate Baseball | 19 | Rookie Matinee Printing Plate Cyan | 1 |
| 2019 Immaculate Baseball | 19 | Rookie Matinee Printing Plate Magenta | 1 |
| 2019 Immaculate Baseball | 19 | Rookie Matinee Printing Plate Yellow | 1 |
| 2019 Immaculate Baseball | 34 | Rookie Patch Auto Brand Logo | 1 |
| 2019 Immaculate Baseball | 34 | Rookie Patch Auto Platinum | 1 |
| 2019 Immaculate Baseball | 34 | Rookie Patch Auto Printing Plate Black | 1 |
| 2019 Immaculate Baseball | 34 | Rookie Patch Auto Printing Plate Cyan | 1 |
| 2019 Immaculate Baseball | 34 | Rookie Patch Auto Printing Plate Magenta | 1 |
| 2019 Immaculate Baseball | 34 | Rookie Patch Auto Printing Plate Yellow | 1 |
| 2019 Immaculate Baseball | 34 | Rookie Patch Auto Tag | 1 |
| 2019 Immaculate Baseball | 34 | Immaculate Jumbo Hats | 2 |
| 2019 Immaculate Baseball | 34 | Immaculate Jumbo Knit Hats | 2 |
| 2019 Immaculate Baseball | 34 | Immaculate Jumbo Socks | 2 |
| 2019 Immaculate Baseball | 34 | Immaculate Swatches Brand Logo | 3 |
| 2019 Immaculate Baseball | 34 | Immaculate Doubles Blue | 5 |
| 2019 Immaculate Baseball | 34 | Immaculate Jumbo Jackets | 5 |
| 2019 Immaculate Baseball | 34 | Immaculate Swatches Patch | 5 |
| 2019 Immaculate Baseball | 20 | Jackets Laundry Tag | 5 |
| 2019 Immaculate Baseball | 19 | Rookie Matinee Green | 5 |
| 2019 Immaculate Baseball | 34 | Rookie Patch Auto Blue | 5 |
| 2019 Immaculate Baseball | 34 | Immaculate Jumbo Hoodies | 6 |
| 2019 Immaculate Baseball | 34 | Immaculate Jumbo Patch | 6 |
| 2019 Immaculate Baseball | 34 | Immaculate Jumbo Sleeve Patch | 6 |
| 2019 Immaculate Baseball | 34 | Immaculate Jumbo Batting Glove | 8 |
| 2019 Immaculate Baseball | 16 | Batting Stance Prime | 10 |
| 2019 Immaculate Baseball | 34 | Immaculate Doubles Button | 10 |
| 2019 Immaculate Baseball | 34 | Immaculate Jumbo Jersey Number | 10 |
| 2019 Immaculate Baseball | 34 | Immaculate Swatches Button | 10 |
| 2019 Immaculate Baseball | 34 | Immaculate Swatches Laundry Tag | 10 |
| 2019 Immaculate Baseball | 34 | Immaculate Swatches Team Logo | 10 |
| 2019 Immaculate Baseball | 20 | Jackets Patch | 10 |
| 2019 Immaculate Baseball | 19 | Rookie Matinee Blue | 10 |
| 2019 Immaculate Baseball | 34 | Rookie Patch Auto Button | 10 |
| 2019 Immaculate Baseball | 34 | Immaculate Swatches Nameplate | 15 |
| 2019 Immaculate Baseball | 19 | Rookie Matinee Red | 15 |
| 2019 Immaculate Baseball | 16 | Batting Stance | 25 |
| 2019 Immaculate Baseball | 20 | Jackets | 25 |
| 2019 Immaculate Baseball | 19 | Rookie Matinee | 25 |
| 2019 Immaculate Baseball | 34 | Immaculate Doubles Gold | 49 |
| 2019 Immaculate Baseball | 34 | Immaculate Jumbo | 49 |
| 2019 Immaculate Baseball | 34 | Immaculate Swatches | 49 |
| 2019 Immaculate Baseball | 34 | Rookie Patch Auto Gold | 49 |
| 2019 Immaculate Baseball | 34 | Immaculate Doubles | 99 |
| 2019 Immaculate Baseball | 34 | Rookie Patch Auto | 99 |
| 2019 High Tek Baseball | HTA-TW | High Tek Autographs | 0 |
| 2019 High Tek Baseball | HTA-TW | High Tek Autographs Gold | 1 |
| 2019 High Tek Baseball | HTA-TW | High Tek Autographs Red | 10 |
| 2019 High Tek Baseball | HTA-TW | High Tek Autographs Orange | 25 |
| 2019 High Tek Baseball | HTA-TW | High Tek Autographs Black | 50 |
| 2019 High Tek Baseball | HTA-TW | High Tek Autographs Pink | 75 |
| 2019 High Tek Baseball | HTA-TW | High Tek Autographs Purple | 99 |
| 2019 Gallery Baseball | 31 | Base | 0 |
| 2019 Gallery Baseball | 31 | Base Artist Proof | 0 |
| 2019 Gallery Baseball | 31 | Base Autographs | 0 |
| 2019 Gallery Baseball | 31 | Base Red | 1 |
| 2019 Gallery Baseball | 31 | Base Printing Plates Black | 1 |
| 2019 Gallery Baseball | 31 | Base Printing Plates Cyan | 1 |
| 2019 Gallery Baseball | 31 | Base Printing Plates Magenta | 1 |
| 2019 Gallery Baseball | 31 | Base Printing Plates Yellow | 1 |
| 2019 Gallery Baseball | 31 | Base Autographs Red | 1 |
| 2019 Gallery Baseball | 31 | Base Orange | 25 |
| 2019 Gallery Baseball | 31 | Base Autographs Orange | 25 |
| 2019 Gallery Baseball | 31 | Base Blue | 50 |
| 2019 Gallery Baseball | 31 | Base Autographs Blue | 50 |
| 2019 Gallery Baseball | 31 | Base Green | 99 |
| 2019 Gallery Baseball | 31 | Base Autographs Green | 99 |
| 2019 Gallery Baseball | 31 | Base Private Issue | 250 |
| 2019 Fire Baseball | 42 | Base | 0 |
| 2019 Fire Baseball | 42 | Base Gold Minted | 0 |
| 2019 Fire Baseball | 42 | Base Flame | 0 |
| 2019 Fire Baseball | 42 | Base Orange | 0 |
| 2019 Fire Baseball | 42 | Base Green | 0 |
| 2019 Fire Baseball | 42 | Base Purple | 0 |
| 2019 Fire Baseball | 42 | Base Magenta | 0 |
| 2019 Fire Baseball | 42 | Base Onyx SSP | 0 |
| 2019 Fire Baseball | FAP-TW | Fire Autograph Patch | 0 |
| 2019 Fire Baseball | FAP-TW | Fire Autograph Patch Blue | 0 |
| 2019 Fire Baseball | FAP-TW | Fire Autograph Patch Magenta | 0 |
| 2019 Fire Baseball | FA-TW | Fire Autographs | 0 |
| 2019 Fire Baseball | FA-TW | Fire Autographs Green | 0 |
| 2019 Fire Baseball | FA-TW | Fire Autographs Purple | 0 |
| 2019 Fire Baseball | FA-TW | Fire Autographs Magenta | 0 |
| 2019 Fire Baseball | 42 | Base Inferno | 1 |
| 2019 Fire Baseball | FAP-TW | Fire Autograph Patch Inferno | 1 |
| 2019 Fire Baseball | FA-TW | Fire Autographs Inferno | 1 |
| 2019 Donruss Optic Baseball | 56 | Rated Rookies Gold Vinyl | 1 |
| 2019 Donruss Optic Baseball | 44 | Rated Rookies Signatures Gold Vinyl | 1 |
| 2019 Donruss Optic Baseball | 56 | Rated Rookies Green | 5 |
| 2019 Donruss Optic Baseball | 44 | Rated Rookies Signatures Green | 5 |
| 2019 Donruss Optic Baseball | 56 | Rated Rookies Cracked Ice Blue | 7 |
| 2019 Donruss Optic Baseball | 56 | Rated Rookies Cracked Ice Green | 7 |
| 2019 Donruss Optic Baseball | 56 | Rated Rookies Cracked Ice Red | 7 |
| 2019 Donruss Optic Baseball | 56 | Rated Rookies Gold | 10 |
| 2019 Donruss Optic Baseball | 44 | Rated Rookies Signatures Gold | 10 |
| 2019 Donruss Optic Baseball | 56 | Rated Rookies Black | 25 |
| 2019 Donruss Optic Baseball | 44 | Rated Rookies Signatures Cracked Ice Black | 25 |
| 2019 Donruss Optic Baseball | 44 | Rated Rookies Signatures Light Blue | 35 |
| 2019 Donruss Optic Baseball | 44 | Rated Rookies Signatures Teal Velocity | 35 |
| 2019 Donruss Optic Baseball | 56 | Rated Rookies Teal Velocity | 35 |
| 2019 Donruss Optic Baseball | 56 | Rated Rookies Carolina Blue | 50 |
| 2019 Donruss Optic Baseball | 44 | Rated Rookies Signatures Black | 50 |
| 2019 Donruss Optic Baseball | 44 | Rated Rookies Signatures Red | 50 |
| 2019 Donruss Optic Baseball | 56 | Rated Rookies Red | 60 |
| 2019 Donruss Optic Baseball | 56 | Rated Rookies Blue | 75 |
| 2019 Donruss Optic Baseball | 44 | Rated Rookies Signatures Blue | 75 |
| 2019 Donruss Optic Baseball | 56 | Rated Rookies We The People | 76 |
| 2019 Donruss Optic Baseball | 56 | Rated Rookies Orange | 99 |
| 2019 Donruss Optic Baseball | 56 | Rated Rookies Pandora | 99 |
| 2019 Donruss Optic Baseball | 56 | Rated Rookies Pandora Blue | 99 |
| 2019 Donruss Optic Baseball | 56 | Rated Rookies Pandora Purple | 99 |
| 2019 Donruss Optic Baseball | 56 | Rated Rookies Pandora Red | 99 |
| 2019 Donruss Optic Baseball | 44 | Rated Rookies Signatures Orange | 99 |
| 2019 Donruss Optic Baseball | 56 | Rated Rookies Purple Stars | 125 |
| 2019 Donruss Optic Baseball | 44 | Rated Rookies Signatures Purple | 125 |
| 2019 Donruss Optic Baseball | 56 | Rated Rookies Red White and Blue 150th Anniversary | 150 |
| 2019 Donruss Optic Baseball | 56 | Rated Rookies Pink Velocity | 199 |
| 2019 Donruss Optic Baseball | 56 | Rated Rookies | |
| 2019 Donruss Optic Baseball | 56 | Rated Rookies Carolina Blue and White | |
| 2019 Donruss Optic Baseball | 56 | Rated Rookies Holo | |
| 2019 Donruss Optic Baseball | 56 | Rated Rookies Lime Green | |
| 2019 Donruss Optic Baseball | 56 | Rated Rookies Pink | |
| 2019 Donruss Optic Baseball | 56 | Rated Rookies Red Wave | |
| 2019 Donruss Optic Baseball | 44 | Rated Rookies Signatures | |
| 2019 Donruss Optic Baseball | 44 | Rated Rookies Signatures Holo | |
| 2019 Donruss Optic Baseball | 44 | Rated Rookies Signatures Pink Velocity | |
| 2019 Donruss Optic Baseball | 56 | Rated Rookies White Sparkles | |
| 2019 Chronicles Baseball | 1 | America's Pastime Black | 1 |
| 2019 Chronicles Baseball | 1 | America's Pastime Printing Plate Black | 1 |
| 2019 Chronicles Baseball | 1 | America's Pastime Printing Plate Cyan | 1 |
| 2019 Chronicles Baseball | 1 | America's Pastime Printing Plate Magenta | 1 |
| 2019 Chronicles Baseball | 1 | America's Pastime Printing Plate Yellow | 1 |
| 2019 Chronicles Baseball | 101 | Spectra Rookie Jersey Autographs Nebula | 1 |
| 2019 Chronicles Baseball | 101 | Spectra Rookie Jersey Autographs Green | 5 |
| 2019 Chronicles Baseball | 1 | America's Pastime Holo Silver | 10 |
| 2019 Chronicles Baseball | 101 | Spectra Rookie Jersey Autographs Gold | 10 |
| 2019 Chronicles Baseball | 1 | America's Pastime Gold | 25 |
| 2019 Chronicles Baseball | 101 | Spectra Rookie Jersey Autographs Neon Green | 25 |
| 2019 Chronicles Baseball | 101 | Spectra Rookie Jersey Autographs Neon Pink | 49 |
| 2019 Chronicles Baseball | 1 | America's Pastime | 99 |
| 2019 Chronicles Baseball | 101 | Spectra Rookie Jersey Autographs Neon Blue | 99 |
| 2019 Chronicles Baseball | 101 | Spectra Rookie Jersey Autographs | 199 |
| 2019 Bowman Sterling Baseball | BSR-77 | Base Rookie | 0 |
| 2019 Bowman Sterling Baseball | BSR-77 | Base Rookie SuperFractor | 1 |
| 2019 Bowman Sterling Baseball | BSR-77 | Base Rookie Printing Plates Black | 1 |
| 2019 Bowman Sterling Baseball | BSR-77 | Base Rookie Printing Plates Cyan | 1 |
| 2019 Bowman Sterling Baseball | BSR-77 | Base Rookie Printing Plates Magenta | 1 |
| 2019 Bowman Sterling Baseball | BSR-77 | Base Rookie Printing Plates Yellow | 1 |
| 2019 Bowman Sterling Baseball | BSR-77 | Base Rookie Red Refractor | 5 |
| 2019 Bowman Sterling Baseball | BSR-77 | Base Rookie Black Atomic Refractor | 10 |
| 2019 Bowman Sterling Baseball | BSR-77 | Base Rookie Blue Refractor | 25 |
| 2019 Bowman Sterling Baseball | BSR-77 | Base Rookie Gold Refractor | 50 |
| 2019 Bowman Sterling Baseball | BSR-77 | Base Rookie Speckle Refractor | 99 |
| 2019 Bowman Sterling Baseball | BSR-77 | Base Rookie Refractor | 199 |
| 2019 Bowman Platinum Baseball | 3 | Base | 0 |
| 2019 Bowman Platinum Baseball | 3 | Base Ice | 0 |
| 2019 Bowman Platinum Baseball | 3 | Base Purple | 0 |
| 2019 Bowman Platinum Baseball | 3 | Base Purple | 0 |
| 2019 Bowman Platinum Baseball | 3 | Base Blue | 0 |
| 2019 Bowman Platinum Baseball | 3 | Base Green | 0 |
| 2019 Bowman Platinum Baseball | 3 | Base Gold | 0 |
| 2019 Bowman Platinum Baseball | 3 | Base Orange | 0 |
| 2019 Bowman Platinum Baseball | 3 | Base Red | 0 |
| 2019 Bowman Platinum Baseball | 3 | Base Foilfractor | 0 |
| 2019 Bowman Chrome Baseball | 34 | Base | 0 |
| 2019 Bowman Chrome Baseball | 34 | Base SuperFractor | 1 |
| 2019 Bowman Chrome Baseball | 34 | Base Red Refractor | 5 |
| 2019 Donruss Optic Baseball | 56 | Rated Rookies | |
| 2019 Donruss Optic Baseball | 56 | Rated Rookies Carolina Blue and White | |
| 2019 Donruss Optic Baseball | 56 | Rated Rookies Holo | |
| 2019 Donruss Optic Baseball | 56 | Rated Rookies Lime Green | |
| 2019 Donruss Optic Baseball | 56 | Rated Rookies Pink | |
| 2019 Donruss Optic Baseball | 56 | Rated Rookies Red Wave | |
| 2019 Donruss Optic Baseball | 44 | Rated Rookies Signatures | |
| 2019 Donruss Optic Baseball | 44 | Rated Rookies Signatures Holo | |
| 2019 Donruss Optic Baseball | 44 | Rated Rookies Signatures Pink Velocity | |
| 2019 Donruss Optic Baseball | 56 | Rated Rookies White Sparkles | |
| 2019 Chronicles Baseball | 1 | America's Pastime Black | 1 |
| 2019 Chronicles Baseball | 1 | America's Pastime Printing Plate Black | 1 |
| 2019 Chronicles Baseball | 1 | America's Pastime Printing Plate Cyan | 1 |
| 2019 Chronicles Baseball | 1 | America's Pastime Printing Plate Magenta | 1 |
| 2019 Chronicles Baseball | 1 | America's Pastime Printing Plate Yellow | 1 |
| 2019 Chronicles Baseball | 101 | Spectra Rookie Jersey Autographs Nebula | 1 |
| 2019 Chronicles Baseball | 101 | Spectra Rookie Jersey Autographs Green | 5 |
| 2019 Chronicles Baseball | 1 | America's Pastime Holo Silver | 10 |
| 2019 Chronicles Baseball | 101 | Spectra Rookie Jersey Autographs Gold | 10 |
| 2019 Chronicles Baseball | 1 | America's Pastime Gold | 25 |
| 2019 Chronicles Baseball | 101 | Spectra Rookie Jersey Autographs Neon Green | 25 |
| 2019 Chronicles Baseball | 101 | Spectra Rookie Jersey Autographs Neon Pink | 49 |
| 2019 Chronicles Baseball | 1 | America's Pastime | 99 |
| 2019 Chronicles Baseball | 101 | Spectra Rookie Jersey Autographs Neon Blue | 99 |
| 2019 Chronicles Baseball | 101 | Spectra Rookie Jersey Autographs | 199 |
| 2019 Bowman Sterling Baseball | BSR-77 | Base Rookie | 0 |
| 2019 Bowman Sterling Baseball | BSR-77 | Base Rookie SuperFractor | 1 |
| 2019 Bowman Sterling Baseball | BSR-77 | Base Rookie Printing Plates Black | 1 |
| 2019 Bowman Sterling Baseball | BSR-77 | Base Rookie Printing Plates Cyan | 1 |
| 2019 Bowman Sterling Baseball | BSR-77 | Base Rookie Printing Plates Magenta | 1 |
| 2019 Bowman Sterling Baseball | BSR-77 | Base Rookie Printing Plates Yellow | 1 |
| 2019 Bowman Sterling Baseball | BSR-77 | Base Rookie Red Refractor | 5 |
| 2019 Bowman Sterling Baseball | BSR-77 | Base Rookie Black Atomic Refractor | 10 |
| 2019 Bowman Sterling Baseball | BSR-77 | Base Rookie Blue Refractor | 25 |
| 2019 Bowman Sterling Baseball | BSR-77 | Base Rookie Gold Refractor | 50 |
| 2019 Bowman Sterling Baseball | BSR-77 | Base Rookie Speckle Refractor | 99 |
| 2019 Bowman Sterling Baseball | BSR-77 | Base Rookie Refractor | 199 |
| 2019 Bowman Platinum Baseball | 3 | Base | 0 |
| 2019 Bowman Platinum Baseball | 3 | Base Ice | 0 |
| 2019 Bowman Platinum Baseball | 3 | Base Purple | 0 |
| 2019 Bowman Platinum Baseball | 3 | Base Purple | 0 |
| 2019 Bowman Platinum Baseball | 3 | Base Blue | 0 |
| 2019 Bowman Platinum Baseball | 3 | Base Green | 0 |
| 2019 Bowman Platinum Baseball | 3 | Base Gold | 0 |
| 2019 Bowman Platinum Baseball | 3 | Base Orange | 0 |
| 2019 Bowman Platinum Baseball | 3 | Base Red | 0 |
| 2019 Bowman Platinum Baseball | 3 | Base Foilfractor | 0 |
| 2019 Bowman Chrome Baseball | 34 | Base | 0 |
| 2019 Bowman Chrome Baseball | 34 | Base SuperFractor | 1 |
| 2019 Bowman Chrome Baseball | 34 | Base Red Refractor | 5 |