Affiliate Disclosure: This post contains affiliate links to eBay, Amazon, and other platforms within the content, sidebar ads, and in other areas. As I am part of the eBay Partner Network and other affiliate programs, if you follow these links and make a purchase, I will receive a commission. Likewise, as an Amazon Associate I earn from qualifying purchases.
There are many reasons why people don't enjoy jersey cards any more, but that's what makes card collecting great—you can collect whatever you want, and I can do the same. And while I wouldn't say I love all jersey cards, I do enjoy many of them. (For my PC, I stick to A's jersey pieces, but only yellow and green—it keeps things interesting.)
Really, as long as the piece is in fact different – and not just a boring white or gray jersey – I'l have an interest. Which brings us to Ken Griffey Jr., and the fact that anything he is featured on, even something as boring as 1992 Score, or as horrible of a photo as 1991 Fleer, he makes it look cool. 
So, in the spirit of kicking your relic card collection on the right food, let's take a look at 6 really cool, awesome, and probably valuable Ken Griffey Jr. jersey cards. (And while it would be easy to include every jersey/auto combo, I'll stick to relic pieces only.)
1997 Upper Deck Game Jersey Ken Griffey Jr.
We have to start with the original—the card that started the jersey card and relic madness; 1997 Upper Deck. No flash, no frills. Just a smiling photo and a piece of jersey. The fact that the piece found on most cards from what I can tell is in fact Mariners turquoise makes things that much sweeter. I can only imagine the excitement when these first hit sealed wax. What a time!
2018 Topps Tribute Dual Relics Ken Griffey Jr. & Mark McGwire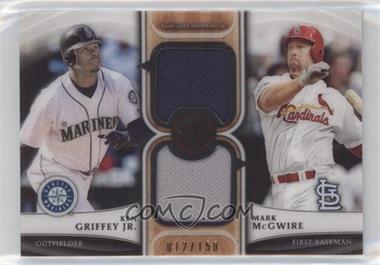 Raise your hand if you'd love a dual Ken Griffey Jr. and Babe Ruth jersey card. Well yeah, me too. Unfortunately, I don't think one exists, and while this might not even be the next best thing, it's pretty high up on the list. Mark McGwire, who set the baseball world on fire more than once, and Ken Griffey Jr., of course one of the greatest to play the game on the same card, with pieces of each of their jerseys. (There is a Griffey/Mantle dual auto, though.)
2001 SP Game Used Edition Authentic Fabric Ken Griffey Jr. #KG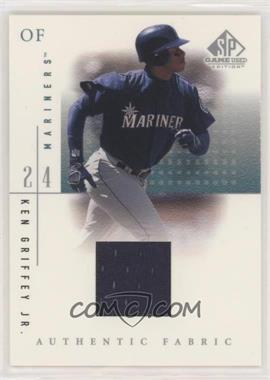 While not as old or original as the 1997 card mentioned above, the 2001 SP Game Used Edition is a classic, and probably more mainstream. Griffey's photo on the card certainly surpasses that of the 1997 card, but the piece of jersey is a bit lacking if you land on a plain white version. That said, still a great piece you might want to pick up, considering you can do so for around $25 or so.
Read More: Jersey Fusion Card Checklist
2016 Panini Pantheon Ken Griffey Jr. #81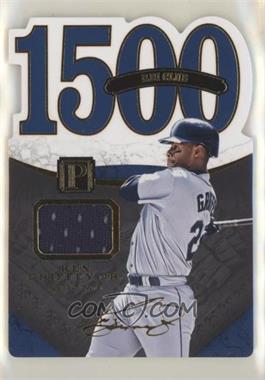 Our first "unlicensed" card meaning it's from Panini and doesn't include a "Mariners" team name or logo. But really, when you look at the card, would it even matter, and could you not call this thing beautiful? There are a couple of different variations, including the 1,500 RBI club and the 500 HR club (card #25). Either way, between the die cut and the photo, this card is magnificent. Sure, I would have loved a little larger of a relic piece, but definitely not a deal breaker.
2000 Upper Deck Game Jersey Ken Griffey Jr. #JR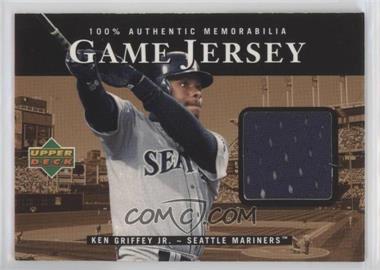 As much as I like to put a story or interesting nugget with most of these cards, for this one, I've got nothing. But would you just look at it? Sometimes it's OK to just appreciate a card for what it's giving you on the surface. And on that surface, I do like the "100% Authentic Memorabilia" on the front of the card; that's cool. Action shot, stadium in the background (Jacob's Field?), and a nice piece of jersey front and center—check, check, and check.
2000 SPx Winning Materials Ken Griffey Jr. #WM-KG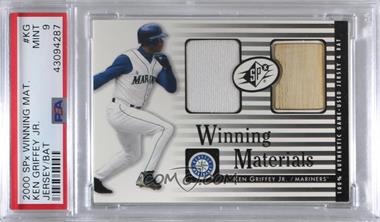 Ok, said I wouldn't include an auto on the list, but I never said anything about the dual bat and jersey! Again, not sure what it is about this one—just simple; clean. And being that it is from the early 2000s, that makes a lot of sense. I mean, I still like the blinding glitz and shine of today's cards, but sinple is good. I like those cut-off unis quite a bit too.