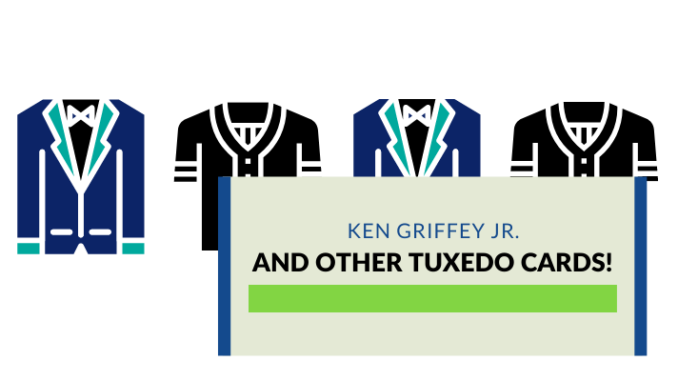 Affiliate Disclosure: This post contains affiliate links to eBay, Amazon, and other platforms within the content, sidebar ads, and in other areas. As I am part of the eBay Partner Network and other affiliate programs, if you follow these links and make a purchase, I will receive a commission. Likewise, as an Amazon Associate I earn from qualifying purchases.
If you collected cards when you were younger and are currently going back through them, you can count on finding a few hobby favorites—1989 Upper Deck Nolan Ryan throwing a football, Bo Jackson flexing both sports from 1990 Score.
And the one that brings you here today—the 1991 Ken Griffey Jr. Card Guard promo featuring "The Kid" who looked good doing everything on the diamond, only to be made to look even better thanks to this card's tuxedo photo shoot.
Upon seeing the card again, I was reminded by how obscure it was, yes (and don't let the term "obscure" fool you into thinking the card is worth a ton…a non-rookie, and what seems to be not all too scarce oddball promo doesn't command a lot right now), but there are a handful of cool tuxedo cards there are out there. Probably not enough to have fun with as a PC, but enough for you to grab and display together.
First, a little background and info on this one.
Ken Griffey Jr. Card Guard
As mentioned above the Ken Griffey Jr. Card Guard was a piece made available in 1991 and included in boxes of the famous plastic trading card protector, the Card Guard.
The back of the card states features such as:
Highest quality 9 mil gauge vinyl
1/2 inch lip for easy insertion
"Ken Griffy Jr. likes it!"
The front and back of the card feature a facsimile autograph, and the final line on the back also describes the card as "Ken Griffey Jr. Card Guard Gold Edition Signature Card."
And while the hobby world recently went a little crazy for Michael Jordan cards that were included with specially-marked packages of Hanes, and while we have seen Topps Utz cards hold a bit of value, the Griffey Card Guard has not experienced any of the same, as you can easily grab the card on eBay as we speak ($1.99 appears to be the lowest "buy it now" price available).
Tuxedo Baseball Cards
So again, the card got me thinking about the different cards featuring our favorite sports superstars, but cleaned up and rocking a fresh penguin suit. And to channel my inner Cal Naughton Jr. "Cause it says like, I wanna be formal but I'm here to party too," and by "party" in this case, we mean throw heat, hit bombs, and win ROY.
1991 Stadium Club Nolan Ryan #200
From throwing footballs on the aforementioned Upper Deck, to the classic shot of Ryan on the bump with a bloody lip after the Robin Ventura tussle, Nolan has his share of great sports shots floating around in the collectorsphere.
And now, on the topic of tuxedo, his 1991 Stadium Club doesn't disappoint, as the Ryan Express is even lifting the leg, wearing a hat, and sporting cleats! Talk about accessories…
But did you know that "Smoke" himself, Dave Stewart also had a tux card in the same set? The playful card shows the usually-serious on the mound Stewart smiling and tossing (or catching) a baseball behind his back.
2020 Topps Xander Bogaerts
Adding this one in given its recency, and a reminder that the tux card is not something we left behind in the 90s—it worked then, and it works now.
I'm not quite sure what is unfolding in this photo, but it looks cool, and everyone loves a good photo variation.
1994 Rembrandt Ultra Pro Mike Piazza
Now, Ultra Pro may have been the king of the tuxedo shot, featuring different players over time like Barry Bonds and Bobby Bonilla. But for now, I'm sticking with my favorite being Mike Piazza.
Reasons: the picture itself is the most fun, but also, the rest of that set features photo gold, including a couple of cards with Piazza on the field, of course, but one of him lifting weights, and another of him holding a golf club!
To cap it all off, the coolest card of the set is what 90s inserts dreams are made of, featuring a super shiny refractor-type celebrating Piazza's 1993 Rookie of the Year Award.
2018 Allen & Ginter Bill James Auto
You might have a lot of questions here—perhaps, who is Bill James, what is he known for, why is he on a baseball card, and does he always wear a tuxedo?
Well, Bill James is a baseball historian and statistician, and is the man behind sabermetrics, which you may have heard about. To my knowledge, he doesn't usually wear a tuxedo, like most of us, but that's not what makes the card cool and special.
Actually, it's the mere fact that James is on a card in the first place, as a part of Topps' Allen & Ginter set, which is known for going beyond including the usual faces of the MLB, and adding pop icons and others with a baseball connection or fandom; and in this case, a man who has certainly made his mark on the game of baseball.