Affiliate Disclosure: This post contains affiliate links. As I am part of the eBay Partner Network and other affiliate programs, if you follow these links and make a purchase, I will receive a commission. Likewise, as an Amazon Associate I earn from qualifying purchases.
I love Topps Archives, and one thing that I've really enjoyed over the years is the inclusion of different baseball movies on the checklist. In 2014 we were treated to cards from Major League, and the group of ragtag Cleveland Indians featuring Rick "Wild Thing" Vaughn. In 2016 it was Bull Durham, which resulted in cards of Kevin Costner's Crash Davis and others.
And in 2018, it was The Sandlot—with Smalls, Benny, and the whole gang. That's right, not only insert cards to commemorate one of the greatest baseball movies of all time, but parallels, and even autographs.
So, let's take a look at this special set and everything that makes it one-of-a-kind
The Sandlot Cards (and Coins) Checklist
The Sandlot insert card checklist includes:
SL-AM Alan "Yeah-Yeah" McClennan
SL-BJR Benny "The Jet" Rodriguez
SL-BW Bertram Grover Weeks
SL-H Hercules
SL-HP Hamilton "Ham" Porter
SL-KD Kenny DeNunez
SL-MP Michael "Squints" Palledorous
SL-SS Scotty Smalls
SL-TIM Timmy Timmons
SL-TOM Tommy Timmons
SL-WP Wendy Peffercorn
2018 Topps Archives also featured coins, which came two per blaster.
Mixed in with the likes of Mike Trout and Aaron Judge were the following Sandlot characters:
C-2 Benny "The Jet" Rodriguez – The Sandlot
C-4 Scotty Smalls – The Sandlot
C-5 Michael "Squints" Palledorous – The Sandlot
C-8 Hercules – The Sandlot
C-20 Hamilton "Ham" Porter – The Sandlot
Design & Inspiration
The movie was released in 1993, with 2018 marking the 25th anniversary of the film. Taking place in 1962, it's only fitting the cards take their design from 1962 as well. The wood grain border is reminiscent of 1987 Topps, but with the signature page curl in the bottom right corner.
On the back of each card, we see the actor's name and a summary of their role in the film, with Timmy Timmons and family erecting the famous treehouse, Yeah-Yeah being the "lightest" and thus a prime candidate to be hoisted over the fence to retrieve the lost ball, and a breakdown of Ham's trash-talking and leadership abilities.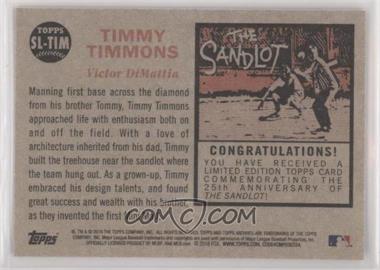 Autograph Checklist
Having inserts on their own would be enough for me, but to have randomly-inserted autos is icing on the Baby Ruth! Not only do we get most of the key players, but also Director David Mickey Evans and Karen Allen (Mrs. Smalls). No Hercules, though.
SLA-AYYM Marty York as Alan "Yeah-Yeah" McClennan
SLA-BW Grant Gelt as Bertram Grover Weeks
SLA-DME David Mickey Evans – Director
SLA-HHP Patrick Renna as Hamilton "Ham" Porter
SLA-KD Brandon Quintin Adams as Kenny DeNunez
SLA-MSP Chauncey Leopardi as Michael "Squints" Palledorous
SLA-MS Karen Allen as Mrs. Smalls *
SLA-SS Tom Guiry as Scotty Smalls
SLA-TIM Victor DiMattia as Timmy Timmons
SLA-TOM Shane Obedzinski as Tommy Timmons
SLA-WP Marley Shelton as Wendy Peffercorn
Card Values
One of the surprising things about The Sandlot cards found in 2018 Topps Archives is just how well their values have held up over the years.
Looking at the inserts, some of the lower-priced cards include Timmy Timmons, Bertram Grover Weeks, Kenny Denunez, and Tommy Timmons, with cheapest Buy It Now cards on available eBay for around $4-$6 or so before shipping.
Read More: Cheapest Sports Cards
The cheapest Smalls insert is available for around $10 before shipping, Yeah-Yeah at $13 before shipping, and Hercules for around $13 before shipping.
In the top tier, I'm currently seeing the following:
Wendy Peffercorn $25
Ham Porter $25
Benny $25
Squints $30
Autos are of course harder to come by…a blue /25 Wendy Peffercorn sold for $750! A silver Ham /99 sold for $464, and a base Smalls auto sells for around $100.