Affiliate Disclosure: This post contains affiliate links to eBay, Amazon, and other platforms within the content, sidebar ads, and in other areas. As I am part of the eBay Partner Network and other affiliate programs, if you follow these links and make a purchase, I will receive a commission. Likewise, as an Amazon Associate I earn from qualifying purchases.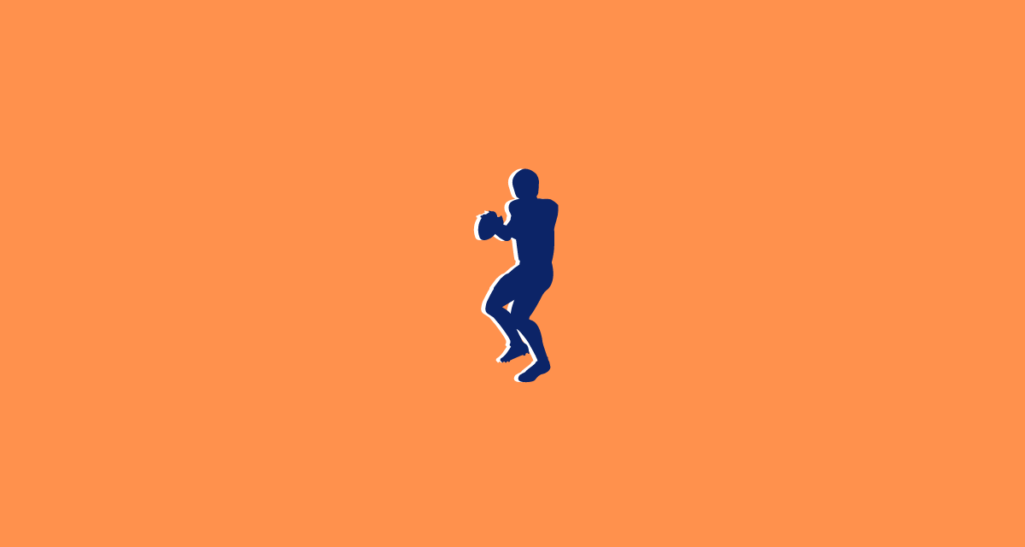 There is no doubt that Tom Brady is one of the best football players that ever stepped on a field, and arguably the greatest quarterback of all time—and that's coming from a huge Joe Montana fan!
But with such prestige comes a hot card market, and when couple with the boom of the sports card industry during the COVID-19 pandemic, prices soared even higher to unprecedented amounts.
And a quick note—these are not all rookie cards! While all of them would be highly-collectable, it wouldn't make for a very interesting blog posts.
How many Tom Brady rookie cards are there?
According to the Beckett.com card database, there are 44 different Tom Brady rookie cards. There are 11 each from Pacific and Upper Deck brands, 10 from Donruss/Playoff, and 8 from Fleer, with Topps being next with 2 (Bowman and Bowman Chrome). (In my opinion, there needs to be at least one more—a Brady Topps rookie baseball card would do just fine…And not one of these Brady Expos novelties.)
Best Tom Brady Cards to Collect
Anyway, with 20 years in the league, various producers, different sets, autos, numbered and parallel cards, there is a plethora of cardboard Brady to choose from. Here are seven cards (for seven rings) of the best in honor of Brady's Super Bowl wins.
2020 Panini Donruss (Base #230)
Let's start this list with something different, and go with Brady's very first Tampa Bay Buccaneer card.
Yes, it is strange to see Brady in anything other than a Patriots uniform, but that is what makes such a card unique and a great one to collect.
The added value in this card is that "weird factor" because not only was it a shock to the world that he wound up in the NFC South, but for a team that was as traditionally horrible as Tampa Bay.Even after a few years, it still might be something that a sports fan's brain just can't compute.
Anyway, regardless of fan feelings, there is always something special about the first card showing of a legendary player in new threads. If someone wanted a Tom Brady Bucs' card this should be the one.
2011 Topps (Base All-Pro #400)
Just as a point of clarity, this is the All-Pro version of Tom Brady in the set, and not the standard base card (which is number 240).
Now, the reason this is the card of choice for this list in particular is because of the red throwback jersey, the long hair, and the All-Pro stamp. Frankly, it is aesthetically more pleasing than the other.
And what makes this card cooler from a historical perspective is the fact that this was the year after Brady's MVP season, and also the year the Patriots lost in Super Bowl XLVI to the New York Giants (TB12's second loss to Eli Manning).
2002 Topps (Base #248)
2002 Topps and its green design is one of the most sought-after Brady base cards that is not a rookie card. Part of this is because of the card boom in the pandemic, with rookie cards rising to extravagant prices in the four-to-five-digit range (for non-graded cards). Thus, second and third-year cards become a lot more attractive.
The paper base card is amazing, and of course, the chrome version is beautiful as well. Definitely one for the Brady collector.
2018 Panini Kaboom! (#K-TB)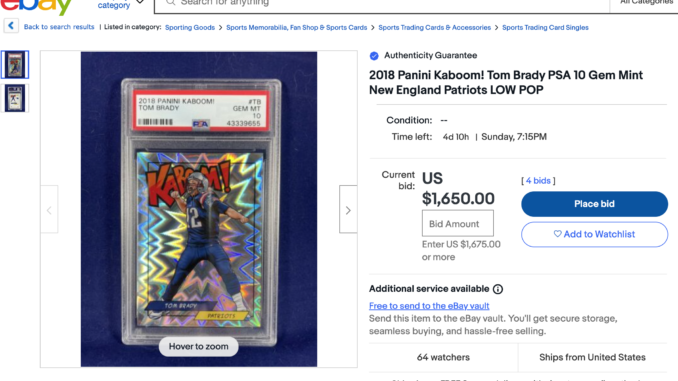 All Kaboom! cards are simply amazing—meaning, you don't need someone of Tom Brady's caliber to make one of them cool and collectible.
But when you pair one of the game's greatest with one of the hobby's greatest, you have a beautiful (and explosive) card combo.
Now, while all the Kaboom short prints look incredibly similar over the years, it is the 2018 action shot of Brady that makes this the best.
Read More: What Packs Have Kaboom Cards?
Kaboom in general is a beautiful and sought after card; they are incredibly rare, and getting one of Brady is just the icing on top of it all. Pulling something of value is always euphoric, getting a good player is surely great too, but the design being one that belongs in a museum is a huge plus. (Don't forget, there are green Kabooms as well!)
Thus, this is one of the best short print cards of Brady, and more than deserving of a spot on the list.
2020 Panini Donruss Downtown (#D-TB)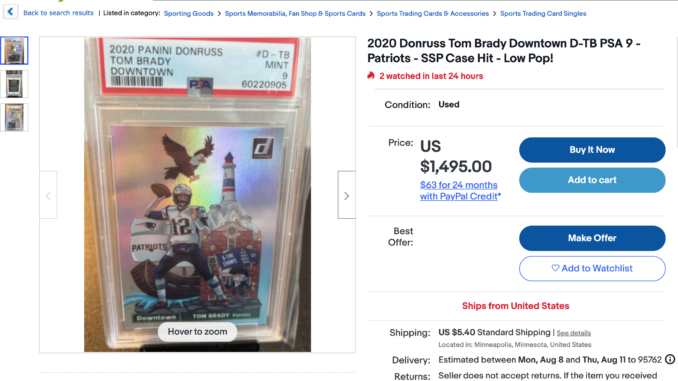 Of course, you can't have Kaboom! without a Downtown. For Brady, the accompanying eagle and Benjamin Franklin holding a "6-time Champs," flag makes it one of the best.
Even though this is a 2020 card when Brady became a Buccaneer, it pictures Brady in a Patriots uniform (hence the eagle and Ben Franklin). It looks more natural as a result, thanks to the Patriots' colors blending well with the silver shine of the card. Plus, the red, white, and blue lighthouse adds that extra glamor.
You might disagree, as all of these Downtown cards have a cartoon/silly scheme to them, but I personally don't think that is a bad thing. Now, if you want to talk about the other 2020 Downtown Brady card – with the shrimp and Super Bowl XXXVI – you might have an argument.
2000 Bowman Football (Base #236)
Arguably the best rookie card that ever graced the hobby? I don't think there is going to be any disagreement with Brady's first card in a Patriots uniform being on this list (unlike the other rookie cards that go for big money, this is not in a practice or college uniform). Not to mention that the featured photo looks like an action shot in a real game, making the card incredibly clean.
Sure, the design of 2000 Bowman isn't the best, but it does say that it is a rookie card—as silly as that might sound, a rookie card that looks like a rookie card matters in the hobby.
And like most cards, if there is the "upgraded" version that will come out of the 2000 Bowman Chrome box. It's going to be even prettier, and will fetch a higher price.
2000 SP Authentic (Base #118)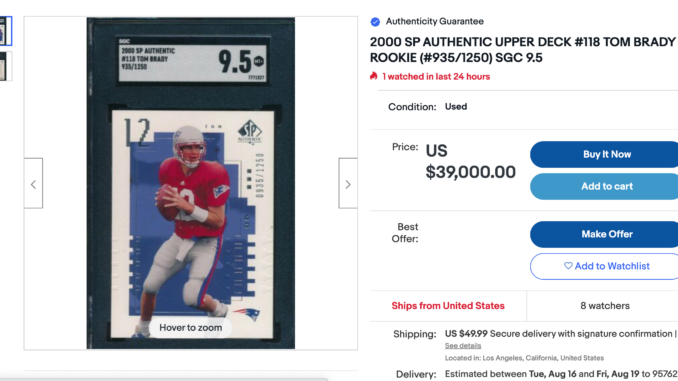 To end, the ultimate Tom Brady card. The absolute best. Number 118 of the 2000 SP Authentic set.
SP Authentic was an Upper Deck attempt at a high-end product in a time where card companies rarely produced high-end sets. In this set, the Brady card ran to only 1,250 copies, so yes, this is a relatively short print, and numbered card.
Just take a look—the design of this set looks sleek and elegant. The blue that pops out of the center behind Brady creates almost a white border with the card. The gold lettering, branding and number also makes it aesthetically-pleasing.
While this is a card with Brady wearing a red practice jersey, the white and blue in the card complement that red jersey, and doesn't do enough harm for it to not be considered the pinnacle of Tom Brady cards, and the most deserving of the number one spot on this list.