Affiliate Disclosure: This post contains affiliate links. As I am part of the eBay Partner Network and other affiliate programs, if you follow these links and make a purchase, I will receive a commission. Likewise, as an Amazon Associate I earn from qualifying purchases.
March 2023 Update: Topps has announced that Tom Brady will in fact have new, pack-inserted Expos cards…and autos to go along with them! Read more.
I have never wanted a Bowman 1st so much before in my life.

"From someone at the Topps Industry Conference—Tom Brady will be featured this year on Bowman Baseball cards –and yes, there will be autographed versions." pic.twitter.com/HfJTpxbrjF

— Bowman1951's Sports Card Adventures (@bowman1951) February 28, 2023
I never like to be the bearer of bad news, especially in the case of the weird and wacky in the baseball world. But every so often I see this question come up about the infamous Tom Brady Expos card (or cards).
To get to the point, the card you're probably wondering about (no matter which one it might be) is not an official baseball card.
These cards are what you'd call custom or "novelty" cards. And, because of it, you'll see a number of different variations and "spins."
Not to mention that, if you click into the many eBay listings, you'll see these terms – "custom" and "novelty" – along with things like these cards are just for fun, not made by a major card company, and the like.
Oh how things could have been so different had Tom Brady decided on baseball 😱 Montreal drafted him in the 18th round back in 1995. His baseball card is selling for $10. Brady's rookie football card sold for $3.1 million. @TomBrady pic.twitter.com/OFZol06QCW

— Kevin ODonnell Fox13 (@ODonnellFox13) December 15, 2021
I wrote an entire blog post about a Tom Brady Topps Rookie Card not existing, and how it was a shame. And that's because these Expos cards in question aren't real cards or recognized as a real cards.
Tom Brady Expos Card Value
All of that said, if a card is coveted, it has at least value—and in this case, it doesn't even need to be legitimate for it to be bought and sold on eBay and other platforms where you can buy baseball cards. And, Tom Brady himself even tweeted out one version of these Expos cards; this one in the style of 1983 Fleer:
April 3, 2019
Current Value
So when it comes to the current value, I like to look at how much you could buy one of those Tom Brady Expos cards right now if you wanted. Or, on the flip side, the minimum amount you could expect by selling a card in your possession for the lowest price on the market.
On eBay, the lowest-priced option of the "Tom Brady Expos card" is currently $2.79 with free shipping (and that's for two!).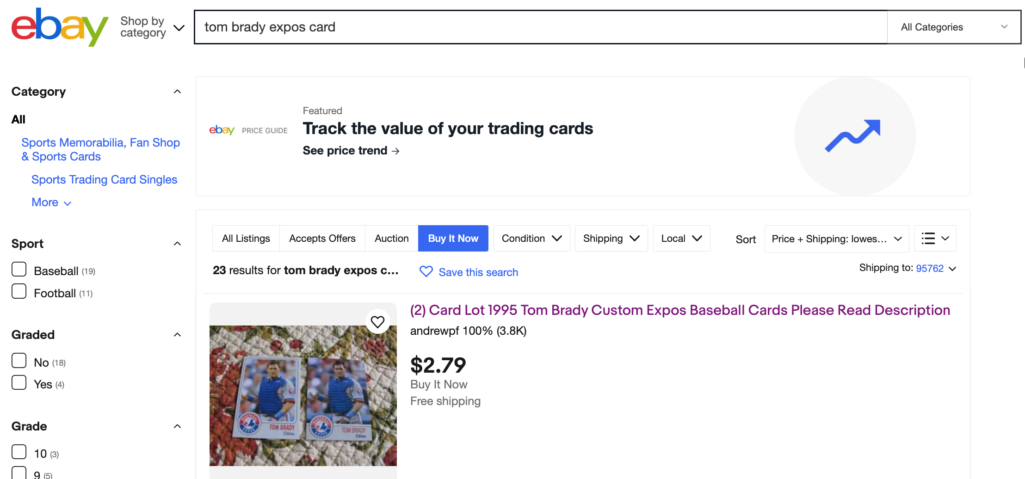 Future Value
I never really like to talk about "future values" of cards on this blog because with this hobby, things can fluctuate up and down for the smallest of reasons, while bigger factors (like on-field play and performance) might have little impact.
Read More: 2000 Bowman Chrome Football Box
For me personally, though, I'm not rushing to buy any of these cards. If you need more Tom Brady cards to collect, then sure, have at it. But the fact that this isn't a licensed card, and seemingly can be printed by will by anyone, even if it were to get "hot" for whatever reason you'd have to think the supply would balloon.
To end, here is Tom Brady not putting the baseball talk to rest—sending out a "foolish" Tweet on April 1st a couple of years ago:
With opening day today, excited to announce we're bringing the Expos back to the MLB in 2022. Excited to be the first player/coach/owner in MLB history. pic.twitter.com/Sre5y5LUL2

— Tom Brady (@TomBrady) April 1, 2021