Affiliate Disclosure: This Topps Marvel Guide contains affiliate links to eBay, Amazon, and other platforms within the content, sidebar ads, and in other areas. As I am part of the eBay Partner Network and other affiliate programs, if you follow these links and make a purchase, I will receive a commission. Likewise, as an Amazon Associate I earn from qualifying purchases.
There is nothing like looking through a stack of cards as you feel them in your hands, flipping each card to the back of the pile so you can glance at the card coming up next. From sorting and organizing to submitting for grading, and more, the physical action of the hobby is what most card collectors love—but what if that were removed completely? Would that also reduce and perhaps cause the value of a card to disappear?
A collector's card should be something you can actually hold, right?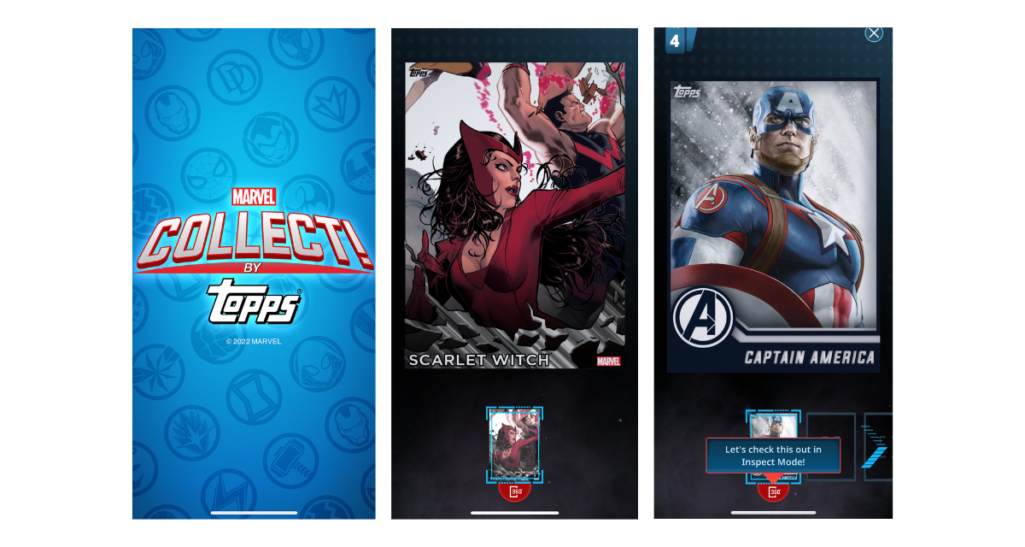 Well, not in the case of Topps Marvel cards (or digital cards); a new branch of the hobby that may change the landscape of card-collecting, at least outside of sports.
What are Topps Marvel Cards?
Topps Marvel Cards are tradable digital trading cards obtained through the Marvel Collect! app by Topps. By opening digital packs, swapping with others, and engaging in collector-based missions, users can build a collection of their favorite (and maybe never before heard of) superheroes.
That's right, Disney's Marvel Entertainment has joined into the trading card hobby, albeit via a different corner using superhero artwork and scenes to form an attractive app and digital trading cards that can still be cool (and expensive) as all get out.
Here is a GIF of a pack I recently opened.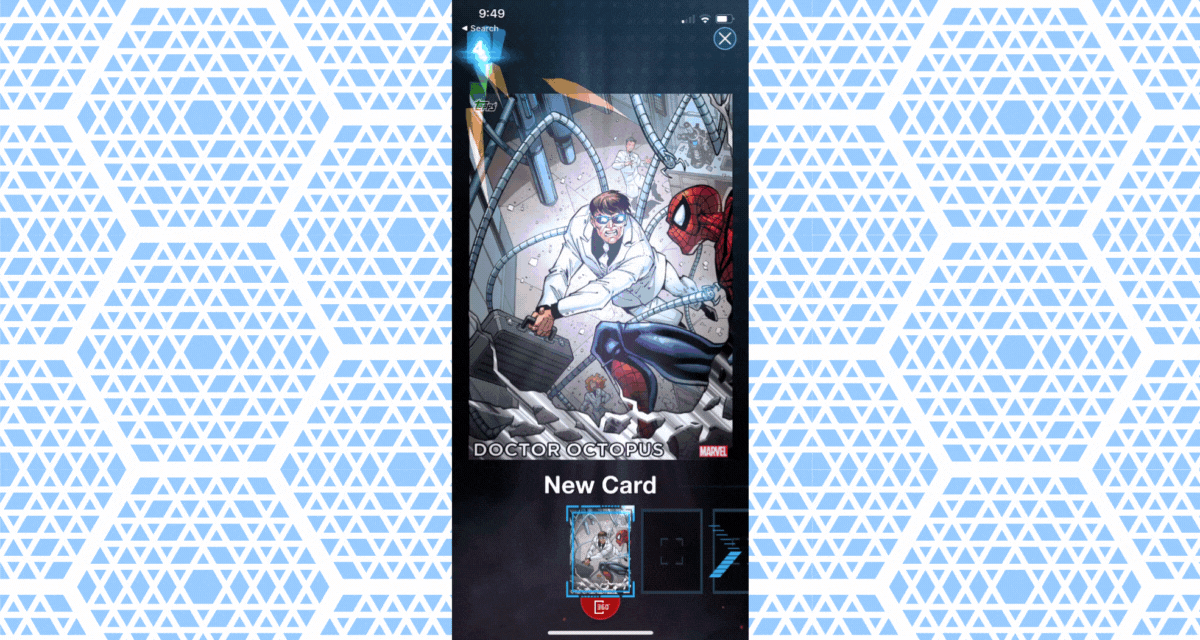 One would argue the downside to collecting digital cards is you are not getting that warm, cozy card feeling you get when you open a pack from the new box you just purchased from the store. But, it's not all lost. Immediacy, gamification, and more can all assist in keeping collectors engaged and more than ready to rip the next pack.
How to Collect Topps Marvel Cards
To get started, first, go to your app store of choice (Apple Store or Google Play) to download the Marvel Collect! app by Topps. It's free, so if you're curious, why not?
Once downloaded, you'll be prompted to create a Topps account or sign in to an existing account. After doing so and logging in, you're off to the races and immediately presented with a Marvel Collect! starter pack and other options.
From there, you can collect new cards by obtaining free rewards, completing challenges, spinning a prize wheel, and more.
The Currency: Coins & Diamonds
In addition to simply obtaining free cards and packs, you'll easily begin to accumulate coins that function as the app's currency. Thus, these coins can be used to purchase store items including packs of cards.
To kick things up a notch, though, diamonds also function as currency, but can only be purchased with real money. It is said that packs purchased with diamonds have increased odds of hitting rare cards, and might be the only way to hit certain cards from packs.
How to Obtain Coins
There are a number of ways to obtain additional coins in Marvel Collect!
Spin the Wheel
One of the easiest ways to obtain coins (and cards) is by spinning the prize wheel. Upon starting my account, I was able to spin the wheel three times (via "Energy"), and was given the chance to earn additional energy (spins) by watching advertisements.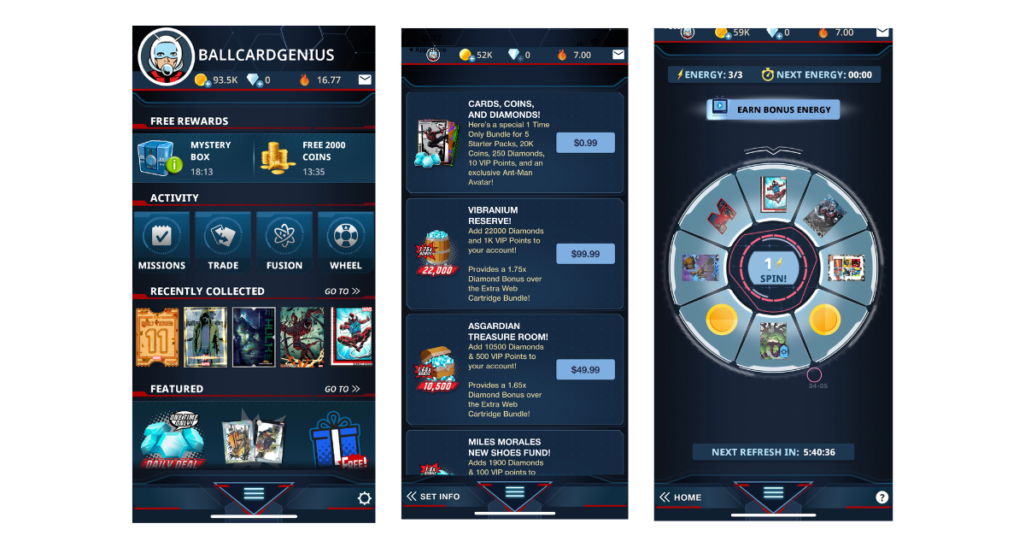 Just right now I went back into the app and I have three more spins waiting for me. Here are the outcomes:
Spin #1: New card, Ghost-Spider
Spin #2: 2,500 coins
Spin #3: New card, Cable
Claim Free Rewards
Another easy coin grab can be found in free rewards. When I first started my account, I had a free coin award waiting for me along with a "treasure chest." After redeeming both, a countdown started (within an hour) until additional rewards could be claimed.
I've now gone back into the app and I have a free 5,000 coins reward waiting, and a new mystery box, which yielded new cards
Psylocke
Carnage
Black Widow
Deadpool
Professor X
Complete Missions
Missions are just like what you'd think they'd be—challenges where if completed, you'll earn a reward in the form of coins (or avatars, etc.).
As a beginner on the app, when I go to "missions" I see that I've already completed the "spin the wheel" and "collect any card" missions—pretty easy! My prizes for each included coins and a reward ticket for a new card. I also completed the "Collect 15 Cards" mission which netted me 10,000 coins.
What is Collection Score?
Once you get going on the app, you'll also notice a flame icon and a number, which is your "collection score." As the app states, a collection score is the total of all the points accumulated from the different items in your possession. Meaning, every item has a point value based on how rare it is and other factors.
Do Marvel Collect! Cards Have Value?
As you'll quickly notice, the cards are unique and beautiful, and the popping colors and artwork are something to behold. In terms of monetary value, though, what can you expect?
Of course, there is a wide gap between lowest and highest-priced cards—just like regular sports cards, where something like a rare Ken Griffey Jr. card can have a ton of value, while some of his commons have zero value or are literally worth a few cents.
Before going any further, a key point here is the fact that the Marvel Collect! app does not facilitate transactions. Meaning, sure, you can trade cards between users, but users can't buy and sell cards via the app.
So, if someone does in fact want to sell or purchase a card, they'd have to go to eBay to do so, where the buyer would purchase a listing just as they would a physical good, and then the seller would send the card after receiving the payment via the app.
For example, I'm looking at some of the most recent eBay sales of Marvel Collect! cards, and you can see purchases of $22, $26, and $48 for different cards including Daredevil and Spider-Man.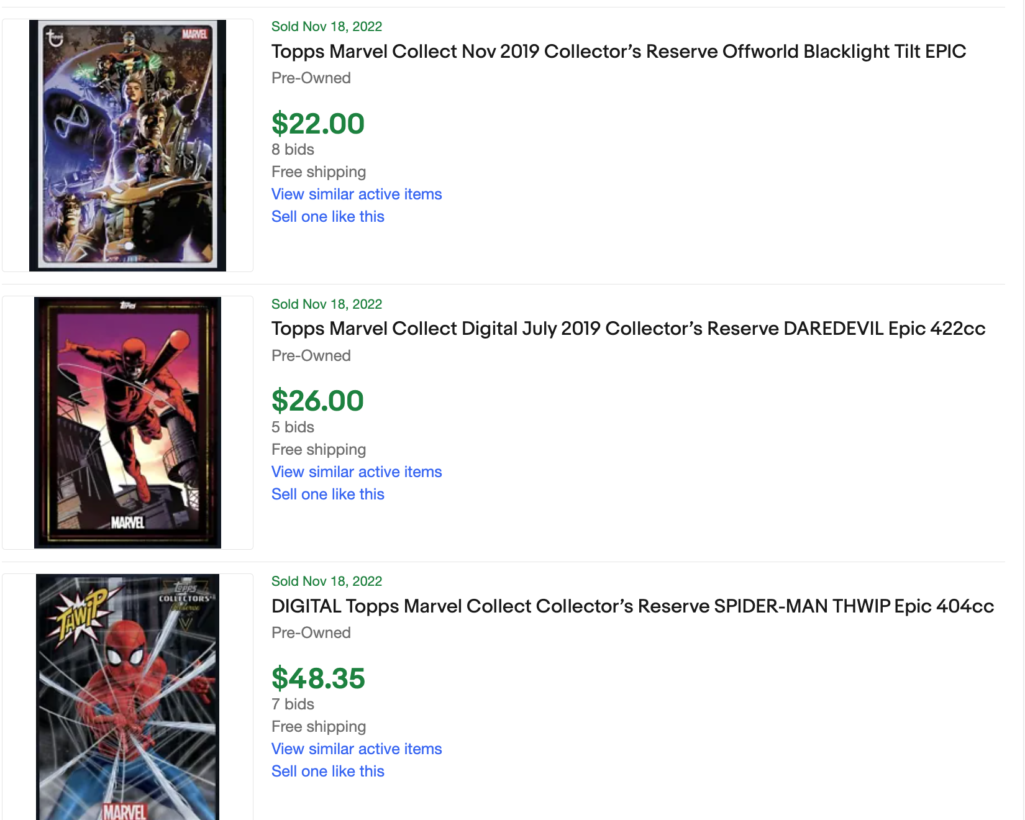 Now, I'm not sure just how hard it is to obtain these cards, but as you can see, someone is willing to pay for them. Not to mention when I sort the sold list by "highest price" I see a "DIGITAL Topps Marvel Collect June 2019 Collector's Reserve Motion THANOS 287cc" that sold for $150.
Given the nature of the transaction, most sellers will list something like "You must have the Topps Marvel Collect! app and an account to receive this digital card(s). Please send your username in a message with payment to receive your card."
All in all, with Topps Collect digital cards, a collector needs to decide if they can adjust their thought process from collecting the old-school physical cards they're used to, and feel the same passion with this digital versions. Regardless, the artwork is outstanding and the cards are accessible for both Apple and Android operating systems.