Affiliate Disclosure: This post contains affiliate links to eBay, Amazon, and other platforms within the content, sidebar ads, and in other areas. As I am part of the eBay Partner Network and other affiliate programs, if you follow these links and make a purchase, I will receive a commission. Likewise, as an Amazon Associate I earn from qualifying purchases.
If discussing the greatest running backs of all time, the conversation starts with Walter Payton. There's just no denying it. The man nicknamed Sweetness used a trademark stutter step and leaping ability to become one of the biggest game-changers the NFL has ever seen whenever the he had the ball in his hands.
Much like his motto of "Never Die Easy," Payton was a terror on the field for 13 years; all as a member of the Chicago Bears. All of this adds up to Payton being a household hobby name among those who watched him dominate in the 70s and 80s, and thanks to the commitment from card companies to continue to celebrate great names of the past, continues to live on even in sealed wax today.
So, let's take a look—here are five of the best Walter Payton football cards for the sports card fanatic, young ro old.
2021 Panini Donruss Walter Payton Downtown DT-13
Ok, probably not the first card you were expecting to be on the list, right? I mean, you think Walter Payton and cards, and you think Topps, I get it. Don't worry, there is plenty of Topps to come, but remember, not everyone reading this is a vintage collector.
So, the only modern card (and non-Topps card) on this list, and with exception because the super short print Walter Payton card is remarkable. As with every Downtown card, the artwork accompanies the theme of the player's team. We've got bears and we've got Chicago. What more could you ask for?
Much like that which we featured on our list of Tom Brady cards to collect, this is a beautifully-done piece of cardboard, and the painted shot of Payton – the blue of the jersey and the water – complement each other well. This is an expensive card no doubt, but easily one of the cooler Payton cards out there.
On to our regularly-scheduled Topps programming…
1982 Topps #303 Walter Payton
This "In Action" insert shows Payton leaping over two defenders in a massive pileup, and couldn't be a better representation of how Payton played the game. Not to mention the athleticism—as a long jumper in high school, Payton used this experience to his advantage in the NFL, and it is shots like this that demonstrate that clearly, and make this an amazing Walter Payton card to own.
In terms of his Hall of Fame career, in 1982, Sweetness managed just nine games played, so this was a down year for the running back. And honestly, that almost make the card even more appealing to those who might be looking for something a little different. In these sets flashy design was never a thing, and stunning player photography is usually what made the card cool.
1991 Pro Set #PSS1 Walter Payton
Even after retirement, Payton looked like he could still go for a few more seasons, and this picture used for the 1991 Pro Set Series 1 showed it. Holding a tire and adorned in a "NFL Team 34" shirt, which may be a reference to the number Payton wore in his career, Payton still looks in NFL shape, ready to run and leap to the absolute best of his ability.
This card captures the former running back in a relaxed setting, and out of his Chicago uniform, which may be one of the few instances with his sports cards. The card is also cool because of how it displays Payton as a powerful guy, and still a presence in the NFL despite being a retired player.
Topps 1987 1,000 Yard Club #7 Walter Payton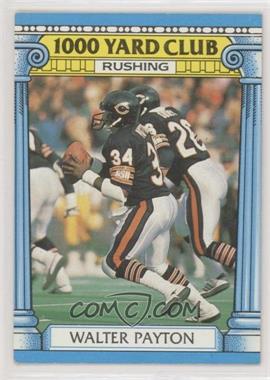 Celebrating the 1,000 yards Payton gained in 1986 (he rushed for 1,551) the Topps 1,000 Yard Club commemorates another stellar season from him in a long list of stellar seasons.
Near the end of his career, Payton's mark in 1986 represented the fourth-best mark of his career and the last season he rushed for over 1,00 yards. In 1987, Payton's last season, his volume shrunk significantly as he saw 146 attempts in 12 games.
The design is remarkable for a card made nearly 40 years ago–the blue pillars give it almost a museum-like quality of prestige and importance. Varying in price over eBay, this card should be one that collectors nab when they can because it is a card that recognizes a huge milestone, and in the 80s, a nicely designed card was hard to find during a period where there was no flashiness.
You knew it was coming, right? Well, of course, but let me just say this card is at the top of the list not only because this is his rookie card.
1976 Topps Football #148 Walter Payton
There is something so sentimental about this pic. Before the headband, the Super Bowl, and the amazing career there was a 23-year-old kid out of Jackson State hoping to be the successor of the legendary Gale Sayers. The fourth overall pick in the 1975 draft, in today's time this card would be highly popular because of the high status.
Then, cards were not as popular, nor nearly as expensive. It brings you back to a time of young kid looking to make a name for himself in the game, and fans wanting to see it, and not only because they were "investing" in his cards.
The trademark smile that Payton shows here, the first of many times fan would see it, just display the genuine good he was as a person. No card captures who Walter Payton was, the great man he was off the field quite like his rookie card. While he'd go on to accomplish more than anyone did before him, this cards' sentimental feeling of who he was makes this a must have.
It is the priciest card of him, but a must for any Payton collector.