Affiliate Disclosure: This post contains affiliate links to eBay, Amazon, and other platforms within the content, sidebar ads, and in other areas. As I am part of the eBay Partner Network and other affiliate programs, if you follow these links and make a purchase, I will receive a commission. Likewise, as an Amazon Associate I earn from qualifying purchases.
Depending on when you grew up with baseball cards, the term "insert" didn't hold much of any meaning, a lot of meaning, or a completely different meaning than just a decade or two prior. In terms of where the hobby is today, insert cards are more prevalent than ever, but their definition has been stretched in a few different directions.
What is an Insert?
An insert is a type of baseball card that is randomly inserted into packs. These insert cards make up different sets that are separate from the base sets of cards with which they are found.
For example, if you buy a pack of 10 cards, the contents of that pack may consist of 9 base cards, which are part of a 350-card complete set, and 1 insert card, which is part of a separate 10-card set. Some inserts are harder to find than others based on their odds, where certain inserts could be found in every pack, while others fall, say, 1:36 packs, etc.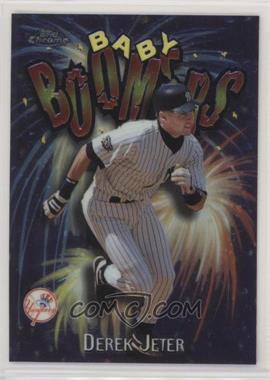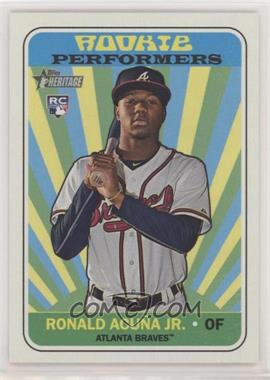 Taking the example further, if you were to buy the 350-card complete set from the previous example, you typically will not receive any inserts, which means you'd have to purchase hobby or retail boxes and packs (or buy singles on the secondary market) in order to accumulate.
Are Insert Cards Worth Anything?
Like anything, it depends, but especially for cards released in the 90s and 00s, insert cards could be worth a great deal. For instance, check any rare Barry Sanders cards or hard-to-find Ken Griffey Jr. cards—it's not uncommon for these types of cards to be worth $50 and up.
Read More: 100 Most Valuable Cards of the 1990s
That said, many of the inserts found in today's modern sets don't come close to the value of older inserts. Instead, variations, short prints, and case hits are typically the main chasers that aren't autographs or jersey cards.
Is an Insert Different Than a Parallel Card?
Yes, an insert card is different than a parallel card in that insert cards are completely different sets of cards, while parallels are alternate versions of base cards.
For example, if you look at the 2021 Finest cards below, courtesy of COMC.com, you'll see the Contreras to the far left, which is part of the overall base set. In the middle is a Finest Masters insert, which fall 1:3 packs, and then to the right is a Finest Masters gold parallel /50.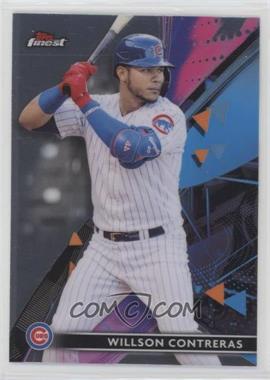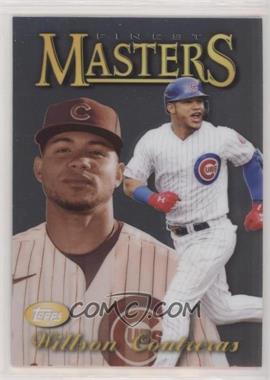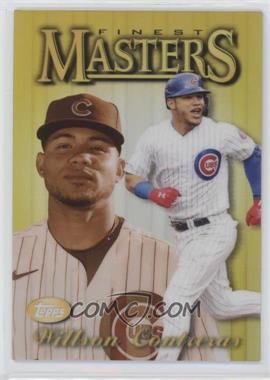 So as you can see, both insert cards and parallel cards are randomly inserted, and both aren't considered parts of the overall base set.
Are Jersey Cards & Autographs Inserts?
From the above, you might already know the answer to this one, but worth pointing out in order to highlight how inserts have changed over the years. To answer, yes, jersey cards and autographs are typically considered inserts given they aren't part of the base set numbering system, and standalone as their own sets. Thus, the inclusion of these higher-value cards have diminished the importance of many of the more traditional insert sets.
Lately, there has been a resurgence of more traditional inserts thanks to lower odds, print runs, and beautiful designs, but for the most part, the role of the insert card has changed dramatically. Meaning, back before the inclusion of jersey cards and autographs, insert cards were the main chaser of any pack of box.
People were purchasing cards in hopes of hitting a big name insert, where today, most are seeking high-value autos. Again, there are still high-value inserts and insert parallels today, and yes, again, an auto can be considered an insert, but you get the point.
To drive the point home, if you were to buy a box of 1996 Select baseball cards, there were no autos or jersey cards. Instead, you might have been chasing a Ken Griffey Jr. En Fuego insert.