Affiliate Disclosure: This post contains affiliate links to eBay, Amazon, and other platforms within the content, sidebar ads, and in other areas. As I am part of the eBay Partner Network and other affiliate programs, if you follow these links and make a purchase, I will receive a commission. Likewise, as an Amazon Associate I earn from qualifying purchases.
When it comes to card collecting, one of the biggest beginner questions is what's the difference between hobby and retail?
Within that general topic though is the blaster box, and all of the different retail purchasing options really, from single "gravity" packs, to cellos, megas, and more! I mean, it all sounds cool and epic, but what are we talking about here?
Read more about cello baseball card packs.
What is a Blaster Box?
A blaster box is a sealed box of cards containing a number of sealed packs, and is usually found at retail stores like Target or Walmart. The amount of cards within a blaster box will vary by product, as will the price. Blaster boxes are lower-cost alternatives to the popular hobby box.
Benefits of Blaster Boxes
One benefit of blaster boxes is that they are typically sold at lower price points compared to buying the same packs individually.
In addition, a blaster box may carry separate odds, with some "guaranteeing" a hit per box.
Read More: What is a Case Hit?
Last, blaster boxes may also contain blaster-exclusive parallels, or cards only available through that specific blaster, and not attainable via loose packs, hobby boxes, etc.
Are Blaster Boxes Worth it?
Like all things, it depends. Blaster boxes are worth it for the convenience in that they can be found many places. Their lower price compared to a hobby box may also make it worth it if you enjoy ripping packs. Last, if looking for regional and exclusive parallels, blaster boxes are worth it because they might be the only way to obtain a particular card. For instance, among Prizm football blasters, the exclusive camo Tom Brady is a hot chaser.
Where to Purchase Blaster Boxes
Blaster boxes are typically available at "larger" retail locations that sell cards. Meaning, Target and Walmart are known for carrying blaster boxes, while Walgreens may only carry hangers, and Rite-Aid typically offering cellos.
Of course, you can also purchase blaster boxes online through various marketplaces like eBay and Amazon, and then of course Target.com and Walmart.com. As mentioned above, some blasters may contain exclusive hits, as is the case with many "Fanatics exclusive" blasters sold on Fanatics.com.
Fanatics Blasters
Fanatics currently has Contenders Basketball, WNBA Prizm, and more: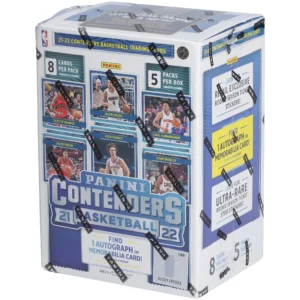 Here is an example of what's available across the different places to buy cards for a recent release of 2020 Topps Update.
eBay Blasters:
Walmart Blasters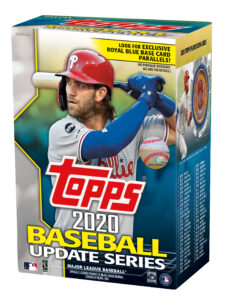 Amazon Blasters
And with that, you should now know what a blaster is, and where to find them! Please be in touch with any questions!