DISCLAIMER: The Tacoma card shop information presented below does not represent an endorsement. I have zero experience buying from any of these establishments, nor have I talked to owners. The info is all gathered from their websites, social media profiles, and other public-facing websites; the blurbs are summaries of reviews from Google, Facebook, etc. I always encourage you to do your own research before making any visits.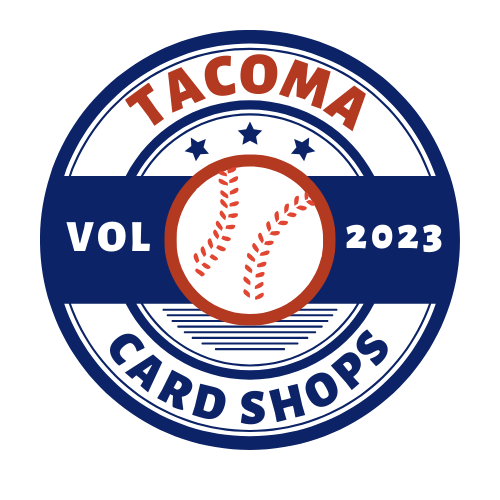 Tacoma, nestled between the beauty of Puget Sound and the grandeur of Mount Rainier, is a city where sports and community intertwine seamlessly.
From the bustling streets of its urban core to the quiet corners of its residential areas, Tacoma boasts card shops that echo its sports legacy. Whether you're searching for vintage Mariners memories, seeking out Seahawks specialties, or hoping to snag a card from the rising stars of the Sounders, Tacoma's card shops are a testament to the city's love for the game.
Run by knowledgeable locals with a deep appreciation for sports, these stores are more than just places to shop. They're vibrant hubs where memories come alive, legends are celebrated, and the bond of the community is strengthened with every trade.
Northwest Sportscards
Northwest Sportscards
5510 6th Ave. Ste A
Tacoma, WA 98406
Northwest Sportscards: Tacoma's Premier Destination
For over 15 years, Northwest Sportscards has solidified its reputation as one of Tacoma's go-to local card shops. It's not just the vast inventory, spanning from sports memorabilia to diverse card collections, that attracts patrons. The store's exceptional service, combined with the staff's deep knowledge, truly sets it apart, guiding both newbies and veteran collectors alike.
Tacoma Sportscards
Tacoma Sportscards
15413 1st Ave. Ct S #111
Tacoma, WA 98445
Tacoma Sports Cards has long been a cherished spot for collectors in the area. With years of dedicated service, the owner has built a reputation for offering not just the best deals but also for his genuine passion for the world of sports cards. Customers consistently praise his honesty, trustworthiness, and deep knowledge of the trade.
First-time visitors leave with memorable experiences, such as receiving an additional card for their collection. Others appreciate the store's vast selection, including vintage items, and the staff's willingness to engage in meaningful conversations about favorite teams.
DJ's Sportscards
DJ's Sportscards
1314 Union Ave. NE
Renton, WA 98059
DJ's Sports Cards in Renton has long been a beacon for card enthusiasts, standing out amidst the commercialized landscape of the trading card industry. For many, this shop represents the heart and soul of the hobby. It was a haven where kids and seasoned collectors alike could discuss their favorite players and share their passion without the overshadowing influence of monetary gains.
Loyal customers praise the shop for its variety and dedication to sports cards. Others laud the store's expansive collection, which spans from cards to autographs and other memorabilia.
DJ's Sportscards
Shane's Cards
465 Renton Center Way SW C,
Renton, WA 98057
Shane's Cards has become a favorite among card enthusiasts. Customers, from beginners to long-time collectors, appreciate the store's efficient service and the ease of finding desired items. The owner's prompt and appreciative responses to reviews further highlight the store's commitment to customer satisfaction.
The ambiance, staff, and community engagement set Shane's Cards apart. From hosting game events to assisting families in starting new games, Shane's Cards ensures a comprehensive and memorable experience for its patrons.