DISCLAIMER: The Tampa card shop information presented below does not represent an endorsement. I have zero experience buying from any of these establishments, nor have I talked to owners. The info is all gathered from their websites, social media profiles, and other public-facing websites; the blurbs are summaries of reviews from Google, Facebook, etc. I always encourage you to do your own research before making any visits.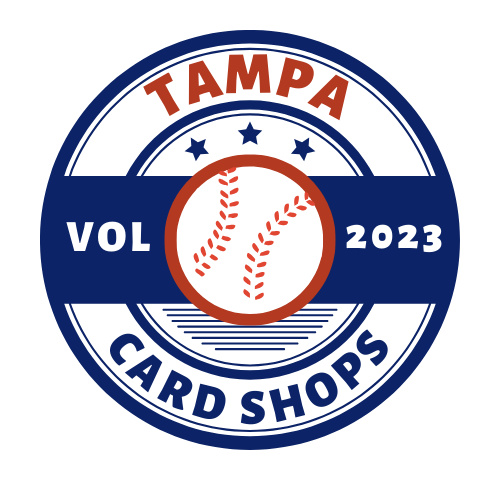 The card scene is thriving across the country, and from the looks of it, Tampa, Florida is no different— home to a number of baseball card collectors and enthusiasts! With no shortage of card shops specializing in strictly-hobby and related memorabilia, not only are there a number of stores to frequent to make a purchase of unopened boxes or singles, but just as many to meet at for trade nights, collector events, and more.
While there will soon be a more comprehensive list below, some of these card shops in Tampa include Wonder Water, Baseball Card Clubhouse, Tampa Bay Sports Cards, and others. And as you'll see in most cities with professional franchises calling it home, local shows and conventions are bound to bring in big signers from NHL powerhouse Tampa Bay Lightning, MLB's Tampa Bay Rays, the Buccaneers, and more.
Questions, comments, or new Tampa shops to add? Don't hesitate to get in touch. With that said, let's get going!
Baseball Card Clubhouse
Baseball Card Clubhouse
2225 S Dale Mabry Hwy
Tampa, FL 33629
Visitors to the Baseball Card Clubhouse consistently praise the store for its welcoming atmosphere and knowledgeable staff. Many have highlighted Jason, the owner, for his expertise and friendly demeanor. The shop is recognized for its vast selection, fair pricing, and the genuine care the staff shows to both seasoned collectors and newcomers. The store's longstanding presence in the community and its dedication to the hobby have made it a favorite among many.
Tampa Card Shop
Tampa Card Shop
15939 N. Florida Ave
Lake Magdalene, FL 33549
TCS Sports Card Shop is highly regarded by many of its patrons for its extensive selection of sports cards, including Pokémon singles. The owner and staff, particularly Bryant and Matt, are frequently mentioned for their expertise, friendliness, and willingness to negotiate prices. Many customers appreciate the shop's atmosphere, describing it as welcoming and accommodating, especially for collectors seeking rare finds or specific items.
Wonder Water Sports Cards Comics & Games
Wonder Water Sports Cards Comics & Games
29113 US Hwy 19 N
Clearwater, FL 33761
Patrons are particularly impressed by its vast and diverse selection of cards, spanning various sports and eras. Many customers have highlighted the staff's expertise and friendliness, with special mentions of Parry and Roberto for their exceptional service. The shop's growth and expansion over the years are a testament to its commitment to the hobby and its clientele.