DISCLAIMER: The Boston card shop information presented below does not represent an endorsement. I have zero experience buying from any of these establishments, nor have I talked to owners. The info is all gathered from their websites, social media profiles, and other public-facing websites; the blurbs are summaries of reviews from Google, Facebook, etc. I always encourage you to do your own research before making any visits.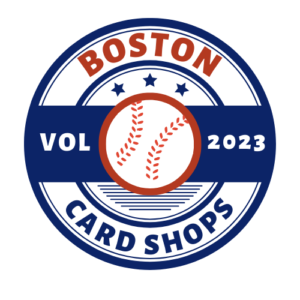 The Boston area, steeped in a rich sports legacy and home to a fervent fan base, serves as a focal point for sports card aficionados.
Spread across its historic neighborhoods and bustling suburbs, the region boasts a variety of card shops dedicated to sports memorabilia. Whether you're on the hunt for vintage Red Sox cards, Celtics memorabilia, or the latest Patriots rookie cards, the card shops in the Boston area cater to every sports collector's desires.
With staff who bring deep knowledge and a genuine passion for sports, these establishments not only provide prized collectibles but also foster a sense of community for enthusiasts and collectors.
Amaya Bros Comics
Amaya Bros Comics
357 Cambridge St.
Cambridge, MA 02141
Amaya Bros is a sports card enthusiast's dream in the heart of the city. With a vast collection spanning various eras and sports, this shop is a treasure trove for both seasoned collectors and newcomers. The knowledgeable duo behind the counter, have built a reputation for their expertise and genuine passion for the world of sports memorabilia. Their commitment to offering fair prices and top-notch service has made them a favorite among locals.
Slapshot Sports Cards
Slapshot Sports Cards
184 Broadway #14
Saugus, MA 01906
Step into a card shop in the Boston area that's buzzing with reviews! Visitors often find themselves pleasantly surprised by the vast selection, especially when they're on the hunt for both vintage and modern treasures. The owner, seems to be the heart of the place, often praised for his friendly demeanor, fair prices, and quick transactions.
George Pep's Baseball Cards
George Pep's Baseball Cards
53 Franklin St.
Quincy, MA 02169
George's shop is a hub for sports card enthusiasts. With a vast inventory spanning from vintage classics to the latest 2022 editions, it caters to both seasoned collectors and newcomers. The store's reputation is built on fair prices, a diverse selection, and George's expertise. Visitors, young and old, appreciate the added touches, like complimentary Looney Tunes packs for kids according to the reviews. While the cards draw people in, it's the community and knowledge-sharing that make them regulars.