DISCLAIMER: The Houston card shop information presented below does not represent an endorsement. I have zero experience buying from any of these establishments, nor have I talked to owners. The info is all gathered from their websites, social media profiles, and other public-facing websites; the blurbs are summaries of reviews from Google, Facebook, etc. I always encourage you to do your own research before making any visits.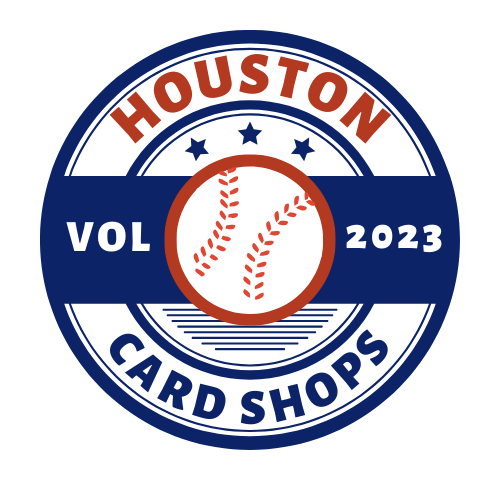 Houston, renowned for its sports culture and unwavering team spirit, is a haven for those with a penchant for collecting.
From its bustling downtown to its serene suburbs, Houston is peppered with card shops that celebrate its rich sports history. Whether you're diving into the world of vintage Astros treasures, seeking Rockets rarities, or scouting for the next big Texans star's card, the city's diverse card shops are ready to surprise you.
Manned by experts with a deep-seated love for the game, these stores are more than just commercial spaces. They're the heart of a community where memories are traded, stories are shared, and the love for sports thrives
Houston Sports Connection
Houston Sports Connection
12280 Westheimer Rd #12B
Houston, TX 77077
Nestled in Houston, this shop is a haven for cardboard enthusiasts. Its expansive inventory, especially rich in local heroes' cards, has made it a must-visit destination. The owner, often present on-site, is lauded for his deep knowledge and genuine warmth. He shines particularly when guiding newcomers, ensuring they make informed choices. A notable mention was a visit with three young boys, where the owner's patience transformed their day into a delightful adventure.
Gem Mint Cardhouse
Gem Mint Cardhouse
11637 S Texas 6
Sugar Land, TX 77498
Gem Mint Cardhouse in Houston is a top destination for card collectors. With an impressive inventory of sports and Pokémon cards, the store is known for its modern ambiance and knowledgeable staff. Visitors often praise the store's expansive selection and clean environment. The owner frequently receives accolades for his hands-on approach and dedication to customer service. Beyond selling cards, the shop offers grading submission services. Their commitment to fair pricing and genuine interactions has built a loyal customer base.
Old BallPark
Old BallPark
600 E. South St.
Alvin, TX 77511
The Old BallPark is a cherished destination for card enthusiasts, with its reputation largely built on the warmth and expertise of its owner. Visitors, both local and from afar, consistently praise him for his welcoming nature, making every customer feel like a part of the store's community. Parents and grandparents often recount delightful experiences of bringing their young ones to the store, with the owner ensuring they leave with smiles and cherished memories.