This content is for informational purposes only. I am not suggesting one show over another, nor do I have any affiliation with any of the shows listed. Please do your own research to confirm whether or not shows are running when stated.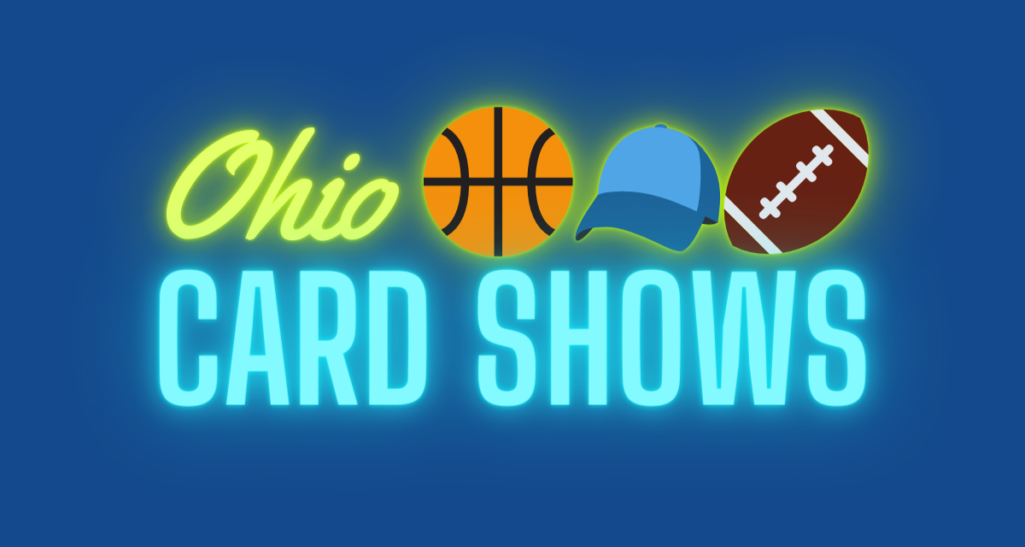 Ohio Sports card shows are in action! Please use the searchable and sortable table below to find a local event near your city. So far I've found shows in Lancaster, Youngstown, Troy, and more!
Below this table, you'll find a social media compilation of posts, videos, and more for you to get a feel for some of these outings. Enjoy!
Ohio Card Shows
Show
City
Date
Address
Info
Lancaster Sports Card Show
Lancaster
12/17/2023
Lancaster Camp Ground
2151 W. Fair Ave.
Lancaster, OH 43130
Facebook
The Great American Sports Memorabilia & Trading Card Show
Xenia
12/9/2023
Greene County Expo Center
120 Fairground Road
Xenia, OH 45385
Facebook
Sports Card and Collectible Show
Wheelersburg
12/2/2023
The Gathering Place
1501 OH 522 W
Wheelersburg, OH 45694
Facebook
Sports Card and Collectible Show
Wheelersburg
11/4/2023
The Gathering Place
1501 OH 522 W
Wheelersburg, OH 45694
Facebook
The Great American Sports Memorabilia & Trading Card Show
Xenia
11/4/2023
Greene County Expo Center
120 Fairground Road
Xenia, OH 45385
Facebook
Sports Card & Collectible Show
Defiance
10/28/2023
The Northtowne Mall
1500 N. Clinton St
Defiance, OH 43512
Facebook
The Great American Sports Memorabilia & Trading Card Show
Xenia
10/14/2023
Greene County Expo Center
120 Fairground Road
Xenia, OH 45385
Facebook
Sports Card and Collectible Show
Wheelersburg
10/7/2023
The Gathering Place
1501 OH 522 W
Wheelersburg, OH 45694
Facebook
Sportscard Spectacular
Troy
10/7/23

Miami County Fairgrounds
Facebook
Sportscard Spectacular
Troy
10/7/23

Miami County Fairgrounds
Facebook
Sports Card & Collectible Show
Defiance
9/23/2023
The Northtowne Mall
1500 N. Clinton St
Defiance, OH 43512
Facebook
Cleveland West/Fairview Park Sports Card Show
Cleveland
9/23/23
22216 Lorain Road in Fairview Park
Facebook
Sports Card and Collectible Show
Wheelersburg
9/9/2023
The Gathering Place
1501 OH 522 W
Wheelersburg, OH 45694
Facebook
The Great American Sports Memorabilia & Trading Card Show
Xenia
9/2/2023
Greene County Expo Center
120 Fairground Road
Xenia, OH 45385
Facebook
Cincinnati Sports Card and Pokémon show
Cincinnati
8/26/2023

11100 Winton Rd, Cincinnati, OH 45218-1108, United States
Facebook
Lancaster Sports Card Show
Lancaster
8/20/2023
Lancaster Camp Ground
2151 W. Fair Ave.
Lancaster, OH 43130
Facebook
The Great American Sports Memorabilia & Trading Card Show
Xenia
8/12/2023
Greene County Expo Center
120 Fairground Road
Xenia, OH 45385
Facebook
Sports Card and Collectible Show
Wheelersburg
8/5/2023
The Gathering Place
1501 OH 522 W
Wheelersburg, OH 45694
Facebook
The Great American Sports Memorabilia & Trading Card Show
Xenia
7/8/2023
Greene County Expo Center
120 Fairground Road
Xenia, OH 45385
Facebook
Sportscard Spectacular
Troy
7/2/2023
Miami County Fairgrounds
650 N. County Rd. 25A
Troy, Ohio 45373 Building 610
Facebook
Sports Card and Collectible Show
Wheelersburg
7/1/2023
The Gathering Place
1501 OH 522 W
Wheelersburg, OH 45694
Facebook
Sportscard Spectacular
Troy
7/1/2023
Miami County Fairgrounds
650 N. County Rd. 25A
Troy, Ohio 45373 Building 610
Facebook
Lancaster Sports Card Show
Lancaster
6/18/2023
Lancaster Camp Ground
2151 W. Fair Ave.
Lancaster, OH 43130
Facebook
The Great American Sports Memorabilia & Trading Card Show
Xenia
6/10/2023
Greene County Expo Center
120 Fairground Road
Xenia, OH 45385
Facebook
Sports Card and Collectible Show
Wheelersburg
6/3/2023
The Gathering Place
1501 OH 522 W
Wheelersburg, OH 45694
Facebook
The Great American Sports Memorabilia & Trading Card Show
Xenia
5/13/2023
Greene County Expo Center
120 Fairground Road
Xenia, OH 45385
Facebook
Sports Card & Collectible Show
Defiance
5/13/2023
The Northtowne Mall
1500 N. Clinton St
Defiance, OH 43512
Facebook
Sports Card and Collectible Show
Wheelersburg
5/6/2023
The Gathering Place
1501 OH 522 W
Wheelersburg, OH 45694
Facebook
Sportscard Spectacular
Troy
4/16/2023
Miami County Fairgrounds
650 N. County Rd. 25A
Troy, Ohio 45373 Building 610
Facebook
Great Lakes Collectors Convention
Independence
4/16/2023
The Fieldhouse - City Campus
Independence, OH 44131
Facebook
Lancaster Sports Card Show
Lancaster
4/16/2023
Lancaster Camp Ground
2151 W. Fair Ave.
Lancaster, OH 43130
Facebook
Sportscard Spectacular
Troy
4/15/2023
Miami County Fairgrounds
650 N. County Rd. 25A
Troy, Ohio 45373 Building 610
Facebook
Great Lakes Collectors Convention
Independence
4/15/2023
The Fieldhouse - City Campus
Independence, OH 44131
Facebook
Sports Card and Collectible Show
Wheelersburg
4/8/2023
The Gathering Place
1501 OH 522 W
Wheelersburg, OH 45694
Facebook
The Great American Sports Memorabilia & Trading Card Show
Xenia
4/1/2023
Greene County Expo Center
120 Fairground Road
Xenia, OH 45385
Facebook
Sports Card & Collectible Show
Defiance
3/18/2023
The Northtowne Mall
1500 N. Clinton St
Defiance, OH 43512
Facebook
Ohio Sports & Non-Sports Card Show
Cuyahoga Falls
3/12/2023
Emidio & Sons Banquet Center
3204 State Road
Cuyahoga Falls, OH 44223
Facebook
The Great American Sports Memorabilia & Trading Card Show
Xenia
3/11/2023
Greene County Expo Center
120 Fairground Road
Xenia, OH 45385
Facebook
Sports Card and Collectible Show
Wheelersburg
3/4/2023
The Gathering Place
1501 OH 522 W
Wheelersburg, OH 45694
Facebook
Card & Comic Show
Boardman
2/26/2023
Magic Tree Pub & Eatery
7463 South Ave.
Boardman, OH 44512
Facebook
Sportscard Spectacular
Troy
2/19/2023
Miami County Fairgrounds
650 N. County Rd. 25A
Troy, Ohio 45373 Building 610
Facebook
Lancaster Sports Card Show
Lancaster
2/19/2023
Lancaster Camp Ground
2151 W. Fair Ave.
Lancaster, OH 43130
Facebook
Sportscard Spectacular
Troy
2/18/2023
Miami County Fairgrounds
650 N. County Rd. 25A
Troy, Ohio 45373 Building 610
Facebook
Sports & Non-Sports Cards & Collectibles Show
Ashland
2/12/2023
1392 Township Rd. 743
Ashland, OH 44805
Facebook
The Great American Sports Memorabilia & Trading Card Show
Xenia
2/11/2023
Greene County Expo Center
120 Fairground Road
Xenia, OH 45385
Facebook
2023 Sports Cards Trade Show
Youngstown
2/11/2023
The Embassy
5030 Youngstown Poland Road
Youngstown, OH 44514
Facebook
Sports Card and Collectible Show
Wheelersburg
2/4/2023
The Gathering Place
1501 OH 522 W
Wheelersburg, OH 45694
Facebook
Greenie Sports Card Show
Kirtland
2/4/2023
Kirtland Senior Center
7900 Euclid-Chardon Rd.
Kirtland, OH 44094
Facebook
Canton Ohio Monthly
Canton
1/28/2023
Tozzi's on 12th
4210 12th St NW
Canton, OH 44708
Facebook
Jumbo's Card Show
Lima
1/21/2023
Veteran's Civic Center
7 Town Center
Lima, OH
Facebook
Sports Card and Collectible Show
Wheelersburg
1/7/2023
The Gathering Place
1501 OH 522 W
Wheelersburg, OH 45694
Facebook
The Great American Sports Memorabilia & Trading Card Show
Xenia
1/7/2023
Greene County Expo Center
120 Fairground Road
Xenia, OH 45385
Facebook
Social Gallery
Good day at the Canton Ohio card show…I brought the boss with me. She makes all the decisions. pic.twitter.com/z6VG2EyGO4

— sportscardenthusiasts (@JP_Forrester) October 31, 2021
All set-up at the Xenia, Ohio card show. Both buildings are sold out of dealer tables. pic.twitter.com/TvX9Qr7CrJ

— CTBCards (@CardsCtb) March 12, 2022
Random card show in Youngstown, OH? Yes, please. #thehobby pic.twitter.com/rXh2bnGYOp

— Eric (@BasebAllDayRCs) June 6, 2021
Some of yesterday's pick ups at the Lancaster card show. pic.twitter.com/ztYEj8MSwz

— Da_fish (@da_fish2) July 3, 2022