Affiliate Disclosure: This post contains affiliate links. As I am part of the eBay Partner Network and other affiliate programs, if you follow these links and make a purchase, I will receive a commission. Likewise, as an Amazon Associate I earn from qualifying purchases.
The PSA Crossover service cost depends on the value of the card and your desired turnaround, just like regular grading. For example, the PSA Crossover cost is $75 at the "regular" service level (max declared value of $1,499), which has an estimated turnaround time of 10 days. This is the same PSA cost and turnaround if you were you to submit a raw card for grading. 
Part of the confusion is that the crossover service isn't priced or advertised until you log in and start a submission. Once you do, you'll be able to select "crossover" for the submission type and then will continue to the service level and pricing options.
Read More: How Does PSA Card Grading Work?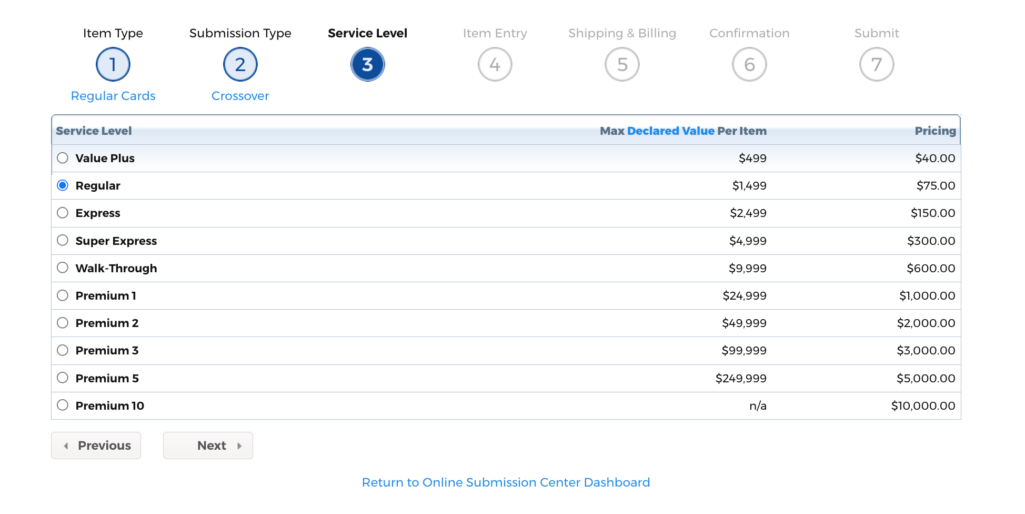 Hopefully, that helps answer! If not, or you want to learn more, let's continue!
What is PSA Crossover Service?
The PSA Crossover grading service allows you to submit cards that have already been graded by other grading companies to PSA for grading and slabbing.
How is PSA Crossover grading different than raw card grading?
While the pricing is the same, the process is a bit different. With crossover grading, PSA will evaluate the card while it is still in the holder provided by the initial grading company. At this time, PSA is determining whether or not the card will meet the "minimum grade" specified by the customer, and if so, will remove the card from the holder and will be placed in the new slab.
What is a minimum grade?
The minimum grade is the lowest numerical grade you'd accept for your already-graded card to be crossed over to PSA.
For example, if you're submitting a BGS 9 as a crossover to PSA, you might establish a minimum grade of PSA 9. If during evaluation PSA determines the card will be at least a PSA 9, the process will continue. If the card is deemed to not meet the minimum grade specificed, then the card will not be removed, and will instead be returned to you in its original holder.
Minimum Grade is the lowest grade that you are willing to accept from PSA, anything lower will not be crossed over into a PSA holder. PSA will grade your item in the existing holder and will only remove it and encapsulate it in a PSA holder if your item meets or exceeds the minimum grade. If your item doesn't meet the minimum grade, it is returned to you in the original holder. And yes, in this case, you will still be charged for services.
Here is a great video that explains crossovers and minimum grades.
Why Crossover to PSA?
Last, you might be wondering why people crossover cards that are already graded to PSA. One, it might just be a matter of personal preference, and perhaps you bought a collection of graded cards, and some weren't graded by PSA and you wanted them to all be uniform.
More likely is the simple fact that because PSA is the industry leader, cards in a PSA slab are typically worth more than similar cards graded by other grading companies.
There are countless examples of people attempting the SGC to PSA crossover for this very reason.