Affiliate Disclosure: This post contains affiliate links. As I am part of the eBay Partner Network and other affiliate programs, if you follow these links and make a purchase, I will receive a commission. Likewise, as an Amazon Associate I earn from qualifying purchases.
The cost of getting a card graded currently ranges between $15 and $300 depending on the grading company, desired turnaround time, and value of the card. Meaning, the cost to grade a card depends on many different variables, making it a difficult question to definitively answer. Generally, the cost to grade a card for the average individual is going to be around $25 give or take.
Please note: Due to the regularly changing details and price updates from each of the card grading companies, some of the information below may be out of date from time to time. Thus, if you're considering grading your cards and weighing the costs of each service, please consult each company website directly for the most accurate information. This latest update is as of September 7, 2023.
Now, if you've never graded a card before, the process can seem daunting and overwhelming, right? I mean, you're basically sending off what is presumably a valuable card – either monetarily or in terms of worth to your personal collection, or both – to someone else for handling.
If that wasn't enough, there are certain "rules" and guidelines to follow when doing so—pack the card this way, put this barcode here, write this on the outside of the box. Declare the value by guessing, oh, and we actually aren't going to charge you until we send the card back.
And we haven't even gotten into the wait times and lack of transparency, especially these days.
Sorry to interrupt, but I wanted to extend a special offer from the hobby's most powerful price guide and collection tracking platform.
Simply, Market Movers has popular card price charts for 1.5 Million+ sports cards, sealed products, Marvel cards, Pokemon, and more, in graded and raw condition. In addition to advanced price history data, you can easily manage and track your entire collection, quickly find underpriced cards, and more. (Learn more about Market Movers.)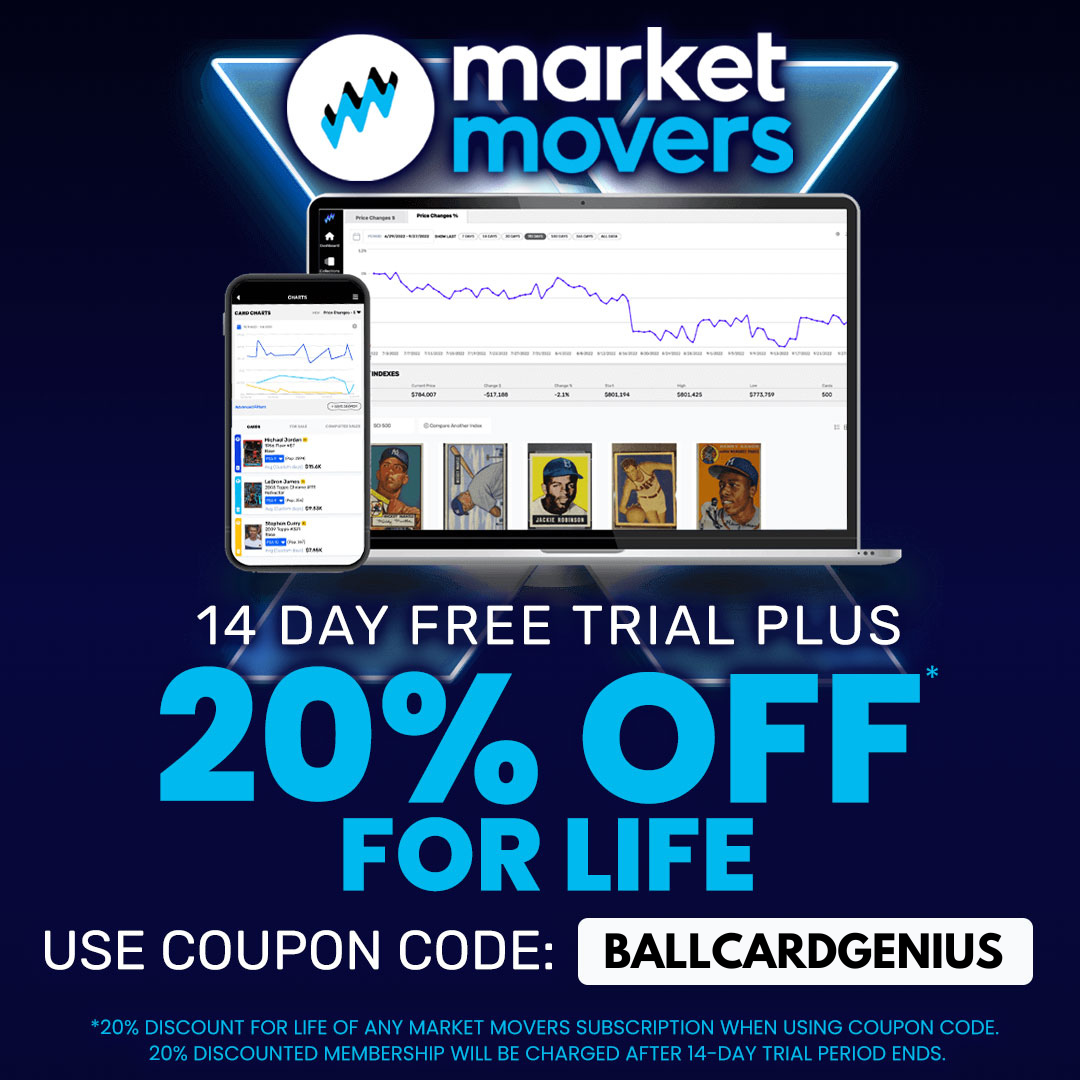 If you'd like to give Market Movers a shot, you can grab a free 14-day trial—simply visit this link, and sign up for an account and plan. If you decide to continue after the trial, you'll get 20% for the lifetime of your subscription.
All of that said, grading cards can still be an enjoyable experience. Should you get your cards graded? The full answer requires another day and time, but cost is a big piece of that equation, so let's jump in.
Card Grading Costs by Company
While this post has a ton of info, and you might just want a few comparison points, the type of card, desired turnaround time, and other factors will all also determine cost. Here is a snapshot of per-card costs:
PSA costs include Value Bulk $19, Value $25, Value Plus $40, Reg $75, Express $150, and Super Express $300. More.
SGC is offering new pricing based on turnaround times and the number of cards. For instance, for $15 (and no minimum) cards can be turned around in 5-10 business days. More on SGC turnaround times.
Beckett grading costs include the Collector's Special at $18 per card (10-card minimum, 60+ business days), Base service at $22 per card (60+ business days), Standard at $40 per card (10-20 business days), Priority at $140 per card (2-5 business days), and Immediate at $500 per card (same-day). Please note these are all costs with subgrades, and grading is cheaper without subgrades. More.
"SGC and Topps have teamed up to bring the hobby an exclusive grading special available to all collectors; one that will provide quality grading along with unmatched speed and affordability for all cards released in the 2022 Bowman Chrome set. All it takes is $9/card and… well that's it! No minimum number of cards required, no declared value limits, and no additional fees for auto grading. Just the fast and fair grading you all have come to expect from SGC!"
As you can see, you can't get cards graded for free. And if you do in fact want the cheapest card grading service, you really have to think through what that means for the value of your card. If it's a PC card and you just want something slabbed for the collection, then it really doesn't matter.
But, if your goal is to resell, while you might pay less upfront to have a card graded, you'll most likely be leaving money on the table when it comes time to sell.
But again, keep reading to learn more about the different costs and things to look out for.
What is the Total Cost to Send a Card for Grading?
So, with that said, the best way to figure out how much it will cost to get your card graded is to start with the grading company. Meaning, figure out which company you want grading your card and then dive into how much it might cost to get it done.
Outside of the actual grading cost, some people also "prep" their cards for grading. In full transparency, I've sent in a few cards to be graded and I can't say I've ever "prepped" them with additional products, so please do your research here, but here are some items others suggest:
This card grading kit seems to have all of the above and then some, like handling gloves and more. It's currently $35.99:
Is Cost the Main Factor?
Now, you might be asking, "Well, won't cost play a big factor in me deciding which company I ultimately want to grade with?"
In my opinion, the answer is no. There are many reasons to get a card graded, but let's look at this question under a few different scenarios.
If you're getting a card graded because you prefer a slab for ultimate safe-keeping in your personal collection, then the actual look and feel of the case might play more importance. Meaning, you might prefer the simple and straightforward look of a PSA slab, or, you might want a slab that has subgrades like that of BGS.
On the other hand, if you bought an ungraded card on eBay, and thus you're grading a card knowing that you're ultimately going to re-sell that card, then you might want to opt for the company that offers the best resale value for that card, and thus, the cost of grading isn't of utmost importance.
See what I mean? We can go on and on in this fashion. Really, the only time cost might be the biggest determining factor is when you don't care of what the slab looks like, don't care which company offers the most value, don't care which company is the most strict or lenient, etc. And in that case, then I might ask why even get the card graded in the first place!
Anyway, you can go about it whichever way you choose, but answering the question of how much it costs to grade a card is most easily answered by looking at how costs differ within each company's different grading options.
(Please also note that the listed turnaround times with different companies are probably all greatly impacted at the moment. Nevertheless, you'll still pay the same price, but just know it might take months beyond the stated times to receive your cards and grades.)
PSA Grading Cost Per Card
To grade cards with PSA:
Value Bulk: $19/card
Value: $25/card
Value Plus: $40/card
Regular: $75/card
Express: $150/card
Super Express: $300/card
Walk-Through: $600/card
Keep in mind there are a number of other PSA services depending on your needs. For instance, to get a card reslabbed or as PSA refers to it a "reholder" (put in a new case), the cost of standard cards and tallboys is $10/card (turnaround times vary).
Read More: CSG Reholder Info
You can also choose to get a card authenticated and slabbed, but not graded, as you can see from the options below: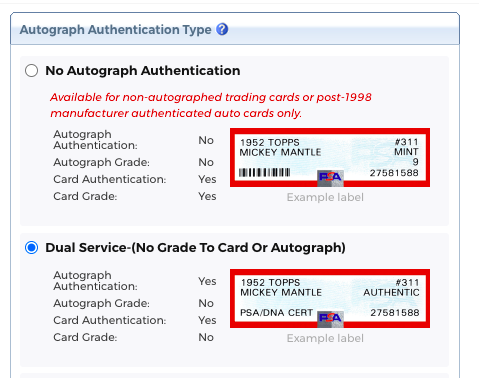 As of July 2023, you can also grade your cards directly through COMC.com and the COMC app. Prices ar bit higher, but you're also getting the convenience of not having to handle the cards from start to finish.
BGS Grading Cost
To grade cards with Beckett:
Base: $22/card (60+ business days)
Standard: $40/card (10-20 business days)
Express: $140/card (2-5 business days)
Next Day: $400/card (1 business day)
Immediate: $500/card (same-day
Note that prices are less if wanting a grade without subgrades.
You might also see BCCG cards floating around, which is also a Beckett grading operation, but separate from BGS. Learn more about what a BCCG 10 is when compared to PSA, BGS, and others.
SGC Grading Cost
To grade cards with SGC:
5-10 business day turnaround:
$24 for 1-9 cards
$22 for 10-19 cards
$20 for 20-49 cards
$18 for 50+ cards
Read more: What is "A" With SGC Grading?
Quick note—as you can see, it's not that SGC is the cheapest card grader around, but the combination between affordability and lightning quick turnaround is a big draw for some people.
HGA Grading Cost
To grade cards with HGA:
Best Value: $20/card, 60 business days
Popular: $35/card, 30 business days
Very Fast: $50/card, 10 business days (1-20 cards)
Fastest: $75/card, 2 business days (1 to 20 cards)
ISA Grading Cost
Here is a look at how a company like ISA compares to PSA:
$20/card for 20 business days
$28/card for 5 business days
$45/card for 2 business days
Other Grading Options
All of that said, you might find different pricing if you're able to submit with groups of others. For instance, if you're a StarStock member, you can submit your StarStock cards for grading with PSA. It's Economy 20-Day Service ($499 Maximum Declared Value per card) at $30 per card.
Note: it looks like StarStock has suspended grading submissions.
All in all, there are more grading options than ever, so let your answer to the "why" help guide your decision.